Mass. Governor Calls for Hyatt Boycott After Housekeeper Firings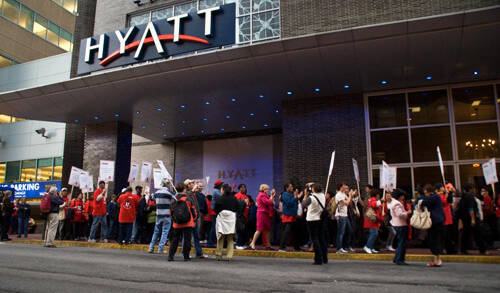 UPDATE BELOW: Hyatt offers laid-off workers full-time jobs at equal pay; local union calls move ​"smokescreen."
Massachusetts Governor Deval Patrick has raised the stakes in an unusual outsourcing controversy affecting hotel workers in the Boston area.
Nearly one month after Hyatt Hotels' laid off the entire housekeeping staffs of its Boston-area hotels and replaced them with contract employees making half as much, Patrick has threatened to instruct all state employees to boycott Hyatt unless the fired workers are rehired.
The Democratic governor made the threat in a letter to Hyatt Hotel Corp.'s chairman Tuesday, his third attempt to in a week, according to the Boston Globe. He wrote:
Surely there is some way to retain the jobs for your housekeeping staffs, as other hotels have done, and to work with them to help the company meet its current challenges, rather than tossing them out unceremoniously to fend for themselves while the people they trained take their jobs at barely livable wages.'
Unsurprisingly, the hotel chain has condemned the threat, saying a boycott would hurt the company's 600 remaining employees in Massachusetts. ​"We do not understand why the governor is putting more Massachusetts jobs at risk instead of working with us to find jobs for employees affected by the realities of these unprecedented economic challenges," the general manager of Hyatt Regency Boston said.
The conflict began on August 31, when Hyatt fired 98 employees, some of whom had cleaned rooms at the Hyatt Regency Boston, Hyatt Regency Cambridge, and Hyatt Harborside at Logan airport for more than 20 years. Workers have said they had no idea the announcement was coming. The Globe quoted one fired housekeeper:
"It's unbelievable,'' said Lucine Williams, 41, who has worked at the Hyatt Regency Boston for nearly 22 years and was making $15.32 an hour plus health, dental, and 401(k) benefits when she lost her job. ​"I don't know how they can treat people like that.''
Citing ​"challenging economic conditions," Hyatt replaced those veteran workers with contract employees making about half as much ($8 per hour) — but not before having some of the outgoing housekeepers train their own replacements, who work for an out-of-state-based firm called Hospitality Staffing Solutions.
Some of the laid-off workers, who were not union members, have repeatedly said they were told by management they were training vacation and holiday fill-ins. Hyatt denies this and says the staffing changes were not secretive, while noting in a statement released last week that it is helping workers find new jobs.
On September 17, hundreds gathered outside of the Hyatt Regency Boston to protest the firings, which sparked public outrage after front-page Globe story was publsihed that day. City, state and national elected officials spoke at the rally, calling on businesses to boycott the hotels.
The momentum from that event, organized by a UNITE-HERE local, has continued during the last week, although the hotel company has not changed its position.
The outrage registered by Patrick and other public officials may be in part due to politics — Patrick faces low approval ratings and a competitive re-election bid next year. Some observers say he is happy to appeal to organized labor, which helped elect him in 2006.
Even though the fired housekeepers were not unionized, union workers are fully supporting Patrick's threat of a boycott. ​"I think we should all heed the governor's call to action,'' Janice Loux — president of UNITE-HERE Local 26, which organized last week's protest — told the Globe.
Outsourcing is usually thought of as a global act made possible — even inevitable — by far-flung corporate operations. But when Americans are the ones taking outsourced jobs at half the pay of those they're replacing, what globalization detractors call ​"the race to the bottom" doesn't seem quite so necessary. It seems unacceptable, a particularly vivid reminder of the deterioration in living standards millions of Americans face.
But high-profile calls for a boycott aside, It is far from certain whether the housekeepers will get their jobs back. In fact, it isn't even certain if, as the Harvard Business Review claims, Hyatt has really damaged its brand. For either things to happen, public pressure on the company will have to be sustained and strengthened.
UPDATE: Reuters and the AP reported late Friday afternoon that Hyatt has promised new full-time jobs for the 98 fired housekeepers, just days after Gov. Patrick threatened to ask state employees to boycott the hotel chain. AP reported:
Hyatt said the housekeepers would be offered jobs with a Boston affiliate of United Service Cos., with health coverage and the same pay they made with Hyatt.

The offer did not satisfy the local hotel workers union, which called it a ​"smoke screen." Local 26 said the workers should be returned to the jobs they held for years.
And from Reuters:
[Hyatt] added in a statement that idled workers who choose to participate in a career services and retraining program would receive financial support equal to their Hyatt rate of pay through March

2010

or until they secure permanent employment, whichever comes first.
Socialism ... Seriously
"The most fun and accessible introduction to socialist ideas I've ever read."—Anand Gopal
For a limited time, when you donate $20 or more to support In These Times, we'll send you a copy of the new, expanded edition of Socialism ... Seriously by Danny Katch.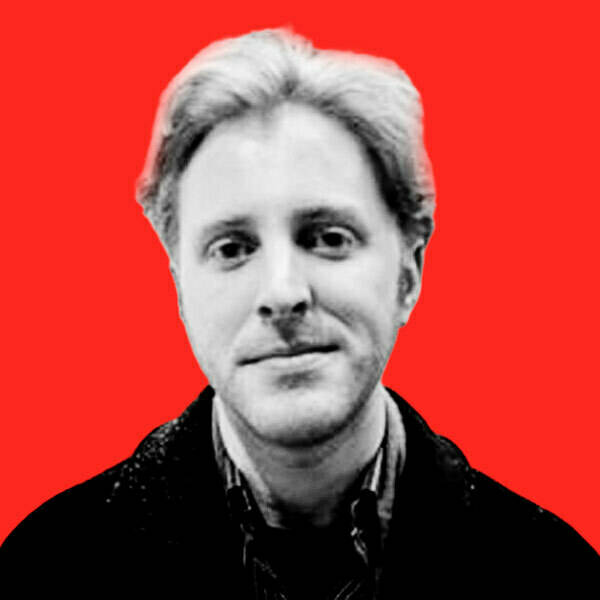 Jeremy Gantz is an In These Times contributing editor working at Time magazine.