When a series of crack­downs on the Occu­py camps sud­den­ly occurred in, more or less, the same week, many observers won­dered if per­haps the attacks had been coor­di­nat­ed at a nation­al lev­el. Oak­land May­or Jean Quan con­firmed that sus­pi­cion dur­ing an appear­ance on the BBC — excerpt­ed on The Take­away radio pro­gram — when she casu­al­ly men­tioned tak­ing part in a con­fer­ence call with the lead­ers of 18 US cities right before the raids.
"I was recent­ly on a con­fer­ence call with 18 cities across the coun­try who had the same sit­u­a­tion," said Quan.
It turns out one of the 18 lead­ers who sat in on the call was Port­land May­or Sam Adams. The calls, accord­ing to Adams, were orga­nized ​"to share infor­ma­tion about the occu­py­ing encamp­ments around the coun­try." He described the calls to the New York Times as ​"check-ins to share infor­ma­tion and advice on how var­i­ous cities were han­dling the demonstrations."
In addi­tion to con­fer­ring with their fel­low may­ors, it appears city lead­er­ship also received an assist from the Depart­ment of Home­land Secu­ri­ty, accord­ing to jour­nal­ist Rick Ellis at the Exam­in­er. Ellis spoke with a Jus­tice offi­cial, who claims each of the Occu­py raid actions were coor­di­nat­ed with help from Home­land Secu­ri­ty, the FBI, and oth­er fed­er­al police agencies.
The offi­cial, who spoke on back­ground to me late Mon­day evening, said that while local police agen­cies had received tac­ti­cal and plan­ning advice from nation­al agen­cies, the ulti­mate deci­sion on how each juris­dic­tion han­dles the Occu­py protests ulti­mate­ly rests with local law enforcement.

Accord­ing to this offi­cial, in sev­er­al recent con­fer­ence calls and brief­in­gs, local police agen­cies were advised to seek a legal rea­son to evict res­i­dents of tent cities, focus­ing on zon­ing laws and exist­ing cur­few rules. Agen­cies were also advised to demon­strate a mas­sive show of police force, includ­ing large num­bers in riot gear. In par­tic­u­lar, the FBI report­ed­ly advised on press rela­tions, with one pre­sen­ta­tion sug­gest­ing that any moves to evict pro­test­ers be coor­di­nat­ed for a time when the press was the least like­ly to be present.
The exis­tence of these types of con­fer­ence calls could help to explain the near-uni­ver­sal bru­tal police response to Occu­py. A ​"mas­sive show of police force" describes the scene of every raid, whether talk­ing about major cities like Oak­land or New York City, or oth­er small­er Occu­py loca­tions like Chapel Hill or Nashville. This also helps to explain why assault weapon­ry like tear gas can­is­ters and rub­ber bul­lets have been being used as a first-response rather than defen­sive measure.
Evict­ing pro­test­ers at a time ​"when the press was the least like­ly to be present" per­fect­ly explains what hap­pened dur­ing the evic­tion of Occu­py Wall Street when May­or Bloomberg dis­patched the NYPD in the dead of night to raid the camp. Though police had obvi­ous­ly planned the mid­night attack to keep media pres­ence to a min­i­mum, many still made the jour­ney, but when they arrived numer­ous jour­nal­ists were wel­comed with a hos­tile response by author­i­ties, and report­ed being bul­lied, threat­ened, and assault­ed by police as they attempt­ed to cov­er the raid.
Quan and Adams are the only may­ors who have thus far admit­ted to the coor­di­na­tion, but if Quan's state­ment is accu­rate, there are many oth­er city lead­ers who took part in the calls. Crack­downs in Salt Lake City, Albany, Den­ver, and else­where in the past few days sug­gest the syn­chro­nized assaults were planned to deal a swift, crush­ing blow to Occu­py. It's unsur­pris­ing that such coor­di­na­tion would demand fed­er­al over­sight, but it's also deeply dis­turb­ing that a fed­er­al agency may have par­tic­i­pat­ed in the plot, since the whole rea­son Occu­py exists is to address the cor­rup­tion of the government.
It seems as though OWS has tran­si­tioned from the first and sec­ond parts of Gandhi's for­mu­la for peace­ful rev­o­lu­tion, and have now entered the third and last stage: ​"First they ignore you, then they laugh at you…" have come and gone. Cer­tain estab­lish­ment media play­ers had their fun mock­ing the pro­test­ers as a bunch of bon­go-play­ing, weed-smok­ing hip­pies. The move­ment grew rapid­ly, and it quick­ly became appar­ent that Occu­py is not just com­prised of hip­pies, but also the unem­ployed, union mem­bers, indebt­ed stu­dents, home­less, and the oth­er mar­gin­al­ized and for­got­ten peo­ple in our society.
Occu­py is now firm­ly plant­ed in the ​"then they fight you" phase where city lead­ers, through arbi­trary appli­ca­tion of laws, raids, and police bru­tal­i­ty hope to crush the move­ment for good. It speaks to the effec­tive­ness of the group that this last stage has tak­en not only a full-scale, nation­wide coor­di­na­tion of 18 city lead­ers, but also alleged­ly fed­er­al over­sight. Not bad for a group of a cou­ple hun­dred kids who went to Zuc­cot­ti with­out so much as a vague plan in their back pockets.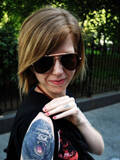 Alli­son Kilken­ny
is an
In These Times
Staff Writer and the co-host of the crit­i­cal­ly acclaimed radio show
Cit­i­zen Radio
. Her blog for
In These Times
,
Upris­ing
, focus­es on efforts around the world to address the glob­al eco­nom­ic crisis.