Yes, Unemployment Insurance and Welfare Encourage People to Quit Lousy Jobs. That's the Point.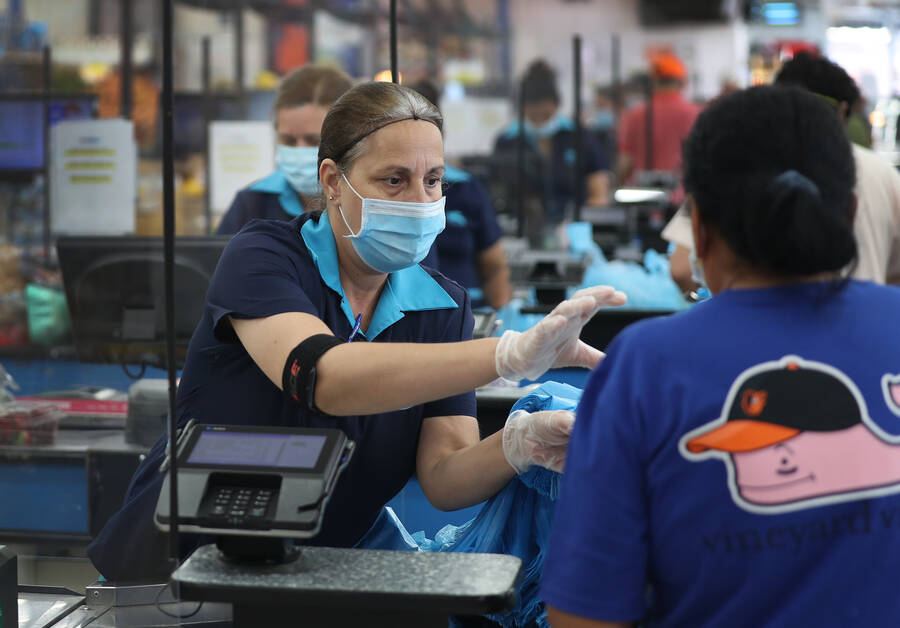 Do we have a right not to work? The answer is we don't if Demo­c­ra­t­ic lead­ers stub­born­ly try to keep the ​"era of big gov­ern­ment" con­fined to the 20th century.
Think of a barista right now in Geor­gia. She's home col­lect­ing unem­ploy­ment and watch­ing her two kids while the schools and the café where she worked are closed. Her boss says they're reopen­ing next week even as the coro­n­avirus con­tin­ues its dead­ly spread, but schools won't. Gov­er­nor Kemp, along with oth­er GOP gov­er­nors, is using the hor­ri­fy­ing tac­tic of threat­en­ing to kick work­ers off unem­ploy­ment insur­ance if they don't return to their jobs. What should she do?
This is the stark choice many work­ers are left with in post-"big gov­ern­ment" Amer­i­ca. Return to work and face a dead­ly virus when inten­sive-care beds are already near­ly full in Geor­gia and her kids are alone, or stay home and risk los­ing all income. That so much of the cur­rent ten­sion around a health­care cri­sis focus­es on a patch­work of com­plex, under­fund­ed state unem­ploy­ment pro­grams speaks to the dearth of pro­grams and pol­i­cy tools avail­able to sus­tain peo­ple when work is scarce or con­di­tions are miserable.
Most people's expe­ri­ences with the stingi­ness and arcane rules of our nation's patch­work of unem­ploy­ment sys­tems have con­di­tioned us to assume that we're not eli­gi­ble and that we should be dis­cour­aged from apply­ing, even under des­per­ate cir­cum­stances. Blame it on steady ero­sion of our more than 80-year-old New Deal-era safe­ty net and the decades of attacks on the idea of wel­fare, capped by Bill Clinton's era-end­ing dec­la­ra­tion that accom­pa­nied the cat­a­stroph­ic 1996 reform bill he signed into law with sup­port of many Con­gres­sion­al Democ­rats, includ­ing our pre­sump­tive Demo­c­ra­t­ic pres­i­den­tial nominee.
Our cur­rent cri­sis has exposed two flawed premis­es around how we think about mon­ey: that not all work­ers deserve enough of it to live on and that the gov­ern­ment is inca­pable of pro­vid­ing it. Like our flag­ship retire­ment pro­grams for those over 65 years old, Social Secu­ri­ty and Medicare, income replace­ment can and should be for every­one. Uni­ver­sal, or near-uni­ver­sal, pro­grams like unem­ploy­ment insur­ance and Social Secu­ri­ty are pop­u­lar for a rea­son. They pro­vide much-need­ed sus­te­nance and pro­mote the idea that every­one deserves to have their basic needs met. New­er social pro­grams have been replaced by stingi­er, more com­pli­cat­ed mod­els that means-test who ​"deserves" life-sav­ing sup­port. This breeds both unnec­es­sary admin­is­tra­tive bur­dens and resent­ment between vot­ers who should be unit­ed in try­ing to improve con­di­tions. Accord­ing to One Fair Wage, 44% of all appli­cants for pan­dem­ic unem­ploy­ment still haven't received their benefits.
Worst of all, means-test­ing makes gov­ern­ment pro­grams easy tar­gets and far less effec­tive. Remem­ber Aid to Fam­i­lies with Depen­dent Chil­dren (AFDC) that wel­fare reform killed? Six­ty-eight out of 100 fam­i­lies received it in 1996, when it was replaced by far less gen­er­ous Tem­po­rary Assis­tance for Needy Fam­i­lies (TANF). In 2018, only 22 out of 100 received aid. The same has already hap­pened to unem­ploy­ment. Only 27% of unem­ployed work­ers received ben­e­fits in 2016. The aver­age unem­ploy­ment ben­e­fit (exclud­ing the added $600 per week stim­u­lus), which varies wild­ly by state, replaces just 38% of the aver­age pay­check. And now the sys­tem is under unprece­dent­ed strain. Already under­fund­ed, the flood of claims has jammed up gov­ern­ment phone lines and web­sites. In New York alone, hun­dreds of thou­sands of work­ers are still wait­ing for their checks.
As a way to shore up bank accounts and put food on the table, unem­ploy­ment was pos­si­bly our best option under the rushed cir­cum­stances of the CARES Act. But it's a deeply-flawed com­pro­mise that, like the Afford­able Care Act before it, uti­lizes a means-test­ed patch­work that deals Repub­li­can gov­er­nors in on the imple­men­ta­tion of a pol­i­cy that many of them oppose. And like pri­vate health insur­ance, unem­ploy­ment ties a crit­i­cal safe­ty net to the whims of a bru­tal job mar­ket that had hard­ly even recov­ered from the 2008 crash.
Many of the unem­ployed work­ers that we, a col­lege admin­is­tra­tor and labor lawyer, have spo­ken to have been reluc­tant to file. One, a build­ing trades appren­tice who was still tak­ing her 40-hour OSHA safe­ty class and hadn't got­ten her first work assign­ment, assumed she would be reject­ed for unem­ploy­ment since she was­n't laid off from a pay­ing job. A stage­hand who is not work­ing while live enter­tain­ment is out of the ques­tion fears that fil­ing would give the employ­er where he had recent­ly helped form a union an excuse to fire him for ​"job aban­don­ment." A lawyer who lost his well-paid job hes­i­tat­ed to fill out a claim form because he felt the sys­tem was for ​"strug­gling work­ers," not some­one like him. He wor­ried his claim would dry up resources for peo­ple who need it the most. Why should relief for them depend on their employ­ers or governors?
One of the few bright spots of the CARES Act is that it will boost unem­ploy­ment checks by $600 until July, push­ing that wage replace­ment rate up to 100%. And it cov­ers inde­pen­dent con­trac­tors. How­ev­er, many work­ers will still be left out or short­changed, includ­ing those whose incomes are too low to qual­i­fy, undoc­u­ment­ed work­ers, and tipped work­ers whose unem­ploy­ment ben­e­fits will depend on whether their employ­ers report­ed their tips as income.
It is clear that the fed­er­al gov­ern­ment will need to pass mul­ti­ple rounds of eco­nom­ic res­cue pack­ages. Demo­c­ra­t­ic lead­ers have to drop their patho­log­i­cal insis­tence upon means-test­ing ben­e­fits. On one side are Trump's big promis­es of across-the-board ben­e­fits (bear­ing his sig­na­ture), on the oth­er is Repub­li­can law­mak­ers' actu­al hard­line bar­gain­ing to shov­el mon­ey to cor­po­ra­tions while keep­ing ben­e­fits as stingy as pos­si­ble to force peo­ple to drag their car­cass­es to lousy, dan­ger­ous jobs. Caught in between, this is no time to lim­it expec­ta­tions and pose as the ​"more respon­si­ble" par­ty. Key to Demo­c­ra­t­ic elec­toral for­tunes is mak­ing vot­ers believe that the gov­ern­ment can be a force for good in their lives, and that means mak­ing demands and fight­ing like Hell to win them.
Con­gress' bi-par­ti­san zeal to swish-swish over one and a half tril­lion dol­lars for the ini­tial recov­ery pack­age puts the lie to every bit of ​"h0w D0 y0u P@y F0r iT" scare-mon­ger­ing about uni­ver­sal pro­grams like Medicare for All and the Green New Deal that were trot­ted out dur­ing the pres­i­den­tial debates. The next year will like­ly prove that both the recov­ery pack­age and Sanders' mod­er­ate plat­form are whol­ly inad­e­quate for solv­ing our loom­ing eco­nom­ic disaster.
Repub­li­can Sen­a­tors like Lind­sey Gra­ham and Ben Sasse who pub­licly fret­ted that the enhanced unem­ploy­ment ben­e­fit might be — as Bernie Sanders caus­ti­cal­ly char­ac­ter­ized it — ​"a few bucks more" than their pal­try wage said the qui­et part out loud. If a gov­ern­ment-spon­sored income replace­ment pro­gram gives work­ers the bar­gain­ing pow­er to refuse to work with­out bet­ter com­pen­sa­tion and work­place pro­tec­tions, would boss­es have to take their lives more seriously?
No one should have to choose between unsafe, under­paid work or pover­ty and star­va­tion. The point of unem­ploy­ment insur­ance (and wel­fare) is to give work­ers enough bar­gain­ing pow­er to reject unac­cept­able work­ing con­di­tions and to force boss­es to make a job worth doing. We must focus on [expand­ing pro­grams until there's uni­ver­sal cov­er­age. That means boost­ing ben­e­fits lev­els for essen­tial pro­grams like Social Secu­ri­ty Dis­abil­i­ty and rais­ing the fed­er­al pover­ty lev­el ($26,200 for a fam­i­ly of four) to broad­en eli­gi­bil­i­ty to pro­grams like Sup­ple­men­tal Nutri­tion Assis­tance Pro­grams and Med­ic­aid. We should also restore wel­fare as we knew it before Bill Clin­ton dis­man­tled the pro­gram. We must also explore cap­ping the work­week and ful­ly sub­si­diz­ing edu­ca­tion and train­ing for those who want it. That's some­thing worth leav­ing the house for.