Meat Factory Work is Dangerous in Normal Times. The Same Conditions Spread Covid-19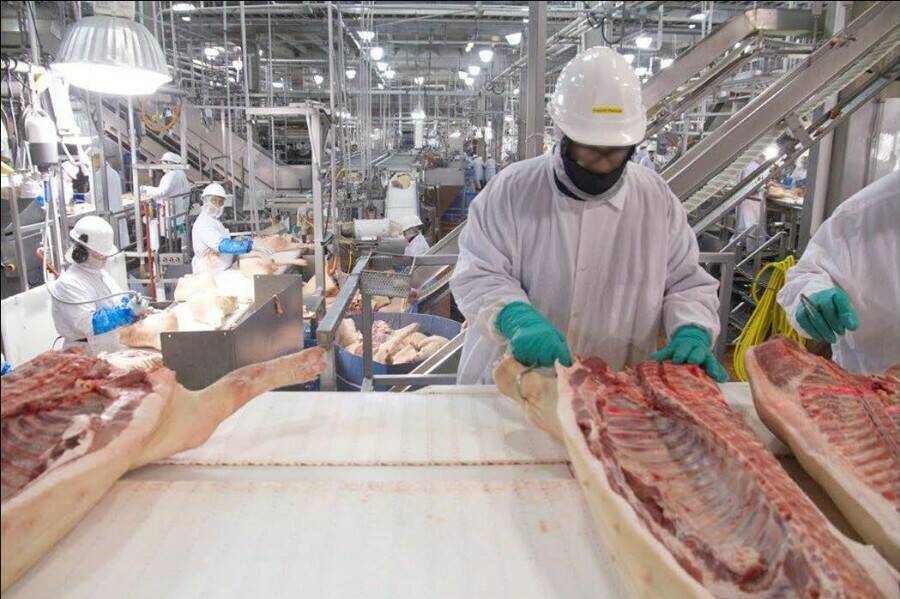 Large meat­pack­ing plants have become hotspots for coro­n­avirus infec­tion, along with jails and nurs­ing homes. As of May 1, near­ly 5,000 pack­ing plant work­ers in 19 states had fall­en ill, and 20 had died.
Pack­ing plants from Wash­ing­ton state to Iowa to Geor­gia have tem­porar­i­ly sus­pend­ed oper­a­tions, although Pres­i­dent Trump has invoked the Defense Pro­duc­tion Act in an effort to quick­ly restart these facilities.
As Iowa Gov. Kim Reynolds put it in a press con­fer­ence, virus out­breaks in pack­ing plants are ​"very dif­fi­cult to con­tain." But what makes these plants so dan­ger­ous? As a soci­ol­o­gist who has stud­ied food sys­tem labor issues, I see two answers.
First, work­ing con­di­tions expe­ri­enced in meat­pack­ing plants, which are shaped by the pres­sures of effi­cient pro­duc­tion, con­tribute to the spread of Covid-19. Sec­ond, this indus­try has evolved since the mid-20th cen­tu­ry in ways that make it hard for work­ers to advo­cate for safe con­di­tions even in good times, let alone dur­ing a pandemic.
Togeth­er, these fac­tors help to explain why U.S. meat­pack­ing plants are so dan­ger­ous now – and why this prob­lem will be dif­fi­cult to solve.
Employ­ees at large meat­pack­ing plants say they don't feel safe from Covid-19.
A hard job in good times
The meat­pack­ing indus­try is an impor­tant job source for thou­sands of peo­ple. In 2019 it employed near­ly 200,000 peo­ple in direct meat pro­cess­ing jobs at wages aver­ag­ing $14.13 per hour or $29,400 yearly.
Even in nor­mal con­di­tions, meat­pack­ing plants are risky places to work. The job requires using knives, saws and oth­er cut­ting tools, as well as oper­at­ing indus­tri­al meat grinders and oth­er heavy machinery.
Trau­mat­ic injuries due to work­place acci­dents are com­mon, and mis­takes can have grue­some con­se­quences. Gov­ern­ment researchers have also doc­u­ment­ed chron­ic injuries, such as repet­i­tive motion strains, among pack­ing plant workers.
The same con­di­tions that lead to these acci­dents and injuries dur­ing nor­mal times also con­tribute to the spread of coro­n­avirus. To under­stand this con­nec­tion, it is first impor­tant to know that meat­pack­ing is a vol­ume indus­try. The high­er a plant's dai­ly through­put – that is, the more ani­mals it turns into meat – the more lucra­tive it is.
For instance, one Smith­field plant in Sioux Falls, South Dako­ta, which shut down indef­i­nite­ly in April after hun­dreds of work­ers test­ed pos­i­tive for Covid-19, employed 3,700 peo­ple and pro­duced 18 mil­lion serv­ings of pork dai­ly.
To max­i­mize effi­cien­cy, pro­duc­tion takes place on an assem­bly line – or more accu­rate­ly, a dis­as­sem­bly line. Work­ers stand close togeth­er and per­form sim­ple, repet­i­tive tasks on ani­mal parts as the parts stream by.
Pro­duc­tion lines move quick­ly, with indus­try aver­ages rang­ing from 1,000 ani­mals per hour in pork pro­cess­ing to over 8,000 per hour in chick­en plants. In Octo­ber 2019 the Trump admin­is­tra­tion elim­i­nat­ed lim­its on pro­duc­tion line speed in pork pro­cess­ing plants, and it has also waived lim­its for indi­vid­ual chick­en pro­cess­ing plants.
The speed and orga­ni­za­tion of meat­pack­ing both pro­mote the spread of coro­n­avirus. Employ­ees labor along­side one anoth­er, work­ing at a rate that makes it dif­fi­cult, if not impos­si­ble, to prac­tice pro­tec­tive behav­iors such as cov­er­ing sneezes and coughs.
The Cen­ters for Dis­ease Con­trol and Pre­ven­tion has issued guide­lines to allow meat­pack­ing work­ers to con­tin­ue work­ing dur­ing the pan­dem­ic. They include spac­ing work­ers at least six feet apart and installing bar­ri­ers between them. Some plants have adopt­ed these con­trols, but the pres­sures of rapid pro­duc­tion may well lim­it their effectiveness.
Union­iz­ing the industry
Under­stand­ing why meat­pack­ing work­ers tol­er­ate these dif­fi­cult and dan­ger­ous con­di­tions requires a look at the industry's history.
Many peo­ple assume that jobs in pack­ing plants have always been as dif­fi­cult and dan­ger­ous as those depict­ed in jour­nal­ist Upton Sinclair's famed 1906 nov­el ​"The Jun­gle." That book described meat­pack­ing work­ers in ear­ly 20th-cen­tu­ry Chica­go fac­ing sim­i­lar con­di­tions to those in the mod­ern indus­try.
But this assump­tion con­ceals an impor­tant sto­ry. For sev­er­al decades after World War II, con­di­tions in meat­pack­ing plants steadi­ly improved as a result of pres­sure from work­ers themselves.
Start­ing in 1943, the Unit­ed Pack­ing­house Work­ers of Amer­i­ca, a labor union, orga­nized meat­pack­ing employ­ees in major cities. At the height of its influ­ence, this union secured ​"mas­ter agree­ments" with the largest firms, such as Armour and Swift, ensur­ing stan­dard wages and work­ing con­di­tions across the industry.
One source of the UPWA's influ­ence was its abil­i­ty to build inter­ra­cial alliances. Racial antag­o­nism between black and white work­ers, linked to job dis­crim­i­na­tion and the use of black work­ers to break strikes in the ear­ly 20th cen­tu­ry, had his­tor­i­cal­ly under­mined union efforts in meat­pack­ing plants.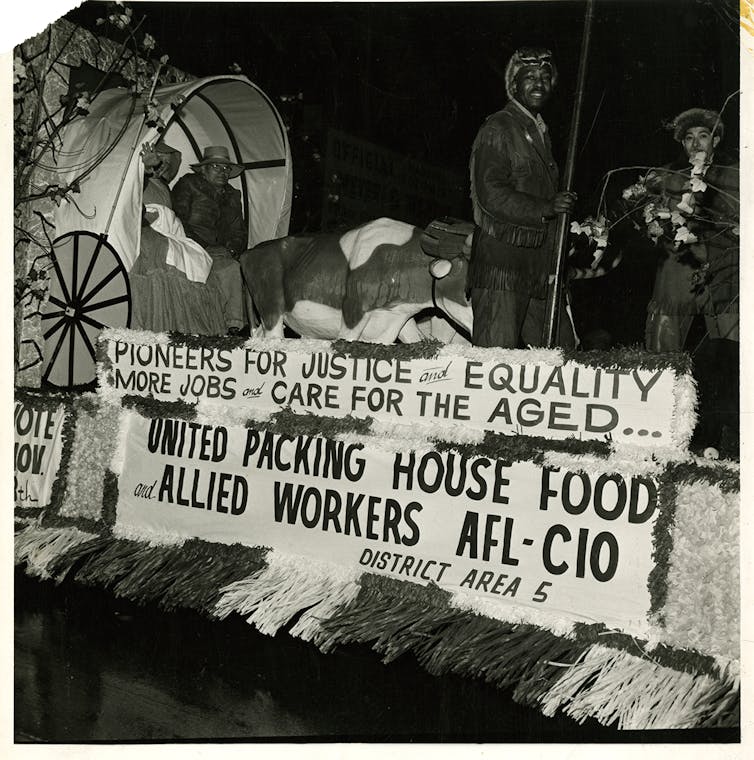 UPWA Dis­trict Area 5 Mem­bers ride a parade float, cir­ca 1960, in Chica­go. Pho­to Cour­tesy of Chica­go Pub­lic Library, CC BY-ND
The union's logo, which depict­ed clasped black and white hands, sym­bol­ized its abil­i­ty to bridge these dif­fer­ences. Its sup­port for the civ­il rights move­ment in the 1960s also revealed its com­mit­ment to racial equality.
A chang­ing labor force
But by the 1970s, the union was in decline. A key fac­tor was indus­try lead­ers' deci­sion to shift pro­duc­tion from cities with a strong union tra­di­tion, like Chica­go and Kansas City, to small towns scat­tered across the Great Plains and the south­east­ern Unit­ed States.
Rur­al work forces are more dif­fi­cult to orga­nize than their urban coun­ter­parts for many rea­sons. Most small towns do not have a his­to­ry of union activ­i­ty, and anti-union sen­ti­ment is often strong – as shown by the preva­lence of right-to-work laws in many rur­al states.
More­over, pack­ing plants are often small towns' only major employ­ers. Work­ers and munic­i­pal author­i­ties alike depend on plants for jobs and tax rev­enue. This rela­tion­ship cre­ates enor­mous pres­sure to treat meat pro­cess­ing com­pa­nies with deference.
Addi­tion­al­ly, meat­pack­ing con­sol­i­dat­ed in the late 20th cen­tu­ry. Plants grew larg­er, and a rel­a­tive hand­ful of firms such as Cargill and Tyson came to dom­i­nate pro­cess­ing of beef, poul­try and oth­er meats. Con­sol­i­da­tion gives these firms greater abil­i­ty to con­trol work­ing con­di­tions and wages.
Final­ly, today's plants often recruit work­ers from Mex­i­co and Cen­tral Amer­i­ca, some of whom may lack legal autho­riza­tion to work in the U.S. They also hire refugees who may be unfa­mil­iar with U.S. labor pro­tec­tions and have few oth­er employ­ment possibilities.
These work­ers' pre­car­i­ous legal and eco­nom­ic stand­ing makes it hard for them to chal­lenge employ­ers. Cul­tur­al dif­fer­ences, lan­guage gaps and racial prej­u­dice can also pose obsta­cles to col­lec­tive action.
The chal­lenge of coronavirus
Work­ers' orga­ni­za­tions have not dis­ap­peared. The Unit­ed Food and Com­mer­cial Work­ers Union has called on the Trump admin­is­tra­tion to ensure safe­ty dur­ing the pan­dem­ic, but it is fight­ing an uphill battle.
Despite Pres­i­dent Trump's reas­sur­ances that closed plants will reopen safe­ly, I expect that the pres­sures of effi­cien­cy and lim­its on work­ers' abil­i­ty to advo­cate for them­selves will cause infec­tions to persist.
In meat­pack­ing as in oth­er indus­tries, the pan­dem­ic has revealed how peo­ple who do ​"essen­tial" work for Amer­i­cans can be treat­ed as if they are expend­able.
Edi­tor's Note: This arti­cle is repub­lished from The Con­ver­sa­tion under a Cre­ative Com­mons license. Read the orig­i­nal arti­cle.