From Amputations to Respiratory Illnesses, New Report Exposes Hazards of Slaughterhouse Work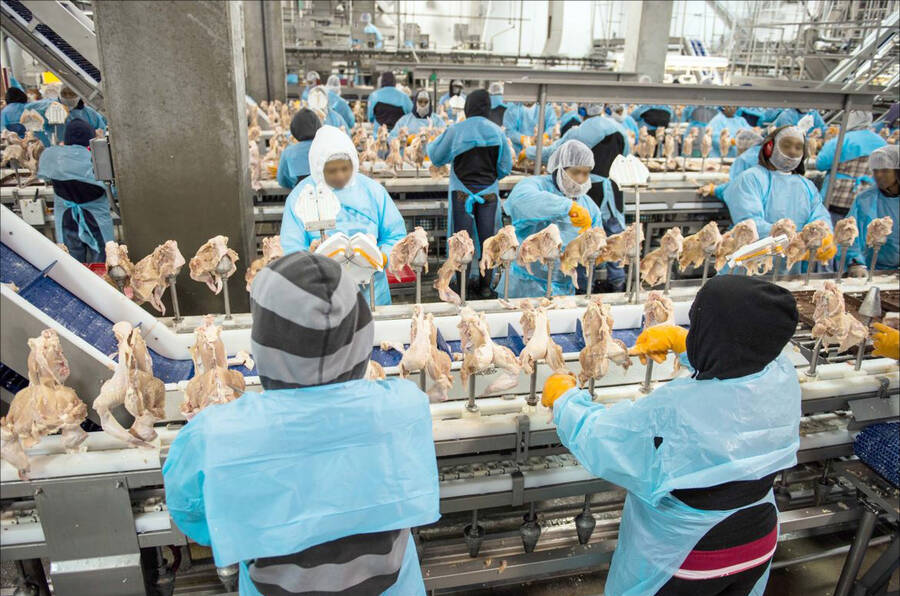 This sto­ry was orig­i­nal­ly pub­lished by the The Mid­west Cen­ter for Inves­tiga­tive Report­ing.
Repet­i­tive motion injuries, ampu­ta­tions and cuts con­tin­ue to be com­mon dan­gers that work­ers in the meat pro­cess­ing indus­try face, accord­ing to a Gov­ern­ment Account­abil­i­ty Office report released this month.
The GAO also found work­ers suf­fer res­pi­ra­to­ry ill­ness­es from per­acetic acid – an antimi­cro­bial chem­i­cal – sprayed on meat in pro­cess­ing facil­i­ties. In addi­tion, inves­ti­ga­tors from GAO iden­ti­fied a lack of bath­room access as a major con­cern among work­ers – one that work­ers were afraid to men­tion to fed­er­al labor inspec­tors at plants for fear of ret­ri­bu­tion from their employer.
The report reviewed the government's efforts – specif­i­cal­ly the Depart­ment of Labor's Occu­pa­tion­al Health and Safe­ty Admin­is­tra­tion (OSHA) – to pro­tect the health and safe­ty of work­ers in the nation's ani­mal slaugh­ter­ing and pro­cess­ing indus­try, one of the most haz­ardous indus­tries in the U.S.
Approx­i­mate­ly 72 work­ers were inter­viewed in Arkansas, Delaware, Nebras­ka, North Car­oli­na and Vir­ginia. Work­ers in three of those states said they had suf­fered neg­a­tive health effects, such as kid­ney prob­lems, from delayed or denied bath­room breaks. One indus­try rep­re­sen­ta­tive said some super­vi­sors in meat and poul­try plants restrict­ed bath­room access in order to max­i­mize pro­duc­tion out­put, accord­ing to the report.
"When asked by GAO, work­ers in five select­ed states cit­ed bath­room access as a con­cern and said they fear speak­ing up at work," the report stated.
OSHA sets safe­ty stan­dards and plays a role in estab­lish­ing and enforc­ing reg­u­la­tions that affect the health of the esti­mat­ed 480,000 peo­ple in the U.S. meat and poul­try pro­cess­ing indus­try. The depart­ment increased inspec­tions from 177 in 2005 to 244 in 2016, but the gov­ern­ment still faced chal­lenges iden­ti­fy­ing and address­ing con­cerns of workers.
GAO found that employ­ees at some plants feared penal­ties for com­ing for­ward with injuries sus­tained on the job. Cuts, repet­i­tive motion injuries, and ampu­ta­tions occur from hand saws, knives and oth­er man­u­al tools, but the report found that the acces­si­bil­i­ty of first aid sta­tions, and the exper­tise of on-site med­ical pro­fes­sion­als was lack­ing at sev­er­al facil­i­ties, accord­ing to inter­views con­duct­ed with Depart­ment of Labor officials.
One poul­try plant employ­ee vis­it­ed an on-site med­ical pro­fes­sion­al over the course of three months for severe pain in her wrist. Dur­ing this time, she con­tin­ued to work until she was referred to anoth­er doc­tor affil­i­at­ed with the com­pa­ny who didn't find a prob­lem. She lat­er, ​"went to a doc­tor unaf­fil­i­at­ed with the plant, who found a bone frac­ture," accord­ing to the report.
Based on its find­ings, the GAO out­lined sev­en rec­om­men­da­tions to the Depart­ment of Labor's Occu­pa­tion­al Safe­ty and Health Admin­is­tra­tion, includ­ing steps to encour­age work­ers to come for­ward about sen­si­tive con­cerns by con­duct­ing off-site inter­views, and updat­ing guide­lines for employ­ers on how to bet­ter man­age their health units.
Work­er-advo­ca­cy non­prof­it Oxfam wel­comed the GAO report, and said in a state­ment that it con­firmed find­ings from stud­ies they had con­duct­ed in 2015 and 2016 into the safe­ty of the meat pro­cess­ing industry.
"The cen­tral under­ly­ing prob­lem is the per­va­sive cli­mate of fear inside poul­try plants; when work­ers are afraid to report issues, OSHA and oth­er inspec­tion agen­cies are unable to detect or inves­ti­gate prob­lems," Oxfam said in a statement.
While spe­cif­ic com­pa­nies were not named in the report, Vir­ginia-based Smith­field Foods, which employs about 34,000 peo­ple in pork pro­cess­ing and pack­ag­ing jobs, said that their injury rates were below the nation­al aver­age, due in part to an employ­ee engage­ment effort ​"that encour­ages employ­ees to play an even more active role in com­mu­ni­cat­ing, train­ing and imple­ment­ing" Smithfield's safe­ty-man­age­ment pro­gram, said Karen Lom­bar­do, Senior Vice Pres­i­dent of Cor­po­rate Affairs at Smith­field. The company's work­place health and safe­ty vio­la­tions declined from 67 in 2012 to 29 last year, accord­ing to its annu­al report.
Seaboard Foods, a Kansas pork pro­duc­er, received the most fines of any food com­pa­ny for OSHA vio­la­tions in 2017, accord­ing to the most recent­ly avail­able data from Good Jobs First. The vio­la­tions, for things such as improp­er guard­ing on tools, occurred at the com­pa­ny's plant in Guy­mon, Okla­homa. The ini­tial fines totaled more than $100,000, indi­cat­ing the seri­ous­ness of the penal­ty, but not nec­es­sar­i­ly the amount the com­pa­ny ulti­mate­ly had to pay.
In a response to GAO's report, trade groups rep­re­sent­ing the U.S. poul­try pro­cess­ing indus­try said they had made sig­nif­i­cant progress in reduc­ing injury and ill­ness rates in recent decades, and that they would con­tin­ue to work toward safer envi­ron­ments for employees.
"While GAO's rec­om­men­da­tions per­tain to OSHA, FSIS and NIOSH, we look for­ward to review­ing the report and rec­om­men­da­tions in detail to deter­mine if they will have a mean­ing­ful out­come in help­ing to con­tin­ue the progress we've made in keep­ing our employ­ees safe," said Tom Super, a rep­re­sen­ta­tive for the Nation­al Chick­en Coun­cil, Nation­al Turkey Fed­er­a­tion and U.S. Poul­try & Egg Association.
A 2016 GAO report found that injury and ill­ness rates among work­ers in meat and poul­try pro­cess­ing plants has declined steadi­ly since 2004, part of an over­all trend across man­u­fac­tur­ing indus­tries, but that meat and poul­try pro­cess­ing remained one of the most haz­ardous occu­pa­tions for U.S. workers.
The Mid­west Cen­ter for Inves­tiga­tive Report­ing is a non­prof­it, online news­room offer­ing inves­tiga­tive and enter­prise cov­er­age of agribusi­ness, Big Ag and relat­ed issues through data analy­sis, visu­al­iza­tions, in-depth reports and inter­ac­tive web tools. Vis­it us online at www​.inves​ti​gatemid​west​.org.
Anna Casey
is an Engage­ment Fel­low with the Mid­west Cen­ter for Inves­tiga­tive Report­ing. She is a grad­u­ate of Knox Col­lege in Gales­burg, Ill., and received her master's in jour­nal­ism from the Uni­ver­si­ty of Texas at Austin in the spring of
2017
. Her report­ing has appeared in out­lets includ­ing Kaiser Health news, Refinery
29
, the Texas Tri­bune, the Austin Amer­i­can-States­man, and npr​.org, the web­site of Nation­al Pub­lic Radio.