Winning Medicare for All Will Require Taking On Powerful Interests. Here's How We Overcame One.
The American Medical Association's decision to leave an industry-backed, anti-single payer group didn't happen on its own. It was the result of dedicated organizing to make healthcare a human right.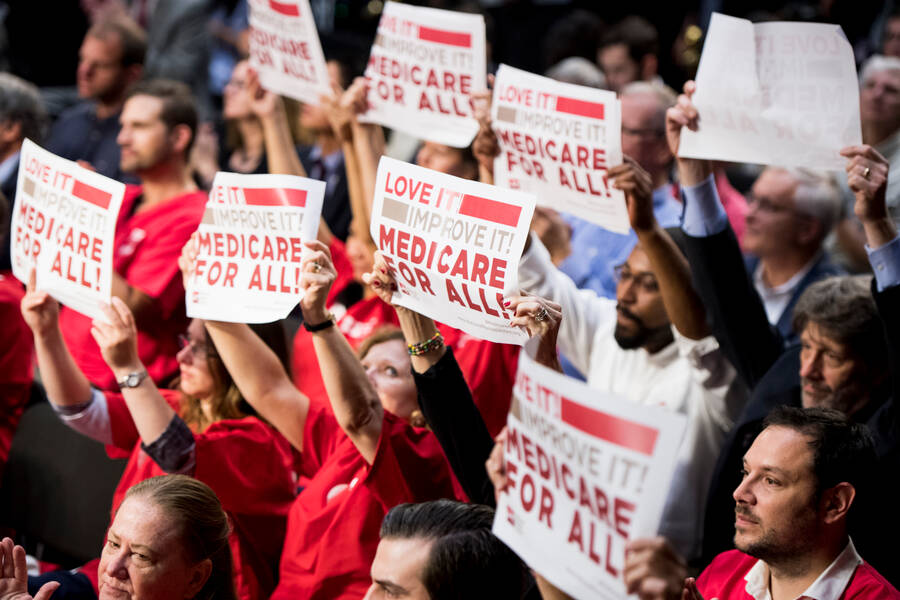 Achiev­ing Medicare for All in the Unit­ed States would mean replac­ing our cur­rent bro­ken patch­work of a health­care sys­tem with one where every­one could access com­pre­hen­sive, equi­table care when­ev­er and wher­ev­er they need it.
The end of private insurance, or at least most forms of it, stands as an existential threat to the future of obscenely profitable corporations. They should be scared.
The path to win­ning Medicare Care for All will be a case study of estab­lish­ment forces doing all they can to detract, block and stave off progress.
With so many enti­ties that prof­it immense­ly from our bro­ken health­care sys­tem, we will have to remove count­less bar­ri­ers along the way. The Amer­i­can Med­ical Asso­ci­a­tion (AMA), a high­ly influ­en­tial play­er in this debate, made a major move in August when it backed out of the Part­ner­ship for America's Health Care Future (PAHCF), the lead indus­try group cre­at­ed to ensure Medicare for All does not become a reality.
As the move­ment toward Medicare for All gains steam, with pres­i­den­tial can­di­dates Bernie Sanders and Eliz­a­beth War­ren tout­ing the pro­pos­al on the cam­paign trail, the mount­ing threat to insur­ance com­pa­nies and Big Phar­ma is becom­ing more and more clear. The end of pri­vate insur­ance, or at least most forms of it, stands as an exis­ten­tial threat to the future of these obscene­ly prof­itable corporations.
They should be scared. Close to a major­i­ty of Democ­rats in the U.S. House are now co-spon­sor­ing Rep. Prami­la Jayapal's Medicare for All bill. Health­care has become a dom­i­nant issue in the 2020 Demo­c­ra­t­ic pri­ma­ry. Medicare is one of the most pop­u­lar pro­grams in Amer­i­can his­to­ry, and at a time when good jobs with guar­an­teed health­care are hard to find, it makes sense that Amer­i­cans want to expand it.
The AMA has a long, trou­bling his­to­ry of oppos­ing health­care reforms, includ­ing Medicare and Med­ic­aid, which it called ​"social­ized med­i­cine" back in 1965. Dur­ing the Oba­ma admin­is­tra­tion, the AMA lob­bied with pri­vate insur­ers to under­mine the Afford­able Care Act, sig­nif­i­cant­ly reduc­ing the num­ber of peo­ple able to get cov­er­age under the law.
Cur­rent­ly, 30 mil­lion peo­ple in the Unit­ed States are unin­sured. Twen­ty-five mil­lion more are under­in­sured, mean­ing they spend 10% or more of their income on out-of-pock­et med­ical expens­es. Mean­while, 70% of Amer­i­cans now sup­port Medicare for All, which, until this month, the AMA backed the PAHCF in inac­tive­ly opposing.
The AMA's deci­sion to leave the PAHCF didn't hap­pen on its own, or overnight. Rather, it was the prod­uct of organizing.
In 2018, AMA mem­bers from Physi­cians for a Nation­al Health Pro­gram (PNHP), a pro-Medicare for All group, intro­duced a res­o­lu­tion at that year's Annu­al Meet­ing of the AMA to end its decades-long oppo­si­tion to sin­gle-pay­er health­care. Those mem­bers have con­tin­ued to orga­nize, build­ing a strong coali­tion of allies to sup­port their call.
The nation­al grass­roots orga­ni­za­tion People's Action, where I serve as the Health Care for All Cam­paign Direc­tor, has been a part of that fight. In April, rough­ly 1,000 of our mem­bers occu­pied the lob­by of PAHCF's Wash­ing­ton, D.C. office, demand­ing the group drop its oppo­si­tion to Medicare for All.
People's Action mem­ber orga­ni­za­tion Jane Addams Senior Cau­cus (JASC) then led an orga­niz­ing effort which cul­mi­nat­ed in June when JASC and PNHP mem­bers took over the main floor of AMA's nation­al con­ven­tion in Chica­go, with seniors, doc­tors and oth­er com­mu­ni­ty mem­bers tak­ing the stage and call­ing on the AMA to end its par­tic­i­pa­tion in the PAHCF as well as its oppo­si­tion to Medicare for All. While the AMA lead­er­ship may have been opposed to our action, it was clear from the recep­tion that many mem­bers at the con­ven­tion sup­port­ed us.
While we didn't win, the result was close: 47% of del­e­gates voted to adopt the res­o­lu­tion to stop oppos­ing sin­gle-pay­er — the strongest show of sup­port for uni­ver­sal health­care in the AMA's history.
More impor­tant­ly, the PAHCF will no longer have the back­ing of the largest physician's orga­ni­za­tion in this coun­try, which is also the third-largest lob­by­ing orga­ni­za­tion. Because of its deci­sion to leave the group, the AMA will no longer finan­cial­ly con­tribute to the PAHCF's Fox News-style pro­pa­gan­da cam­paign to kill Medicare for All.
Build­ing sup­port for Medicare for All is not hard. But beat­ing back the wealthy forces deter­mined to prof­it off of ill­ness is.
The AMA's deci­sion to leave the PAHCF is the kind of incre­men­tal win we need on the path to win­ning uni­ver­sal health­care. One by one, we will have to remove the bar­ri­ers to expand­ing an incred­i­bly pop­u­lar and effec­tive pro­gram. It won't be easy. But in the end, we believe our move­ment for Medicare for All will prevail.
Con­nie Huynh
is the Health Care for All Cam­paign Direc­tor at People's Action.