Kick the Boss Out of the Doctor's Office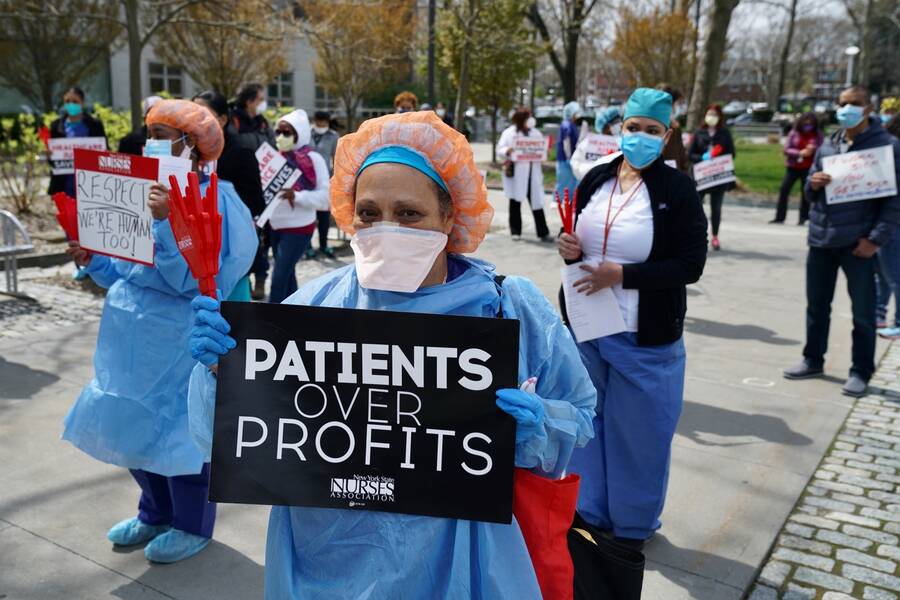 Is the abil­i­ty to nego­ti­ate health­care ben­e­fits with employ­ers a source of strength for unions, or an insid­i­ous trap? The Covid-19 health cri­sis and ensu­ing eco­nom­ic melt­down prob­a­bly answers that ques­tion, but it's still worth dis­sect­ing for those naïve opti­mists who think there is some sem­blance of the old nor­mal that we can return to when the pan­dem­ic is final­ly behind us.
Medicare for All was a cen­tral issue in the Demo­c­ra­t­ic pres­i­den­tial pri­ma­ry. Among the front-run­ners, Bernie Sanders and Eliz­a­beth War­ren endorsed ver­sions of a sin­gle-pay­er plan, while Joe Biden argued against it. In doing so, Biden employed unions' hard-fought cam­paigns to win and main­tain health ben­e­fits to argue that tak­ing the issue out of bar­gain­ing entire­ly, by pro­vid­ing health­care to every­one, would be dis­re­spect­ful to union mem­bers' past sac­ri­fices. The issue blew up in the Neva­da cau­cus­es when the pow­er­ful — and pro­gres­sive — hotel and casi­no work­ers union, Culi­nary Local 226, warned mem­bers to be wary of can­di­dates sup­port­ing Medicare for All, claim­ing it could spell the end of their admirable sys­tem of employ­er-spon­sored health­care clinics.
The messy truth is this: unions that have robust labor-man­age­ment ben­e­fit funds enjoy a degree of pow­er and priv­i­lege in our bro­ken sys­tem, and can even use their health care plans to aid in orga­niz­ing. But most unions nego­ti­ate with employ­ers indi­vid­u­al­ly, and the ris­ing cost of insur­ance pre­mi­ums drags down wages and the abil­i­ty to orga­nize new shops. My expe­ri­ence as a union orga­niz­er and nego­tia­tor has con­vinced me that unions can­not grow until we kick the boss out of the doctor's office.
I cut my teeth at the NY Hotel Trades Coun­cil (NYHTC), whose sys­tem of union-run health­care clin­ics was the mod­el and inspi­ra­tion for Culi­nary Local 226. I appre­ci­ate the pride that union lead­ers take in pro­vid­ing health ben­e­fits for their mem­bers, and their ret­i­cence about mak­ing big changes. It was eas­i­ly the best health care (as dis­tin­guished from mere insur­ance) that I've enjoyed in my life. It's not just that co-pays were low and pre­scrip­tions were dirt cheap. The group prac­tice aspect of its net­work of clin­ics — doc­tors, nurs­es and tech­ni­cians actu­al­ly con­sult­ing with each oth­er about a patient's symp­toms and med­ical his­to­ry and devel­op­ing a holis­tic approach to diag­no­sis and treat­ment — is amaz­ing. It's what we want when we vis­it a doc­tor. We don't get it under our cur­rent mess of pri­vate insur­ance. But the NYHTC has some­how man­aged to win and main­tain just such a minia­ture form of social­ized med­i­cine for its community.
Unions only got into the busi­ness of health­care when the gov­ern­ment froze wages dur­ing World War II to fight infla­tion, but exempt­ed ​"fringe" ben­e­fits. Many unions emerged from the war years with employ­er-spon­sored health insur­ance. The social demo­c­ra­t­ic CIO unions held out in hopes of a post-war expan­sion of health­care as a uni­ver­sal right. After Repub­li­cans took con­trol of Con­gress in 1946, CIO lead­ers vowed not to wait ​"for per­haps anoth­er ten years until the Social Secu­ri­ty laws are amend­ed ade­quate­ly" and to use their col­lec­tive bar­gain­ing pow­er to address their mem­bers' health and retire­ment secu­ri­ty. Think about that. Our employ­er-spon­sored health­care sys­tem was a five-year deal to make progress on a ten-year prob­lem, not to be our for­ev­er compromise.
In a fas­ci­nat­ing con­trast, the NYHTC was an AFL union with Com­mu­nist lead­er­ship dur­ing the war. It bar­gained for employ­er-fund­ed health insur­ance and quick­ly chafed against the costs and lack of con­trol that Blue Cross afford­ed them. They bar­gained for employ­ers to fund a joint­ly-man­aged net­work of health clin­ics. The NYHTC was able to orga­nize its minia­ture sys­tem of social­ized med­i­cine because they were smart enough to take advan­tage of a polit­i­cal moment in time when employ­ers want­ed labor peace and were will­ing to pay for it. They've man­aged to hold on to it because they have main­tained a very high lev­el of union den­si­ty and because the eco­nom­ics of the sys­tem works for the employers.
In fact, they man­aged to nego­ti­ate a deal with the city's Hotel Asso­ci­a­tion that says laid off mem­bers will con­tin­ue to enjoy their health ben­e­fits while they are laid off due to hotels being shut­tered as a result of Covid-19. But most oth­er unions have had lit­tle to no abil­i­ty to main­tain health ben­e­fits for their laid-off mem­bers. Mil­lions of work­ers are los­ing their access to health­care along with their jobs in the mid­dle of a glob­al health pandemic.
Unions with ben­e­fit funds play an out­sized role in the think­ing about labor law reform because of their rel­a­tive size and polit­i­cal clout. There are some who pro­pose tech­no­crat­ic solu­tions for union growth, by hav­ing unions take on the admin­is­tra­tive bur­dens of ben­e­fit admin­is­tra­tion and offer­ing economies of scale to entice employ­ers into a bar­gain­ing rela­tion­ship. But there are two pri­ma­ry prob­lems with this approach.
First of all, it requires orga­niz­ing from a posi­tion of strength, and there are not many places where labor is insti­tu­tion­al­ly strong. In recent years, the NYHTC has begun to orga­nize work­ers out­side of the five bor­oughs of New York City. The fact that union­ized hotels that pay into the ben­e­fit fund wind up spend­ing less mon­ey on bet­ter health­care has been help­ful. That's great for hotel work­ers in New Jer­sey and upstate New York. But what the hell do we do about gro­cery store work­ers in Ari­zona, or adjunct pro­fes­sors in Texas?
The sec­ond prob­lem is that oper­at­ing a ben­e­fit fund requires will­ing employ­ers, and employ­ers are most­ly not will­ing. They're not eager to have unions in the work­place and they're not will­ing to engage in col­lec­tive prob­lem solv­ing with their com­peti­tors. Employ­ers spent the last 40 years break­ing out of mul­ti-employ­er bar­gain­ing every­where that they could. Most employ­ers put the high cost of health insur­ance on the bar­gain­ing table on day one. Before they can even try to make any gains, unions are already fight­ing con­ces­sions around health insurance.
The Culi­nary union's skep­ti­cism of Demo­c­ra­t­ic promis­es was under­stand­able. Unions knocked on their mem­bers' doors in 2008 warn­ing that John McCain want­ed to tax their health insur­ance only to watch Oba­ma and Biden do the same. The irony is that Bernie Sanders' plan — which now looks emi­nent­ly mod­er­ate and afford­able in the con­text of mul­ti-tril­lion-dol­lar eco­nom­ic stim­u­lus pack­ages — would have explic­it­ly pro­tect­ed and encour­aged labor-man­age­ment plans like Culinary's. His pro­posed ver­sion of Medicare for All would sim­ply alter who pays for the health clin­ics, not who hires the med­ical staff — or who the patients are. And Con­gress can still pass it.
In fact, mov­ing to a sin­gle-pay­er sys­tem could enable more unions to win excel­lent health­care through group prac­tice clin­ics for their mem­bers — an essen­tial next step after win­ning uni­ver­sal access to care.
Por­tions of this arti­cle were adapt­ed from Tell The Boss­es We're Com­ing: A New Action Plan for Work­ers in the Twen­ty-First Cen­tu­ry (Month­ly Review Press).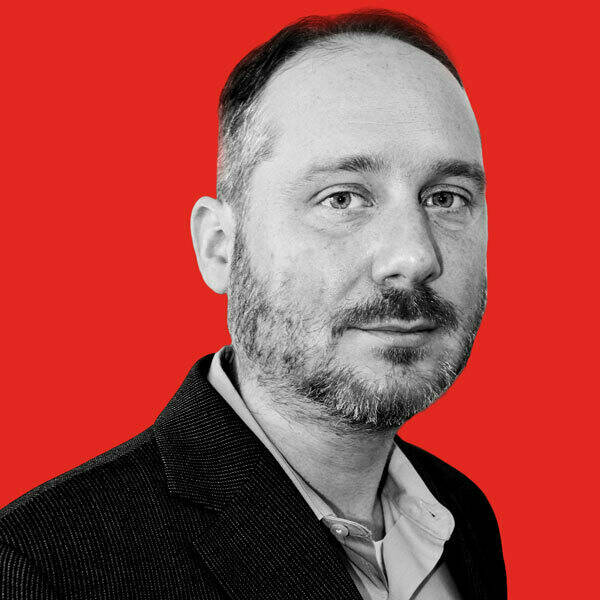 Shaun Rich­man
is an In These Times con­tribut­ing writer and the Pro­gram Direc­tor of the Har­ry Van Ars­dale Jr. School of Labor Stud­ies at SUNY Empire State Col­lege. His Twit­ter han­dle is @Ess_Dog.