How Medicare for All Could Improve—and Save—the Lives of Transgender People
Transgender people are systematically shut out of medical coverage. Medicare for All could change that.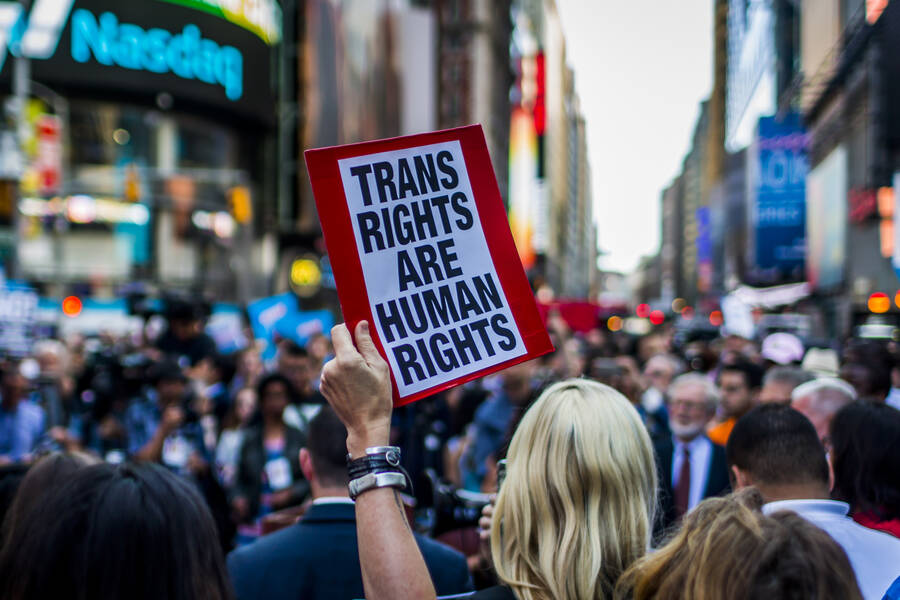 Arya Seren­i­ty start­ed using GoFundMe in 2018, just before being released from prison. With the help of peo­ple on the out­side, she ran two cam­paigns to raise a few thou­sand dol­lars to defray the cost of hous­ing, re-entry, and buy­ing women's cloth­ing and cos­met­ics for the first time. A year lat­er, she returned to the plat­form again to pay for facial hair removal.
With Medicare for All, these coverage disparities could instantly disappear.
Arya is a trans­gen­der woman, some­one who was assigned male at birth and iden­ti­fies as a woman. She's also part of a grow­ing cohort of gen­der diverse indi­vid­u­als who are turn­ing to online plat­forms like GoFundMe to ask their com­mu­ni­ties for direct assis­tance in cov­er­ing the costs of their tran­si­tions. A quick search for ​"top surgery" on the web­site will turn up over 27,000 results, and ​"bot­tom surgery" yields some 16,000 more. There are also thou­sands more cam­paigns from peo­ple ask­ing for aid to cov­er the cost of hor­mones, gen­der con­fir­ma­tion surg­eries, laser hair removal, and oth­er expens­es relat­ed to med­ical transition.
These ser­vices can quick­ly add up to tens of thou­sands of dol­lars. Arya scoffs at the thought of being able to afford the full scope of gen­der affirm­ing care that she would like: ​"Hell no. I can bare­ly pay my rent."
But with Medicare for All main­tain­ing broad pop­u­lar sup­port and its chief polit­i­cal pro­po­nent — Sen. Bernie Sanders (I‑Vt.)—surg­ing to the lead in the Demo­c­ra­t­ic pri­ma­ry, that cal­cu­la­tion may soon change.
The pro­posed pol­i­cy would be a major inter­ven­tion in a sys­tem where over 1.3 mil­lion Amer­i­cans who iden­ti­fy as trans­gen­der or gen­der diverse are sys­tem­at­i­cal­ly shut out of health care cov­er­age. Cur­rent­ly, only 19 states and the Dis­trict of Colum­bia require gov­ern­ment insur­ance to cov­er gen­der affirm­ing care, and nine states explic­it­ly exclude it. The gen­der diverse com­mu­ni­ty is unin­sured at more than dou­ble the per­cent­age of the gen­er­al pop­u­la­tion. And in a sys­tem where health insur­ance is tied to employ­ment, gen­der diverse peo­ple are three times more like­ly to be unem­ployed than cis­gen­der peo­ple, whose gen­der match­es the sex they were assigned at birth. Accord­ing to the Nation­al Cen­ter for Trangen­der Equal­i­ty, ​"More than one in four trans­gen­der peo­ple have lost a job due to bias, and more than three-fourths have expe­ri­enced work­place dis­crim­i­na­tion." This real­i­ty is even worse for trans­gen­der peo­ple of col­or, with near­ly half of Black trans­gen­der Amer­i­cans report­ing harass­ment at work.
With Medicare for All, these cov­er­age dis­par­i­ties could instant­ly disappear.
Sen. Sanders, who intro­duced the Medicare for All bill in Con­gress in 2019, describes the pro­gram as a ​"sin­gle-pay­er, nation­al health insur­ance pro­gram to pro­vide every­one in Amer­i­ca with com­pre­hen­sive health care cov­er­age, free at the point of ser­vice." The Sanders cam­paign told In These Times over email that Medicare for All ​"would not only con­front the mas­sive health dis­par­i­ties faced by the LGBTQ+ com­mu­ni­ty, it would also cov­er gen­der affirm­ing surg­eries, increase access to PrEP, remove bar­ri­ers to men­tal health care and bol­ster sui­cide pre­ven­tion efforts. Sanders' plan clear­ly states that LGBTQ+ peo­ple can­not be dis­crim­i­nat­ed against by providers or denied health benefits."
For her part, Eliz­a­beth War­ren, the only oth­er pres­i­den­tial hope­ful to make Medicare for All part of their offi­cial plat­form, has also promised to expand health care access for sex­u­al and gen­der minori­ties. Her web­site states that a War­ren admin­is­tra­tion would ensure cov­er­age for ​"all med­ical­ly nec­es­sary care for LGBTQ+ patients under Medicare for All, and [allow] providers dis­cre­tion to deem gen­der-affirm­ing pro­ce­dures as med­ical­ly nec­es­sary based on an indi­vid­u­al­ized assess­ment." Some, how­ev­er, have ques­tioned whether she actu­al­ly plans to make Medicare for All a leg­isla­tive pri­or­i­ty, giv­en that her time­line for achiev­ing it stretch­es deep into the sec­ond half of her hypo­thet­i­cal term.
Daniel Mer­rill is a trans­gen­der woman and co-chair of the Cincin­nati and North­ern Ken­tucky chap­ter of the Demo­c­ra­t­ic Social­ists of Amer­i­ca. She says that a strong Medicare for All pro­gram would be life-sav­ing, not­ing that access to gen­der-affirm­ing care ​"sig­nif­i­cant­ly low­ers the sui­cide rate among trans­gen­der peo­ple and sig­nif­i­cant­ly reduces the rate at which they are vio­lent­ly accost­ed by peo­ple in pub­lic." With life expectan­cy for trans­gen­der women of col­or cur­rent­ly as low as 35 due to high rates of racist and trans­pho­bic vio­lence, Merrill's com­ments reveal anoth­er lay­er of health dis­par­i­ties faced by trans­gen­der and gen­der non­con­form­ing pop­u­la­tions, one that Medicare for All could help alleviate.
Under the cur­rent sys­tem, pri­vate­ly insured Amer­i­cans seek­ing gen­der affirm­ing care can eas­i­ly fall through the cracks. Cov­er­age varies wide­ly between poli­cies, and in some cas­es, insur­ance car­ri­ers will sim­ply deny cov­er­age for pro­ce­dures that are osten­si­bly cov­ered in their poli­cies. Arya Seren­i­ty says she dis­cov­ered this when she tried to get facial fem­i­niza­tion surgery (FFS) last year. After leav­ing prison, she says she found work at a sup­port cen­ter for trans­gen­der peo­ple. Through that posi­tion, Seren­i­ty says she has been cov­ered with Blue Cross Blue Shield's Plat­inum PPO plan, which she says she specif­i­cal­ly chose because it cov­ers FFS. Despite this, Serenity's insur­ance has repeat­ed­ly denied her FFS requests, she says. (The com­pa­ny did not imme­di­ate­ly reply to a request for comment.)
"They con­sid­er it cos­met­ic," she says. ​"For them to be able to deter­mine that for some­one else is beyond me." She added, ​"It's so angering."
She says she once tried to get autho­riza­tion from a spe­cial­ist, but he told her not to both­er, because insur­ance wouldn't cov­er it. Besides, the spe­cial­ist said, she looked fem­i­nine enough already. The whole vis­it last­ed less than 15 min­utes and left Seren­i­ty think­ing to her­self, ​"Wow, this is what I signed up for?"
With cur­rent iter­a­tions of Med­ic­aid, gen­der diverse peo­ple also can strug­gle to access care. This was the case for Theo Stra­chan, a trans­gen­der man who is insured through Med­ic­aid in Mary­land. Stra­chan says he was forced to pay out of pock­et for a vis­it to the OB/GYN because Med­ic­aid flagged the request for gyne­co­log­i­cal care for a man as fraud­u­lent. Stra­chan says that when he called the Mary­land Depart­ment of Health to clear things up, ​"it got very inva­sive very quick­ly." Accord­ing to Stra­chan, the depart­ment offi­cial with whom he spoke asked about his anato­my and began talk­ing to him about god. He says the entire expe­ri­ence was ​"humil­i­at­ing." A rep­re­sen­ta­tive of the Mary­land Depart­ment of Health told In These Times via email that the Depart­ment was not able to com­ment on mat­ters involv­ing per­son­al health information.
It could get even worse. Last sum­mer, the Trump admin­is­tra­tion pro­posed a dra­mat­ic revi­sion of Sec­tion 1557 of the Afford­able Care Act that would elim­i­nate nondis­crim­i­na­tion pro­tec­tions based on gen­der iden­ti­ty, sex, and asso­ci­a­tion in pro­grams that receive fed­er­al fund­ing. While it is not entire­ly clear what such changes would entail, many are con­cerned that, if imple­ment­ed, the roll­back could lead to an increase in dis­crim­i­na­tion against trans­gen­der and gen­der divrese people.
For Dr. Alex Keu­rogh­lian, who is the prin­ci­pal inves­ti­ga­tor of the fed­er­al­ly fund­ed Nation­al LGBT Health Edu­ca­tion Cen­ter and the direc­tor of the Mass­a­chu­setts Gen­er­al Hospital's Psy­chi­a­try Gen­der Iden­ti­ty Pro­gram, anec­dotes of denial of care are a big con­cern. ​"We have nation­al data indi­cat­ing that adverse expe­ri­ences with­in the health care sys­tem — being mis­gen­dered or inval­i­dat­ed or denied treat­ments relat­ed to your gen­der iden­ti­ty — is a rea­son many trans­gen­der and gen­der diverse peo­ple cite for not engag­ing in need­ed urgent or pre­ven­ta­tive med­ical care." Keu­rogh­lian says this dynam­ic leads direct­ly to health inequities down the line.
As for insur­ance dif­fi­cul­ties, Keu­rogh­lian says, ​"We hear it all the time. It ends up being a lot of extra work at health cen­ters or in care teams for clin­i­cians to process appeals and engage in addi­tion­al advo­ca­cy — and a lot of extra work and emo­tion­al labor for the patients."
Under Sanders' Medicare for All pro­pos­al, such dis­crim­i­na­tion would be explic­it­ly banned, and courts would be able to award dam­ages if this ban was vio­lat­ed. War­ren says she will ​"imme­di­ate­ly work to repeal the Trump Administration's ter­ri­ble pro­posed rule per­mit­ting dis­crim­i­na­tion against LGBTQ+ peo­ple in health care."
Accord­ing to Jes­si­ca Halem, LGBTQ out­reach and engage­ment direc­tor at Har­vard Med­ical School, Medicare for All cre­ates anoth­er impor­tant oppor­tu­ni­ty to improve access to gen­der affirm­ing care: It would release providers from hav­ing to fight with insur­ance com­pa­nies over patient care and reduce time spent on admin­is­tra­tive work by stream­lin­ing paper­work and elec­tron­ic records. As Halem puts it, ​"Medicare for All is an oppor­tu­ni­ty to free up doc­tors to do what they do best."
Fur­ther­more, says Halem, hav­ing a fed­er­al pol­i­cy that val­i­dates best prac­tices for gen­der affirm­ing care would cre­ate a ​"trick­le down effect" that would lead to greater accep­tance for gen­der diver­si­ty through­out soci­ety. ​"Because you've got this beloved expert in our cul­ture," says Halem. ​"We put [doc­tors] on this pedestal." Halem says that when doc­tors affirm gen­der diver­si­ty, ​"then every­one else falls in line."
Keu­rogh­lian says that train­ing is key to ensur­ing access to gen­der affirm­ing care. ​"The thing is clin­i­cians aren't trained to pro­vide this care," he says. ​"We need to reform med­ical edu­ca­tion, nurs­ing edu­ca­tion, social work edu­ca­tion. You can have the cov­er­age, but if you don't have enough care teams who know how to deliv­er this care, it's not going to get delivered."
Some argue that the med­ical sys­tem requires deep cul­tur­al inter­ven­tion, as well as struc­tur­al change. Dan­ny Waxwing, attor­ney and direc­tor of the Trans in Prison Jus­tice Project at Dis­abil­i­ty Rights Wash­ing­ton, says ​"a lot of issues come about because we're still using the frame­work of med­ical neces­si­ty in a con­ver­sa­tion that is fun­da­men­tal­ly about self-deter­mi­na­tion." As Arya Seren­i­ty expe­ri­enced when she was denied FFS on the grounds that it was cos­met­ic, what con­sti­tutes ​"med­ical neces­si­ty" is not ulti­mate­ly up to the trans­gen­der or gen­der diverse per­son who is seek­ing care. To meet the needs of gen­der diverse peo­ple, advo­cates say a Medicare for All sys­tem would have to ensure that indi­vid­u­als have agency and voice in deter­min­ing the care they need.
Daniel Mer­rill, a sup­port­er of Medicare for All, says of the pro­posed pro­gram, ​"I'd like to see more pro­tec­tions for ado­les­cents in gain­ing access to puber­ty block­ing treat­ments, par­tic­u­lar­ly auton­o­my in mak­ing choic­es regard­ing their gen­der iden­ti­ty from their par­ents." Nei­ther War­ren nor Sanders direct­ly address­es this point in their plans, despite the fact that more than a dozen states across the coun­try are advanc­ing bills that tar­get trans­gen­der youth, either by ban­ning cer­tain kinds of gen­der-relat­ed med­ical care or bar­ring them from play­ing on school sports teams asso­ci­at­ed with their gen­der iden­ti­ties. On Jan­u­ary 30, South Dakota's House of Rep­re­sen­ta­tives approved a bill that would make it a mis­de­meanor for doc­tors to pro­vide gen­der affirm­ing care like puber­ty block­ers to patients under the age of 16 years old. While only a minor­i­ty of gen­der diverse youth cur­rent­ly receive this treat­ment, a recent study found that the ther­a­py can have sig­nif­i­cant ben­e­fits for the men­tal health of those who do.
Of course, if one can­not afford to go to the doc­tor to seek care in the first place, none of this mat­ters. Theo Stra­chan, point­ing to Medicare for All's abil­i­ty to make health care acces­si­ble for trans­gen­der peo­ple of col­or who are liv­ing in pover­ty, says, ​"I'm for it."
Arya Seren­i­ty says she's cyn­i­cal that Medicare for All would deliv­er, ask­ing, ​"Who's going to pay for that?" She's deter­mined to move for­ward with her tran­si­tion, and to do her best to get the care she needs. When she walks down the street, she says, she wants peo­ple to think ​"Damn, she's cute. Or damn, she's ugly, but at least it's a ​'she.'" That, she says, would ​"change everything."
Mer­rill, on the oth­er hand, empha­sizes that the relief that Medicare for All would bring can­not be over­stat­ed. She says there's a per­son she wants to be, but for a long time she assumed she would nev­er be able to afford it. With Medicare for All on the table, she under­scores, ​"It's the first time I've believed that it's possible."
Izii Carter
is an edi­to­r­i­al intern at In These Times.