How Mexican Teachers Are Fighting Standardized Tests and Corporate Education Reform
This post first appeared at Labor Notes.
Teach­ers in Oax­a­ca, Mex­i­co, took their fight against their government's puni­tive ​"edu­ca­tion reform" to a new lev­el in the past month, with high­ly vis­i­ble actions against leg­is­la­tors, polit­i­cal par­ties, and even airports.
On Feb­ru­ary 5, Con­sti­tu­tion Day, teach­ers sur­round­ed the state leg­is­la­ture and blocked any busi­ness from tran­spir­ing. The pre­vi­ous day they had blocked the offices of sev­en polit­i­cal par­ties. The next day they sur­round­ed gaso­line stations.
Dis­ap­point­ed tourists saw their flights can­celed on Jan­u­ary 10. ​"In pre­vi­ous actions, they'd tak­en the high­ways lead­ing to the Oax­a­ca air­port," said teacher-train­er Maria Ele­na Ramírez Aven­daño, ​"but this time they took the run­ways for the first time."
The actions are part of a year-and-a-half-long fight against con­sti­tu­tion­al amend­ments that require teach­ers to take a nation­al com­pet­i­tive exam every four years in order to keep their jobs – among oth­er changes that teach­ers see as harm­ful both to their own labor rights and to students.
The Oax­a­ca teach­ers called a three-day paro, or work stop­page, of their 80,000 mem­bers Feb­ru­ary 9 – 11 and mobi­lized mem­bers to trav­el to Mex­i­co City to demon­strate along with teach­ers from oth­er states. When police pre­vent­ed them from reach­ing the cap­i­tal city's main square, they took over a major street, caus­ing big traf­fic tie-ups and caus­ing two sub­way sta­tions to close.
"The edu­ca­tion reform hasn't impact­ed Oax­a­ca because of our resis­tance," said local leader Lam­ber­to Jiménez.
Camp­ing Out à la Occupy
While teacher appli­cants in the rest of the coun­try all took an entrance exam on the same day last July, Oax­a­ca teach­ers blocked the exam site in their cap­i­tal. Author­i­ties in the states of Guer­rero and Michoacán were also forced to call off the test.
The Nation­al Coor­di­nat­ing Com­mit­tee of Edu­ca­tion Work­ers (CNTE), the mil­i­tant move­ment with­in the nation­al teach­ers union (SNTE), says it's unsuit­able to give one nation­al test when con­di­tions dif­fer wide­ly across Mex­i­co. For exam­ple, in Oax­a­ca, one of the poor­est and most rur­al states, stu­dents speak indige­nous lan­guages from 16 dif­fer­ent lan­guage families.
CNTE is strong in four poor South­ern states and in Mex­i­co City. The move­ment main­tains that all grad­u­ates of teach­ers col­leges should con­tin­ue to be admit­ted to the profession.
The Teach­ers' Plan
The CNTE move­ment faces stiff oppo­si­tion from its own nation­al union, SNTE, which coop­er­at­ed with ear­li­er gov­ern­ment moves that led to the cur­rent con­sti­tu­tion­al changes.
SNTE took out a TV ad that showed CNTE mem­bers as van­dals and riot­ers – coun­ter­posed to a mod­el SNTE mem­ber, well-dressed and in the classroom.
Jiménez said CNTE has pro­duced its own plan for bet­ter­ing Mex­i­can edu­ca­tion, which the teach­ers admit is not meet­ing stu­dents' needs.
The first part is to fix the edu­ca­tion infra­struc­ture and pro­vide for the basic neces­si­ties of the pop­u­la­tion. Impov­er­ished chil­dren do not come to school able to learn.
Sec­ond is to devel­op a real­is­tic means of eval­u­at­ing stu­dents that does not rely on stan­dard­ized tests.
Third is to cre­ate a mean­ing­ful way of eval­u­at­ing teachers.
The teach­ers are clear that in any case Peña Nieto's reforms in no way address the real prob­lems of edu­ca­tion: bud­get cuts, inad­e­quate teacher train­ing, threats to the guar­an­tee of a free edu­ca­tion through pri­va­ti­za­tion, stan­dard­ized tests, stu­dents falling behind, and the mate­r­i­al con­di­tion of the schools.
The Oax­a­ca SNTE Local 22 has been camp­ing out in the main square of the state cap­i­tal since July, with each region of the state tak­ing turns to send mem­bers to sleep in tents.
Though the teach­ers share the space, the zóca­lo, peace­ful­ly with ven­dors and strollers, they have aroused the ire of those who want teach­ers to shut up and go home. Some Mex­i­cans are tired of fre­quent teach­ers' strikes, absen­teeism, and the fact that some teach­ers have tra­di­tion­al­ly inher­it­ed their jobs from fam­i­ly members.
The Ayotz­i­na­pa
43
With their esca­la­tion, teach­ers are respond­ing to a change in the Mex­i­can polit­i­cal cli­mate, caused by the Sep­tem­ber 26 killing in Ayotz­i­na­pa, Guer­rero, of six teach­ers col­lege stu­dents, the wound­ing of 25, and the dis­ap­pear­ance of 43. The gov­ern­ment claims the mur­ders were ordered by munic­i­pal offi­cials and car­ried out by their allies in a drug gang.
For months, the killings have caused wide­spread protests through­out the coun­try. Posters, ban­ners, and graf­fi­ti call for pun­ish­ment of the guilty. A Jan­u­ary 26 demon­stra­tion in Mex­i­co City drew tens of thou­sands, includ­ing teachers.
That night in Oaxaca's cap­i­tal, stu­dents from the state teach­ers col­lege, most­ly young women, took over the streets, singing the anthem of Local 22. One chant was, ​"The sys­tem has no solu­tion; let's push for­ward the revolution."
Sal­vador Gaitán, a Local 22 local leader, says the Guer­rero mur­ders and sim­i­lar atroc­i­ties else­where have changed the mood of the coun­try. Mex­i­cans, he says, are fed up with offi­cial impunity.
What Do the Pro-Busi­ness Reform­ers Want?
The sim­i­lar­i­ty of ​"edu­ca­tion reform" in the U.S. and in Mex­i­co – and of those who pro­mote it – is strik­ing. As in this coun­try, gut­ting teach­ers unions and con­tract­ing out edu­ca­tion ser­vices to pri­vate groups are major gov­ern­ment priorities.
Ten days after Pres­i­dent Enrique Peña Nieto took office in Decem­ber 2012, he sent con­sti­tu­tion­al changes to edu­ca­tion to Mexico's Con­gress. Ten days lat­er they were rat­i­fied – after no dis­cus­sion with teach­ers, con­sul­ta­tion with edu­ca­tion experts, or pub­lic debate.
The changes were part of a series of pro-busi­ness changes Peña Nieto has passed. Anoth­er one makes it eas­i­er for ener­gy com­pa­nies to buy small farm­ers' land. Anoth­er per­mits PEMEX, the oil com­pa­ny nation­al­ized in 1938, to con­tract out – which is seen as a step toward pri­va­ti­za­tion. PEMEX report­ed 10 months ago that it had already auc­tioned off to investors, includ­ing for­eign com­pa­nies, the right to drill in two-thirds of Mexico's oil reserves.
The pack­age of edu­ca­tion ​"reforms" was pro­mot­ed by a group called Mex­i­canos Primero (Mex­i­cans First), which the teach­ers say should be called Empre­sar­ios (Busi­ness Own­ers) Primero.
The pack­age has busi­ness fin­ger­prints all over it. The new con­sti­tu­tion­al lan­guage speaks of ​"qual­i­ty" edu­ca­tion, which, as María de la Luz Arria­ga of the Tri­na­tion­al Coali­tion to Defend Pub­lic Edu­ca­tion points out, is a busi­ness buzz­word ​"applied to prod­ucts or ser­vices, not to a social right."
Local 22 has writ­ten that the changes mean ​"a true Fordist pro­duc­tion line, or the con­cep­tion of edu­ca­tion as a maquilado­ra fac­to­ry." The Mex­i­can Con­sti­tu­tion guar­an­tees pub­lic edu­ca­tion that's free, non-reli­gious, and com­pul­so­ry. The teach­ers see the new con­sti­tu­tion­al lan­guage – which descends to a dizzy­ing lev­el of detail, includ­ing a ban on junk food in schools – as a first step away from those rights.
As in the U.S., one of the stat­ed goals is more local auton­o­my for school gov­er­nance. But teach­ers say the changes are real­ly a mech­a­nism for pri­va­ti­za­tion – open­ing the way to con­tract­ing out ser­vices such as clean­ing, account­ing, and lan­guage teach­ing to local offi­cials' broth­ers-in-law. They point to failed expe­ri­ences with auton­o­my in Cen­tral Amer­i­ca, where schools have had to rely more and more on foun­da­tions, busi­ness­es, or par­ents' own contributions.
Anoth­er part of the reform is to length­en the school day: ​"full-time schools." Jiménez said that in the state of Quin­tana Roo, this has led to the clos­ing of night schools, which are often attend­ed by chil­dren who work beside their par­ents sell­ing on the street or in stores dur­ing the day.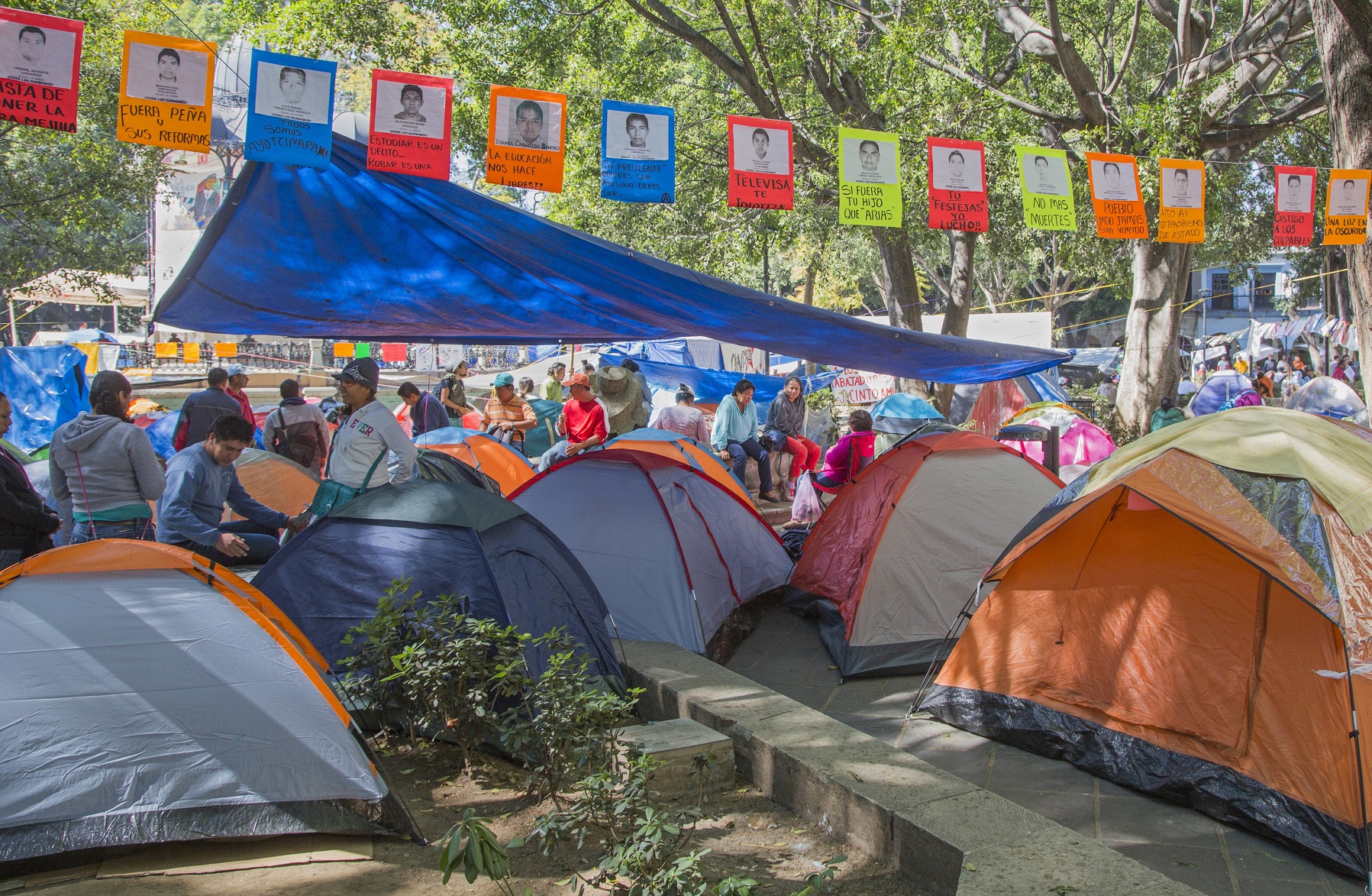 With their esca­la­tion, the teach­ers are respond­ing to a change in the Mex­i­can polit­i­cal cli­mate, caused by the Sep­tem­ber
26
killing in Ayotz­i­na­pa, Guer­rero, of six teach­ers col­lege stu­dents, the wound­ing of
25
, and the dis­ap­pear­ance of
43
.
Ser­vants and Commanders
CNTE says the true goal of the reforms is mas­sive fir­ing of teach­ers, who are a thorn in the side of the administration.
The exam­i­na­tion process does noth­ing to eval­u­ate how a teacher per­forms in the class­room; it is pure­ly a test of knowl­edge. If teach­ers fail the test, they may try again, but there is no process for help­ing them to improve. The approach is pure­ly punitive.
Just as in the U.S., where edu­ca­tion evan­ge­lists want to replace expe­ri­enced teach­ers with brand-new col­lege grad­u­ates from Teach for Amer­i­ca, in Mex­i­co under the new rules any­one with a degree can take the qual­i­fy­ing exam and become a teacher, with no train­ing whatsoever.
Jiménez points out that such employ­ees would be prefer­able, in the government's eyes, to grad­u­ates of the teach­ers col­leges, where stu­dents are from poor and indige­nous fam­i­lies. The teach­ers col­leges tra­di­tion­al­ly have been cen­ters of rad­i­cal­iza­tion – as in Guer­rero, where the 43 miss­ing stu­dents were about to par­tic­i­pate in a protest when they were kidnapped.
"We think any­one who's gone through the teach­ers col­lege should be able to be a teacher," said Fredy Jesus Farías Baños, a union offi­cial from Oax­a­ca's coast. ​"If they let just any­one become a teacher, some­one who's fol­lowed a nar­row cur­ricu­lum like an engi­neer, the nor­mal schools will dis­ap­pear. They don't want peo­ple with a polit­i­cal out­look. They want obe­di­ence. If they say your black pants are red, you should say, ​'they're red.'"
"They [the reform­ers] have their own idea of pub­lic edu­ca­tion," said Jiménez: ​"Pub­lic edu­ca­tion should pro­duce a cadre of ser­vants. The pri­vate schools are to pro­duce cadres to command."
The Oax­a­ca teach­ers and their coun­ter­parts in Guer­rero, Chi­a­pas, and Michoacán have been demand­ing the com­plete abro­ga­tion of the con­sti­tu­tion­al changes – but Oaxaca's Local 22 seems to have accept­ed that they may win only in their own state.
As he sur­veyed the sea of tents fill­ing the square, Farías shrugged. ​"This has been a 30-year strug­gle," he said. ​"We used to sleep right on the pavement."