After Three-Year Strike, Mexican Workers Win Ownership of Tire Plant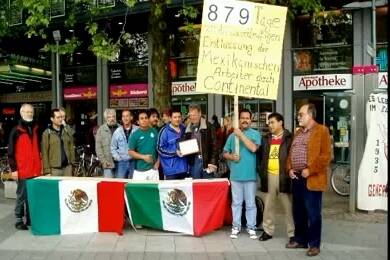 Part 1 of a two-part series on the TRADOC work­er coop­er­a­tive in Mex­i­co, reprint­ed with per­mis­sion from Labor Notes. Part 2, about how the co-op is func­tion­ing today, is avail­able here at Labor Notes.
​"If the own­ers don't want it, let's run it our­selves." When a fac­to­ry clos­es, the idea of turn­ing it into a work­er-owned co-oper­a­tive some­times comes up — and usu­al­ly dies.
The hur­dles to buy­ing a plant, even a fail­ing plant, are huge, and once in busi­ness, the new work­er-own­ers face all the pres­sures that helped the com­pa­ny go bank­rupt in the first place. Most work­er-owned co-ops are small, such as a taxi col­lec­tive in Madi­son or a bak­ery in San Francisco.
But in Mex­i­co, a giant-sized work­er coop­er­a­tive has been build­ing tires since 2005. The fac­to­ry com­petes on the world mar­ket, employs 1,050 co-own­ers, and pays the best wages and pen­sions of any Mex­i­can tire plant.
Aware that this unusu­al vic­to­ry is vir­tu­al­ly unknown in the U.S., friends in Guadala­jara urged me to come down and see how the TRADOC coop­er­a­tive is working.
Its pres­i­dent — who was union pres­i­dent when the plant was owned by Con­ti­nen­tal Tire — spoke in a work­shop at the 2010 Labor Notes Con­fer­ence. Jesus ​"Chuy" Tor­res is one of the more impres­sive union­ists I've met — though he's no longer offi­cial­ly a union­ist. Still, ​"our class is the work­ing class," he told me.
Far from indulging in a ​"we've got ours" men­tal­i­ty, the TRADOC work­ers are intent on main­tain­ing sol­i­dar­i­ty with work­ers still cursed with a boss.
It's hard to decide which is more remark­able — how the Con­ti­nen­tal work­ers turned a plant clos­ing into work­er own­er­ship through a deter­mined 1,141-day cam­paign, or how they've man­aged to sur­vive and thrive since then.
In any case, we need to cel­e­brate such vic­to­ries. I'll tell the tale in two parts.
Open­ing the factory's closed gates
Tak­ing over their plant was not the work­ers' idea. Con­ti­nen­tal Tire pro­posed to sell it to them — after the union backed man­age­ment into a cor­ner so tight the own­ers want­ed noth­ing more to do with it.
But to get to that point work­ers had to wage a three-year strike and what we in the U.S. call a ​"com­pre­hen­sive cam­paign." Work­ers say it was not just one tac­tic that won the day, but a com­bi­na­tion of relent­less pressures.
Con­ti­nen­tal Tire, based in Ger­many, is the fourth-largest tire man­u­fac­tur­er in the world. It bought a fac­to­ry in El Salto, out­side Guadala­jara in west­ern Mex­i­co, in 1998, intend­ing to pro­duce main­ly for the U.S. mar­ket. When it was first built by the Mex­i­can com­pa­ny Euzka­di in 1970, this was the most advanced tire-mak­ing plant in Latin Amer­i­ca. It was still the most mod­ern in Mex­i­co by the ear­ly 2000s.
But Mex­i­can tire-mak­ing plants were drop­ping like flies at that time: Goodyear, Uniroy­al. NAF­TA had caused tire imports from abroad to triple between 1996 and 2000. At Fire­stone, the com­pa­ny-dom­i­nat­ed union accept­ed a 25 per­cent pay cut, mul­ti-task­ing, and a sev­en-day week to try to pre­vent a closure.
Most unions in Mex­i­co are unions in name only, gov­ern­ment-affil­i­at­ed labor bod­ies whose func­tions are to col­lect dues and con­trol workers.
But the Con­ti­nen­tal plant had a dif­fer­ent his­to­ry. Work­ers had had an inde­pen­dent, ​"red" union since 1935, SNRTE (Nation­al Rev­o­lu­tion­ary Union of Euzka­di Work­ers). A his­to­ry of the union proud­ly tells the sto­ry of when Fidel Velasquez, top offi­cial of the cor­rupt gov­ern­ment union CTM, came to their assem­bly in 1959 and asked that con­tract bar­gain­ing be put in his hands. Velasquez was expelled from the meet­ing ​"for being unwor­thy to be present in a work­ers' assembly."
Work­ers elect­ed Chuy Tor­res and the Red Slate, which ran on a plat­form of resist­ing Continental's demands, in 2001. Man­age­ment had begun aggres­sive­ly cut­ting costs the moment it bought the com­pa­ny, clos­ing a sis­ter fac­to­ry in anoth­er state. It brought in a man­ag­er with expe­ri­ence in union-bust­ing, José Neto Car­val­ho, who'd extract­ed huge con­ces­sions in Portugal.
Now Car­val­ho sent let­ters to all the work­ers' homes, demand­ing sev­en-day pro­duc­tion and a 12-hour day, a pay cut, speedup, job cuts, no more senior­i­ty for job bid­ding, and an end to the com­pa­ny-paid vans that brought work­ers to the plant.
Sal­vador (Cha­va) Her­nan­dez, now retired, remem­bered, ​"We saw one thing and the com­pa­ny said the oppo­site. We were mak­ing 14,000 tires a day. The com­pa­ny said they weren't sell­ing, they were going bank­rupt. The super­vi­sors threat­ened us for months."
But mem­bers refused to alter their con­tract. They didn't believe man­age­ment claims that their plant was unpro­duc­tive, and they were well aware of the dif­fer­ence between their own salaries and those of Con­ti­nen­tal work­ers in Ger­many and the U.S.: a Mex­i­can Con­ti­nen­tal work­er made about $25 a day.
Clos­ing shock
The evening of Decem­ber 16, 2001, boil­er room work­ers came to the plant and found a notice on the front gate: Closed.
They called union lead­ers imme­di­ate­ly. Guards were mount­ed to keep man­age­ment from tak­ing out the machin­ery. Two days lat­er an assem­bly was called, with almost all the 940 work­ers in attendance.
Man­age­ment urged work­ers to take their legal­ly owed sev­er­ance pay and go home. In fact, man­agers had recruit­ed a group of work­ers to try to con­vince oth­ers, promis­ing a boun­ty of 10,000 pesos ($1,100) for each work­er they per­suad­ed. This group was promised they would be rehired first when the plant opened again.
When this scheme became known, it con­firmed union lead­ers' sus­pi­cion that Continental's real plan was to get rid of the union, not the fac­to­ry. It was the only inde­pen­dent union in the industry.
Work­ers vot­ed to fight the clos­ing, which they deemed ille­gal because man­age­ment had act­ed sud­den­ly, with­out fol­low­ing legal noti­fi­ca­tion pro­ce­dures and with­out prov­ing the com­pa­ny was unprof­itable. Tor­res lat­er said that he real­ly saw no way they could get Con­ti­nen­tal exec­u­tives to change their mind, but he was deter­mined to ​"give them a fight like they'd nev­er imagined."
The union offi­cial­ly began its strike — against a shut­tered fac­to­ry — a month lat­er. Four thou­sand work­ers, fam­i­lies, and sup­port­ers marched near­ly six miles from the El Salto city hall to hang red and black ban­ners on the plant doors. Under Mex­i­can law, these ban­ners rep­re­sent a strike, and noth­ing is allowed to be tak­en out of a plant dur­ing a strike. (This is one of sev­er­al areas where Mex­i­can labor law is supe­ri­or to that in the U.S.)
A day ear­li­er, Con­ti­nen­tal had brought a hun­dred trail­ers to the prop­er­ty, intend­ing to remove the 70,000 tires inside. It post­ed armed guards on the roof, video­tap­ing. With­in a half-hour 200 work­ers and fam­i­ly mem­bers came to the plant to block the way.
The slo­gan they paint­ed on a ban­ner out­side was ​"Not a Sin­gle Screw Is Leav­ing." The work­ers' demand was sim­ple: that Con­ti­nen­tal hon­or its con­tract and keep the plant running.
To the capital
A week lat­er, work­ers began a march to the nation­al cap­i­tal in Mex­i­co City, tak­ing a semi-cir­cu­lar route that led them near­ly 500 miles (they used vans and bus­es most of the way) through sev­en states to loca­tions where oth­er work­ers were in struggle.
They held big pub­lic meet­ings with work­ers from GM, Nis­san, Gen­er­al Tire, and Volk­swa­gen, but the most emo­tion­al took place with campesinos in San Sal­vador Aten­co, who were fight­ing (suc­cess­ful­ly) the government's attempt to build an air­port on their ances­tral land. The campesino leader pre­sent­ed Tor­res with a machete as a token of friendship.
Along the way, the union secured a meet­ing with Pres­i­dent Vicente Fox, a busi­ness­man whose elec­tion in 2000 had encour­aged cor­po­ra­tions to crack down on their employ­ees. The work­ers demand­ed that the gov­ern­ment nation­al­ize the tire plant, as it had recent­ly done with a sug­ar mill. Fox offered to help work­ers get a good finan­cial set­tle­ment out of the clos­ing, but Tor­res replied that what they want­ed was their jobs.
When the work­ers arrived in Mex­i­co City, they had 10,000 sup­port­ers behind them in the his­toric Zóca­lo, the main square.
Inter­na­tion­al solidarity
Mean­while, union lead­ers looked abroad for aid. The Con­ti­nen­tal local of the Steel­work­ers in Char­lotte, North Car­oli­na, offered no help; man­age­ment threat­ened local lead­ers that if they did, their plant would close. It closed anyway.
Tor­res said the only aid SNRTE got from the U.S. union was a slo­gan: that the union would last ​"one day longer" than Con­ti­nen­tal. In the U.S. this slo­gan has most often been a sub­sti­tute for strat­e­gy, but in Mex­i­co it res­onat­ed with work­ers who were com­ing at the com­pa­ny from so many angles.
The same hap­pened with the Ger­man chem­i­cal work­ers union that rep­re­sent­ed Con­ti­nen­tal work­ers. The head of the Con­ti­nen­tal works coun­cil open­ly said that the term ​"inter­na­tion­al sol­i­dar­i­ty" did­n't mean any­thing to him.
But SNRTE made oth­er con­nec­tions. Tor­res belonged to a social­ist group with ties in Europe. Those con­nec­tions helped SNRTE to meet with union lead­ers at tire plants and oth­er fac­to­ries in Spain. The Euro­pean Par­lia­ment passed a res­o­lu­tion decry­ing human rights vio­la­tions in Mex­i­co by Euro­pean multi­na­tion­als, cit­ing Con­ti­nen­tal. The union's small del­e­ga­tion secured a five-minute meet­ing with Continental's CEO, Man­fred Wen­nemer — in which Wen­nemer blamed Tor­res for the factory's closing.
The most excit­ing action was the work­ers' vis­it to the Con­ti­nen­tal share­hold­ers' meet­ing. Through their left­ist con­nec­tions they met a group called ​"Crit­i­cal Share­hold­ers," which orga­nized to protest envi­ron­men­tal and work­er rights vio­la­tions at var­i­ous com­pa­nies. That group gave their pass­es into the meet­ing to the Mex­i­can delegation.
​"My legs were shak­ing when I got up to speak in front of more than a thou­sand share­hold­ers," Tor­res said. But after­ward Wen­nemer said he would tell his sub­or­di­nates in Mex­i­co to nego­ti­ate with the union. ​"It has to be in Mex­i­co, though," Wen­nemer said, accord­ing to Tor­res. ​"There's no rea­son for you peo­ple to come here."
Those nego­ti­a­tions were fruit­less, though, and the next year the Mex­i­cans were back in Ger­many. This time Wen­nemer felt oblig­at­ed to jus­ti­fy the El Salto clos­ing to the share­hold­ers, call­ing the work­ers unpro­duc­tive, with 25 per­cent absen­teeism. Tor­res rebutted him with fig­ures show­ing the plant was the most pro­duc­tive tire plant in the country.
The Ger­man min­is­ter of the econ­o­my called a meet­ing between the two sides, includ­ing the Mex­i­can ambas­sador. A dis­tin­guished Mex­i­can attor­ney explained how the clos­ing had not com­plied with the law. The meet­ing raised the conflict's inter­na­tion­al pro­file and demon­strat­ed that Mex­i­can author­i­ties were not find­ing a solution.
On the work­ers' third trip to Europe, in 2004, a Mex­i­can con­gress­man and a uni­ver­si­ty labor law spe­cial­ist accom­pa­nied them. The con­gress­man asked the share­hold­ers for a nego­ti­at­ed solu­tion and that Con­ti­nen­tal respect Mex­i­can labor law. His pres­ence showed the share­hold­ers that polit­i­cal cir­cles in Mex­i­co were pay­ing atten­tion. As it hap­pened, Ger­man Chan­cel­lor Ger­hard Schroed­er and Fox would soon be meet­ing at a bien­ni­al Europe-Latin Amer­i­ca sum­mit — in Guadala­jara, in the work­ers' backyard.
The Mex­i­cans and their allies in Euro­pean human rights groups (still no sup­port from the unions) were also mak­ing noise about Continental's spon­sor­ship of the upcom­ing World Cup in Ger­many. In down­town Han­nover, site of Con­ti­nen­tal head­quar­ters, the com­pa­ny had built a big mon­u­ment with the World Cup sym­bol. The cam­paign demand­ed ​"fair play" in El Salto, promis­ing to agi­tate at the World Cup itself if the con­flict wasn't resolved. Some of SNRTE's 2004 del­e­ga­tion passed out fly­ers while oth­ers kicked a soc­cer ball around the monument.
Democ­ra­cy spreads
Mean­while, work­ers at Continental's oth­er fac­to­ry in Mex­i­co were restive. This Gen­er­al Tire plant was in San Luis Poto­sí, 200 miles from El Salto.
They'd had a com­pa­ny union that was pleased to coop­er­ate with management's plan to get rid of the union con­tract. In a dra­mat­ic meet­ing in April 2003, mem­bers vot­ed out their offi­cers and vot­ed in a leader who'd been fired for resist­ing the secret agreement.
In July, while Wen­nemer was vis­it­ing Mex­i­co, the San Luis Poto­sí work­ers struck. Wen­nemer scold­ed the local gov­ern­ment for not using the police against them. But he fired his direc­tor gen­er­al in Mexico.
And in Jan­u­ary 2004, two years into the El Salto strike, the gov­ern­ment final­ly declared the strike legal — mak­ing Con­ti­nen­tal liable for two years' worth of back wages (anoth­er facet of Mex­i­can law), a fig­ure that would only grow the longer the strike lasted.
​"We esti­mat­ed the plant was worth $80 mil­lion," Tor­res said. ​"And the back pay was $40 mil­lion." This was in addi­tion to the sev­er­ance pay owed, which 587 work­ers had still refused to accept.
The tide was turn­ing in favor of the workers.
Tri­als for families
Work­ers who stuck with the strug­gle endured many hard­ships. Some went to the U.S. to work. Oth­er fam­i­lies relied on wives' low wages. Local fac­to­ry own­ers main­tained a black­list; even strik­ers' fam­i­ly mem­bers could not get jobs. A wives' group was fun­da­men­tal to the strug­gle and spent much time locat­ing dif­fer­ent agen­cies and orga­ni­za­tions that would donate food.
Con­chi­ta Velez de Her­nan­dez was head of the women's group. Her fam­i­ly was the back­bone of those who stood guard at the fac­to­ry gate. When the police threat­ened their hus­bands, she says, the wives went to the sec­re­tary of pub­lic secu­ri­ty to protest. And they invad­ed the fac­to­ry own­ers' meet­ing to demand an end to the blacklist.
One of the more dra­mat­ic moments of the strike came in April 2002, dur­ing Holy Week, when man­age­ment made one of two attempts to pro­voke vio­lence by tak­ing the tires and machin­ery out of the plant. The campesinos of Aten­co, who were pro­tect­ing their own bound­aries, coun­seled sand­bags. The campesinos jour­neyed to El Salto to help work­ers, wives, and sup­port­ers fill the bags with dirt and pile them in front of the plant.
Dur­ing the whole length of the con­flict, not a sin­gle screw was removed.
Coop­er­a­tive victory
Ger­many is the sec­ond-biggest investor in Mex­i­co, after the Unit­ed States. Tor­res believes that, although the Mex­i­can gov­ern­ment was nev­er an ally of their strug­gle, high-lev­el politi­cians on both sides came to deem it bet­ter to get it over with.
In August 2004, less than three months after Pres­i­dent Fox and Chan­cel­lor Schroed­er met in Guadala­jara, Wen­nemer made a seri­ous offer. The com­pa­ny would sell the work­ers a half inter­est in the plant, in exchange for the back pay the com­pa­ny owed them.
Work­ers would still receive their sev­er­ance pay, which totaled 230 mil­lion pesos for 587 work­ers, about $34,000 apiece. The plant would reopen in part­ner­ship with a Mex­i­can com­pa­ny, a tire dis­trib­u­tor, which would buy the oth­er half from Con­ti­nen­tal. All the work­ers who'd held out would have their jobs back.
Tor­res seems as amazed by their vic­to­ry as any­one. ​"The most impor­tant lega­cy of this strug­gle is to demon­strate to work­ers how a small union could beat a transna­tion­al of the capac­i­ty of Con­ti­nen­tal," he said.
On Feb­ru­ary 18, 2005, the plant, now named Cor­po­ración de Occi­dente, or West­ern Corp., was for­mal­ly hand­ed over to its new owners.
​"They were bet­ting that we would fail," Tor­res said.
But the work­ers didn't fail. Read about their coop­er­a­tive in Part 2.