Michael Harrington, an American Socialist
DSA founder Michael Harrington served as a moral tribune for a broad community by virtue of the democratic and egalitarian content of his socialist message, and by his ceaseless commitment to spreading it.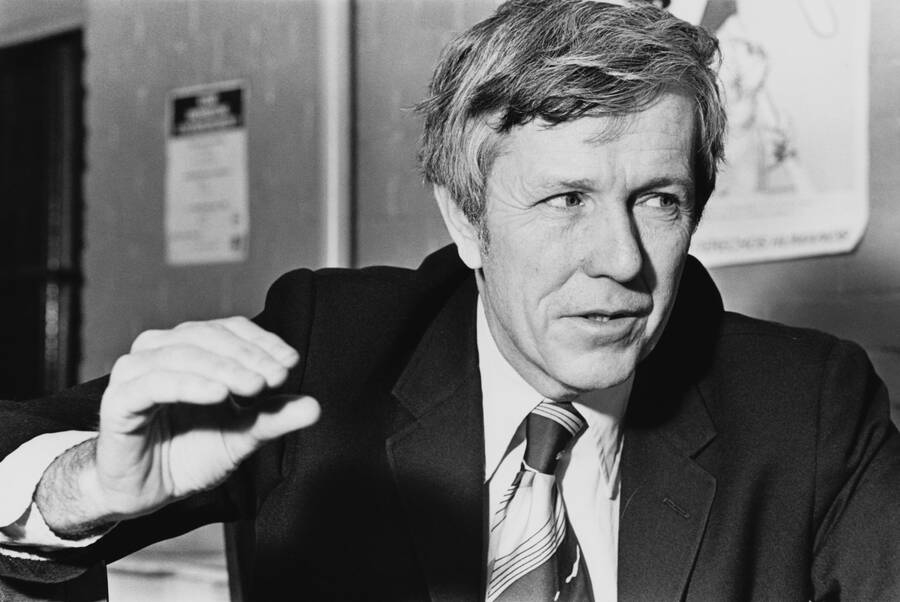 From the August 1989 issue of In These Times:
Harrington and DSOC, and then DSA, called for open socialist participation in the struggles of the mainstream left—for an American socialism that was both in and of the world.
The night George H. W. Bush was elect­ed pres­i­dent, Michael Har­ring­ton, in Los Ange­les for a nation­al board meet­ing of the Demo­c­ra­t­ic Social­ists of Amer­i­ca (DSA), attend­ed an expect-the-worst elec­tion night par­ty at the home of for­mer San­ta Mon­i­ca May­or Ruth Gold­way and her hus­band, economist/​planner Derek Shear­er. The house was filled with lead­ers of Cal­i­for­nia left com­mu­ni­ties, most of them vet­er­ans of the ​'60s, few of them actu­al­ly DSA mem­bers. As Mike entered, Ruth wel­comed him with a hug and said, ​"Here's the man who should be president."
It was, I sus­pect, the near­est thing to a point of polit­i­cal con­sen­sus you could find in any cross-sec­tion of rad­i­cals and lib­er­als like those gath­ered that evening in San­ta Mon­i­ca. As such, it was a tes­ta­ment to the polit­i­cal lead­er­ship that Har­ring­ton, who suc­cumbed to can­cer on July 31 at the age of 61, had exer­cised over the pre­ced­ing three decades. For 20 years, since the death of Nor­man Thomas, Mike had been Amer­i­ca's pre-emi­nent social­ist. Like Thomas — and Eugene Debs before him — Har­ring­ton served as a moral tri­bune for a broad com­mu­ni­ty by virtue of the demo­c­ra­t­ic and egal­i­tar­i­an con­tent of his social­ist mes­sage, and by his cease­less com­mit­ment to spread­ing it.
New think­ing
But Har­ring­ton assumed the man­tle of Debs and Thomas at a time when social­ists had lost their sense of direc­tion and agency, both domes­ti­cal­ly and abroad. To his moral urgency, then, Har­ring­ton had to add an ana­lyt­ic depth and breadth, refor­mu­lat­ing the project even as he was inspir­ing peo­ple to take it up, redefin­ing it on the run. His tenure coin­cid­ed, too, with the frag­men­ta­tion of what had once been a class-based left into any num­ber of dis­tinct caus­es and con­stituen­cies, and he played a sem­i­nal role in shap­ing the post-New Deal coali­tion pol­i­tics of Amer­i­can liberalism.
There was anoth­er mea­sure of Mike's lead­er­ship: his capac­i­ty to change peo­ple's lives. At least once, with the War on Pover­ty, Mike's writ­ing had direct­ly influ­enced gov­ern­ment poli­cies. But his speech­es made peo­ple alter their lives. Mike had learned pub­lic speak­ing from Max Shacht­man, an old-guard social­ist who had learned his speak­ing from Leon Trot­sky. A Har­ring­ton speech was wit­ty, wide-rang­ing, pas­sion­ate, allu­sive; he mixed ana­lyt­ic pow­er and moral urgency at a lev­el unmatched by any oth­er speak­er in con­tem­po­rary America.
Mike's speech­es were Marx­ist in the sense that he decod­ed the cap­i­tal­ist log­ic behind dis­crete social ills, sketch­ing a vision of rad­i­cal democ­ra­cy and sug­gest­ing strate­gies for the trans­for­ma­tion of soci­ety. The effect on the lis­ten­er was of a series of recognitions.
"You can wak­en men only by dream­ing their dreams more clear­ly than they can dream them them­selves," wrote the 19th-cen­tu­ry Russ­ian rev­o­lu­tion­ary Alexan­der Herzen. To a gen­er­a­tion of Amer­i­can left­ists — from the stu­dents who found­ed Stu­dents for a Demo­c­ra­t­ic Soci­ety to the com­mu­ni­ty orga­niz­ers of the ​'80s — Mike pro­vid­ed that clar­i­ty of vision.
In an age of spe­cial­iza­tion, when rad­i­cal analy­sis is char­ac­ter­is­ti­cal­ly applied to the mar­gins and inter­stices of civ­i­liza­tion, Har­ring­ton addressed the most fun­da­men­tal social arrange­ments, the new world order and the news of the day. He would enter­tain the argu­ments of cap­i­tal­is­m's defend­ers, assail them with pas­sion and with fact, bun­dle up the best of dis­parate left tra­di­tions and apply them in an utter­ly Amer­i­can idiom. His point was not mere­ly to con­vey his ideas of social­ism, but to con­vey the intel­lec­tu­al rig­or, the excite­ment, the urgency — at some sub­lim­i­nal lev­el, the poet­ry — of being a social­ist. At bot­tom, and this is why he spoke so often in so many pre­sum­ably unpromis­ing venues, he want­ed noth­ing less than your life, your com­mit­ment to a ven­ture whose suc­cess, he said over and over, was not inevitable, but mere­ly necessary.
Bow­ery boy
Like Nor­man Thomas, Har­ring­ton came to social­ism from the reli­gious left. Born to an upper-mid­dle-class Irish-Amer­i­can fam­i­ly in St. Louis in 1928, Har­ring­ton tried both Yale Law and the grad­u­ate Eng­lish depart­ment at the Uni­ver­si­ty of Chica­go in the late ​'40s before com­ing to New York to be a poet. Mike's New York con­sist­ed of the Catholic Work­er and the tail end of Green­wich Vil­lage Bohemia. There, under the tute­lage of Dorothy Day, Har­ring­ton lived and worked in the squalor and pover­ty of the Bow­ery. Unable after a two-year strug­gle to sus­tain a reli­gious faith, Har­ring­ton left the church and the Work­er, retain­ing the moral urgency that had led him there.
Even before he had left the Bow­ery, Mike had joined a polit­i­cal sect small­er and more mar­gin­al than the Work­er. The social­ist youth move­ment of the ​'50s nev­er had more than a cou­ple hun­dred mem­bers, but it — and, more par­tic­u­lar­ly, Har­ring­ton — helped lay the ground­work for the erup­tions of the ​'60s. At last sum­mer's trib­ute to Har­ring­ton at New York's Rose­land Ball­room, Eleanor Holmes Nor­ton rem­i­nisced over the effect his speak­ing tours had as the ​'50s began to recede. ​"Jour­ney­ing from cam­pus to cam­pus, from Swarth­more and Anti­och to Reed and Ober­lin," Nor­ton said, Har­ring­ton ​"would appear once or twice a year, a pied piper not only of social­ist ideas but of lit­er­ary ideas and of fer­tile ideas about racism, the labor move­ment, Demo­c­ra­t­ic and Repub­li­can par­ty politics."
Har­ring­ton's ties to the cam­pus left were dam­aged, though, at the very moment that that left began to grow in size and mil­i­tan­cy. At Stu­dents for a Demo­c­ra­t­ic Soci­ety's famous Port Huron con­fer­ence in 1962, he engaged the move­men­t's young lead­er­ship in a fierce con­flict over what he regard­ed as their insuf­fi­cient­ly crit­i­cal view of Third World left-author­i­tar­i­an regimes. Har­ring­ton was quick to regret not the sub­stance of his posi­tion but the vehe­mence with which he descend­ed upon the SDS lead­er­ship; he lat­er came to feel he had there­by con­tributed to the iso­la­tion of the New Left.
The same year as Port Huron, Mike authored the book that was to change his life. The Oth­er Amer­i­ca was both the most main­stream of Mike's 16 books and, iron­i­cal­ly, the one that most vin­di­cat­ed clas­sic Marx­i­an epis­te­mol­o­gy. Forty mil­lion Amer­i­cans were liv­ing in pover­ty when Har­ring­ton pro­claimed their exis­tence. They lived in plain view of the rest of the nation; it took a social­ist to find them. Once he had, the gov­ern­ment declared ​"uncon­di­tion­al war on pover­ty" and pro­ceed­ed to wage a very con­di­tion­al one. At the out­set of the War on Pover­ty, in 1964, the admin­is­tra­tion offered Har­ring­ton the oppor­tu­ni­ty to set­tle down as an in-house intel­lec­tu­al. He set­tled down only long enough to help draft some of the ini­tial pro­grams. Nor­man Thomas had turned 80 that year, and Mike was by then his heir appar­ent as the leader of Amer­i­can social­ism — not a posi­tion that went with an assis­tant sec­re­tary's job.
But the tight lit­tle move­ment that Har­ring­ton came to chair of the Social­ist Par­ty after Thomas' death in 1968 refract­ed with­in it many of the con­flicts and divi­sions that were rend­ing the Demo­c­ra­t­ic Par­ty in that water­shed year. Like Thomas, Har­ring­ton had been a long­time crit­ic of Amer­i­can inter­ven­tion in Viet­nam, but by the ear­ly 70s he found him­self in a minor­i­ty in an orga­ni­za­tion that sup­port­ed the war. Rather than acqui­esce in the Social­ist Par­ty's neu­tral­i­ty dur­ing the Nixon-McGov­ern elec­tion, Har­ring­ton resigned and found­ed the Demo­c­ra­t­ic Social­ist Orga­niz­ing Com­mit­tee (DSOC).
With an ini­tial mem­ber­ship of sev­er­al hun­dred — back to the dimen­sions of the ​'50s left — DSOC was, in Har­ring­ton's words, ​"the defeat­ed rem­nant of a defeat­ed rem­nant." Yet only with the com­ing of DSOC was Har­ring­ton able for the first time to exer­cise ful­ly his poten­tial for lead­er­ship on the Amer­i­can left. There was a cru­el irony to the tim­ing of DSOC's found­ing, how­ev­er. Har­ring­ton's entire tenure as chair­per­son, first of DSOC, then of DSA, coin­cid­ed with one of the most reac­tionary epochs in Amer­i­can his­to­ry. In the great strug­gles of the ​'60s — in the civ­il rights move­ment (where he was an advis­er to Mar­tin Luther King Jr.) and the anti-war move­ment — he played a sup­port­ing role. But in con­struct­ing a post-'60s left he was absolute­ly central.
Come togeth­er
Har­ring­ton and DSOC, and then DSA, called for open social­ist par­tic­i­pa­tion in the strug­gles of the main­stream left — for an Amer­i­can social­ism that was both in and of the world. Elec­toral­ly, this meant par­tic­i­pa­tion in the pro­gres­sive wing of the Demo­c­ra­t­ic Par­ty. On this point, if few oth­ers, the Har­ring­ton strat­e­gy and that of his Cold War adver­saries in the old Social­ist Par­ty coin­cid­ed. Where Mike part­ed com­pa­ny with them was on the cen­tral­i­ty of a coali­tion pol­i­tics. As ear­ly as 1967, while writ­ing Toward a Demo­c­ra­t­ic Left, Har­ring­ton pro­claimed not sim­ply the indis­pens­abil­i­ty of orga­nized work­ers to pro­gres­sive change, but also its insuf­fi­cien­cy. Changes in class struc­ture and the rise of new social move­ments, he argued, man­dat­ed a coali­tion of the dis­parate forces on the demo­c­ra­t­ic left if any pro­gres­sive agen­da was to be enacted.
To gauge how com­plete­ly Har­ring­ton's argu­ments have influ­enced the pol­i­tics of the broad left, it is use­ful to look back for a moment to 1973, the year of DSOC's found­ing. Each of the tribes of the Amer­i­can left was sulk­ing in its own tent, the rem­nants of the New Left still scorn­ing the cor­rup­tions of bour­geois pol­i­tics, the New Pol­i­tics lib­er­als dis­dain­ful of labor and, as if to con­firm their assess­ment, George Meany's AFL-CIO oper­a­tives deter­mined to free the Demo­c­ra­t­ic Par­ty from its McGov­ern-McCarthy-Kennedy peacenik taint. And there was Michael Har­ring­ton, talk­ing coalition.
At first, Har­ring­ton encoun­tered pas­sive assent: yes, there should be a post-Viet­nam coali­tion, but no one was assem­bling it. By 1975 Har­ring­ton began the task of ham­mer­ing togeth­er a left (but non-social­ist) pro­gram­mat­ic coali­tion in nation­al Demo­c­ra­t­ic Par­ty pol­i­tics. In its ear­ly years, the Demo­c­ra­t­ic Agen­da (as the project was known in its hey­day) brought togeth­er the vet­er­ans of the ​'60s left with the insti­tu­tions of the ​'30s left (the unions); it com­min­gled for the first time such fig­ures as Glo­ria Steinem, Ron Del­lums and Sam Brown with the UAW's Doug Eras­er and the Machin­ists' William Win­pisinger. Through Demo­c­ra­t­ic Agen­da, through DSOC's merg­er with the New Amer­i­can Move­ment, through argu­ment and sym­bol, Mike worked to rein­te­grate what remained of New Left and Old. ​"No one has done more," for­mer, SDS pres­i­dent Todd Gitlin has writ­ten, ​"to heal the left­'s gen­er­a­tional breach."
Sav­ing the S‑word
Part of Har­ring­ton's bat­tle was to res­cue ​"social­ism" from one par­ty author­i­tar­i­an regimes that had appro­pri­at­ed the term. Har­ring­ton's Marx­ism (and Har­ring­ton's Marx) was pro­found­ly demo­c­ra­t­ic and fun­da­men­tal to the only pol­i­tics he saw as capa­ble of resist­ing the ​"unso­cial social­iza­tion" that glob­al cap­i­tal­ism was impos­ing on the plan­et. His writ­ings on social­ism were increas­ing­ly inter­twined with his work in the Social­ist Inter­na­tion­al (SI) (whose new­ly adopt­ed dec­la­ra­tion of prin­ci­ples Mike authored). In a sense, Mike was the ide­o­logue of the ​"Brandt turn" in the SI's direc­tion: toward a greater empha­sis on North-South rela­tions and eco­log­i­cal con­cerns, and on devel­op­ing the inter­na­tion­al insti­tu­tions to counter the transna­tion­al economy.
He addressed him­self, too, to the prob­lem of the tran­si­tion from cap­i­tal­ism to social­ism. Social­ism could not sim­ply incu­bate in cap­i­tal­ism as cap­i­tal­ism had in feu­dal­ism, Mike argued; social­ism advanced only through con­scious demo­c­ra­t­ic deci­sion-mak­ing. His ​"vision­ary grad­u­al­ism" required a mix of rad­i­cal­ism and patience, which may have been one of the few areas in which Amer­i­can social­ists could school their Euro­pean com­rades. ("He was an Amer­i­can social­ist," Har­ring­ton said last year in his eulo­gy of Paul DuBrul, ​"which is to say, he knew that there were no easy vic­to­ries, no final con­flicts in his life­time, that the strug­gle would go on and on")
Where Mike found the time for all this — for 16 books, hun­dreds of arti­cles, thou­sands of speech­es, NPR radio com­men­tary, teach­ing at the City Uni­ver­si­ty of New York and untold hours devot­ed to the high­ly unglam­orous task of build­ing and main­tain­ing a social­ist orga­ni­za­tion — is any­body's guess. More­over, for Har­ring­ton, the cul­ti­va­tion of social­ists and main­te­nance of decent human rela­tions required social­iz­ing no less than social­ism. He had a gift for affa­bil­i­ty not com­mon among polit­i­cal lead­ers on the left.
Mike attrib­uted ener­giz­ing pow­ers to the activist life. On the day his doc­tors told him he had inop­er­a­ble can­cer of the esoph­a­gus and only sev­er­al months to live, he began work on the book that was to become his final refor­mu­la­tion and call to the social­ist project, Social­ism: Past & Future. Med­ical sci­ence and sheer will saw him through from its incep­tion to its pub­li­ca­tion in July.
Har­ring­ton's last con­tact with the move­ment came on the Fri­day before his death, when DSA Direc­tor Pat Lace­field called Har­ring­ton's wife Stephanie to check in on Mike's con­di­tion. Stephanie took the call in the bed­room, where Mike lay with tubes pro­vid­ing oxy­gen and nour­ish­ment run­ning down his throat. Speech was not impos­si­ble, but it was dif­fi­cult. ​"Ask him if he has a mes­sage for us," Pat said. ​"He's rais­ing a clenched fist." said Stephanie.