On July 3, dozens of Michi­gan activists con­vened in Detroit to begin a march to demand water jus­tice in the state. The six-day march cov­ered 70 miles as orga­niz­ers walked from Detroit to Flint and con­tin­ued by bus to the state capi­tol in Lans­ing, stop­ping in five oth­er Michi­gan cities along the way. The action was called by The Peo­ples' Water Board, a coali­tion of 30 com­mu­ni­ty orga­ni­za­tions includ­ing labor unions, racial jus­tice orga­ni­za­tions, reli­gious con­gre­ga­tions, human rights groups and envi­ron­men­tal activists.
While the water shutoffs in Detroit have been the most publicized aspect of the Michigan water crisis, activists explained that access to water is problem plaguing the entire state of Michigan.
Activists gave rous­ing tes­ti­monies at a speak-out that opened the week-long event. Cler­gy from both Chris­t­ian and Jew­ish faiths gave open­ing bless­ings to the marchers. Rab­bi Alana Alpert of Detroit Jews for Jus­tice hoped that the action would bring ​"not just a trick­le, but a down­pour" of clean, afford­able water to the res­i­dents of Michi­gan. A spir­i­tu­al rit­u­al was lead by rep­re­sen­ta­tives of Indige­nous Water Women, who not­ed the impor­tance of water not only to urban res­i­dents but to strug­gles for indige­nous rights.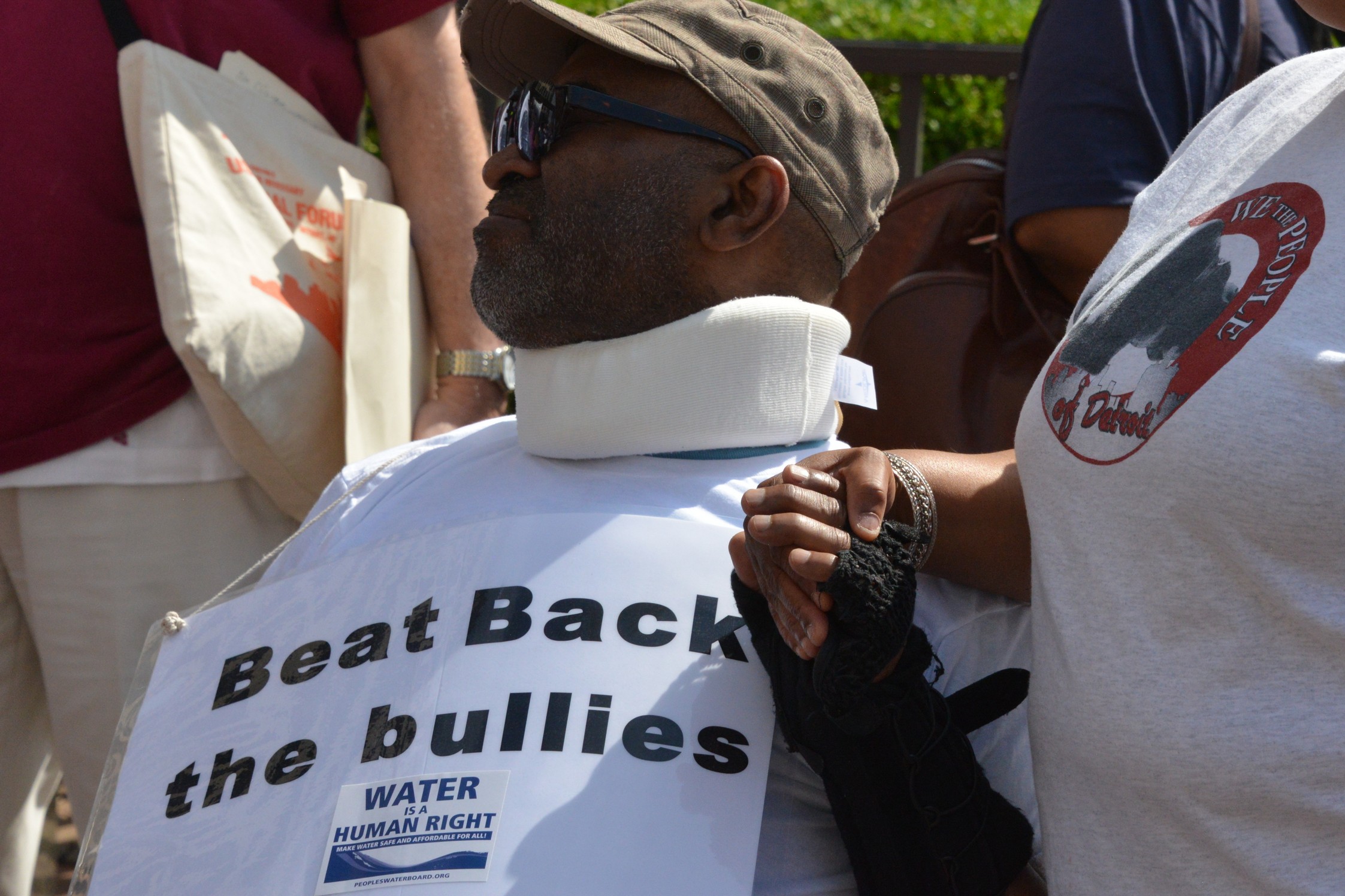 Hold­ing signs that read ​"Water is a Human Right," pro­test­ers called atten­tion to the dire sit­u­a­tion fac­ing those who lack con­sis­tent access to clean water. Last year, the Unit­ed Nations found that the Detroit water shut­offs con­sti­tut­ed a vio­la­tion of human rights and urged pol­i­cy mak­ers to cease and desist imme­di­ate­ly. ​"Dis­con­nec­tion of water ser­vices because of fail­ure to pay due to lack of means con­sti­tutes a vio­la­tion of the human right to water and oth­er inter­na­tion­al human rights," U.N. offi­cials Cata­ri­na de Albu­querque, Leilani Farha and Philip Alston wrote.
May­or Mike Dug­gan is pro­ceed­ing with the shut­off orders over the wish­es of city coun­cil mem­bers, who vot­ed on May 12 to freeze the shut­off until an assis­tance plan to help affect­ed res­i­dents was enact­ed. As of May, 64,769 were at risk for water shutoffs.
Mau­reen Tay­lor, of the Michi­gan Wel­fare Rights Orga­ni­za­tion, remind­ed the crowd that the Detroit City Coun­cil passed an income-based pay­ment plan in 2006; the plan would set water rates at 2%-3% of res­i­dents' income. Near­ly a decade lat­er, the Water Afford­abil­i­ty Plan still has yet to be implemented.
While the water shut­offs in Detroit have been the most pub­li­cized aspect of the Michi­gan water cri­sis, activists explained that access to water is prob­lem plagu­ing the entire state of Michi­gan. ​"The pur­pose of this walk real­ly is to call for clean and afford­able water for all of Michi­gan," Kim Redi­gan, one of the orga­niz­ers of the event, said.
Orga­niz­ers from Flint held up bot­tles con­tain­ing brown and yel­low water that city and state offi­cials insist is safe for human con­sump­tion. Res­i­dents of Flint have received repeat­ed notices over the last year that the water com­ing from the Flint Riv­er was in vio­la­tion of the Safe Water Drink­ing Act. A new round of tests con­clud­ed on June 1, 2015, that the city of Flint was cur­rent­ly safe, but that lev­els of tri­halomethanes in the water were so high in 2014 that the city was still in vio­la­tion of the Act.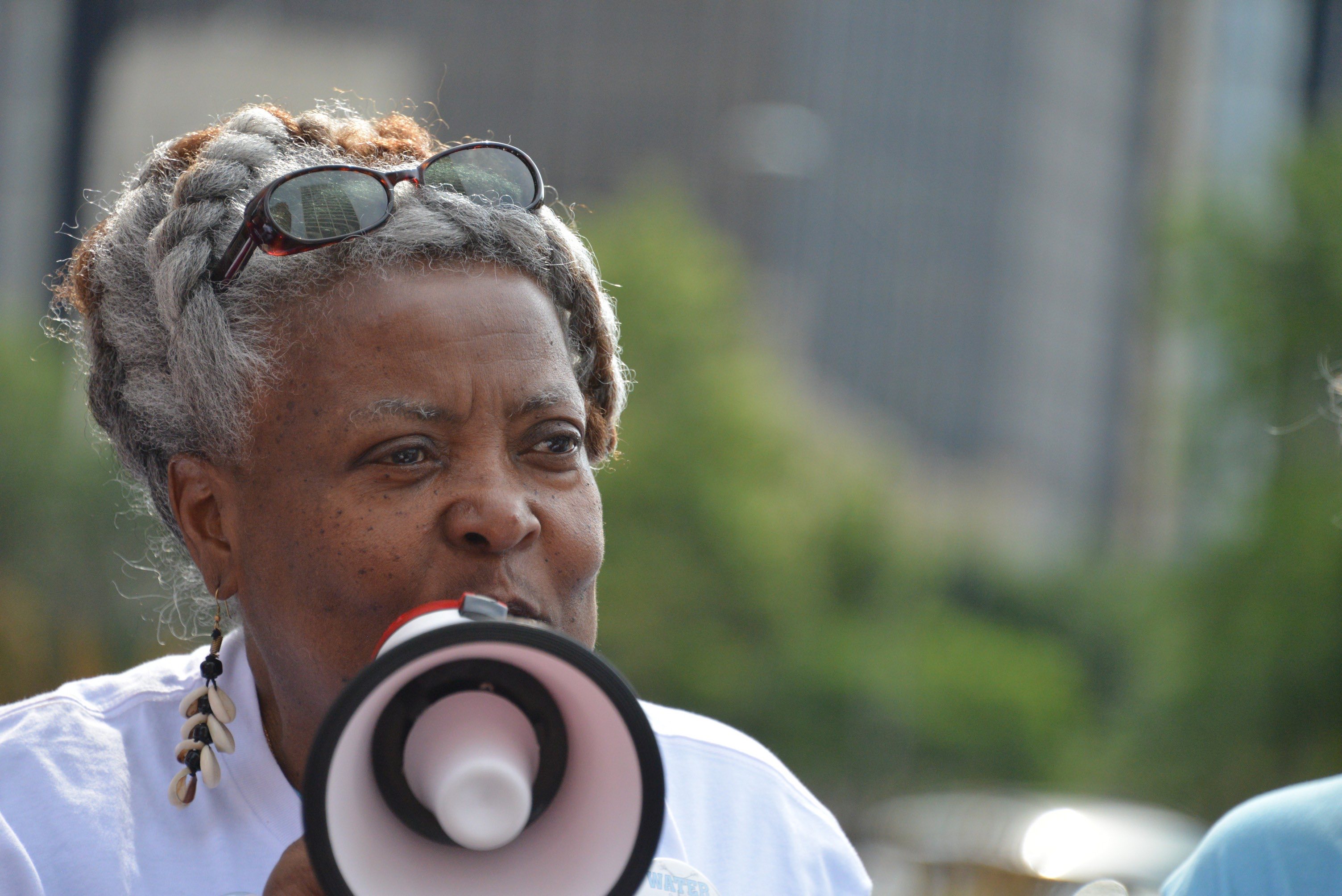 Mem­bers of nurs­es union Nation­al Nurs­es Unit­ed were present at the ral­ly, describ­ing the health com­pli­ca­tions that have arisen from Michi­gan res­i­dents' con­tact with con­t­a­m­i­nat­ed water. They relayed accounts of res­i­dents con­tract­ing autoim­mune dis­or­ders, skin lesions, cop­per and lead poi­son­ing, among oth­er ail­ments. Con­sum­ing increased lev­els of tri­halomethanes can lead to liv­er, kid­ney, and cen­tral ner­vous sys­tem prob­lems, as well as increas­ing the risk of var­i­ous forms of can­cer, accord­ing to the Envi­ron­men­tal Pro­tec­tion Agency.
Activist and stu­dent Nadia Gaber said that the strug­gle over water was not lim­it­ed to Michi­gan. ​"Water is emerg­ing as a nation­al ter­rain of strug­gle" she said, draw­ing com­par­isons between the sit­u­a­tion in Detroit to the drought in Cal­i­for­nia and the water shut­offs in Baltimore.
Chants of ​"Whose Water? Our Water!" were inter­spersed with dis­cus­sions about poten­tial plans to pri­va­tize water in the state, which pro­test­ers from both Detroit and Flint repeat­ed­ly cri­tiqued. Activists made fre­quent ref­er­ence to a report released last year by Cor­po­rate Account­abil­i­ty Inter­na­tion­al that shows that, on aver­age, pri­va­ti­za­tion leads to high­er costs and low­er effi­cien­cy. ​"Pri­va­ti­za­tion is not the solu­tion," Redi­gan said.
In the UN report cit­ed above, Farha drew atten­tion to the racial pol­i­tics of the water shut­offs, writ­ing ​"If these water dis­con­nec­tions dis­pro­por­tion­ate­ly affect African Amer­i­cans, they may be dis­crim­i­na­to­ry, in vio­la­tion of treaties the U.S. has rat­i­fied." A year lat­er, the racial pol­i­tics of the water shut­offs was at the fore­front of many activists' comments.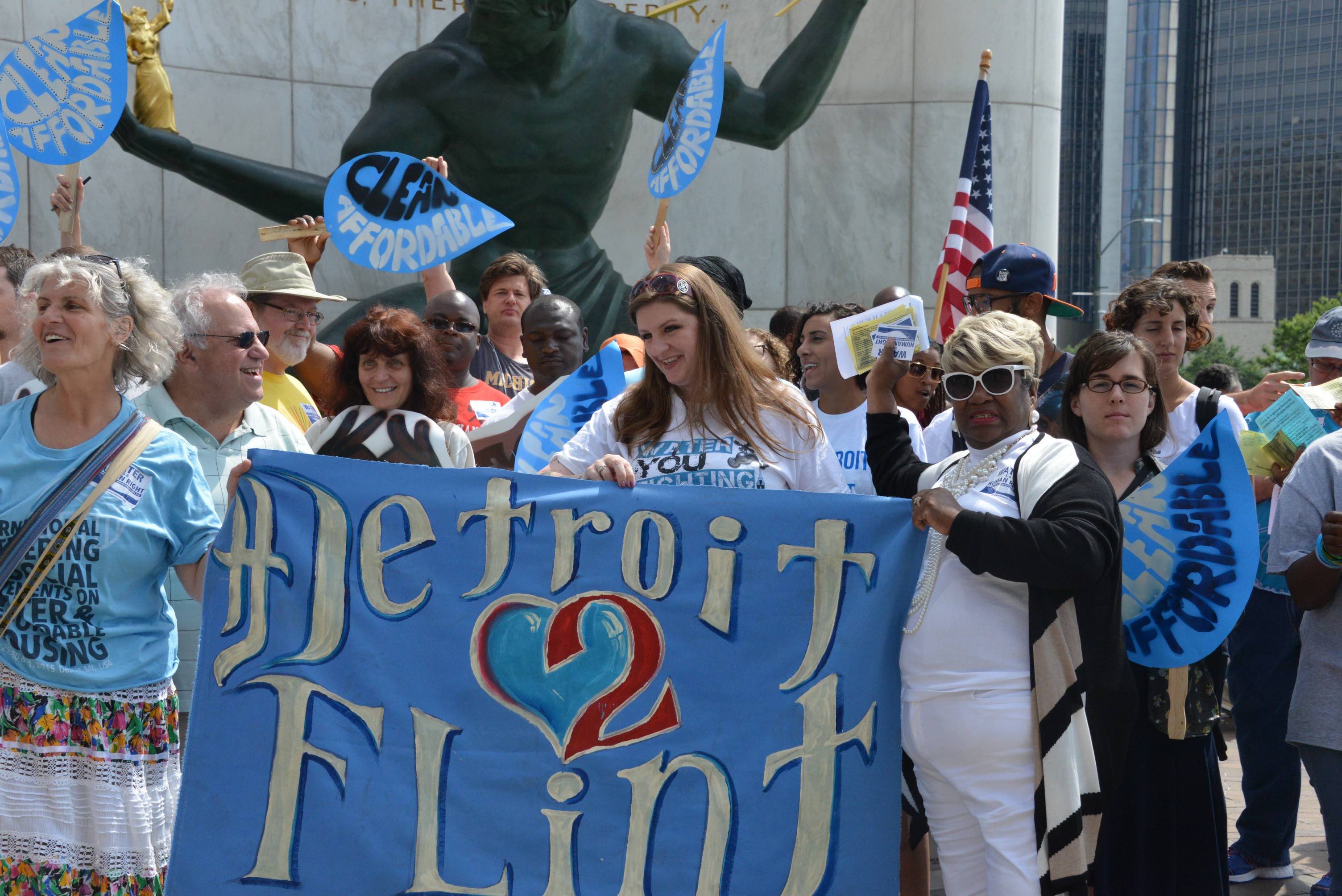 Mon­i­ca Lewis-Patrick, one of the co-founders of We the Peo­ple of Detroit, a coali­tion mem­ber of the Peo­ple's Water Board, said ​"the his­tor­i­cal racial divide between Detroit and the rest of the state has lead to a nar­ra­tive of us, the res­i­dents of Detroit, of being irre­spon­si­ble gov­er­nors, of being lazy, of being inca­pable of lead­ing our­selves — all of that has been dis­placed onto the strug­gle over water."
Despite the sever­i­ty of the cri­sis, activists remained hope­ful about the waves of protest and com­mu­ni­ty action that has cropped up around the state over the last year. Speak­ers recount­ed instances of com­mu­ni­ty sol­i­dar­i­ty in response to the water shut­offs that have plagued the city for over a year. Many told sto­ries of neigh­bors allow­ing oth­ers to use their show­ers, rout­ing hoses between hous­es and doing each oth­ers' laundry.
Lewis-Patrick said that activists' hope stemmed from ​"the extreme diver­si­ty of our coali­tion, the vol­ume of the voic­es of pro­gres­sive thinkers that under­stand that water is a human right. The excit­ing part amidst these aus­ter­i­ty laws [is that] you are still see­ing the beloved­ness of Detroit, the love of peo­ple play­ing out by help­ing each oth­er, see­ing our­selves as part of the glob­al strug­gle for the pro­tec­tion of the human right to water."