Why Labor Is Holding Its Applause for Michigan's Latest "Workers' Rights" Measures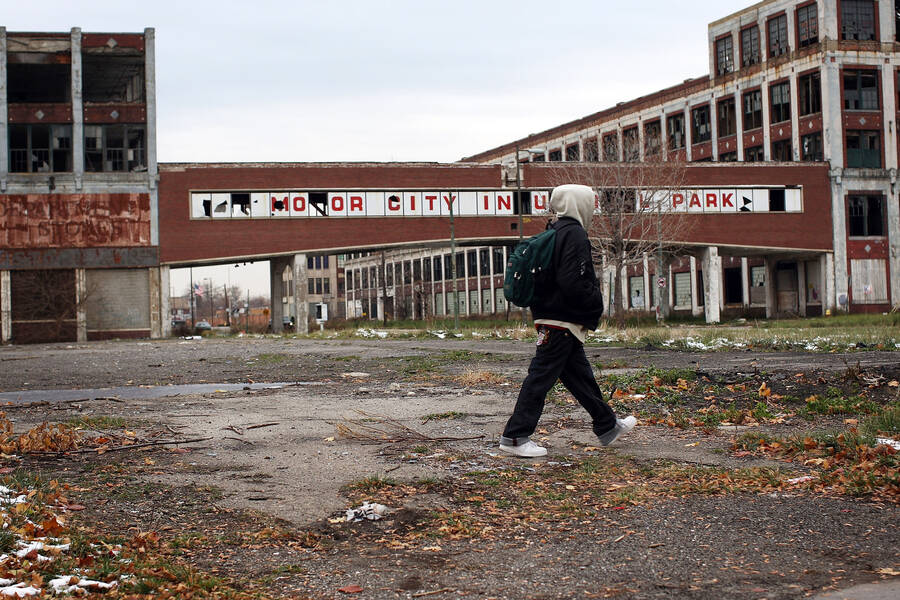 On Sep­tem­ber 5, the Michi­gan leg­is­la­ture seemed to take bold steps toward improv­ing work­ing con­di­tions for its con­stituents: It passed leg­is­la­tion that would guar­an­tee work­ers the right to earn paid sick leave, as well as a min­i­mum wage increase to $12 an hour that man­dates the same base wage for both tipped work­ers and non-tipped work­ers alike. These mea­sures make the state the 11th in the nation to man­date paid sick days and the eighth to require that tipped work­ers be paid the same wage as all others.
But advo­cates are hold­ing their applause. Both issues had been set to appear on the Novem­ber bal­lot for vot­ers to either approve or reject. By act­ing on them now, the leg­is­la­ture has ensured they will no longer appear on the bal­lot. Rather than requir­ing a three-quar­ter major­i­ty to change a vot­er-approved law, law­mak­ers will now only need a sim­ple major­i­ty to change them lat­er on.
And that seems to be exact­ly what they have planned. Even as they passed the mea­sures, law­mak­ers made it clear that they did so not to enshrine them in law, but to cre­ate an oppor­tu­ni­ty to water them down lat­er. ​"The Sen­ate adopt­ed the pol­i­cy to pre­serve the abil­i­ty for this leg­is­la­ture and future leg­is­la­tures to amend the statute to bet­ter fit our state and our econ­o­my," State Sen­ate Repub­li­can Major­i­ty Leader Arlan B. Meekhof said in a state­ment after the vote. ​"The Sen­a­tors heard from restau­rant employ­ees who fear they will earn less under the pro­pos­al and busi­ness own­ers who are con­cerned that they may have to reduce pay­roll in order to meet these new man­dates. The Sen­ate will be look­ing at options to improve the poli­cies in the com­ing months."
A num­ber of Democ­rats, includ­ing all of those in the state Sen­ate, vot­ed against the mea­sures. Demo­c­ra­t­ic Rep. Leslie Love called the move ​"noth­ing less than vot­er suppression."
The actions of the leg­is­la­ture didn't shock Danielle Atkin­son, found­ing direc­tor of Moth­er­ing Jus­tice, who has been advo­cat­ed for paid sick leave in the state for six years. ​"What hap­pened [on Sep­tem­ber 5] was not a sur­prise," she tells In These Times. The leg­is­la­ture has ​"pushed back on a num­ber of occa­sions, start­ing with pre­emp­tion and then just their hos­til­i­ty to mov­ing legislation."
Advo­cates are already vow­ing to fight back if the leg­is­la­ture does change the laws. ​"We believe the lan­guage of the [state] con­sti­tu­tion is very clear that this is not an option avail­able to the leg­is­la­ture," Mark Brew­er, an attor­ney who rep­re­sents both the cam­paign to increase the min­i­mum wage and the cam­paign to guar­an­tee paid sick leave, tells In These Times. ​"We will sue to over­turn any weak­en­ing of this law by the leg­is­la­ture." He has been autho­rized by both groups to do research and gath­er evi­dence to be ready to file a law­suit if and when the leg­is­la­ture acts.
The groups argue that the state con­sti­tu­tion only affords law­mak­ers three options: adopt a bal­lot mea­sure and make it law, reject it and send it in front of vot­ers, or pro­pose an alter­na­tive to appear along­side it on the bal­lot. A deci­sion from the attor­ney gen­er­al in 1964 stat­ed that the leg­is­la­ture can't amend such a mea­sure the same year it enact­ed it ​"with­out vio­la­tion of the spir­it and let­ter" of the con­sti­tu­tion. ​"We can declare vic­to­ry now because there is no legal way to amend the leg­is­la­tion this year," Michi­gan One Fair Wage said in a state­ment after the passage.
That orga­ni­za­tion, which had been advo­cat­ing and col­lect­ing sig­na­tures for the min­i­mum-wage bal­lot mea­sure, has cel­e­brat­ed the pas­sage while warn­ing of ret­ri­bu­tion for future changes. ​"On behalf of the over one mil­lion work­ers and their fam­i­lies who will receive a raise, Michi­gan One Fair Wage is declar­ing vic­to­ry in spurring the leg­is­la­ture to raise the min­i­mum wage to $12 for all work­ers, includ­ing tipped work­ers who cur­rent­ly earn a sub­min­i­mum wage of $3.52 an hour," the group said in its state­ment. ​"This leg­is­la­tion would not have passed with­out the more than 400,000 Michi­gan vot­ers who signed peti­tions demand­ing that One Fair Wage be on this November's ballot."
"It's now the law of Michi­gan, which means that peo­ple are going to get a raise," Brew­er notes.
Atkin­son sees it the same way. ​"We still con­sid­er it a vic­to­ry because we know that the leg­is­la­ture [was] rec­og­niz­ing the impor­tance of this issue, the pop­u­lar­i­ty of this issue, the time­li­ness. They knew they couldn't ignore it," she says. ​"We are work­ing to make sure that every­body knows that this is law."
But the cam­paigns are also aware that this isn't the end of the sto­ry. ​"The Repub­li­can leg­is­la­ture and their lead­er­ship and a lot of their mem­bers were very clear in say­ing that the only rea­son they were adopt­ing this was to keep it off the bal­lot," Brew­er notes. And yet, he says, ​"No Michi­gan leg­is­la­ture has ever done that."
A few of the top options law­mak­ers appear to be con­sid­er­ing rein­stat­ing a low­er min­i­mum wage for tipped employ­ees and slow­ing down the rate of the increase for every­one else, Brew­er says. ​"We'll just have to wait and see."
Advo­cates are not just going to sit on their hands while they wait, how­ev­er. The groups are ​"going to do a lot of pub­lic edu­ca­tion," Brew­er says. ​"At this point, if the leg­is­la­ture votes to weak­en the law they're essen­tial­ly tak­ing away paid sick time or tak­ing away a raise."
"Our efforts right now are com­plete­ly focused around to talk­ing to every per­son we see," Atkin­son says. That includes knock­ing on doors, mak­ing phone calls and ask­ing mem­bers to reach out to their friends and fam­i­ly. ​"It's a right," says Atkin­son, ​"and if the leg­is­la­ture comes back and amends it, they are tak­ing away a free­dom that you have fought so dear­ly for." Her group also plans to trav­el to Lans­ing to speak direct­ly with law­mak­ers. ​"Hope­ful­ly they'll lis­ten to us before they lis­ten to the lob­by­ists," she says.
Michi­gan One Fair Wage and groups that sup­port paid sick leave have vowed to turn peo­ple out to the polls in Novem­ber, both to counter any damp­en­ing in enthu­si­asm with these issues off the bal­lot and also to show law­mak­ers that their con­stituents want them to stick to their promis­es. Ellen Bra­vo and Wendy Chun-Hoon, co-exec­u­tive direc­tors of Fam­i­ly Val­ues @ Work, an orga­ni­za­tion that sup­ports local paid-sick-leave cam­paigns, said in a state­ment, ​"All the part­ner groups in this coali­tion will mobi­lize to ensure that every leg­is­la­tor who vot­ed for the bill hears from their con­stituents. They will do every­thing in their pow­er to pre­serve the law they won. And they will work to achieve the high­est pos­si­ble turnout at the polls."
"From Texas to Michi­gan, Amer­i­cans are send­ing a mes­sage that they're ready to do what politi­cians have failed to do: ensure no one [has] to choose between car­ing for a sick child and pay­ing rent," Jonathan Schleifer, exec­u­tive direc­tor of The Fair­ness Project, which sup­ports efforts to require paid sick leave, says in an email to In These Times. ​"Elect­ed lead­ers who fail to lis­ten will be held accountable."
Bryce Covert
, a con­tribut­ing op-ed writer at the
New York Times
, has writ­ten for
The New Repub­lic, The Nation,
the
Wash­ing­ton Post
, the
New York Dai­ly News
,
New York Mag­a­zine
and
Slate
, and has appeared on ABC, CBS, MSNBC and NPR. She won a
2016
Excep­tion­al Mer­it in Media Award from the Nation­al Women's Polit­i­cal Caucus.