Michiganders Fight Fracking on State Land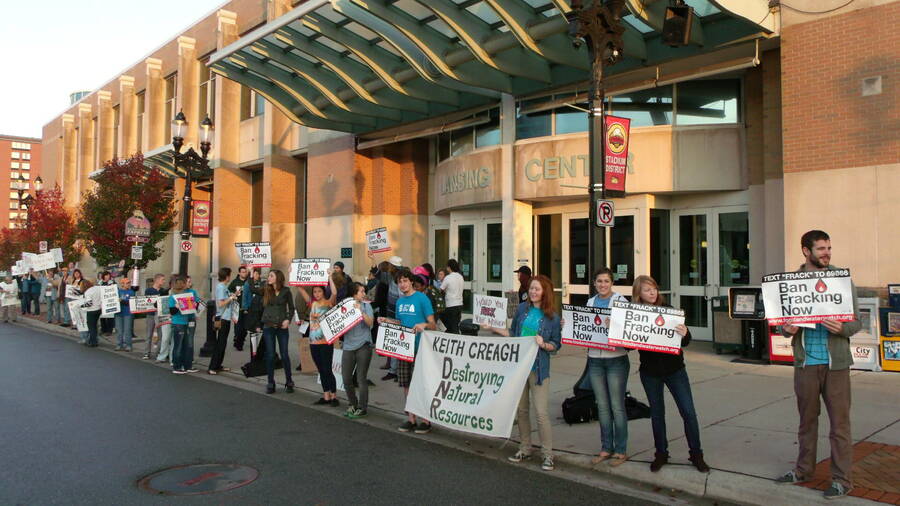 At 8:00 a.m. on October 24, over 100 protesters gathered outside Michigan's Lansing Center, preparing to do battle with the Michigan Department of Natural Resources (MDNR). A banner dropped over a roof across the street read, ​"No Fracking. No Compromise." Thirty minutes later, two balloons with noisemaking devices floated up to the atrium ceiling, beeping over the staircase and the hall to the auction room, as more banners appeared: ​"Deep Water Earth First!" and ​"You Frack and We'll Be Back!"
The occasion for the protest was the MDNR's biannual auction of hundreds of thousands of acres of public land to bidders interested in purchasing mineral rights leases for oil and gas drilling. The MDNR, charged with ​"manag[ing] state-owned mineral rights in a manner that protects and enhances the public trust," has held leasing auctions for decades, but in the past five years, with increased industry speculation over Michigan's shale layers and potential gas and oil production, the MDNR has leased out over one million acres through a process some Michiganders feel favors the industry (and the money it brings to the table) over the public.
The October 24 auction saw mineral rights for over 193,000 acres of state land in 22 counties put up for bid. And the protesters — college students, middle-aged Michigan residents alarmed that the right to extract minerals and water from the land around their homes and communities was about to be handed over to the oil and gas industry — were hoping to stop the auction and the quiet spread of horizontal hydraulic fracturing (or fracking) across ​"Pure Michigan," as the state's tourism department calls it.
Kevin Heatley is a restoration ecologist from Pennsylvania who lives on the Marcellus Shale, a gas-rich shale ​"play" about a mile below the surface of parts of Ohio, West Virginia, Pennsylvania, and New York that has been extensively fracked. Heatley was at the auction last week and understands protesters' concerns. ​"It only took [the natural gas industry] four to five years to fundamentally change Pennsylvania. And they use the same playbook everywhere they go." With the Michigan Department of Environmental Quality's current map of frack wells showing 40 permits issued (over half of which are on state land) and another 15 applications pending, Heatley predicts that ​"the whole lower peninsula is going to be under the drill" if the industry has its way.
The industry has a friend in Michigan's GOP-controlled House. In April, the Natural Gas Subcommittee released a report recommending that the state lease all of its remaining public land — 5.3 million acres of mineral rights — and encouraging fracking and carbon dioxide injection to boost extraction. Bemoaning the fact that the MDNR currently administers ​"only 14,136 oil and gas leases," the report called for ​"lease or lose" legislation that would ​"effectively force the state to lease all mineral interests not currently leased."
Public opposition to the auctioning off of state land for oil and gas drilling began building momentum at last May's auction, when the state offered mineral rights to 108,000 acres, including Barry and Oakland County recreation areas that locals expected the MDNR to protect. As bidders walked into the building to register, protesters drummed and chanted; later they banged on the auction room windows as specific parks went up for bid. In the wake of that auction, several action groups formed, including the Committee to Ban Fracking in Michigan. (Full disclosure: I worked on the Committee's summer signature drive to get a fracking ban on the November 2012 ballot; I've also shared research and writing with anti-fracking education groups, such as Ban Michigan Fracking, that are working with the Committee to gather the 322,600 signatures needed to get a ban on the 2014 ballot.)
Last week's protest was organized by Central Michigan University students Chloe Gleichman, Alysha McClain and Mariah Urueta, who formed Citizens Against Drilling on Public Land (CADPL) after attending the May auction. Frustrated by the MDNR's lack of accountability, they drafted a petition urging MDNR Director Keith Creagh ​"to put our citizen's welfare and environmental health as a top priority and cease oil and gas lease auctions on state land." They collected 3,300 signatures and 13 nonprofit endorsements, and, with help from Michigan's Food & Water Watch, delivered those signatures to a September 13 public comment session of the Natural Resources Commission. When Creagh announced that the October auction would go forward despite opposition, CADPL called on the coalition of individuals and grassroots groups to join the protest.
(Video by Jeff Smith, Grand Rapids Institute for Information Democracy)
Inside the auction room at 9:00 a.m., after some initial disruptors had been removed, 10 or 12 armed MDNR conservation officers kept watch as protesters quieted and sat down. Signs posted between the public seating and the bidder's area set the rules: "[T]here is no opportunity for public comment. Only the auctioneer and registered bidders are authorized to participate or speak." But as bidding began, protesters continued to disrupt the proceedings, and within minutes a dozen had been evicted, including several who hollered out ​"Stolen!" during the auctioneer's first few pronouncements that bidders had ​"won" acreage. Those making audible comments were turned over to Lansing police officers who recorded each protester's name and address and evicted them from the building, warning that they would be arrested if they returned.
Within an hour, nearly half of the room had been evicted. As Allegan County bidding drew to a close, Kathy Chiaravalli, a human resources consultant who lives on Cass Lake in Oakland County, called out, ​"Why are we selling the right for them to poison us for pennies?" Chiaravalli was one of several people who registered to bid at the May auction, hoping to keep at least some land out of the hands of the oil and gas industry, but she realized early on that ​"bidding didn't work. No matter what, we'd be outbid." She's been researching fracking from an economic perspective, trying to work with the governor's office to raise the minimum bid. ​"At $10 per acre," she said, ​"we're subsidizing the industry." As she was escorted out, she reiterated: ​"Billions in gas profits. Pennies for Michigan. Drink benzene!"
By the time the auction ended at 3:00 p.m., over 12,000 acres of the Allegan State Forest, several Kent County parks, and what seemed to be all of Ogemaw County's public land had been leased. Forty protesters had been evicted and seven arrested, including three people who dove past the ropes that separated bidders from observers just before the auction began, in an attempt to lock themselves to the auction podium or the bidders' tables.
Now, activist groups are looking ahead. The newly formed Michigan Land Air Water Defense (MiLAWD), working with Michigan environmental attorney Jim Olson, is seeking to nullify the results of the October and May auctions on the grounds that the MDNR has failed to uphold the public trust and to use its own regulations to protect state game, recreation, and other specialty designated areas. Meanwhile, the founders of CADPL, pleased by the banner drops, the direct action and the disruptions, are looking forward to keeping the solidarity and the momentum going. The next event, sponsored by MiLAWD, CADPL, Flow for Water, and Food & Water Watch, is a November 12 Michigan Fractivism workshop in Allegan that will feature sessions on legal issues, organizing, and using the media to promote awareness.
The fractivists' hope is to increase public awareness and participation. Corinne Turner, a Barry county resident and one of the many protestors at both auctions, says of the May experience, ​"What struck me to my core as we marched and shouted in the lobby of Constitution Hall, was that we were in the people's house, and they were downstairs auctioning off the people's land. It was obvious that if more people knew about it, they'd be there too."
Maryann Lesert
is an author and Associate Professor of English at Grand Rapids Community College (MI). She is researching fracking for her next novel.