Farm Workers Are Under Attack For Doing a Job that Other Americans Won't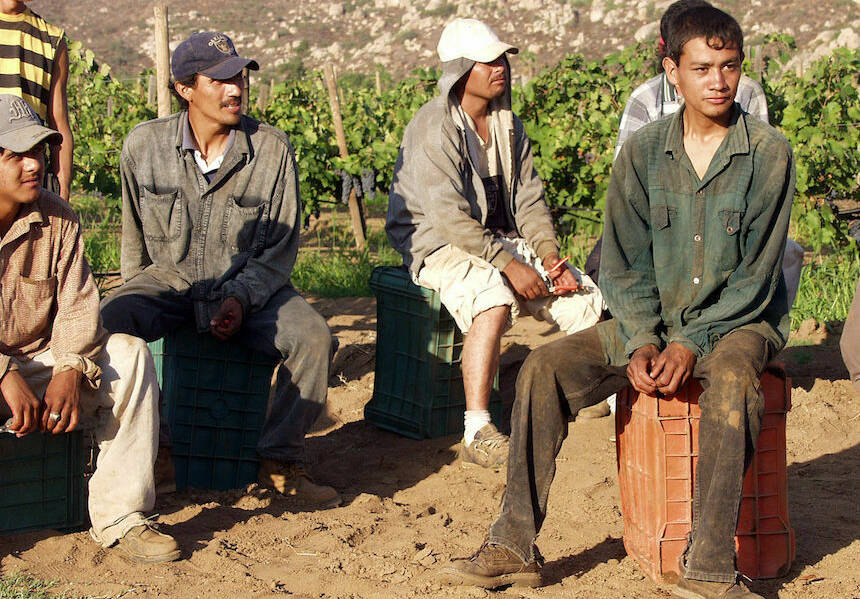 The farm work­ers were 35-year-old San­to Hilario Gar­cia and 33-year-old Marceli­na Gar­cia Pro­fec­to. One fate­ful day last week, Gar­cia came out of his house before 7 a.m. and got behind the wheel of an SUV, with Pro­fec­to beside him. Immi­gra­tion and Cus­toms Enforce­ment agents spot­ted Gar­cia and con­clud­ed that he fit the descrip­tion of a sus­pect they were after. So they trailed him and pulled him over. As the agents exit­ed their vehi­cle, Gar­cia pan­icked and sped away. The SUV slid off the road, flipped over and crashed into a pow­er pole. The cou­ple died at the scene.
Two oth­er details:
First, at home, the cou­ple left behind six chil­dren who are now orphans. A half dozen kids will grow up with­out par­ents, maybe wind up in fos­ter care.
And sec­ond, this dread­ful sto­ry could have been avoid­ed if the ICE agents were bet­ter at their jobs. You see, they made a mis­take. They weren't after Gar­cia, only some­one who looked like him.
That's under­stand­able. In these dark days of fear and loathing, all Lati­no immi­grants look alike.
You hear anti-immi­grant pun­dits on tele­vi­sion talk­ing about how farm­ers want ​"open bor­ders" so they can keep wages low and exploit immi­grants while deny­ing jobs to Amer­i­cans. It's one of those colos­sal­ly igno­rant state­ments that comes from city folks who think that milk comes from the supermarket.
With unem­ploy­ment in Cal­i­for­nia at a mere 4 per­cent, most of the folks who want to work are work­ing. Mean­while, those who don't want to work have the whole day free to call into talk radio shows and com­plain about how there are no jobs.
A fast-food restau­rant near my house needs work­ers and it is offer­ing $11 per hour, the state's min­i­mum wage.
In San Diego Coun­ty, an avo­ca­do farmer insists he can do bet­ter and that his work­ers can earn as much as $15 per hour. In Fres­no Coun­ty, a cit­rus farmer tells me that he is pay­ing work­ers $22 per hour to pick man­darin oranges.
These gen­tle­men and oth­er grow­ers make up Cal­i­for­ni­a's agri­cul­ture indus­try, which brings in $45 bil­lion annu­al­ly. Nei­ther has ever had an Amer­i­can come up to them and ask for a job pick­ing fruit.
Cal­i­for­nia — which has the world's sixth largest econ­o­my — could­n't sur­vive with­out farm­ing. And farm­ing would van­ish with­out ille­gal immi­grant labor.
Hatred and heat­ed rhetoric does­n't bring in the harvest.
I did­n't read this sto­ry in a book. I saw it with my eyes. I was born and raised in Cen­tral Cal­i­for­nia. That is my home. The peo­ple there — who are often looked down on by clue­less sophis­ti­cates in San Fran­cis­co and Los Ange­les — are my people.
And, where immi­gra­tion is con­cerned, my peo­ple live in the real world. Unlike the folks in Rust Belt states like Ohio and Penn­syl­va­nia who want to curl up in the fetal posi­tion and wait out the glob­al econ­o­my by rely­ing on Trump admin­is­tra­tion tar­iffs on steel and alu­minum, the peo­ple in Cen­tral Cal­i­for­nia are too busy work­ing to stop and lis­ten to those who say there is no work.
In fact, the state's farm­ers are so pro­duc­tive, and their indus­try so effi­cient, that they grow more than half of the pro­duce in the Unit­ed States and still have a sur­plus to sell over­seas. So if coun­tries like Cana­da, Mex­i­co, South Korea and Brazil — which make up more than half of steel imports into the Unit­ed States — retal­i­ate against Trump's tar­iffs, agri­cul­tur­al exports could wind up tak­ing the brunt of the punishment.
Back to the tragedy, I know what you're think­ing. But don't speak to me about blame. Par­ents are not per­fect. Like ICE agents, they make mis­takes. These par­ents made the mis­take of liv­ing in the coun­try ille­gal­ly. Then they made the addi­tion­al — and fatal — mis­take of flee­ing from law enforce­ment offi­cers. And for those mis­takes, they paid a very high price.
Still, when con­front­ed by heart­break­ing sto­ries like these, Amer­i­cans can't get so focused on legal­i­ty that we lose sight of our human­i­ty. That is, if we want to con­tin­ue to claim to be a civ­i­lized people.
(This sto­ry is the prop­er­ty of The Wash­ing­ton Post Writ­ers Group. It is repost­ed on Rur­al Amer­i­ca In These Times with per­mis­sion from the author.)
Ruben Navar­rette
is an increas­ing­ly impor­tant voice in the nation­al polit­i­cal debate. His col­umn offers new think­ing on many of the major issues of the day, espe­cial­ly on thorny ques­tions involv­ing eth­nic­i­ty and nation­al ori­gin. His col­umn is syn­di­cat­ed world­wide by The Wash­ing­ton Post Writ­ers Group.