Mike Pence May Be a Friend to Trump, But He's No Friend to Workers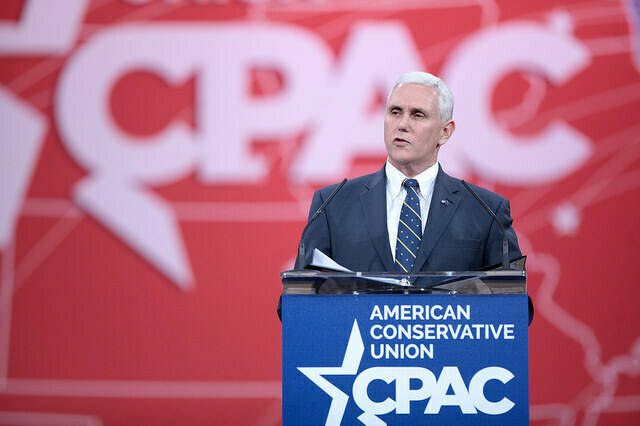 Don­ald Trump's vice-pres­i­den­tial pick of Indi­ana Gov. Mike Pence should have work­ers worried.
"Mike Pence has waged repeat­ed attacks on work­ing Hoosiers as gov­er­nor and will with­out a doubt con­tin­ue the attacks along­side his anti-work­er run­ning mate Don­ald Trump who is ​'100 per­cent right to work,'" said Brett Voorhies, pres­i­dent of the Indi­ana State AFL-CIO, short­ly after news of the announce­ment broke Friday.
Indi­ana became a right-to-work state under Pence's pre­de­ces­sor, but Pence has worked to make sure it stays that way.
Under the law, unions can­not col­lect fees from non-mem­bers who take advan­tage of unions' griev­ance or bar­gain­ing ser­vices, and are essen­tial­ly pro­vid­ing these ser­vices with­out compensation.
Two local judges ruled that the law vio­lat­ed the state's Con­sti­tu­tion, caus­ing the Indi­ana Depart­ment of Labor to stop enforc­ing the law briefly. Pence defend­ed its legal­i­ty. And in 2014, Indiana's Supreme Court upheld the state's right-to-work law.
Pence has also tak­en a stand against rais­ing the min­i­mum wage to liv­able lev­els, oppos­ing a bill that would have raised Indiana's min­i­mum wage from $7.25 to $8.25. Instead, Pence signed into law a bill pro­hibit­ing local gov­ern­ments from forc­ing busi­ness­es to raise min­i­mum wages unless man­dat­ed by the state or fed­er­al government.
Pence also signed a law repeal­ing Indiana's com­mon con­struc­tion wage, leav­ing wages on pub­licly-fund­ed con­struc­tion projects at the mer­cy of free-mar­ket pay scales rather than in the hands of local boards com­posed of tax­pay­ers or contractors.
In a fur­ther blow to work­ers' rights, Pence lent his sup­port to the Trans-Pacif­ic Part­ner­ship, say­ing that the deal would allow Indi­ana to ​"enjoy increased mar­ket access and fair­ly com­pete on the world stage."
Most labor unions opposed TPP, argu­ing that it would allow for cur­ren­cy manip­u­la­tion that increas­es America's trade deficit and hurts man­u­fac­tur­ing jobs.
Fol­low­ing news of Trump's vice-pres­i­den­tial pick, Voorhies wrote that while he was relieved Pence would be out of Indiana's gov­er­nor's race, the Repub­li­can Par­ty could not be allowed to win the pres­i­den­cy in November.
"Mike Pence is run­ning away from the peo­ple of Indi­ana and into the arms of Don­ald Trump, and the pair could not be more per­fect for each oth­er," he said. ​"Trump and Pence are both dri­ven by a divi­sive polit­i­cal agen­da that focus­es more on ide­olo­gies than actu­al prac­ti­cal solu­tions to the issues plagu­ing work­ing people."
Kali Robin­son
is a
2016
In These Times edi­to­r­i­al intern. She is a jour­nal­ism stu­dent at North­west­ern Uni­ver­si­ty and is on Twit­ter @Professor_Kali.