Despite Promised Jobs, Desert Town Opposes Giant Copper Mine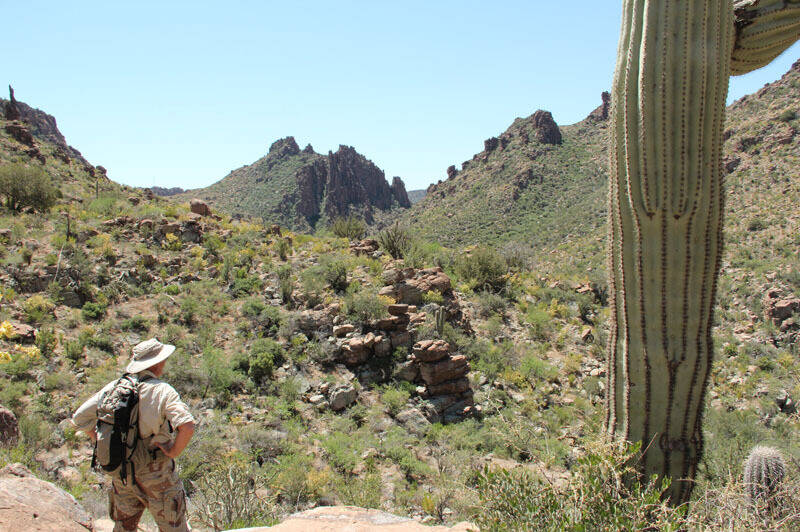 As the first rays of dawn fall on the red rocks and turquoise lichen of Oak Flat camp­ground, locat­ed on the edge of the Ton­to Nation­al For­est in Ari­zona, no one stirs in the small tents and RVs arrayed below the scrub­by trees. The only move­ment comes from the hand­ful of white pick­up trucks mak­ing their way past the plateau en route to twin tow­ers strung with light­ing on the hill­side above.
These tow­ers are Shafts 9 and 10 of Res­o­lu­tion Cop­per, which could even­tu­al­ly be the largest cop­per mine in the coun­try. That is, if its own­er, the multi­na­tion­al cor­po­ra­tion Rio Tin­to, can con­vince the fed­er­al gov­ern­ment to let it mine beneath the camp­ground and sur­round­ing land.
Rio Tin­to is already doing explo­ration and build­ing infra­struc­ture for min­ing on land that the com­pa­ny owns in these rugged hills. But Rio Tin­to says the most valu­able part of the ore body lies below land owned by the fed­er­al gov­ern­ment. In 1955, Pres­i­dent Dwight D. Eisen­how­er pro­hib­it­ed min­ing in that area; Pres­i­dent Richard M. Nixon lat­er renewed the decree.
For a decade, Rio Tin­to has been push­ing leg­is­la­tion that would allow a ​"land swap" to cir­cum­vent the ban. The com­pa­ny would gain con­trol of the 2,400 acres of gov­ern­ment-owned cop­per-rich land near Oak Flat; in exchange, Rio Tin­to would give the Ari­zona gov­ern­ment about 5,300 acres among var­i­ous parcels in oth­er parts of the state. The com­pa­ny has said that with­out the land swap, it wouldn't be eco­nom­i­cal to mine at all.
Res­i­dents of Supe­ri­or, the small for­mer min­ing town five miles down­hill from Oak Flat, are firm­ly opposed to the new cop­per mine and to the land swap leg­is­la­tion. Supe­ri­or was built by min­ing — Shaft 9 was part of the Mag­ma Mine, an under­ground oper­a­tion where many Supe­ri­or res­i­dents worked until it closed in the ear­ly 1990s. The oth­er for­mer Mag­ma Mine shafts are defunct; Shaft 10 is a new one Rio Tin­to is con­struct­ing. Most peo­ple in this area sup­port min­ing as a con­cept, and many were dev­as­tat­ed when the Mag­ma Mine closed.
But many Supe­ri­or locals see Rio Tinto's cur­rent plan as a very dif­fer­ent sto­ry. They are furi­ous that it would block pub­lic access to the beloved camp­ground of Oak Flat and that it will irrev­o­ca­bly alter the frag­ile high desert land. The mine would use a method called block cave min­ing that involves remov­ing a huge amount of ore and allow­ing the land to col­lapse in its stead, rather than fill­ing in the cav­i­ty or bol­ster­ing it with pil­lars. Ulti­mate­ly, this would leave a pit 2.5 miles in diam­e­ter and 1,000 feet deep where the large­ly pris­tine land­scape used to be.
While Supe­ri­or res­i­dents are strong­ly opposed to Rio Tinto's plan, there is sig­nif­i­cant polit­i­cal sup­port for the mine from civic lead­ers in sur­round­ing towns and state elect­ed offi­cials. They point to the company's claims that the mine would cre­ate 1,430 direct jobs, gen­er­at­ing $61.4 bil­lion in eco­nom­ic impact and $20 bil­lion in tax­es dur­ing its six-decade lifetime.
Local crit­ics argue, how­ev­er, that giv­en mod­ern min­ing meth­ods and employ­ment struc­tures, few of those jobs would go to Supe­ri­or res­i­dents them­selves; even few­er would be qual­i­ty posi­tions. For one thing, the work pre­vi­ous­ly done by indi­vid­ual min­ers would now be high­ly auto­mat­ed, as the com­pa­ny itself has tout­ed at its oth­er oper­a­tions. More­over, locals fear that the com­pa­ny would fill any non-mech­a­nized posi­tions with engi­neers from Rio Tinto's oth­er sites and non-union sub­con­trac­tors — as the cor­po­ra­tion is already doing dur­ing the mine's con­struc­tion and explo­ration phase.
​"A lot of local kids are doing the grunt work," says Roy Chavez, for­mer Supe­ri­or may­or and town coun­cil mem­ber who now leads local oppo­si­tion to the mine. ​"Rio Tin­to has no inten­tion of hir­ing [many] employ­ees; they'll be using sub­con­trac­tors and temps. They are part-time employ­ees, they don't have any rights, any perks, any ben­e­fits tied to Rio Tinto."
This ​"grunt work," which Rio Tin­to has under­tak­en as part of pre­lim­i­nary con­struc­tion in the past few years, is just part of the company's increased com­mit­ment to open­ing Res­o­lu­tion Cop­per as soon as possible.
Last fall the ​"land swap" bill that would give Rio Tin­to access to the land it wants to mine was intro­duced in the House and the Sen­ate; after it was passed in a House com­mit­tee, U.S. Rep­re­sen­ta­tive Ben Ray Lujan (D‑NM), who oppos­es the mea­sure, insert­ed a ​"poi­son pill" amend­ment into the mea­sure. Lujan's addi­tion would have allowed the Inte­ri­or Sec­re­tary to remove from the deal any land con­sid­ered sacred by Native tribes. The Apache tribe whose reser­va­tion sits near­by con­sid­ers parts of the land Rio Tin­to wants to mine sacred, includ­ing a land­mark called Apache Leap. Hence, the amend­ment could pre­vent min­ing in the areas the com­pa­ny says are most cru­cial. The bill was revoked short­ly after Lujan's amend­ment; it will like­ly be intro­duced again this year. In total, mem­bers of Con­gress, includ­ing U.S. Rep­re­sen­ta­tive Paul Gosar (R‑Ariz.) and Sen­a­tor John McCain (R‑Ariz.), have intro­duced sim­i­lar leg­is­la­tion 12 times.
Mean­while, in Supe­ri­or, for­mer min­ers, envi­ron­men­tal advo­cates, rock climbers and min­ing watch­dogs con­tin­ue fight­ing Res­o­lu­tion Copper's expan­sion on a num­ber of fronts.
By 9 a.m. on a Sat­ur­day in ear­ly May, the campers at Oak Flat have risen. Some have head­ed out for hik­ing through the sur­round­ing bluffs or rid­ing ATVs on dirt roads. Oth­ers are prepar­ing for a fam­i­ly reunion at the camp­ground. ​"This is God's coun­try," said an old­er man, who came ear­ly to get ready for the reunion.
For three years, long-time envi­ron­men­tal activist and car­pen­ter Roger Feath­er­stone has been mak­ing month­ly vis­its to that so-called ​"God's coun­try" to check on the 10 cam­eras he has installed through­out the land Rio Tin­to wants to mine. The cam­eras, which save hun­dreds of images record­ed after motion sen­sors are acti­vat­ed, are mar­ket­ed to deer hunters look­ing to track their prey. But Feath­er­stone wants to use them to instead quan­ti­fy the way humans and ani­mals, poten­tial­ly includ­ing pro­tect­ed species, uti­lize the land that would be for­ev­er altered if Rio Tin­to gets its way.
So far, Featherstone's cam­eras have cap­tured dozens of fox­es with bushy tails trot­ting by or gaz­ing inquis­i­tive­ly straight at the cam­era, sur­prised by its flash. He's seen coa­t­imundis — exot­ic-look­ing mon­key-like desert ani­mals with long ringed tails — rab­bits, deer and sleek moun­tain lions. Plus, at some loca­tions, there are also hik­ers, sci­en­tists and off-road dri­vers. Though there have been reports of endan­gered ocelots seen in the area, Feath­er­stone has found no endan­gered species so far that would be grounds for a law­suit stop­ping the mine. Nonethe­less, he hopes the log of activ­i­ty helps con­vince leg­is­la­tors and oth­ers that this land is worth saving.
​"It's clear that there's a lot of four-legged, two-legged and four-wheel uses of Oak Flat," and the sur­round­ing area, Feath­er­stone says. ​"All of that stuff is more valu­able in the long term cer­tain­ly than destroy­ing it for the mine."
Feath­er­stone is the Tuc­son-based founder and sole paid staff mem­ber of the Ari­zona Min­ing Reform Coali­tion, which keeps tabs on exist­ing and pro­posed mines across the state, includ­ing in the south­ern region known as the ​"Cop­per Tri­an­gle" that includes the pro­posed Rio Tin­to mine. On his April trip a month before we meet, he dis­cov­ered that one of his cam­eras was water­logged and bro­ken — dur­ing heavy rains in ear­ly March, it was caught up in a swollen stream. Quick­ly flow­ing water also acti­vat­ed the motion sen­sors on sev­er­al oth­er cam­eras, leav­ing images that seem sur­re­al viewed lat­er when the gul­lies are bone-dry.
But spring rain­storms and sum­mer mon­soons notwith­stand­ing, this is a desert, and water is far from an unlim­it­ed resource, mak­ing it anoth­er cru­cial issue for Rio Tin­to. The pro­posed mine would use large amounts of water, and the shafts would have to be con­stant­ly de-watered. There is also a risk of pol­lut­ing aquifers or frac­tur­ing them, alter­ing the area's hydrol­o­gy. Rio Tin­to offi­cials note that they have pur­chased future water rights under the Cen­tral Ari­zona Project canal sys­tem to cov­er their use, and that their stud­ies show no risk to the local aquifers. But Feath­er­stone and oth­er locals, includ­ing retirees in a neigh­bor­ing com­mu­ni­ty called Queen Creek, are not convinced.
​"The whole issue of buy­ing water cred­its to use 10 to 20 years in the future in a state like Ari­zona is just ludi­crous," says Feath­er­stone. There's no guar­an­tee how much water will be avail­able then, he points out, espe­cial­ly giv­en increas­ing droughts expect­ed with cli­mate change. ​"Not only would there like­ly be a short­age of water for peo­ple, the ecosys­tem would just be ham­mered out there if the mine went in. Not nec­es­sar­i­ly even from water usage, just from the dewa­ter­ing they'd have to do to keep a mile-deep hole in the ground dry."
The night before Featherstone's jaunt check­ing cam­eras, he joined a gath­er­ing on for­mer may­or Chavez's sister's patio. The 15 or so peo­ple clus­tered around the bar­be­cue are mem­bers of the Con­cerned Cit­i­zens and Retired Min­ers Coali­tion, a local orga­ni­za­tion formed to oppose Rio Tinto's plans.
Chavez knows the town well and every­body in it — he can't walk through pop­u­lar local restau­rant Los Her­manos with­out greet­ing and chat­ting with some­one at each table. He also worked for years in the Mag­ma Mine. So he feels con­fi­dent, he says, in the knowl­edge that the new mine would be dev­as­tat­ing for the town.

As Chavez grilled hot dogs and ham­burg­ers for the small crowd, his sister's four small dogs yap­ping around his feet, artist and writer Anna Jef­frey passed around a white binder full of pho­tos of Oak Flat camp­ground and the sur­round­ing area. It fea­tured shots from a recent boul­der climb­ing com­pe­ti­tion, includ­ing one of a man walk­ing on a high wire strung between two rock faces. The area Rio Tin­to wants to mine is extreme­ly pop­u­lar with rock climbers from around the region; they have also recent­ly joined the fight, some of them trav­el­ing to Wash­ing­ton, D.C. to tes­ti­fy against the min­ing plan.
Like most Supe­ri­or res­i­dents, Jef­frey grew up in the town and has count­less fond child­hood mem­o­ries of explor­ing the Oak Flat area. She still goes there con­stant­ly, espe­cial­ly a series of clear swim­ming holes where she throws a cloth over Featherstone's cam­era before jump­ing in.
At the meet­ing, oth­er res­i­dents and for­mer min­ers lament­ed the pos­si­bil­i­ty that High­way 60 which runs through Supe­ri­or and up to the mine site, would like­ly be closed if the plan goes through, since land under the road could col­lapse. That would mean an alter­nate high­way would be built that wouldn't go through Supe­ri­or, poten­tial­ly dev­as­tat­ing the town's small businesses.
​"We'll be a dead end — no one will get off the exit to come to Supe­ri­or," said one retired min­er at Chavez's meet­ing. ​"The town will die."
Feath­er­stone told the group about his recent trip to Lon­don, where he tes­ti­fied at the Rio Tin­to annu­al share­hold­ers' meet­ing along with oppo­nents of Rio Tin­to oper­a­tions from West Papua and Mada­gas­car. Feath­er­stone said he intro­duced him­self to Rio Tin­to CEO Sam Walsh at the meet­ing, and he said Walsh indi­cat­ed he was eager to ​"nego­ti­ate" with the mine opponents.
​"You come to town and want to take this place we love, and now you want us to nego­ti­ate the terms of our sur­ren­der?" Feath­er­stone said, speak­ing hypo­thet­i­cal­ly to Walsh and oth­er Rio Tin­to officials.
Chavez's sis­ter Kim­ber­ley Lopez Byrd, whose patio played host to the meet­ing, has spent her whole life in min­ing com­mu­ni­ties. For three decades, she was a pub­lic school teacher in Hay­den — a tiny, impov­er­ished town 30 miles from Supe­ri­or where cop­per ore is milled — and in San Manuel, home to anoth­er for­mer mine that closed down when cop­per prices dropped, prompt­ing thou­sands of layoffs.
A few days before the Con­cerned Cit­i­zens cook­out, Lopez Byrd had tak­en a dri­ve through Hay­den and San Manuel. In the liv­ing room filled with fam­i­ly pho­tographs and memen­tos, she flipped through images on her iPad of the rem­nants of the San Manuel mine, which used the same ​"block cave" method Res­o­lu­tion would: a vast area fenced off with signs warn­ing of dan­ger from ​"unsta­ble" land.
She also took shots in Hay­den of the mas­sive piles of pow­dery waste rock, or ​"tail­ings," stored there from near­by min­ing oper­a­tions. If Rio Tin­to gets its way, there would also be a mas­sive tail­ings pile not far from Supe­ri­or, near the pop­u­lar Boyce Thomp­son arbore­tum. Lopez Byrd doc­u­ment­ed clouds of grit­ty tail­ings blow­ing in the wind near Hay­den; Supe­ri­or res­i­dents fear they could be exposed to air­borne tail­ings if Res­o­lu­tion Cop­per goes for­ward. The tail­ings them­selves are made up of tox­ic met­als, and fine dust of any type is known to cause seri­ous res­pi­ra­to­ry heath effects.
Sev­er­al days after their cook­out meet­ing, Feath­er­stone and Chavez head­ed to Alas­ka for a meet­ing of the West­ern Min­ing Action Net­work, a region­al coali­tion of non­prof­it orga­ni­za­tions and activists opposed to envi­ron­men­tal­ly destruc­tive min­ing. There, the two of them shared infor­ma­tion and strate­gies with peo­ple fight­ing mines in Alas­ka and oth­er parts of the Unit­ed States.
​"We talked about Rio Tin­to and did some orga­niz­ing across com­pa­ny lines," says Feath­er­stone in a fol­low-up inter­view a few weeks lat­er. ​"The com­pa­nies basi­cal­ly work off the same play­book for all the dif­fer­ent issues at all the mine sites. So it's always good to com­pare notes."
Over­all, Feath­er­stone and some of the oth­er res­i­dents think they may be win­ning the bat­tle against the mine. For years they have been demand­ing that Rio Tin­to pro­duce a Mine Plan of Oper­a­tions, a doc­u­ment required when a com­pa­ny mines on fed­er­al land. (Under the 1872 Min­ing Law which gov­erns hard rock min­ing, pri­vate com­pa­nies can extract min­er­als on pri­vate land with­out pay­ing for them.) Last fall Rio Tin­to did sub­mit a min­ing plan, and the U.S. For­est Ser­vice is cur­rent­ly review­ing it. The plan does not show min­ing in the banned area, but the com­pa­ny itself has made clear through their infra­struc­ture and leg­isla­tive efforts that min­ing there is their inten­tion. To that end, Feath­er­stone thinks the min­ing plan shows the com­pa­ny is disin­gen­u­ous­ly going through required motions with the expec­ta­tion they will even­tu­al­ly get their way.
​"Even though Oak Flat is with­drawn from min­ing, the min­ing plan clear­ly shows that half of it would be destroyed," says Feath­er­stone. ​"The com­pa­ny is plan­ning on destroy­ing an area that's with­drawn from min­ing and think­ing they can get away with it."
Regard­less of what the For­est Ser­vice deter­mines, oppo­nents hope the details in the min­ing plan, includ­ing the water use and extent of sub­si­dence, will ulti­mate­ly help them con­vince leg­is­la­tors not to pass the land swap bill. Mean­while, they'll con­tin­ue work­ing to try to bol­ster the oth­er assets of Supe­ri­or and to cel­e­brate Oak Flat, so peo­ple from out­side the area will real­ize the town and the land are worth sav­ing. Events are fre­quent­ly held at Oak Flat, includ­ing rock climb­ing fes­ti­vals, East­er pic­nics, Boy Scout con­ver­gences and Apache com­ing-of-age cer­e­monies. For his part, Chavez is already gear­ing up for the Mex­i­can Inde­pen­dence Day cel­e­bra­tions to be held in town in mid-Sep­tem­ber, at which time vis­i­tors can camp at Oak Flat or stay at the his­toric, new­ly ren­o­vat­ed Mag­ma Mine hotel downtown.
​"There are things going on here," said Chavez. ​"The com­pa­ny tries to sell this idea that it's the mine or noth­ing, it's all about the mine. That's what these com­pa­nies do all over the coun­try. But we can have a diverse econ­o­my. We can live with­out the mine."
This sto­ry was sup­port­ed by a grant from the Fund for Envi­ron­men­tal Jour­nal­ism.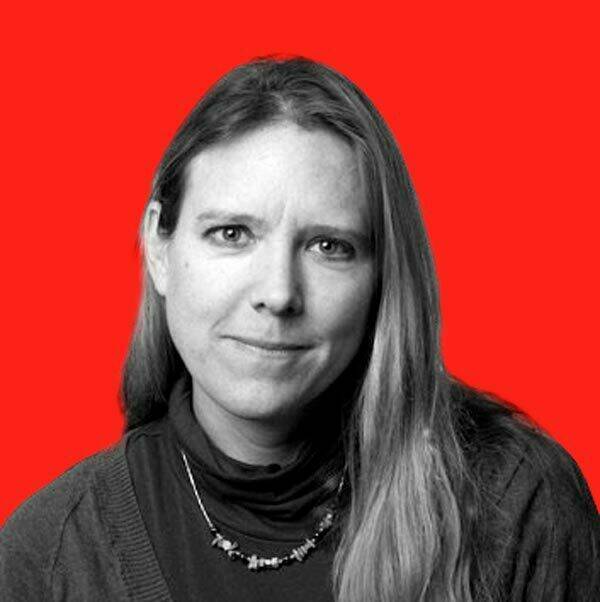 Kari Lyder­sen
is a Chica­go-based reporter, author and jour­nal­ism instruc­tor, lead­ing the Social Jus­tice
&
amp; Inves­tiga­tive spe­cial­iza­tion in the grad­u­ate pro­gram at North­west­ern Uni­ver­si­ty. She is the author of May­or
1
%: Rahm Emanuel and the Rise of Chicago's
99
%.