Workers May Have Just Killed Missouri's Right to Work Law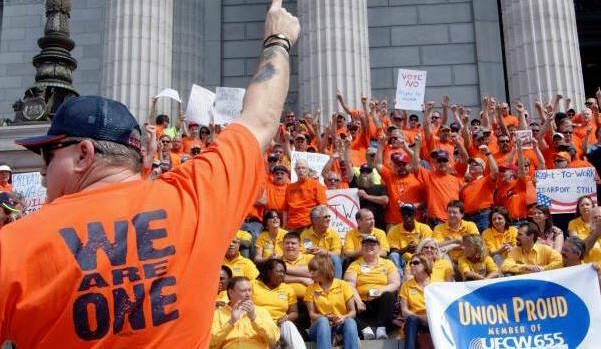 In a bad­ly need­ed vic­to­ry for orga­nized labor, a coali­tion of work­ers' rights groups in Mis­souri is poised to halt a dev­as­tat­ing new anti-union law from tak­ing effect lat­er this month.
The decep­tive­ly named ​"right-to-work" (RTW) leg­is­la­tion — quick­ly passed and signed into law this Feb­ru­ary by Missouri's new Repub­li­can gov­er­nor, Eric Gre­it­ens — would pro­hib­it unions in pri­vate sec­tor work­places from auto­mat­i­cal­ly col­lect­ing dues from the work­ers they are legal­ly required to rep­re­sent. Designed to dec­i­mate unions by cut­ting off their finan­cial resources, RTW laws are cur­rent­ly in place in 27 oth­er states.
Though the law is set to take effect on August 28, the pro-union We Are Mis­souri coali­tion, led by the Mis­souri AFL-CIO, says it has col­lect­ed enough sig­na­tures from vot­ers to call for a state-wide ref­er­en­dum in Novem­ber 2018 that could nul­li­fy the leg­is­la­tion. Imple­men­ta­tion of the RTW law would be put on hold at least until next year's ref­er­en­dum results are known.
We Are Mis­souri spokesper­son Lau­ra Swin­ford tells In These Times that Repub­li­can leg­is­la­tors had been want­i­ng to pass a RTW law for years, but were blocked by Demo­c­ra­t­ic Gov. Jay Nixon. As soon as Gre­it­ens was elect­ed last Novem­ber, she says, ​"folks were prepared."
Mis­souri allows res­i­dents to call a ref­er­en­dum on new leg­is­la­tion by col­lect­ing sig­na­tures from at least 5 per­cent of vot­ers from six of the state's eight con­gres­sion­al dis­tricts. ​"When Gov. Gre­it­ens signed the so-called ​'right-to-work' law, we had a peti­tion ready to go," Swin­ford explains.
We Are Mis­souri esti­mat­ed it would need to col­lect at least 100,000 sig­na­tures to call a ref­er­en­dum on the RTW law. Swin­ford says vol­un­teer can­vassers went to fes­ti­vals, con­certs, coun­ty fairs and oth­er events in every coun­ty to gath­er sig­na­tures. ​"Our vol­un­teers have gone out there day after day, week­end after week­end, going sig­na­ture by sig­na­ture, page by page."
So far, the coali­tion has tripled its ini­tial esti­ma­tion, col­lect­ing over 300,000 sig­na­tures. Dur­ing a ral­ly at the state capi­tol today, We Are Mis­souri turned in the peti­tion along with 310,567 signatures.
"We have got­ten a tremen­dous response," Swin­ford says. ​"We believe we're going to qual­i­fy in all eight con­gres­sion­al dis­tricts, which is pret­ty unprece­dent­ed here in Mis­souri. We have way over­shot our goals."
The Nation­al Right to Work Foun­da­tion sued to block the ini­tia­tive on the grounds that the peti­tion con­tained bad gram­mar, but the Mis­souri Court of Appeals threw out the law­suit last month. Now that it appears they will not be able to pre­vent a ref­er­en­dum from appear­ing on next year's bal­lot, Mis­souri RTW advo­cates are gear­ing up for a show­down in Novem­ber 2018.
Over the past week, three anti-union polit­i­cal action com­mit­tees in the state have received a total of $600,000 in dark mon­ey con­tri­bu­tions. At least $100,000 of this mon­ey came from Gov. Greitens's own non­prof­it. Mean­while, the Koch-fund­ed Amer­i­cans for Pros­per­i­ty Foun­da­tion recent­ly launched an expen­sive ​"edu­ca­tion cam­paign" — includ­ing ads, door-to-door can­vass­ing, and phone calls — to con­vince vot­ers to approve the RTW law.
Swin­ford says anti-union forces are also resort­ing to ​"old-school intim­i­da­tion tac­tics." Last week, four men cir­cu­lat­ing pro-RTW brochures were spot­ted car­ry­ing pis­tols out­side the Buchanan Coun­ty cour­t­house in St. Joseph.
"You can open car­ry here in Mis­souri, but when you see some­thing like that in front of your coun­ty cour­t­house, it's alarm­ing and upset­ting," says Swin­ford. ​"It's going be a hard cam­paign, espe­cial­ly when you have to deal with those sorts of tac­tics. We just hope that peo­ple are safe."
Missouri's Repub­li­can law­mak­ers also recent­ly passed leg­is­la­tion that will cut the St. Louis min­i­mum wage from its cur­rent rate of $10 per hour to $7.70. The ​"right-to-work" law would also like­ly have a neg­a­tive effect on work­er pay, as wages are on aver­age 3.2 per­cent low­er in RTW states than those with­out RTW laws on the books.
Swin­ford says RTW would be ​"ter­ri­bly hurt­ful to many Mis­souri fam­i­lies. It not only would low­er wages across the board, it would erode ben­e­fits and make work­sites less safe."
In the past five years, more states have passed RTW leg­is­la­tion that at any time since the 1950s. Until recent­ly, most RTW states were locat­ed in the for­mer Con­fed­er­a­cy, but now even tra­di­tion­al union strong­holds like Michi­gan and Wis­con­sin are ​"right-to-work."
Anti-union forces are not rest­ing on their lau­rels. Ear­li­er this year, House Repub­li­cans intro­duced a nation­al RTW law, and the Supreme Court could soon hear a case that threat­ens to impose RTW on the entire pub­lic sector.
But anti-union leg­is­la­tion has been defeat­ed before. In 2011, labor groups in Ohio called a ref­er­en­dum that suc­cess­ful­ly over­turned the con­tro­ver­sial Sen­ate Bill 5, which would have severe­ly cur­tailed pub­lic sec­tor work­ers' col­lec­tive bar­gain­ing rights.
"What hap­pened in Ohio shows that it's pos­si­ble to real­ly edu­cate folks and show them there's a way to stand up when your leg­is­la­ture over­reach­es," Swin­ford says.
"Mis­souri is not the only state that has a prob­lem with extrem­ists run­ning amok in the leg­is­la­ture," she con­tin­ues. ​"We have the abil­i­ty here through the ref­er­en­dum process to call them out on this behav­ior, to stand up and say, ​'Enough. We want you to work on the real prob­lems we have in our state.'"
Swin­ford notes that she and oth­er orga­niz­ers have been amazed at how the ref­er­en­dum cam­paign has uni­fied peo­ple of dif­fer­ent back­grounds and com­mu­ni­ties. ​"Peo­ple have real­ly joined togeth­er on this. We have a lot of con­fi­dence in Mis­souri vot­ers that they'll be there in Novem­ber 2018."
Jeff Schuhrke has been a Work­ing In These Times con­trib­u­tor since 2013. He has a Ph.D. in His­to­ry from the Uni­ver­si­ty of Illi­nois at Chica­go and a Master's in Labor Stud­ies from UMass Amherst. Fol­low him on Twit­ter: @JeffSchuhrke