Labor in History: Mobtown and the Stirring of America's Unions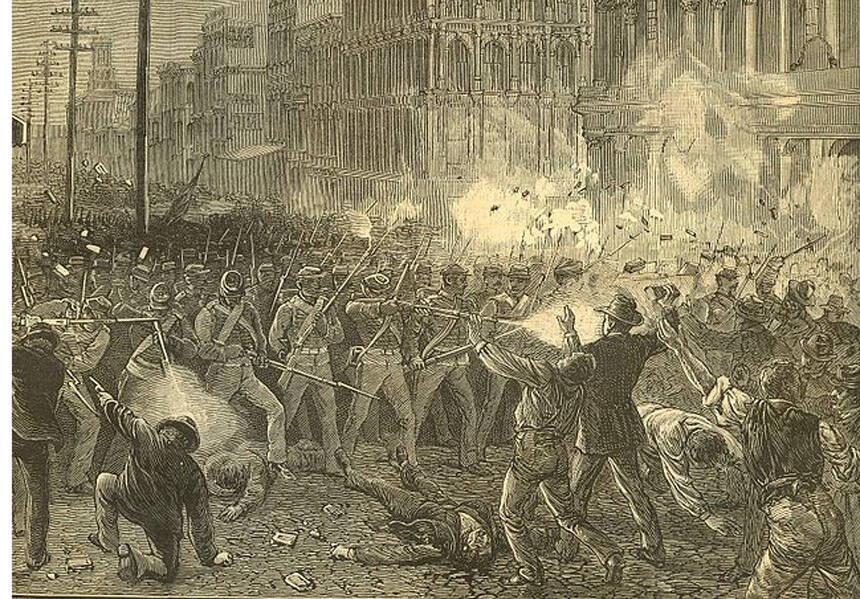 Many his­to­ri­ans date the first great indus­tri­al upheaval of Amer­i­can labor to July 16, 1877, when work­ers on the Bal­ti­more and Ohio Rail­road began refus­ing to work in protest against a round of wage cuts ordered by the company's senior man­agers. Bat­tered by years of eco­nom­ic depres­sion, high unem­ploy­ment and mis­er­able work­ing con­di­tions, the work­ers in Bal­ti­more and beyond had final­ly been pushed to the break­ing point.
Even with­out any broad-based union orga­ni­za­tion, the B&O strike imme­di­ate­ly seized the pub­lic imag­i­na­tion. The unrest spread rapid­ly to oth­er rail­roads before expand­ing to include work­ers at mines and fac­to­ries in wide­ly scat­tered loca­tions across the coun­try. At its height, the six-week-long ​"Great Rail­road Strike" involved an esti­mat­ed 100,000 work­ers in more than a dozen states, and suc­ceed­ed in par­a­lyz­ing much of the nation's trans­porta­tion system.
The sud­den upris­ing engen­dered fear — and more than a lit­tle pan­ic — among rail­road exec­u­tives and gov­ern­ment offi­cials. With­in just a few days, the first great nation­al strike in U.S. his­to­ry became one of its first great indus­tri­al tragedies, as state mili­tia units and fed­er­al troops moved to sup­press the move­ment. Sol­diers fired on strik­ers and pro­test­ers dur­ing epic clash­es in Chica­go, St. Louis, Pitts­burgh, Bal­ti­more and else­where. More than 100 peo­ple were killed; thou­sands more were injured. In the end, the strike was crushed, set­ting a prece­dent for the vio­lent sup­pres­sion of labor unrest that would stain Amer­i­can labor his­to­ry for gen­er­a­tions to come.
These dra­mat­ic events pro­vide the foun­da­tion for an unusu­al new book that close­ly exam­ines the 1877 events in Bal­ti­more, where the strike began. The 1877 Rail­road Strike in Bal­ti­more offers a sym­pa­thet­ic view of the demon­stra­tors from author Bill Bar­ry, a for­mer union orga­niz­er, col­lege instruc­tor and polit­i­cal activist who brings his pas­sion for human rights to the union-print­ed vol­ume. Bar­ry skill­ful­ly weaves togeth­er local Bal­ti­more his­to­ry, the social back­ground of the city's immi­grant Irish work­ers and the broad­er themes of an emerg­ing nation­al labor move­ment in a fas­ci­nat­ing nar­ra­tive of class con­flict and urban revolt.
In ret­ro­spect, it seems almost inevitable that Bal­ti­more would be the flash­point for the nation­al strike. The city had already been unof­fi­cial­ly dubbed Mobtown, based on anti-cor­rup­tion riots in 1835 and anti-war protests in 1861. More impor­tant­ly, Bal­ti­more was the head­quar­ters of the B&O Rail­road, with shops and rai­l­yards employ­ing thou­sands of rest­less low-income work­ers, many of them first- or sec­ond-gen­er­a­tion Irish. And thanks to the nation­al depres­sion brought on by the Wall Street Pan­ic of 1873, B&O had already enforced across-the-board wage cuts even before the sum­mer of 1877 began.
Two oth­er events undoubt­ed­ly added to the anger of the work­ers, Bar­ry argues, although he and oth­er his­to­ri­ans have found lit­tle doc­u­men­tary evi­dence to sug­gest a direct link. First, the pres­i­den­tial elec­tion of 1876 had recent­ly con­clud­ed in a cor­rupt bar­gain that saw Demo­c­rat Samuel Tilden, who had won the most votes, con­cede the White House to Repub­li­can Ruther­ford B. Hayes. Bal­ti­more was a Demo­c­ra­t­ic town, and the murky cir­cum­stances of Hayes' vic­to­ry must have cre­at­ed hard feel­ings. Sec­ond, the strike began less than a month after the infa­mous ​"Day of the Rope," the exe­cu­tion of 10 Irish coal min­ers accused of lead­ing mem­bers of the Mol­lie Maguires secret soci­ety in a cam­paign of armed resis­tance to the mine own­ers of near­by east­ern Penn­syl­va­nia. The Mol­lies were linked to ear­ly union orga­niz­ing in the coal­fields, so the hang­ings were seen by some con­tem­po­rary work­ers and by lat­er his­to­ri­ans, includ­ing Bar­ry, as sup­pres­sion of both unions and the aspi­ra­tions of the Irish-Americans.
All of this act­ed as a pre­lude, then, to July 16, the day B&O work­ers struck in protest against a 10 per­cent wage cut. It was the sec­ond wage cut with­in a year; at first, the work­ers only asked that the new reduc­tion be rescind­ed. The protests rapid­ly grew in scale, how­ev­er. On the very first day, strik­ers suc­cess­ful­ly shut down the round­house com­plex at Mar­tins­burg, West Vir­ginia; they soon stalled rail oper­a­tions all along the rest of the B&O network.
From the begin­ning, the strike was remark­able in its strong pop­u­lar sup­port from oth­er non-rail work­ers and city res­i­dents. Sym­pa­thy for the work­ers was even evi­dent among the mili­tia mem­bers called out to pro­tect rail prop­er­ty from angry pro­test­ers. The gov­er­nor of West Vir­ginia made an ear­ly call for fed­er­al troops, for exam­ple, when it became clear his state mili­tia would not use force against the strike sup­port­ers at Mar­tins­burg, many of whom includ­ed local allies who blocked the tracks to pre­vent scabs from run­ning trains.
Mean­while, in near­by Cum­ber­land, Mary­land, B&O Pres­i­dent John Gar­rett made a call of his own to elect­ed offi­cials. Con­cerned for rail­road prop­er­ty, he urged the state's gov­er­nor to send Mary­land mili­tia units to the town; Gov. John Car­oll was quick to comply.
On the evening of July 20, troops from the Mary­land 5th and 6th Reg­i­ments began a march across Bal­ti­more from its Read Street armory to B&O's Cam­den Sta­tion, where they intend­ed to board trains to Cum­ber­land. The deci­sion was unwise, as the down­town streets were full of angry strik­ers, sup­port­ers and bystanders deter­mined to stop the trip. Accord­ing to Bar­ry's account, an esti­mat­ed 2,000 men massed to block the troops, out­num­ber­ing the mili­ti­a­men by about 10 to 1; the work­ers attacked with paving bricks and spo­radic pis­tol fire. Deter­mined to car­ry out their orders, the sol­diers pressed for­ward against the enraged crowd. The street bat­tle became so intense that the mili­ti­a­men began fir­ing their rifles into the crowd, ulti­mate­ly forc­ing their way to Cam­den Sta­tion. Bar­ry writes that when the streets cleared, there were 10 dead, includ­ing a 14-year-old boy. It lat­er emerged that none of the casu­al­ties were B&O strik­ers; rather, Bar­ry reports that they were local work­ers from oth­er indus­tries join­ing the protests in sol­i­dar­i­ty with the Great Strike.
The deaths ignit­ed the work­ers in Bal­ti­more and in oth­er cities. Crowds of work­ers swarmed Cam­den Sta­tion — news­pa­per accounts from the time esti­mate the throngs as large as 15,000 — to pre­vent the mili­tia from mov­ing. The gov­er­nor of Mary­land appealed to Pres­i­dent Hayes for fed­er­al troops to restore order.
Sim­i­lar episodes soon erupt­ed else­where: In Chica­go, 30 men were killed in the Bat­tle of the Viaduct; in Pitts­burgh, enraged work­ers torched trains and rail­road build­ings; in St. Louis, a gen­er­al strike effec­tive­ly shut down the city. Hayes dis­patched fed­er­al troops to dozens of cities around the coun­try to bring the strike under con­trol. Ulti­mate­ly, this fed­er­al inter­ven­tion was suc­cess­ful: The strike grad­u­al­ly lost momen­tum before sput­ter­ing out completely.
Though the strike itself may have failed to achieve the B&O employ­ees' orig­i­nal goal of wage restora­tion, it undoubt­ed­ly stim­u­lat­ed the growth of unions, par­tic­u­lar­ly among rail work­ers. The Broth­er­hood of Loco­mo­tive Engi­neers had been found­ed in 1863; while it did not yet have a con­tract with B&O in 1877, it had nonethe­less begun to take root through­out the indus­try. The top offi­cials of the engi­neers' union actu­al­ly opposed the strike, but many indi­vid­ual mem­bers nev­er­the­less refused to work.
Mean­while, one emerg­ing local leader of the fledg­ling Trainmen's Union, Robert Ammon, was espe­cial­ly effec­tive in orga­niz­ing job actions at the Penn­syl­va­nia Rail­road dur­ing the Great Strike. Bar­ry writes that he would lat­er tes­ti­fy in a state inquiry into the events that some work­ers were unit­ed in secret soci­eties (not unlike the Mol­lie Maguires), and that the rail strikes were far bet­ter orga­nized than appeared on the surface.
Barry's book is full of addi­tion­al col­or­ful details of the strike action in Bal­ti­more: It offers as much for the sheer joy of read­ing as it does for the more seri­ous his­tor­i­cal mate­r­i­al. There exists lit­tle pri­ma­ry-source doc­u­men­ta­tion of the strike on the work­ers' side, though B&O and oth­er rail com­pa­nies left exten­sive one-sided records of their own actions, so Bar­ry relies heav­i­ly on con­tem­po­rary news­pa­per accounts. How­ev­er, this has the ben­e­fit of pro­vid­ing live­ly mate­r­i­al from an age when mul­ti­ple pub­li­ca­tions com­pet­ed vig­or­ous­ly in the pop­u­lar press. The book is also illus­trat­ed with images from those pub­li­ca­tions and mod­ern pho­tos of impor­tant sites, both of which add more fla­vor to the rich nar­ra­tive stew.
In addi­tion, Bar­ry dis­cuss­es var­i­ous Bal­ti­more loca­tions that his­to­ry enthu­si­asts can vis­it today, such as the rel­a­tive­ly new Irish Rail­road Work­ers Muse­um or the bet­ter-known B&O Rail­road Muse­um. Bar­ry him­self added to this list with his recent lob­by­ing to add a Great Rail­road Strike his­tor­i­cal mark­er at Cam­den Sta­tion, now part of the Cam­den Yards base­ball sta­di­um com­plex. The mark­er is now vis­i­ble to most base­ball fans vis­it­ing Cam­den Yards, and it's Barry's hope the mark­er — as well as books like his own — will be anoth­er way to keep the mem­o­ry of the strike alive.
The 1877 Rail­road Strike in Bal­ti­more is avail­able for sale; con­tact Bill Bar­ry at billbarry21214@​gmail.​com.
Bruce Vail
is a Bal­ti­more-based free­lance writer with decades of expe­ri­ence cov­er­ing labor and busi­ness sto­ries for news­pa­pers, mag­a­zines and new media. He was a reporter for Bloomberg BNA's Dai­ly Labor Report, cov­er­ing col­lec­tive bar­gain­ing issues in a wide range of indus­tries, and a mar­itime indus­try reporter and edi­tor for the Jour­nal of Com­merce, serv­ing both in the newspaper's New York City head­quar­ters and in the Wash­ing­ton, D.C. bureau.