It was morn­ing on Ganienkeh, a Mohawk com­mu­ni­ty near the Cana­di­an bor­der in Upstate New York, and about ten peo­ple had showed up for the dai­ly tobac­co burn­ing cer­e­mo­ny. Most­ly old­er folks, 7 a.m., sip­ping cof­fee, smok­ing, and chat­ting soft­ly. We sat at pic­nic tables around a fire, sur­round­ed by high pines. The fire was cov­ered by two pan­els of cor­ru­gat­ed met­al to pro­tect it from the rain. A man seat­ed next to me explained that the fire had been kept burn­ing con­tin­u­ous­ly for years, too many to remem­ber when it last went out.
Though Ganienkeh Ter­ri­to­ry is offi­cial­ly only a few hun­dred acres, the word Ganienkeh — also spelled Kanièn:ke—refers to the much larg­er pre-colo­nial Mohawk home­land, ​"The Land of the Flint." The con­tem­po­rary Ganienkeh was estab­lished in 1974 to be a home for peo­ple who wished to live by tra­di­tion­al Iro­quois laws and to live out­side the reser­va­tion sys­tems of the Cana­di­an and Amer­i­can governments.
That year, a group of Mohawk mil­i­tants repos­sessed an aban­doned girls' sum­mer camp near Moss Lake, New York. After the occu­pa­tion, which last­ed more than three years and attract­ed inter­na­tion­al atten­tion, the Ganienkeh Mohawks nego­ti­at­ed an unprece­dent­ed land swap with New York State in which they would leave Moss Lake in exchange for land fur­ther north. Though the land is tech­ni­cal­ly held by a trust, the Ganienkeh Mohawks deny the legal­i­ty of the 18th cen­tu­ry treaty that forms the basis for any land claims by the U.S. gov­ern­ment, and con­sid­er Ganienkeh to be sov­er­eign ter­ri­to­ry. Sev­er­al peo­ple described all the legal busi­ness to me as mere ​"paper shuffling."
The word Kanièn:ke is also the root of the name of the Mohawk peo­ple, Kanien'kehá:ka, ​"Peo­ple of the Land of the Flint," and the Mohawk lan­guage, Kanien'kéha.
Kanien'kéha—Mohawk — is clas­si­fied as a threat­ened lan­guage, which means it is still used for inter­gen­er­a­tional com­mu­ni­ca­tion but is los­ing speak­ers. Like sev­er­al oth­er Mohawk com­mu­ni­ties deeply trou­bled by the prospect of los­ing the lan­guage entire­ly, the preser­va­tion and revival of Kanien'kéha has become cen­tral to Ganienkeh's mis­sion, artic­u­lat­ed dur­ing it's rad­i­cal estab­lish­ment in the 70s, of Native self-suf­fi­cien­cy and cul­tur­al revitalization.
On this morn­ing, a man named Ateron­hi­atakon — though I knew him as Fran­cis, which is the name he uses with peo­ple who can't remem­ber his Mohawk name — led the tobac­co burn­ing cer­e­mo­ny in Mohawk, Kanien'kéha.
After pass­ing a pouch of tobac­co around the cir­cle, he stood and approached the fire. He was wear­ing a base­ball cap stuck with a small goose feath­er and embroi­dered with the sym­bol of the Iro­quois Con­fed­er­a­cy, of which the Mohawk Nation is a mem­ber. At the fire, he took off his hat and start­ed speaking.
His speech was calm and delib­er­ate. He spoke to the fire and then out to the trees and the lake. Inter­mit­tent­ly, he bent to add a palm­ful of tobac­co to the fire which soon start­ed to crack­le and smell. He spoke for almost twen­ty min­utes, until the pouch was emp­ty, and when he fin­ished the peo­ple clapped and said Niá:wen—thank you.
I asked Ateron­hi­atakon what he had been speak­ing about.
"What I said is dif­fer­ent every day," he said. ​"You just look at the nat­ur­al world and say what you see, what you're grate­ful for."
The land. The lan­guage. The fire kept burn­ing. A sim­ple dai­ly ges­ture of com­mit­ment to Ganienkeh's mis­sion, kept alive now for almost fifty years.
***
Sev­er­al peo­ple I spoke with on Ganienkeh esti­mat­ed there are about 3,000 Mohawk speak­ers in the world, most of them elder­ly and of vary­ing flu­en­cy. Oth­er esti­mates sug­gest there may be as few as 1,000 native speak­ers. Peo­ple like Ateron­hi­atakon, who is both a native speak­er and able explain the cul­tur­al infor­ma­tion con­tained with­in the lan­guage, are immense­ly valu­able to any lan­guage revival efforts.
The morn­ing of the cer­e­mo­ny, Ateron­hi­atakon was vis­it­ing Ganienkeh from Akwe­sasne, the large Mohawk reserve that strad­dles the U.S.-Canadian bor­der about an hour's dri­ve to the west of Ganienkeh, to be record­ed speak­ing Mohawk, telling sto­ries, and explain­ing ceremonies.
"I grew up in the lan­guage," Ateron­hi­atakon told me. ​"My par­ents insist­ed we speak it."
Like many oth­er Native peo­ple who attend­ed the gov­ern­ment-spon­sored Chris­t­ian res­i­den­tial schools in Cana­da, infa­mous for their coer­cive attempts to assim­i­late Native stu­dents into Euro-Cana­di­an cul­ture, he was pun­ished for speak­ing Mohawk. He explained that some of his peers were so impact­ed by their expe­ri­ence in the res­i­den­tial schools, they chose not to pass their lan­guage on to their chil­dren in order to pro­tect them from sim­i­lar abuse. Ateron­hi­atakon might have been one of them, but the three clan moth­ers who ran his house­hold didn't let him aban­don the lan­guage as he grew older.
"They told me, ​'When you come home, leave that Eng­lish at the front door,'" he said.
When he was 26, he got seri­ous about for­mal­ly study­ing Mohawk after vis­it­ing a gath­er­ing in a long­house, the cul­tur­al cen­ter of tra­di­tion­al Iro­quois com­mu­ni­ties. The advice his clan moth­ers gave him for his stud­ies: ​"Take your time and hur­ry up."
"He was very lucky," added a woman named Tsawenhí:non — whom I knew as Dawn — from across the fire cir­cle. She would know. Tsawenhí:non had spent almost her entire life on Ganienkeh, but was still work­ing to learn the lan­guage as an adult.
"My father spoke," she said, ​"but he had to be away iron­work­ing, so I didn't get to hear it all the time. And my moth­er wasn't a speaker."
To pre­vent her chil­dren from going through the same dif­fi­cul­ties, Tsawenhí:non had raised her five chil­dren on Ganienkeh all speak­ing Mohawk. Now, a num­ber of her children's chil­dren were being raised on Ganienkeh learn­ing to speak from their rel­a­tives and from peo­ple like Ateronhiatakon.
"[The lan­guage] is the foun­da­tion of our way of life," Ateron­hi­atakon said. ​"The colonizer's view is how we can extract resources for mon­ey. Our per­spec­tive is all about express­ing a gratitude."
For Tsawenhí:non also, the lan­guage was about much more than learn­ing a way to com­mu­ni­cate. It was a means of under­stand­ing a way of life that had been under attack for centuries.
"Know­ing all what my grand­par­ents and every­body else, our ances­tors, went through to get us to where we are, to not let us for­get — we are for­tu­nate to know who we are," she said. ​"I want­ed that for my kids too. So they're not lost. There's a lot of peo­ple out there who are lost."
***
For much of the 20th cen­tu­ry, groups work­ing to revive Mohawk lan­guage and tra­di­tion­al Iro­quois cul­ture on the reserves — broad­ly referred to as the Long­house Move­ment — were forced to go under­ground. In the late 1960s and 70s, a wide­spread move­ment for Native self-deter­mi­na­tion devel­oped in var­i­ous com­mu­ni­ties around North Amer­i­ca in response to this kind of cul­tur­al sup­pres­sion. A group called the Amer­i­can Indi­an Move­ment (AIM) led a num­ber of dar­ing land repos­ses­sion efforts dur­ing this peri­od, includ­ing an occu­pa­tion of Alca­traz Island and anoth­er at Wound­ed Knee.
Though the Moss Lake Move­ment emerged in the midst of that broad­er strug­gle, its ori­gin was more local and spe­cif­ic to divi­sions in the Mohawk world between sup­port­ers of the tra­di­tion­al sys­tem for select­ing chiefs and peo­ple who sup­port­ed the par­al­lel ​"Trib­al Coun­cil" or ​"Band Coun­cil" sys­tems, per­ceived to be pup­pets of the Amer­i­can and Cana­di­an gov­ern­ments. When ten­sions between the two fac­tions seemed as though they might become vio­lent on Kahnawá:ke, the Mohawk reserve near Mon­tréal, a num­ber of the tra­di­tion­als packed up and left to estab­lish Ganienkeh.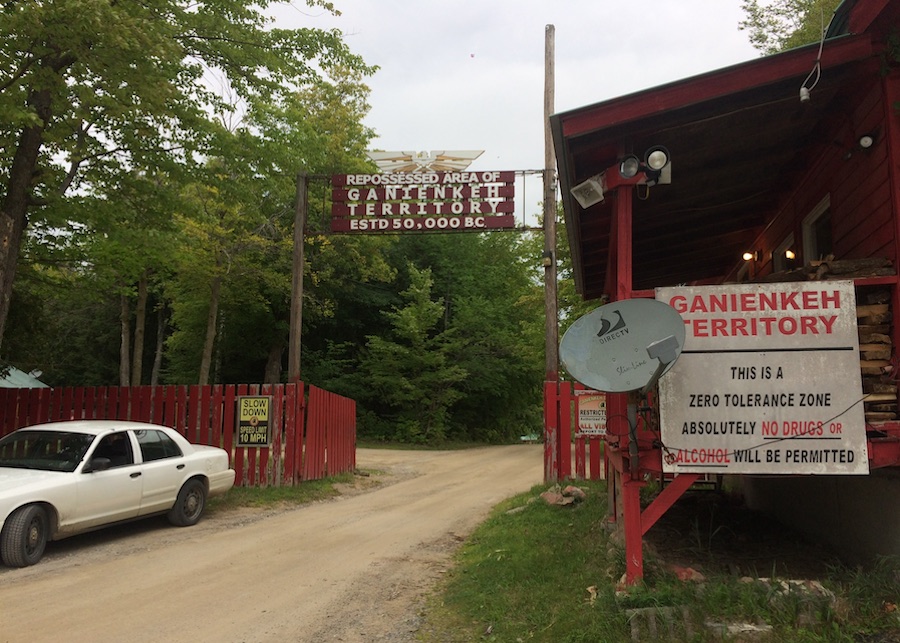 A secu­ri­ty check­point guards the main entrance to Ganienkeh Ter­ri­to­ry. (Pho­to by James Dinneen)
When the Ganienkeh Mohawks arrived on the land fur­ther north, after the occu­pa­tion at Moss Lake and sub­se­quent 1977 land swap, they arrived with almost nothing.
Liv­ing off the reserves and there­fore with­out gov­ern­ment aid meant inde­pen­dence, but it also meant pover­ty. For sev­er­al years, Ganienkeh was with­out run­ning water or elec­tric­i­ty and a num­ber of peo­ple who had been com­mit­ted mem­bers dur­ing the Moss Lake occu­pa­tion left to live on the reserves. With­out mon­ey to buy mate­ri­als, they con­struct­ed some of the first build­ings on Ganienkeh with pieces from build­ings dis­man­tled at Moss Lake, sev­er­al of which, includ­ing the long­house, remain stand­ing today.
Even­tu­al­ly, the com­mu­ni­ty decid­ed that, despite the aspi­ra­tions out­lined in their found­ing man­i­festo to be a ​"money­less soci­ety," they need­ed some source of rev­enue in order to grow and achieve the sta­bil­i­ty nec­es­sary to real­ize their vision.
"What start­ed the change was cig­a­rettes," said Raiè:wate, one of Tsawenhí:non's sons, who remem­bers the rough times grow­ing up on Ganienkeh. ​"The women start­ed to make crafts from dona­tion clothes and beads and stuff, and they gen­er­at­ed enough mon­ey to buy a case of cigarettes."
The cig­a­rettes, sold tax-free and cheap, were a hit with the peo­ple in sur­round­ing Clin­ton Coun­ty. Each time a case sold, Raiè:wate, his great-grand­fa­ther, and his grand­fa­ther would dri­ve the hour to Akwe­sasne to buy anoth­er case and sell it on Ganienkeh. Even­tu­al­ly, they had enough to buy two cas­es, then three, and so on. The cig­a­rette store expand­ed to include a bin­go hall, a gas sta­tion, a thrift shop, a tra­di­tion­al med­i­cine cen­ter, a café, and, recent­ly, a nine-hole golf course. When I vis­it­ed in August, they had just bro­ken ground on anoth­er nine holes.
The rev­enue from these busi­ness­es made it pos­si­ble for Ganienkeh to install run­ning water and elec­tric­i­ty — drawn from a hydro­elec­tric gen­er­a­tor they had built — and to expand the agri­cul­tur­al and cul­tur­al ini­tia­tives that were at the heart of the community's orig­i­nal mission.
Most sig­nif­i­cant­ly, the rev­enue allowed Ganienkeh to build a school — a build­ing made of fine blonde wood just across the road from the fire cir­cle. The sign out front read ​"Ron­tewen­nanónhn­ha," or ​"word learn­ing place."
When I toured the school, class was still out for the sum­mer so no one was inside, but the empha­sis on the lan­guage was clear. A chart with the months of the year in Mohawk was tacked on the wall in one class­room. In the hall­way, a quilt sewn with an image of a woman hold­ing a baby beside a stalk of corn was framed by typed pages of Mohawk explain­ing the sto­ry rep­re­sent­ed in the quilt. In anoth­er class­room, a ver­sion of the Mohawk alpha­bet was print­ed in big lettering:
A E H I K N O R S T W '
The ' is used to indi­cate a glot­tal stop.
From the begin­ning, the school held reg­u­lar class­es both for chil­dren and adults to be immersed in the lan­guage and oth­er aspects of Kanien'kehá:ka cul­ture like bas­ket-mak­ing, tra­di­tion­al med­i­cine, and farm­ing tech­niques. If some­one want­ed to learn a par­tic­u­lar skill no one in the com­mu­ni­ty could teach, tutors would be brought in from out­side. But as much as pos­si­ble, Mohawk was spo­ken in school.
Over the years, the school at Ganienkeh con­tributed to an appar­ent shift in the bleak demo­graph­ics of the Mohawk lan­guage. There was a sense among peo­ple I spoke with on Ganienkeh that the lan­guage immer­sion efforts under­tak­en in var­i­ous com­mu­ni­ties since the late 1970s have cre­at­ed a young gen­er­a­tion of Mohawk speak­ers who are capa­ble of turn­ing the tide.
"About twen­ty years ago I thought our lan­guage was going to dis­ap­pear," Ateron­hi­atakon said. ​"I don't think that now."
Ganienkeh is part of what has changed his mind. It's been an opti­mistic exam­ple of what he sees as a broad­er change in the Mohawk world and in the Indige­nous world at large.
"There's a change in atti­tude among onkwehón:we, the peo­ple," he said, ​"They see the val­ue of our way of life. It's not just the language."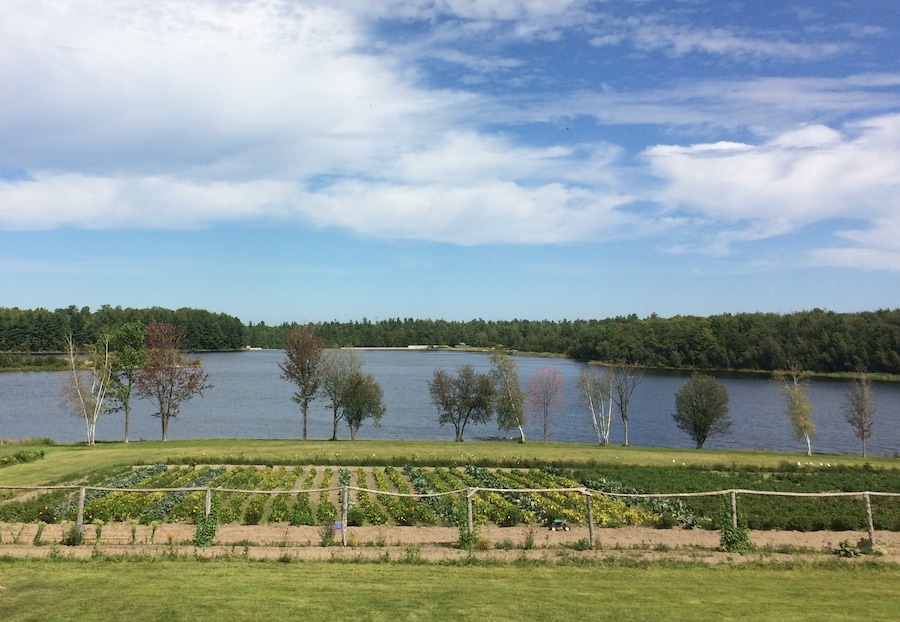 A farm plot grows in late sum­mer by a lake on Ganienkeh Ter­ri­to­ry. (Pho­to by James Dinneen)
***
Raiè:wate, who recent­ly start­ed teach­ing Mohawk to his nephews in the school, is part of that younger gen­er­a­tion. Now in his 30s, he grew up on Ganienkeh speak­ing Mohawk with his grand­fa­ther and great-grand­fa­ther. He spoke flu­ent­ly until he was five years old.
"Then we got oth­er peo­ple com­ing in," he said. ​"They brought their chil­dren and all they spoke was Eng­lish, so I kind of went that way."
He worked hard to relearn the lan­guage when he came to see its val­ue lat­er on, study­ing at the school on Ganienkeh with his grand­fa­ther and oth­er teach­ers from Akwesasne.
"By the end of the day I'd lit­er­al­ly be, like, dead," he said. ​"It takes a lot of brain­pow­er. And there were a few occa­sions where I would get dizzy and I'd have to hold on to some­thing so I would­n't fall down or fall over because I was focus­ing so much on learn­ing the language."
As a teacher, his great­est chal­lenge remains get­ting his stu­dents to speak Mohawk when they are con­stant­ly exposed to English.
"That's the real bat­tle right there: How to raise the chil­dren in a tra­di­tion­al way and then bal­ance it with what they're going to encounter and what they are actu­al­ly liv­ing. And the oth­er side is — I don't want to say it's win­ning — but it's def­i­nite­ly putting up a major fight."
His goal is to make sure his nephews grow up speak­ing more than he did, just as he grew up speak­ing more than his mother.
"It's like step­ping stones," he said. ​"Baby steps to get back to it. Through gen­er­a­tions. Each gen­er­a­tion has more. It's a huge shift. It was­n't like that too many years ago. The younger gen­er­a­tion, they're push­ing for the language."
"It's the most impor­tant thing we need to keep," he added. ​"A great deal of who we are is embed­ded right into that lan­guage. Our whole world­view. Because the lan­guage did­n't just come from nowhere. The lan­guage itself came from our sur­round­ings. It came from the earth. It came from the sky, the wind, every­thing. It's what's going to keep us con­nect­ed to who we are."
***
After every­one had left the fire, Tsawenhí:non invit­ed me to join her for break­fast in the cook­house next to the school. Inside, a few peo­ple were fill­ing their plates with eggs and pota­toes from Ganienkeh's farms and wild blue­ber­ries from the for­est. Three young boys, two of whom were Tsawenhí:non's grand­chil­dren, ran around the room. One, maybe five-years-old, came over to whis­per some­thing to his grand­moth­er. She asked him in Mohawk, at this point his first and only lan­guage, to tell me his name, but he was too shy. He paused, held out a Buzz Lightyear action fig­ure, and zoomed off.
"With Ganienkeh, we're try­ing to learn what is ours," Tsawenhí:non said. ​"That's the goal and my hope for all these lit­tle ones. What­ev­er I know, I try to pass on."