A Fire Kept Burning: Mohawks In The North Country Work to Revive their Language
It was morning on Ganienkeh, a Mohawk community near the Canadian border in Upstate New York, and about ten people had showed up for the daily tobacco burning ceremony. Mostly older folks, 7 a.m., sipping coffee, smoking, and chatting softly. We sat at picnic tables around a fire, surrounded by high pines. The fire was covered by two panels of corrugated metal to protect it from the rain. A man seated next to me explained that the fire had been kept burning continuously for years, too many to remember when it last went out.
Though Ganienkeh Territory is officially only a few hundred acres, the word Ganienkeh — also spelled Kanièn:ke—refers to the much larger pre-colonial Mohawk homeland, ​"The Land of the Flint." The contemporary Ganienkeh was established in 1974 to be a home for people who wished to live by traditional Iroquois laws and to live outside the reservation systems of the Canadian and American governments.
That year, a group of Mohawk militants repossessed an abandoned girls' summer camp near Moss Lake, New York. After the occupation, which lasted more than three years and attracted international attention, the Ganienkeh Mohawks negotiated an unprecedented land swap with New York State in which they would leave Moss Lake in exchange for land further north. Though the land is technically held by a trust, the Ganienkeh Mohawks deny the legality of the 18th century treaty that forms the basis for any land claims by the U.S. government, and consider Ganienkeh to be sovereign territory. Several people described all the legal business to me as mere ​"paper shuffling."
The word Kanièn:ke is also the root of the name of the Mohawk people, Kanien'kehá:ka, ​"People of the Land of the Flint," and the Mohawk language, Kanien'kéha.
Kanien'kéha—Mohawk — is classified as a threatened language, which means it is still used for intergenerational communication but is losing speakers. Like several other Mohawk communities deeply troubled by the prospect of losing the language entirely, the preservation and revival of Kanien'kéha has become central to Ganienkeh's mission, articulated during it's radical establishment in the 70s, of Native self-sufficiency and cultural revitalization.
On this morning, a man named Ateronhiatakon — though I knew him as Francis, which is the name he uses with people who can't remember his Mohawk name — led the tobacco burning ceremony in Mohawk, Kanien'kéha.
After passing a pouch of tobacco around the circle, he stood and approached the fire. He was wearing a baseball cap stuck with a small goose feather and embroidered with the symbol of the Iroquois Confederacy, of which the Mohawk Nation is a member. At the fire, he took off his hat and started speaking.
His speech was calm and deliberate. He spoke to the fire and then out to the trees and the lake. Intermittently, he bent to add a palmful of tobacco to the fire which soon started to crackle and smell. He spoke for almost twenty minutes, until the pouch was empty, and when he finished the people clapped and said Niá:wen—thank you.
I asked Ateronhiatakon what he had been speaking about.
"What I said is different every day," he said. ​"You just look at the natural world and say what you see, what you're grateful for."
The land. The language. The fire kept burning. A simple daily gesture of commitment to Ganienkeh's mission, kept alive now for almost fifty years.
***
Several people I spoke with on Ganienkeh estimated there are about 3,000 Mohawk speakers in the world, most of them elderly and of varying fluency. Other estimates suggest there may be as few as 1,000 native speakers. People like Ateronhiatakon, who is both a native speaker and able explain the cultural information contained within the language, are immensely valuable to any language revival efforts.
The morning of the ceremony, Ateronhiatakon was visiting Ganienkeh from Akwesasne, the large Mohawk reserve that straddles the U.S.-Canadian border about an hour's drive to the west of Ganienkeh, to be recorded speaking Mohawk, telling stories, and explaining ceremonies.
"I grew up in the language," Ateronhiatakon told me. ​"My parents insisted we speak it."
Like many other Native people who attended the government-sponsored Christian residential schools in Canada, infamous for their coercive attempts to assimilate Native students into Euro-Canadian culture, he was punished for speaking Mohawk. He explained that some of his peers were so impacted by their experience in the residential schools, they chose not to pass their language on to their children in order to protect them from similar abuse. Ateronhiatakon might have been one of them, but the three clan mothers who ran his household didn't let him abandon the language as he grew older.
"They told me, ​'When you come home, leave that English at the front door,'" he said.
When he was 26, he got serious about formally studying Mohawk after visiting a gathering in a longhouse, the cultural center of traditional Iroquois communities. The advice his clan mothers gave him for his studies: ​"Take your time and hurry up."
"He was very lucky," added a woman named Tsawenhí:non — whom I knew as Dawn — from across the fire circle. She would know. Tsawenhí:non had spent almost her entire life on Ganienkeh, but was still working to learn the language as an adult.
"My father spoke," she said, ​"but he had to be away ironworking, so I didn't get to hear it all the time. And my mother wasn't a speaker."
To prevent her children from going through the same difficulties, Tsawenhí:non had raised her five children on Ganienkeh all speaking Mohawk. Now, a number of her children's children were being raised on Ganienkeh learning to speak from their relatives and from people like Ateronhiatakon.
"[The language] is the foundation of our way of life," Ateronhiatakon said. ​"The colonizer's view is how we can extract resources for money. Our perspective is all about expressing a gratitude."
For Tsawenhí:non also, the language was about much more than learning a way to communicate. It was a means of understanding a way of life that had been under attack for centuries.
"Knowing all what my grandparents and everybody else, our ancestors, went through to get us to where we are, to not let us forget — we are fortunate to know who we are," she said. ​"I wanted that for my kids too. So they're not lost. There's a lot of people out there who are lost."
***
For much of the 20th century, groups working to revive Mohawk language and traditional Iroquois culture on the reserves — broadly referred to as the Longhouse Movement — were forced to go underground. In the late 1960s and 70s, a widespread movement for Native self-determination developed in various communities around North America in response to this kind of cultural suppression. A group called the American Indian Movement (AIM) led a number of daring land repossession efforts during this period, including an occupation of Alcatraz Island and another at Wounded Knee.
Though the Moss Lake Movement emerged in the midst of that broader struggle, its origin was more local and specific to divisions in the Mohawk world between supporters of the traditional system for selecting chiefs and people who supported the parallel ​"Tribal Council" or ​"Band Council" systems, perceived to be puppets of the American and Canadian governments. When tensions between the two factions seemed as though they might become violent on Kahnawá:ke, the Mohawk reserve near Montreal, a number of the traditionals packed up and left to establish Ganienkeh.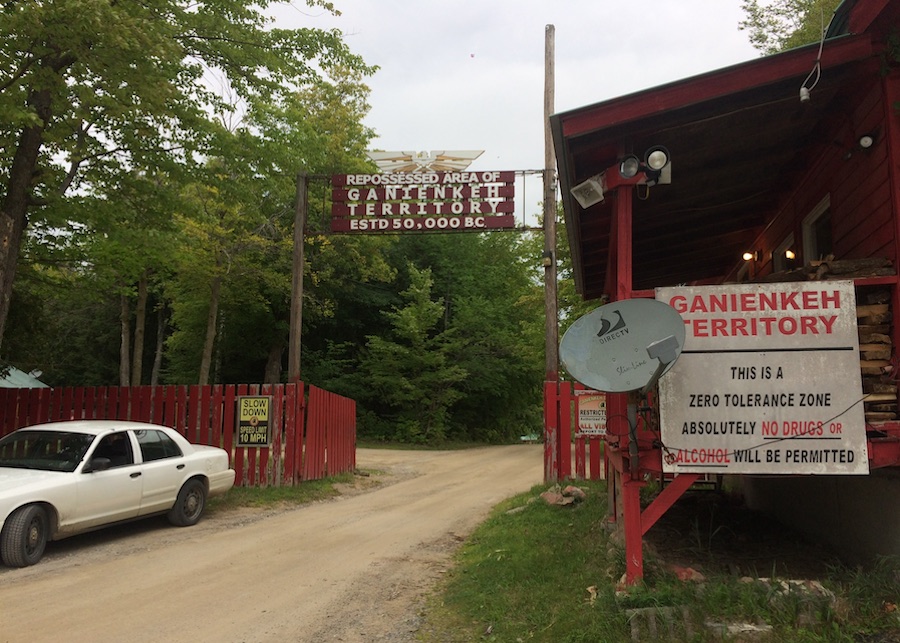 A security checkpoint guards the main entrance to Ganienkeh Territory. (Photo by James Dinneen)
When the Ganienkeh Mohawks arrived on the land further north, after the occupation at Moss Lake and subsequent 1977 land swap, they arrived with almost nothing.
Living off the reserves and therefore without government aid meant independence, but it also meant poverty. For several years, Ganienkeh was without running water or electricity and a number of people who had been committed members during the Moss Lake occupation left to live on the reserves. Without money to buy materials, they constructed some of the first buildings on Ganienkeh with pieces from buildings dismantled at Moss Lake, several of which, including the longhouse, remain standing today.
Eventually, the community decided that, despite the aspirations outlined in their founding manifesto to be a ​"moneyless society," they needed some source of revenue in order to grow and achieve the stability necessary to realize their vision.
"What started the change was cigarettes," said Raiè:wate, one of Tsawenhí:non's sons, who remembers the rough times growing up on Ganienkeh. ​"The women started to make crafts from donation clothes and beads and stuff, and they generated enough money to buy a case of cigarettes."
The cigarettes, sold tax-free and cheap, were a hit with the people in surrounding Clinton County. Each time a case sold, Raiè:wate, his great-grandfather, and his grandfather would drive the hour to Akwesasne to buy another case and sell it on Ganienkeh. Eventually, they had enough to buy two cases, then three, and so on. The cigarette store expanded to include a bingo hall, a gas station, a thrift shop, a traditional medicine center, a cafe, and, recently, a nine-hole golf course. When I visited in August, they had just broken ground on another nine holes.
The revenue from these businesses made it possible for Ganienkeh to install running water and electricity — drawn from a hydroelectric generator they had built — and to expand the agricultural and cultural initiatives that were at the heart of the community's original mission.
Most significantly, the revenue allowed Ganienkeh to build a school — a building made of fine blonde wood just across the road from the fire circle. The sign out front read ​"Rontewennanónhnha," or ​"word learning place."
When I toured the school, class was still out for the summer so no one was inside, but the emphasis on the language was clear. A chart with the months of the year in Mohawk was tacked on the wall in one classroom. In the hallway, a quilt sewn with an image of a woman holding a baby beside a stalk of corn was framed by typed pages of Mohawk explaining the story represented in the quilt. In another classroom, a version of the Mohawk alphabet was printed in big lettering:
A E H I K N O R S T W '
The ' is used to indicate a glottal stop.
From the beginning, the school held regular classes both for children and adults to be immersed in the language and other aspects of Kanien'kehá:ka culture like basket-making, traditional medicine, and farming techniques. If someone wanted to learn a particular skill no one in the community could teach, tutors would be brought in from outside. But as much as possible, Mohawk was spoken in school.
Over the years, the school at Ganienkeh contributed to an apparent shift in the bleak demographics of the Mohawk language. There was a sense among people I spoke with on Ganienkeh that the language immersion efforts undertaken in various communities since the late 1970s have created a young generation of Mohawk speakers who are capable of turning the tide.
"About twenty years ago I thought our language was going to disappear," Ateronhiatakon said. ​"I don't think that now."
Ganienkeh is part of what has changed his mind. It's been an optimistic example of what he sees as a broader change in the Mohawk world and in the Indigenous world at large.
"There's a change in attitude among onkwehón:we, the people," he said, ​"They see the value of our way of life. It's not just the language."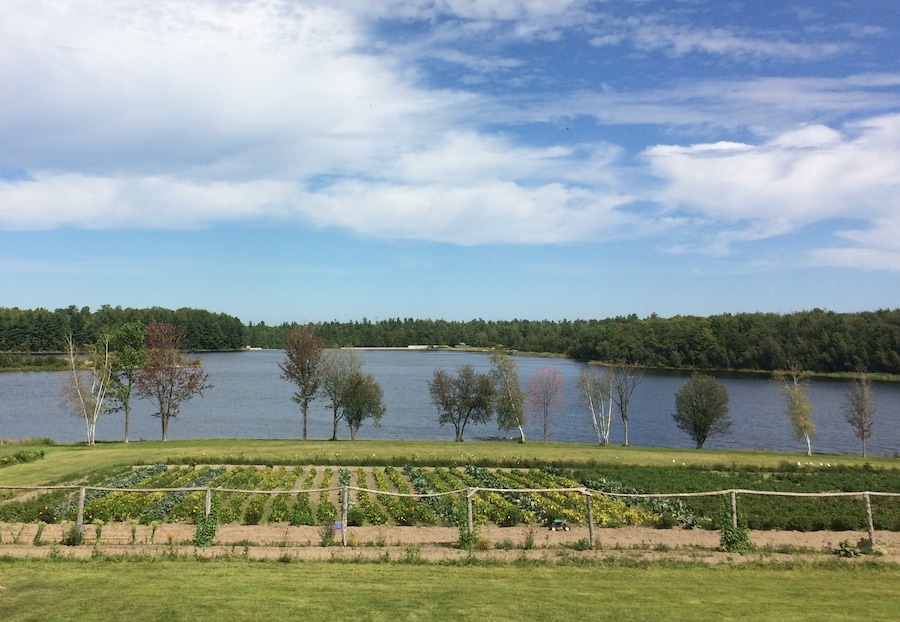 A farm plot grows in late summer by a lake on Ganienkeh Territory. (Photo by James Dinneen)
***
Raiè:wate, who recently started teaching Mohawk to his nephews in the school, is part of that younger generation. Now in his 30s, he grew up on Ganienkeh speaking Mohawk with his grandfather and great-grandfather. He spoke fluently until he was five years old.
"Then we got other people coming in," he said. ​"They brought their children and all they spoke was English, so I kind of went that way."
He worked hard to relearn the language when he came to see its value later on, studying at the school on Ganienkeh with his grandfather and other teachers from Akwesasne.
"By the end of the day I'd literally be, like, dead," he said. ​"It takes a lot of brainpower. And there were a few occasions where I would get dizzy and I'd have to hold on to something so I wouldn't fall down or fall over because I was focusing so much on learning the language."
As a teacher, his greatest challenge remains getting his students to speak Mohawk when they are constantly exposed to English.
"That's the real battle right there: How to raise the children in a traditional way and then balance it with what they're going to encounter and what they are actually living. And the other side is — I don't want to say it's winning — but it's definitely putting up a major fight."
His goal is to make sure his nephews grow up speaking more than he did, just as he grew up speaking more than his mother.
"It's like stepping stones," he said. ​"Baby steps to get back to it. Through generations. Each generation has more. It's a huge shift. It wasn't like that too many years ago. The younger generation, they're pushing for the language."
"It's the most important thing we need to keep," he added. ​"A great deal of who we are is embedded right into that language. Our whole worldview. Because the language didn't just come from nowhere. The language itself came from our surroundings. It came from the earth. It came from the sky, the wind, everything. It's what's going to keep us connected to who we are."
***
After everyone had left the fire, Tsawenhí:non invited me to join her for breakfast in the cookhouse next to the school. Inside, a few people were filling their plates with eggs and potatoes from Ganienkeh's farms and wild blueberries from the forest. Three young boys, two of whom were Tsawenhí:non's grandchildren, ran around the room. One, maybe five-years-old, came over to whisper something to his grandmother. She asked him in Mohawk, at this point his first and only language, to tell me his name, but he was too shy. He paused, held out a Buzz Lightyear action figure, and zoomed off.
"With Ganienkeh, we're trying to learn what is ours," Tsawenhí:non said. ​"That's the goal and my hope for all these little ones. Whatever I know, I try to pass on."
For a limited time:
Donate $20 or more to In These Times and we'll send you a copy of Let This Radicalize You.
In this new book, longtime organizers and movement educators Mariame Kaba and Kelly Hayes examine the political lessons of the Covid-19 pandemic and its aftermath, including the convergence of mass protest and mass formations of mutual aid. Let This Radicalize You answers the urgent question: What fuels and sustains activism and organizing when it feels like our worlds are collapsing?
We've partnered with the publisher, Haymarket Books, and 100% of your donation will go towards supporting In These Times.
James Dinneen
is a writer and audio producer in Brooklyn. See his work at james​din​neen​.word​press​.com