Don't Blame Montana Voters for Quist's Loss: Blame the Frailty of Our Democracy
The Montana race exposed the structural impediments to progressive politics.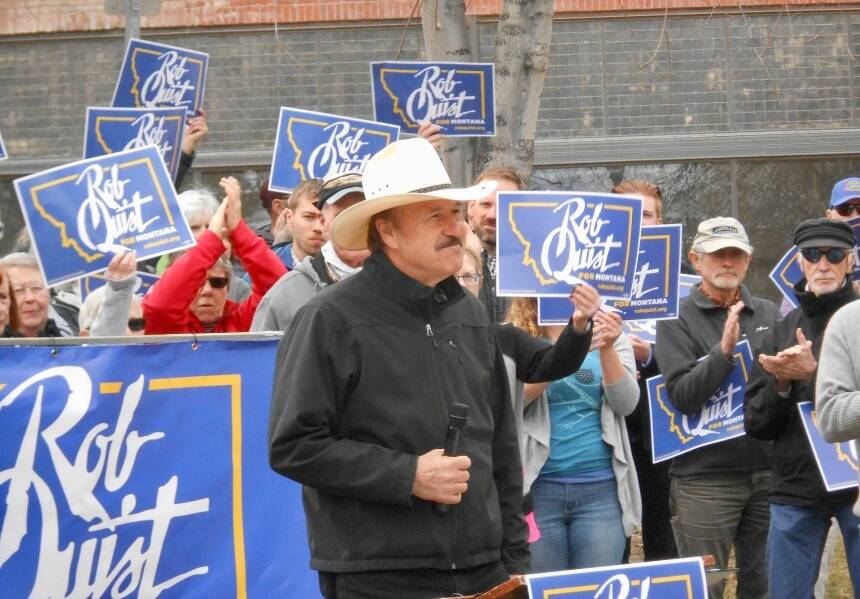 At about 10:40 p.m. Mountain Time on May 25, the opening melody of the song ​"America" by Simon and Garfunkel broadcast out from the Missoula studio of Montana Public Radio. A reporter interrupted to announce that Republican and tech millionaire Greg Gianforte had been elected over populist Democrat and bluegrass musician Rob Quist to fill Montana's sole seat in the House of Representatives. Then the song took back up — the anthem turned requiem of the Bernie Sanders campaign.
The path to victory for Quist in Montana was always through rough terrain, and it turned out to be too rough.
Despite being charged with assault the night before for attacking a journalist from the Guardian, Gianforte handily beat Quist in the special election. In the days following the election, the post mortems rolled in. Many national commentators speculated about what it meant for the country that a candidate could assault a reporter and still win — and what it said about Montana voters.
A left attempt to reclaim populism
The Montana race has often been mentioned in the same breath as Jon Ossoff's campaign in Georgia — that is, as a referendum on a Trump-led Republican Party. But the comparison confuses more than it explains.
Ossoff, an outsider but centrist Democrat, is running just such a campaign: His slogan is, ​"Make Trump Furious." This makes some sense in Georgia's wealthy, suburban sixth congressional district, where usually dependable Republican voters were apparently not enthusiastic about Trump and his message of right-wing populism. After going for Romney by 23 points in 2012, the district went for Trump by only one and a half point.
Just the opposite is true in Montana's at-large congressional district, which Obama lost by only two points in 2008 and Trump won by 21 points. It was no oversight that, at Quist's rallies with Bernie Sanders in May, Trump's name was barely mentioned. Instead of picking up the pieces of Hillary Clinton's crashed campaign, the pair tried to articulate a left-Democratic platform that might fly in Montana: ​"You shouldn't have to be a millionaire to hunt, fish and hike in our great outdoors, get a good education or be able to support your family," states the campaign website.
The Quist campaign was not as much a campaign against Trump as it was a left attempt to reclaim populism from the Right. And so the Quist and Ossoff campaigns are more accurately seen not as cohorts in the Democratic resistance to Trump but as two sides in the internal battle to determine the shape of that resistance.
Quist was the underdog in both cases. Democratic PACs got into the race late, and when they did they spent less than $1 million. This is a lot of money. But two days before the Montana election, the Democratic Congressional Campaign Committee poured $2 million more into the Georgia race, pushing its total spending there to more than 10 times what it spent in Montana.
It is hard to say whether this spending gap results from big liberal donors' antipathy to the left wing of the party, from the party's misunderstanding of the rural West and consequent abdication of the region to the Republicans, or some of both.
Either way, the Quist-Gianforte matchup was lopsided as a result. In his campaign fundraising, Quist actually managed to keep pace with Gianforte, despite the Republican's $1 million loan and $500,000 donation to his own campaign. Quist raised more than $3 million, mostly from contributions of $200 or less, while the majority of Gianforte funders gave more than $2,000. His Republican opponent appears to have raised roughly the same amount, a little more: $3,362,351, but the final numbers aren't in yet.
However, the more than $7 million in spending by outside groups, which made this the most money-infused house race the state has been subjected to since at least 1990, favored Gianforte 10 to 1.
Weak Democratic institutions
In the face of that gap, Quist needed two things to win: a large voter turnout and media coverage of the race that could cut through the ads and help Montanans understand the stakes and where each candidate stood on key issues. Neither happened.
It is unclear, at this point, how much Gianforte's assault charge impacted the race. Much has been made of the fact that nearly three quarters of the 354,681 absentee ballots mailed out by the state had been returned by May 23 — the day before the alleged assault. A poll of 818 likely voters released on May 22 found that the 36 percent of people who said they had already voted had done so in roughly equal numbers for Quist and Gianforte.
The Republican's advantage lay in those who were yet ​"very likely" to vote, 57 percent of whom said they planned to vote for Gianforte. But Gianforte's lead shrunk among those who were only ​"likely" or ​"somewhat likely" to vote.
All of this is to say, as Quist volunteer coordinator Tyrel Suzor-Hoy told In These Times on election day, before the results came in, ​"Turnout is what this race is dependent on."
However, the unusual placement and reduced number of polling places presented an obstacle to increased turnout. After an expensive election in 2016, Montana's rural counties were strapped for cash to run a special election and lobbied for a bill that would allow counties to run the election by mail-in ballot. Despite support from the elections offices in 46 out of 56 counties, Republican leadership fiercely opposed the bill.
In a letter to Republicans, party chairman Jeff Essman offered an unusually candid explanation: ​"Vote-by-mail is designed to increase participation rates of lower propensity voters. Democrats in Montana perform better than Republican candidates among lower propensity voters." He went on to write that the bill ​"would permit counties where there is a desire for satellite polling places, like in many of our counties where our Indian reservations exist, to continue to use polling place … Democrat advantage." Republican legislators killed the bill.
As a result, some counties had to cut election resources. For example, in Glacier, the rural county in northwest Montana where Quist is from and which contains the large and impoverished Blackfeet Indian Reservation, the number of polling places was reduced from seven to two. This might sound like a mere inconvenience until you consider the geography. The Blackfeet Nation comprises more than 2,300 square miles of land — about the size of the state of Delaware. Of the 10,400 people who live there, only 1,000 live in Browning — the only polling place on the reservation. And there is no public transportation.
As journalist Stephanie Woodard noted for In These Times in 2014, such structural barriers are part of a much larger problem. ​"American Indians are still working to obtain equal voting rights," she observes.
As polls closed Thursday night, MTPR reported that long lines of people were still waiting to vote in Browning and that some had given up and left without casting their ballots. In the end, in Glacier County, where voters chose Quist by a 34-point margin, only 39 percent of registered voters cast ballots, compared to the statewide average of 54 percent. Actually, a map of the election from the Montana Secretary of State showing low-turnout counties is very nearly a map Montana's Native American reservations — all of which went strongly for Quist. In Montana, inequality of access to polling places regularly results in depressed turnout in reservation counties, but the 2017 special election saw it fall even further. In Glacier County the turnout rate fell 6 points compared to the 2014 midterm elections, while the statewide turnout rate stayed roughly the same. In Big Horn County, which contains the Crow and part of the Northern Cheyenne reservations, the rate fell 15 points, from 48 percent in 2014 to 33 percent this year.
Also buried beneath the flashy headlines about the assault, which pushed Montana and its election even further into the national spotlight, was what happened right before. According to his audio of the incident, Guardian reporter Ben Jacobs asked Gianforte about the American Health Care Act (AHCA) — specifically, what was Gianforte's stance on the legislation since the Congressional Budget Office reported it would strip 23 million Americans of health insurance? On May 11, Gianforte had told MTPR that he would not have voted with his fellow Republicans in the House on the AHCA until he knew the CBO results. Before attacking Jacobs, Gianforte responded: ​"We'll talk to you about that later." Given that this was on the eve of the election, one can only assume he meant after the votes were cast.
Gianforte was similarly dodgy on another key Montana issue: federal public lands. Federal lands comprise more than 27 million acres in Montana, 29 percent of the state's land base, and enjoy overwhelming support among Montanans. Throughout the campaign, Gianforte's television ads cast him as a defender of public lands, but his record says otherwise. Gianforte's charity foundation donated to three organizations that advocate transfer of federal lands to the states — a campaign pushed by wealthy conservative groups that aims ultimately for increased resource extraction on and privatization of public lands in the West.
After the assault charge, the Billings Gazette, Montana's largest newspaper, withdrew its endorsement of Gianforte. In their statement, the editors lamented their poor judgement in endorsing a candidate who would physically attack a journalist. They did not not mention the question that preceded the attack, or explain why, in the first place, they had been prepared to send voters to the polls to vote for Gianforte without a clear understanding of where the candidate stood on either of the two central issues in the race.
The path to victory for Quist in Montana was always through rough terrain, and it turned out to be too rough. The outcome was not a clear rebuke of Quist's platform, but a depressing showcase of the frailty of democratic institutions in the United States.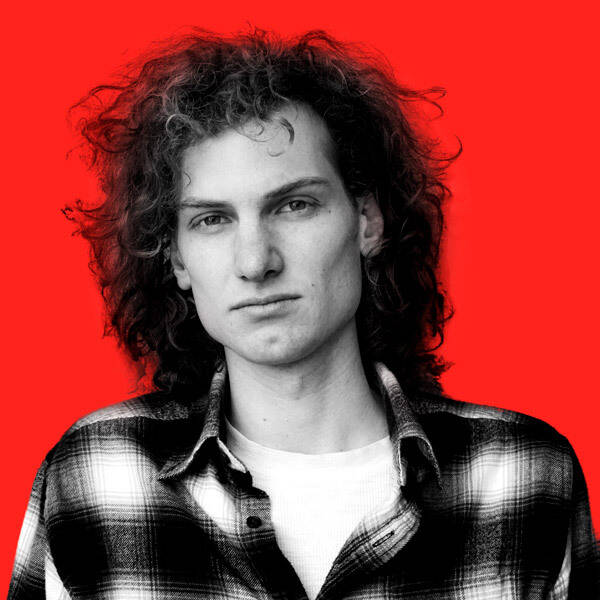 Joseph Bullington
grew up in the Smith River watershed near White Sulphur Springs, Montana. He lives now in Livingston, where he works as an independent journalist, part-time ranch hand and the editor of Rural America In These Times.