Don't Blame Montana Voters for Quist's Loss: Blame the Frailty of Our Democracy
The Montana race exposed the structural impediments to progressive politics.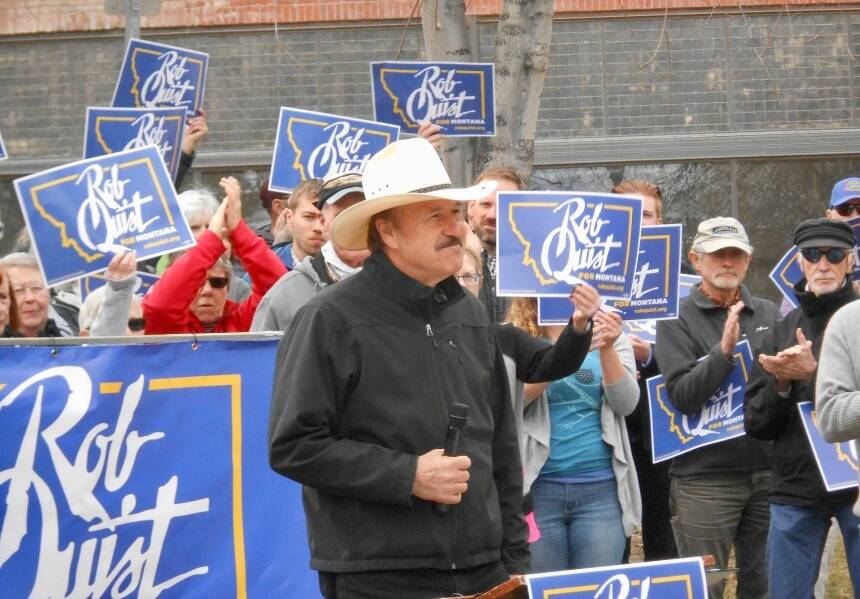 At about 10:40 p.m. Moun­tain Time on May 25, the open­ing melody of the song ​"Amer­i­ca" by Simon and Gar­funkel broad­cast out from the Mis­soula stu­dio of Mon­tana Pub­lic Radio. A reporter inter­rupt­ed to announce that Repub­li­can and tech mil­lion­aire Greg Gian­forte had been elect­ed over pop­ulist Demo­c­rat and blue­grass musi­cian Rob Quist to fill Montana's sole seat in the House of Rep­re­sen­ta­tives. Then the song took back up — the anthem turned requiem of the Bernie Sanders campaign.
The path to victory for Quist in Montana was always through rough terrain, and it turned out to be too rough.
Despite being charged with assault the night before for attack­ing a jour­nal­ist from the Guardian, Gian­forte hand­i­ly beat Quist in the spe­cial elec­tion. In the days fol­low­ing the elec­tion, the post mortems rolled in. Many nation­al com­men­ta­tors spec­u­lat­ed about what it meant for the coun­try that a can­di­date could assault a reporter and still win — and what it said about Mon­tana voters.
A left attempt to reclaim populism
The Mon­tana race has often been men­tioned in the same breath as Jon Ossoff's cam­paign in Geor­gia — that is, as a ref­er­en­dum on a Trump-led Repub­li­can Par­ty. But the com­par­i­son con­fus­es more than it explains.
Ossoff, an out­sider but cen­trist Demo­c­rat, is run­ning just such a cam­paign: His slo­gan is, ​"Make Trump Furi­ous." This makes some sense in Georgia's wealthy, sub­ur­ban sixth con­gres­sion­al dis­trict, where usu­al­ly depend­able Repub­li­can vot­ers were appar­ent­ly not enthu­si­as­tic about Trump and his mes­sage of right-wing pop­ulism. After going for Rom­ney by 23 points in 2012, the dis­trict went for Trump by only one and a half point.
Just the oppo­site is true in Montana's at-large con­gres­sion­al dis­trict, which Oba­ma lost by only two points in 2008 and Trump won by 21 points. It was no over­sight that, at Quist's ral­lies with Bernie Sanders in May, Trump's name was bare­ly men­tioned. Instead of pick­ing up the pieces of Hillary Clinton's crashed cam­paign, the pair tried to artic­u­late a left-Demo­c­ra­t­ic plat­form that might fly in Mon­tana: ​"You shouldn't have to be a mil­lion­aire to hunt, fish and hike in our great out­doors, get a good edu­ca­tion or be able to sup­port your fam­i­ly," states the cam­paign website.
The Quist cam­paign was not as much a cam­paign against Trump as it was a left attempt to reclaim pop­ulism from the Right. And so the Quist and Ossoff cam­paigns are more accu­rate­ly seen not as cohorts in the Demo­c­ra­t­ic resis­tance to Trump but as two sides in the inter­nal bat­tle to deter­mine the shape of that resistance.
Quist was the under­dog in both cas­es. Demo­c­ra­t­ic PACs got into the race late, and when they did they spent less than $1 mil­lion. This is a lot of mon­ey. But two days before the Mon­tana elec­tion, the Demo­c­ra­t­ic Con­gres­sion­al Cam­paign Com­mit­tee poured $2 mil­lion more into the Geor­gia race, push­ing its total spend­ing there to more than 10 times what it spent in Montana.
It is hard to say whether this spend­ing gap results from big lib­er­al donors' antipa­thy to the left wing of the par­ty, from the party's mis­un­der­stand­ing of the rur­al West and con­se­quent abdi­ca­tion of the region to the Repub­li­cans, or some of both.
Either way, the Quist-Gian­forte matchup was lop­sided as a result. In his cam­paign fundrais­ing, Quist actu­al­ly man­aged to keep pace with Gian­forte, despite the Republican's $1 mil­lion loan and $500,000 dona­tion to his own cam­paign. Quist raised more than $3 mil­lion, most­ly from con­tri­bu­tions of $200 or less, while the major­i­ty of Gian­forte fun­ders gave more than $2,000. His Repub­li­can oppo­nent appears to have raised rough­ly the same amount, a lit­tle more: $3,362,351, but the final num­bers aren't in yet.
How­ev­er, the more than $7 mil­lion in spend­ing by out­side groups, which made this the most mon­ey-infused house race the state has been sub­ject­ed to since at least 1990, favored Gian­forte 10 to 1.
Weak Demo­c­ra­t­ic institutions
In the face of that gap, Quist need­ed two things to win: a large vot­er turnout and media cov­er­age of the race that could cut through the ads and help Mon­tanans under­stand the stakes and where each can­di­date stood on key issues. Nei­ther happened.
It is unclear, at this point, how much Gianforte's assault charge impact­ed the race. Much has been made of the fact that near­ly three quar­ters of the 354,681 absen­tee bal­lots mailed out by the state had been returned by May 23 — the day before the alleged assault. A poll of 818 like­ly vot­ers released on May 22 found that the 36 per­cent of peo­ple who said they had already vot­ed had done so in rough­ly equal num­bers for Quist and Gianforte.
The Republican's advan­tage lay in those who were yet ​"very like­ly" to vote, 57 per­cent of whom said they planned to vote for Gian­forte. But Gianforte's lead shrunk among those who were only ​"like­ly" or ​"some­what like­ly" to vote.
All of this is to say, as Quist vol­un­teer coor­di­na­tor Tyrel Suzor-Hoy told In These Times on elec­tion day, before the results came in, ​"Turnout is what this race is depen­dent on."
How­ev­er, the unusu­al place­ment and reduced num­ber of polling places pre­sent­ed an obsta­cle to increased turnout. After an expen­sive elec­tion in 2016, Montana's rur­al coun­ties were strapped for cash to run a spe­cial elec­tion and lob­bied for a bill that would allow coun­ties to run the elec­tion by mail-in bal­lot. Despite sup­port from the elec­tions offices in 46 out of 56 coun­ties, Repub­li­can lead­er­ship fierce­ly opposed the bill.
In a let­ter to Repub­li­cans, par­ty chair­man Jeff Ess­man offered an unusu­al­ly can­did expla­na­tion: ​"Vote-by-mail is designed to increase par­tic­i­pa­tion rates of low­er propen­si­ty vot­ers. Democ­rats in Mon­tana per­form bet­ter than Repub­li­can can­di­dates among low­er propen­si­ty vot­ers." He went on to write that the bill ​"would per­mit coun­ties where there is a desire for satel­lite polling places, like in many of our coun­ties where our Indi­an reser­va­tions exist, to con­tin­ue to use polling place … Demo­c­rat advan­tage." Repub­li­can leg­is­la­tors killed the bill.
As a result, some coun­ties had to cut elec­tion resources. For exam­ple, in Glac­i­er, the rur­al coun­ty in north­west Mon­tana where Quist is from and which con­tains the large and impov­er­ished Black­feet Indi­an Reser­va­tion, the num­ber of polling places was reduced from sev­en to two. This might sound like a mere incon­ve­nience until you con­sid­er the geog­ra­phy. The Black­feet Nation com­pris­es more than 2,300 square miles of land — about the size of the state of Delaware. Of the 10,400 peo­ple who live there, only 1,000 live in Brown­ing — the only polling place on the reser­va­tion. And there is no pub­lic transportation.
As jour­nal­ist Stephanie Woodard not­ed for In These Times in 2014, such struc­tur­al bar­ri­ers are part of a much larg­er prob­lem. ​"Amer­i­can Indi­ans are still work­ing to obtain equal vot­ing rights," she observes.
As polls closed Thurs­day night, MTPR report­ed that long lines of peo­ple were still wait­ing to vote in Brown­ing and that some had giv­en up and left with­out cast­ing their bal­lots. In the end, in Glac­i­er Coun­ty, where vot­ers chose Quist by a 34-point mar­gin, only 39 per­cent of reg­is­tered vot­ers cast bal­lots, com­pared to the statewide aver­age of 54 per­cent. Actu­al­ly, a map of the elec­tion from the Mon­tana Sec­re­tary of State show­ing low-turnout coun­ties is very near­ly a map Montana's Native Amer­i­can reser­va­tions — all of which went strong­ly for Quist. In Mon­tana, inequal­i­ty of access to polling places reg­u­lar­ly results in depressed turnout in reser­va­tion coun­ties, but the 2017 spe­cial elec­tion saw it fall even fur­ther. In Glac­i­er Coun­ty the turnout rate fell 6 points com­pared to the 2014 midterm elec­tions, while the statewide turnout rate stayed rough­ly the same. In Big Horn Coun­ty, which con­tains the Crow and part of the North­ern Cheyenne reser­va­tions, the rate fell 15 points, from 48 per­cent in 2014 to 33 per­cent this year.
Also buried beneath the flashy head­lines about the assault, which pushed Mon­tana and its elec­tion even fur­ther into the nation­al spot­light, was what hap­pened right before. Accord­ing to his audio of the inci­dent, Guardian reporter Ben Jacobs asked Gian­forte about the Amer­i­can Health Care Act (AHCA) — specif­i­cal­ly, what was Gianforte's stance on the leg­is­la­tion since the Con­gres­sion­al Bud­get Office report­ed it would strip 23 mil­lion Amer­i­cans of health insur­ance? On May 11, Gian­forte had told MTPR that he would not have vot­ed with his fel­low Repub­li­cans in the House on the AHCA until he knew the CBO results. Before attack­ing Jacobs, Gian­forte respond­ed: ​"We'll talk to you about that lat­er." Giv­en that this was on the eve of the elec­tion, one can only assume he meant after the votes were cast.
Gian­forte was sim­i­lar­ly dodgy on anoth­er key Mon­tana issue: fed­er­al pub­lic lands. Fed­er­al lands com­prise more than 27 mil­lion acres in Mon­tana, 29 per­cent of the state's land base, and enjoy over­whelm­ing sup­port among Mon­tanans. Through­out the cam­paign, Gianforte's tele­vi­sion ads cast him as a defend­er of pub­lic lands, but his record says oth­er­wise. Gianforte's char­i­ty foun­da­tion donat­ed to three orga­ni­za­tions that advo­cate trans­fer of fed­er­al lands to the states — a cam­paign pushed by wealthy con­ser­v­a­tive groups that aims ulti­mate­ly for increased resource extrac­tion on and pri­va­ti­za­tion of pub­lic lands in the West.
After the assault charge, the Billings Gazette, Montana's largest news­pa­per, with­drew its endorse­ment of Gian­forte. In their state­ment, the edi­tors lament­ed their poor judge­ment in endors­ing a can­di­date who would phys­i­cal­ly attack a jour­nal­ist. They did not not men­tion the ques­tion that pre­ced­ed the attack, or explain why, in the first place, they had been pre­pared to send vot­ers to the polls to vote for Gian­forte with­out a clear under­stand­ing of where the can­di­date stood on either of the two cen­tral issues in the race.
The path to vic­to­ry for Quist in Mon­tana was always through rough ter­rain, and it turned out to be too rough. The out­come was not a clear rebuke of Quist's plat­form, but a depress­ing show­case of the frailty of demo­c­ra­t­ic insti­tu­tions in the Unit­ed States.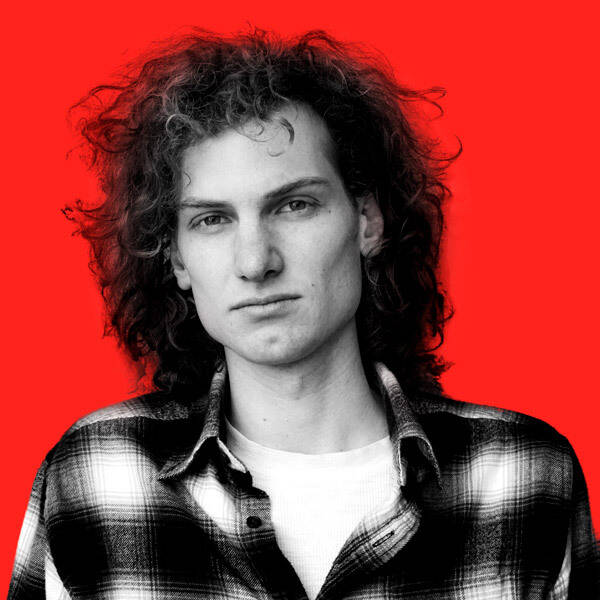 Joseph Bulling­ton
grew up in the Smith Riv­er water­shed near White Sul­phur Springs, Mon­tana. He lives now in Liv­ingston, where he works as an inde­pen­dent jour­nal­ist, part-time ranch hand and the edi­tor of Rur­al Amer­i­ca In These Times.