More Than a Number: Troubling Trends Behind the Dropping Unemployment Rate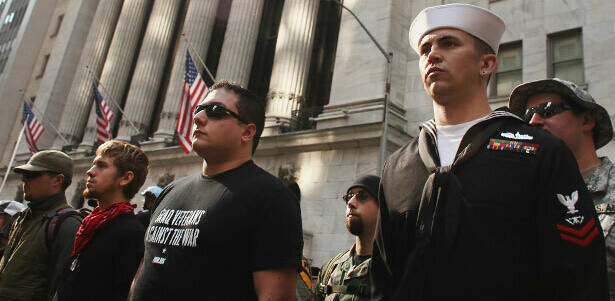 So the unem­ploy­ment rate's drop last month means we're head­ing out of this tun­nel, right? If only it were as sim­ple as that.
There's more to the nation's unem­ploy­ment sit­u­a­tion than December's decline to
8
.
5
per­cent job­less­ness. The fact is, the econ­o­my we live in today has become far too com­plex to be mea­sured the same way we do when we step on a scale.
That's because a num­ber of forces have changed the work­place real­i­ty for Amer­i­can work­ers. Some of these are short-term changes, though even then, it's not clear how their impact will play out in the long-term. And some are sig­nif­i­cant long-term changes that first began to take off and which are like­ly to affect work­ers for a long time to come.
Young vets' job woes
Take the wors­en­ing job plight of vet­er­ans of our wars in Iraq and Afghanistan, some­thing that deserves atten­tion by pol­i­cy­mak­ers. The job­less rate for these vets in Decem­ber, accord­ing to gov­ern­ment fig­ures, was
13
.
1
per­cent, up from
11
.
7
per­cent a year ago.
But the real jobs prob­lem is the one faced by young vets, the ones who have came home look­ing for new lives rather than stay­ing on in the mil­i­tary. The unem­ploy­ment rate for these vet­er­ans between
20
to
24
years old aver­aged
30
per­cent last year, up from
21
per­cent in July
2010
, accord­ing to the
New York Times.
This may seem to some as a short-term prob­lem, but it has the mark­ing of a dilem­ma that may linger on.
We have tra­di­tion­al­ly expect­ed vet­er­ans to find their way back into the job mar­ket, after slog­ging through a bout of job­less­ness. That is not exact­ly what hap­pened, how­ev­er, after the Viet­nam War, and the mark left from Iraq and Afghanistan may turn out to be an even far more dif­fi­cult one to overcome.
That is because the phys­i­cal and psy­cho­log­i­cal scars left on so many who took part in fight­ing that last­ed almost a decade. A large brunt of mil­i­tary ser­vice fell upon work­ers plucked out of their jobs because of their Nation­al Guard and Reserve obligations.
So, too, the long-term changes that have rip­pled across the job mar­ket con­tin­ue to play and broad­en in ways not seen a few years ago.
Pub­lic ser­vice work­ers lose their protections
The wind car­ry­ing blue-col­lar fac­to­ry jobs away for unskilled work­ers blows as strong as ever. Not only have jobs van­ished at stun­ning lev­els, but also the down­ward slide in wages and loss of ben­e­fits is a wor­ri­some omen for those left behind in the factories.
But now we can begin chart­ing the rapid­ly expand­ing down­ward slide of gov­ern­ment jobs, a process that seems like­ly to roll on for some time from Wash­ing­ton to the state cap­i­tals and to local com­mu­ni­ties, spurred on by bud­get-mind­ed Repub­li­cans and finan­cial­ly des­per­ate Democrats.
One mea­sure of the decline is the loss of state jobs across the U.S.
Employ­ment lev­els among state work­ers dropped
1
.
2
per­cent in
2011
, accord­ing to the
New York Times
. That, accord­ing to the news­pa­per, is the steep­est drop since record­keep­ing began over
55
years ago.
For a long time, pub­lic work­ers were immune from such severe job cuts as well as attacks on their secu­ri­ty. But now that immu­ni­ty has van­ished, putting them in the same down­ward spin as work­ers in the pri­vate sector.
Many of these pub­lic ser­vice jobs are held by black and Lati­no work­ers and their foothold on the job mar­ket has only grown more ten­u­ous lately.
Indeed, the con­struc­tion indus­try bust, fac­to­ry-shut­downs and shrink­ing wages for most work­ers have had dis­as­trous results for black and Lati­no work­ers. As the Eco­nom­ic Pol­i­cy Insti­tute has point­ed out, the job­less rate for black and Lati­no work­ers grew dra­mat­i­cal­ly high­er and dra­mat­i­cal­ly apart, as well, from white work­ers dur­ing the last decade.
Com­bine these forces and you have a job mar­ket not only under ter­ri­ble stress, but fac­ing stress­es not seen before. That's why the good news con­cern­ing the job­less­ness rate leaves the nation only so much to cheer about.
Stephen Franklin is a for­mer labor and work­place reporter for the Chica­go Tri­bune, was until recent­ly the eth­nic media project direc­tor with Pub­lic Nar­ra­tive in Chica­go. He is the author of Three Strikes: Labor's Heart­land Loss­es and What They Mean for Work­ing Amer­i­cans (2002), and has report­ed through­out the Unit­ed States and the Mid­dle East.