There's Nothing Okay About Kevin Drum's "Disgust" For the Homeless
The Mother Jones column is a case study in how liberals insulate themselves from the psychological and material effects of injustice.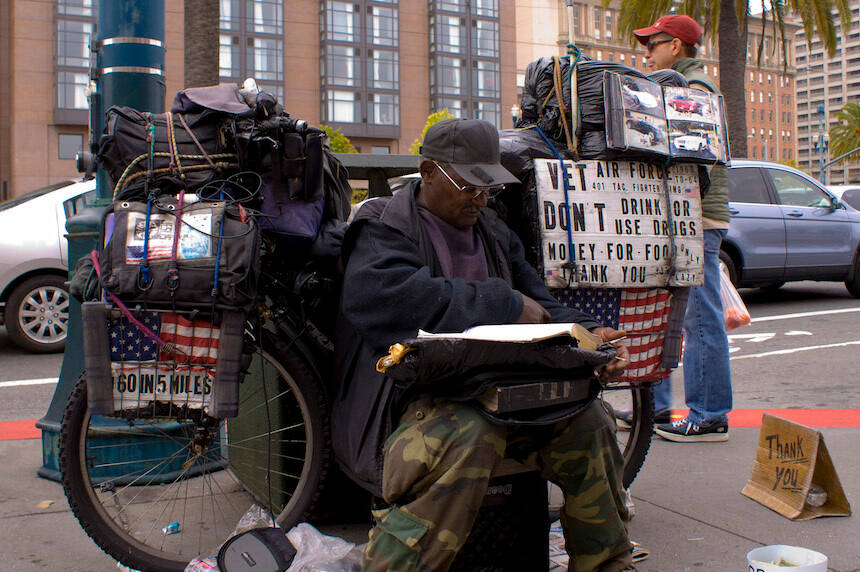 Reprint­ed with per­mis­sion from Knock LA
"Empathy" isn't really for the homeless–it's another reflex of the "behavioral immune system," a way of insulating liberal consciousness from the psychological and material effects of our society's inherent injustice.
This Fri­day after­noon, blog­ger Kevin Drum post­ed a piece for his Moth­er Jones ​"opin­ion blog about pol­i­tics and pol­i­cy (plus cats!)" enti­tled ​"Are Peo­ple Dis­gust­ed BY The Home­less?" In the time-hon­ored tra­di­tion of local TV news sen­sa­tion­al­ism, the post cher­ry-picks from a recent aca­d­e­m­ic study to rein­force defen­sive atti­tudes about the social prob­lem of home­less­ness. He then frames these atti­tudes in terms of ​"dis­gust." Specif­i­cal­ly, Drum homes in on what the researchers frame as a ​"strange pat­tern" in their report's find­ings: that majori­ties of respon­dents both sup­port aid and sub­si­dized hous­ing and sup­port crim­i­nal­iz­ing sleep­ing in pub­lic and panhandling.
Affect­ing a world­ly air, Drum's Moth­er Jones piece asserts, ​"this [pat­tern] does not seem strange to me at all." Con­grat­u­la­tions, Kevin, you cracked it.
It's obvi­ous, with­out even need­ing to invoke the idea of ​"dis­gust," that peo­ple are eager for solu­tions to the prob­lem of home­less­ness but don't care very much about home­less peo­ple. Recent Los Ange­les ordi­nances crim­i­nal­iz­ing sleep­ing in cars or San Fran­cis­co laws ban­ning tents on side­walks may get passed under the guise of con­cern for ​"unsafe and unhealthy" con­di­tions and on the need to encour­age more ​"sta­ble and suc­cess­ful per­ma­nent hous­ing" but they con­tribute no actu­al funds towards increas­ing pub­lic hous­ing and ser­vices. To the pro­po­nents of these mea­sures, home­less­ness is a prob­lem more like van­dal­ism than like a human­i­tar­i­an crisis.
In the face of an unprece­dent­ed surge of home­less­ness, LA Coun­ty has passed a pair of mea­sures which actu­al­ly begin to direct tax­pay­er dol­lars towards hous­ing and ser­vices, but ques­tions remain about where and how that mon­ey will actu­al­ly get spent. The log­ic behind these crim­i­nal ordi­nances, bal­lot mea­sures and the find­ings of the report cit­ed by Drum is one and the same famil­iar refrain: ​"out of sight, out of mind."
Of course, it's impos­si­ble in Cal­i­for­nia to keep the home­less out of sight entire­ly, as Drum sure­ly knows. But the pur­pose of the Moth­er Jones arti­cle isn't to chal­lenge com­pla­cen­cy and inac­tion on the issue of home­less­ness, it's to excuse the root cause of it: an atti­tude which sees home­less­ness as a fail­ure of per­son­al rather than social responsibility.
By tying the feel­ing of ​"dis­gust" to home­less indi­vid­u­als rather than the sys­tem that pro­duces and immis­er­ates them, Drum assuages his read­ers' sense of lib­er­al guilt sur­round­ing the home­less and the stark sys­temic inequal­i­ty that oppress­es them. To accom­plish this, Drum needs to paint the home­less in the most unflat­ter­ing, grotesque light pos­si­ble. He writes:
"

Most peo­ple don't like being accost­ed by pan­han­dlers and don't like park bench­es being tak­en over by poten­tial­ly dan­ger­ous vagrants."
This is imme­di­ate­ly fram­ing the home­less as harassers and offend­ers. One won­ders how many times Drum has writ­ten a ver­sion of this arti­cle in his mind while stopped next to a pan­han­dler at a traf­fic light. Dis­gust, to Drum, is a ​"per­fect­ly under­stand­able reac­tion" to the home­less, but he doesn't seem to under­stand what the study he cites actu­al­ly reveals about that reaction.
For the authors of the orig­i­nal study, dis­gust is framed as a com­po­nent of our ​"behav­ioral immune sys­tem" — a defense mech­a­nism that is often ​"over­ly cau­tious," caus­ing us to ​"per­ceive oth­ers who look atyp­i­cal as poten­tial sources of dis­ease." The study sug­gests that sup­port for crim­i­nal­iz­ing home­less­ness may result from our own over-sen­si­tiv­i­ty to o per­ceived dan­ger. This over­sen­si­tiv­i­ty isn't nat­ur­al, it's thor­ough­ly con­di­tioned by social norms, rep­re­sen­ta­tions and ideology.
Unfor­tu­nate­ly, that over­sen­si­tiv­i­ty isn't just baked into our per­son­al encoun­ters with the home­less — it fun­da­men­tal­ly informs how mis­sions and non-prof­its treat home­less indi­vid­u­als. The drug test­ing and ​"zero-tol­er­ance" poli­cies that deny aid to those who need it on the grounds of imposed moral stan­dards are equal symp­toms of this over­ac­tive immune sys­tem, tes­ti­fy­ing to a para­noid sus­pi­cion that the des­ti­tute are some­how also look­ing to exploit the sys­tem that has failed them. To solve the issue of home­less­ness, it would be nec­es­sary to under­stand how our over­ac­tive per­son­al dis­gust mech­a­nisms and those of the sys­tems we con­struct are nec­es­sar­i­ly linked, and how they both demand to be dismantled.
Drum, how­ev­er, is not seek­ing to inter­ro­gate our dis­gust, but to paci­fy any sense of guilt we may feel over it. ​"About half the home­less suf­fer from a men­tal ill­ness and a third abuse either alco­hol or drugs," he exclaims. ​"You'd be crazy not to have a reflex­ive dis­gust of a pop­u­la­tion like that. Is that real­ly so hard to get?" Yet Drum iron­i­cal­ly appears to have missed anoth­er key find­ing of the sur­vey: ​"cov­er­age of home­less­ness can acti­vate dis­gust sen­si­tiv­i­ty by refer­ring to dis­ease and unclean­li­ness." Not only is Drum encour­ag­ing his read­ers to nor­mal­ize their feel­ings of dis­gust, his obscene­ly sen­sa­tion­al lan­guage strives to inten­si­fy that dis­gust before he can absolve it with a few rhetor­i­cal flour­ish­es. In try­ing to make his read­ers feel rea­son­able, he's actu­al­ly stok­ing their irra­tional fears and anxieties.
Drum asserts that it would be ​"crazy" not to feel dis­gust at the home­less — that such reflex­es are ​"innate and per­fect­ly under­stand­able." This lan­guage is pro­found­ly nor­ma­tive, seek­ing hyper­bol­i­cal­ly to main­tain dis­tinc­tions between san­i­ty and men­tal ill­ness which many, includ­ing myself, find deeply alienating.
Addi­tion­al­ly, the thrust of this rhetoric, to rein­force a bound­ary between ​"sane" homed and ​"crazy" home­less pop­u­la­tions, is not sup­port­ed by real­i­ty. A 2014 study shows that 18.2% of the Amer­i­can pop­u­la­tion over­all suf­fers from some form men­tal ill­ness every year. Should we be ​"dis­gust­ed" by one in five peo­ple we encounter every day? A larg­er per­cent­age of home­less strug­gle with seri­ous untreat­ed men­tal ill­ness, but access to men­tal health treat­ment for Amer­i­cans suf­fer­ing men­tal health prob­lems has also declined in recent years. Sim­i­lar­ly, for many home­less cop­ing with men­tal ill­ness, there are few oppor­tu­ni­ties for med­ica­tion out­side drugs and alco­hol, but self-med­icat­ing is hard­ly lim­it­ed to the dis­en­fran­chised, and nei­ther is drug abuse. These are sys­tem­at­ic prob­lems, not home­less­ness problems.
Sug­gest­ing we have more in com­mon with the home­less than we might care to admit, how­ev­er, would ham­string the cen­tral propo­si­tion of Drum's piece: that we can over­come our reflex­ive feel­ings to become ​"decent human beings" by con­nect­ing with that great lib­er­al panacea, ​"empa­thy." ​"Empa­thy for the home­less" doesn't ask us for sol­i­dar­i­ty with the home­less, either because we also strug­gle with men­tal ill­ness and sub­stance abuse, or because we also strug­gle under cap­i­tal­ism to eke out an exis­tence, stay­ing one acci­dent or depres­sive episode away from los­ing every­thing, while oth­ers enjoy absurd lux­u­ry. ​"Empa­thy" doesn't ask us to think crit­i­cal­ly about the sys­temic fail­ures that engen­der home­less­ness as a social phe­nom­e­non, doesn't com­pel us to see how cap­i­tal­ism repro­duces home­less­ness in order to main­tain the engine of arti­fi­cial scarci­ty at its core. ​"Empa­thy" isn't real­ly for the home­less – it's anoth­er reflex of the ​"behav­ioral immune sys­tem," a way of insu­lat­ing lib­er­al con­scious­ness from the psy­cho­log­i­cal and mate­r­i­al effects of our society's inher­ent injustice.
The answer isn't to wave away our dis­gust the way one might wave off a pan­han­dler. The point isn't to over­come the feel­ing of dis­gust, to paci­fy it in a warm empa­thy bath. It's to con­nect that feel­ing of dis­gust not with the indi­vid­ual, but with the col­lec­tive social fail­ure that each instance of home­less­ness rep­re­sents. Until we do that, we real­ly can't call our­selves decent human beings at all.