The Power of the NYC Teachers Union's Rank-and-File Caucus MORE Is Growing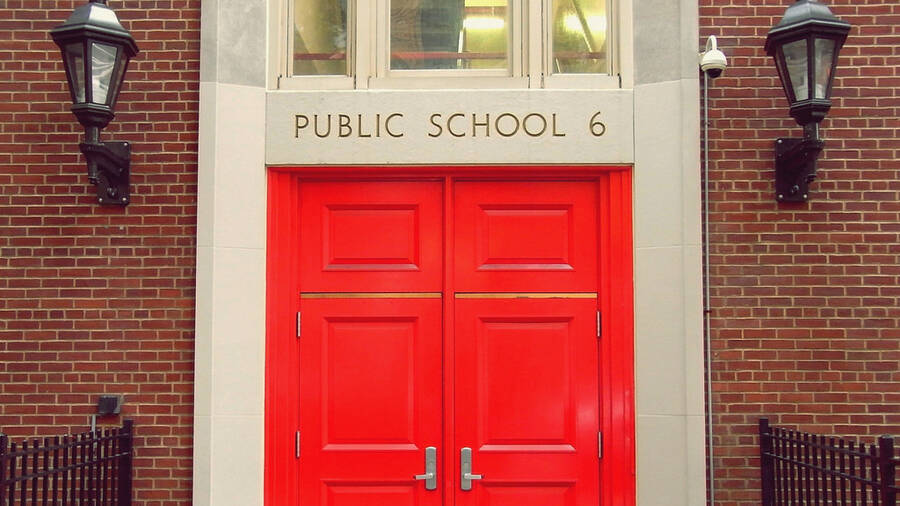 Elec­tions in the New York City's Unit­ed Fed­er­a­tion of Teach­ers (UFT) have revealed a grow­ing chal­lenge to the union lead­er­ship from rank-and-file teach­ers demand­ing a more mil­i­tant stance against cor­po­rate edu­ca­tion reform. Union pres­i­dent Michael Mul­grew was re-elect­ed with 76 per­cent of the vote.
But the dis­si­dent union group Move­ment of Rank-and-File Edu­ca­tors (MORE), of which I am a mem­ber, earned our first seats on the union's exec­u­tive board since form­ing in 2012 — an impor­tant foothold for an emerg­ing rank-and-file challenger.
To start with, Jia Lee, our pres­i­den­tial can­di­date, gar­nered 10,743 votes, the first time an oppo­si­tion can­di­date topped 10,000 votes in five elec­tion cycles. Lee con­trasts stark­ly with Mul­grew in pol­i­tics and style. After get­ting her start in union activism as a school-based chap­ter leader, her orga­niz­ing as both a teacher and a par­ent pro­pelled her to the nation­al spot­light as a voice against cor­po­rate edu­ca­tion reform. She has declared her­self a ​"con­sci­en­tious objec­tor" to high stakes test­ing, refus­ing to give the 2014 Read­ing and Math exams. She tes­ti­fied before a Sen­ate sub­com­mit­tee on the neg­a­tive impact of test­ing on stu­dents, and argues for the union to take a stronger stand against cor­po­rate reform gen­er­al­ly and high stakes test­ing in particular.
With­in MORE, she has emerged as a pow­er­ful leader, unit­ing union mem­bers, par­ents and activists from diverse backgrounds.
The move­ment against high stakes test­ing is a bright spot on the land­scape of Amer­i­can social protest. In the state of New York, tens of thou­sands of par­ents have ​"opt­ed out" of allow­ing their stu­dents to sit for the state's Read­ing and Math exams. The move­ment can claim some vic­to­ries, includ­ing forc­ing the state to can­cel con­tracts with cor­po­rate test­ing giant Pear­son and the tem­po­rary sus­pen­sion of using of test results in teacher evaluations.
Such a defi­ant and wide­spread move­ment should put wind in the sails of an insur­gent move­ment of teach­ers against pri­va­ti­za­tion and cor­po­rate con­trol of edu­ca­tion, if the union were to seek alliances with par­ents and students.
As it hap­pens, how­ev­er, Mul­grew refus­es to sup­port the opt-out move­ment and vis­cer­al­ly defends the con­tro­ver­sial Com­mon Core Stan­dards. He once mem­o­rably threat­ened to ​"punch in the face" any­body who would try to take them away, and has defend­ed a raft of cor­po­rate-backed reforms that came with Oba­ma's ​"Race to the Top" pro­gram — most notably the use of dis­cred­it­ed test-based ​"val­ue-added" mea­sure­ments of teacher effec­tive­ness in teacher evaluation.
This has cre­at­ed space for MORE to define our­selves clear­ly as the ​"opt-out par­ty" in the union, tak­ing the lead in build­ing sol­i­dar­i­ty with par­ents resist­ing exces­sive test­ing when our own union won't.
The roll­out of New York City's con­vo­lut­ed teacher eval­u­a­tion sys­tem, designed by cur­rent nation­al Edu­ca­tion Sec­re­tary John King, has been pre­dictably inept, lead­ing the state Board of Regents to tem­porar­i­ly sus­pend the use of read­ing and math exams in teacher rat­ings. Then in May, as union bal­lots were mailed out, a New York State Supreme Court judge ruled that ​"val­ue added mod­el­ing" based on test scores yield­ed ​"arbi­trary and capri­cious" results, call­ing into ques­tion the future of test-based teacher eval­u­a­tion in New York.
These var­i­ous rever­sals have exposed the UFT as hav­ing tak­en the wrong side in key edu­ca­tion debates, and left them awk­ward­ly defend­ing poli­cies that are quick­ly discredited.
While the eval­u­a­tion sys­tem has failed in its own terms at mea­sur­ing ​"teacher effec­tive­ness," it has par­tial­ly trans­formed the class­room through tighter reg­i­men­ta­tion of teach­ers' work. In addi­tion to the use of test scores to mea­sure teach­ers' ​"out­put," school admin­is­tra­tors eval­u­ate lessons they observe through a rubric, scor­ing teach­ers in a num­ber of ​"domains" that pur­port to mea­sure intan­gi­bles like the ​"depth" of the ques­tions they ask their stu­dents or their effec­tive­ness at ​"cre­at­ing an envi­ron­ment of respect and rapport."
Teach­ers bris­tle at super­vi­sors spend­ing 15 min­utes in their class­rooms and then reduc­ing their work to a four-point met­ric, and often feel that despite the system's pre­ten­tions to objec­tiv­i­ty it is too eas­i­ly wield­ed in an arbi­trary or vin­dic­tive way by their supervisors.
Many mem­bers are also angry about the con­tract the union signed in 2014, which not only cod­i­fied this dis­as­trous new teacher eval­u­a­tion sys­tem, but also made a num­ber of impor­tant eco­nom­ic con­ces­sions. Retroac­tive pay owed to teach­ers over the five years they worked with­out a con­tract under the hos­tile aus­ter­ian may­or Michael Bloomberg was delayed fur­ther, stretched out into install­ments to be paid out incre­men­tal­ly over the course of years. Teach­ers will not see the full sum of mon­ey owed to them for the years they worked in 2009 – 2014 until 2020.
Those who leave the sys­tem will receive noth­ing. (This was grotesque­ly jus­ti­fied by union lead­ers as an incen­tive to halt the ​"teacher exo­dus," the mas­sive flow of mem­bers leav­ing the sys­tem due to poor work­ing con­di­tions and esca­lat­ing cost of liv­ing in New York City.) The union also com­mit­ted to find­ing cost sav­ings in health care, which has led to increased co-pays for many impor­tant med­ical services.
MORE has pledged to replace ​"closed door nego­ti­a­tions" with a mobi­lized mem­ber­ship and more trans­par­ent process for nego­ti­at­ing the next con­tract in 2018 as part of a wider agen­da to democ­ra­tize the union, look­ing towards mod­els of ​"open bar­gain­ing" that bring par­ents and stu­dents to the table and try­ing to reen­er­gize mem­ber par­tic­i­pa­tion at all lev­els of the union.
There are many hur­dles fac­ing oppo­si­tion can­di­dates in the UFT, but they spring from two sources: the size and com­plex­i­ty of the school sys­tem, and the union's mono­lith­ic polit­i­cal culture.
The union bureau­cra­cy, rep­re­sent­ed polit­i­cal­ly by the Uni­ty Cau­cus, has an unin­ter­rupt­ed his­to­ry of lead­er­ship dat­ing back to the 1960s. Mem­bers of Uni­ty agree, in exchange for access to union jobs and oth­er perks like free trips to the nation­al AFT con­ven­tion, not to crit­i­cize union lead­er­ship or dis­sent from offi­cial Uni­ty posi­tions. They main­tain their hold polit­i­cal­ly through union rules that allow 60,000 retirees, many of whom live out-of-state and don't work under the terms of our con­tracts, to vote for union offi­cers. Retirees have a high­er rate of vot­er par­tic­i­pa­tion than the active mem­ber­ship and over­whelm­ing­ly favor the incum­bent — the major­i­ty of Uni­ty's votes in recent elec­tions have come from the retiree division.
His­tor­i­cal­ly, dis­si­dent move­ments with­in the UFT have been scat­tered across numer­ous small oppo­si­tion cau­cus­es and grass­roots activist groups, frus­trat­ed by the rul­ing par­ty's hold on pow­er. MORE was formed in 2012 as fusion of these rival group­ings with a younger gen­er­a­tion of teach­ers drawn to the union through social jus­tice organizing.
This year, the New Action cau­cus, which had in the past cross-endorsed Mul­grew as their pres­i­den­tial can­di­date, broke ranks and joined MORE, endors­ing Lee instead. For all the dif­fi­cul­ties inher­ent in unit­ing frac­tious com­mu­ni­ties of union mil­i­tants and social jus­tice activists across ide­olo­gies and gen­er­a­tions, build­ing a unit­ed oppo­si­tion move­ment in one of the largest union Locals in the coun­try is one MORE's sig­nal achievements.
A unit­ed oppo­si­tion left us bet­ter equipped to answer orga­ni­za­tion­al chal­lenges stem­ming from the sheer scale of the task: A full elec­toral slate includes not only the 12 offi­cer posi­tions like Pres­i­dent or Sec­re­tary, and 48 can­di­dates for the exec­u­tive board, but also 750 del­e­gates who rep­re­sent the UFT to its nation­al affil­i­ate the Amer­i­can Fed­er­a­tion of Teach­ers. To appear on the bal­lot, each can­di­date must col­lect at least 100 sig­na­tures, or 900 for offi­cer positions.
Approx­i­mate­ly 100,000 in-ser­vice mem­bers are scat­tered across 1,700 schools in New York's five bor­oughs, sep­a­rat­ed by lev­el and job title into divi­sions, each with its own elec­toral list and bal­lot. There are also thou­sands of mem­bers out­side the Depart­ment of Edu­ca­tion includ­ing char­ter school teach­ers, home care nurs­es, admin­is­tra­tive law judges and oth­ers work­ing for dif­fer­ent employ­ers under dif­fer­ent contracts.
All told, over 189,000 bal­lots were mailed to UFT mem­bers. For a scrap­py activist group with­out access to the union machine, reach­ing even a sub­stan­tial minor­i­ty of the mem­bers is a heavy lift. Oppo­si­tion activists scram­bled from school to school for weeks, stuff­ing mail­box­es with union lit­er­a­ture and talk­ing to mem­bers about the election.
Anoth­er obsta­cle is the pal­pa­ble dis­en­gage­ment and apa­thy among the union mem­ber­ship result­ing from con­ces­sion­ary bar­gain­ing and a stale inter­nal cul­ture. Our grow­ing oppo­si­tion move­ment should be wel­comed by all par­ties in the union as a sign of life. Turnout in UFT elec­tions has been drop­ping steadi­ly for years, and while this year a dis­mal 24 per­cent of the union vot­ed, this is an improve­ment from 18 per­cent in 2013 — the year retirees sur­passed active teach­ers in over­all vote share. Such num­bers are not indi­ca­tors of a live­ly inter­nal culture.
For MORE, increas­ing vot­er turnout was an impor­tant strate­gic goal. In a union where retirees play an out­sized elec­toral role, the only path to vic­to­ry is mobi­liza­tion of oppo­si­tion votes among active school work­ers. But more than an elec­toral cal­cu­la­tion, it was an oppor­tu­ni­ty to build infra­struc­ture, recruit activists and rein­vig­o­rate dis­cus­sion in the schools about the direc­tion of the UFT.
Many teach­ers feel the union does not rep­re­sent them; we have seen their work­ing con­di­tions dete­ri­o­rate under the weight of account­abil­i­ty man­dates, test­ing and bureau­cra­cy, and are frus­trat­ed at a lack of sup­port when we need it in the work­place. The opposition's best results came from schools where our mem­bers are known and respect­ed activists, doing the dai­ly work of orga­niz­ing and rep­re­sent­ing members.
Our pro­fes­sion has with­stood a con­stant bar­rage of attacks from anti-union politi­cians in both par­ties and cor­po­rate school reform cam­paign­ers bent on abol­ish­ing job pro­tec­tions, reduc­ing teach­ers' voice in the schools and remov­ing the last bar­ri­ers to pri­va­ti­za­tion of the pub­lic school sys­tem. If we are going to build an orga­ni­za­tion that can with­stand the kind of threats posed by anti-union cam­paigns like the recent Friedrichs Supreme Court case, it will require a dif­fer­ent approach than the pure­ly legal­is­tic strat­e­gy that the UFT is cur­rent­ly wed­ded to. We need to empow­er edu­ca­tors as their own advo­cates by trans­form­ing the union into a social move­ment for eco­nom­ic and social jus­tice, and we need to sit­u­ate our cri­tique of edu­ca­tion reform in a wider cri­tique of pow­er, inequal­i­ty and racism.
While mod­est vic­to­ries are impor­tant val­i­da­tions and signs of growth, a small minor­i­ty of Exec­u­tive Board posi­tions add up to lit­tle more than a seat at the table. It would be a mis­take to focus too much effort on try­ing to maneu­ver with­in the rar­i­fied world of catered meet­ings with the union exec­u­tives. More impor­tant is to spend the com­ing years build­ing union chap­ters at the school lev­el, enforc­ing the con­tract, push­ing back against pri­va­ti­za­tion and sup­port­ing the opt-out move­ment while propos­ing a vision for teacher union­ism that con­fronts edu­ca­tion reform rather than adapt­ing to it. That's exact­ly what MORE plans to do.
Kevin Pros­en
is a teacher in New York City and chap­ter leader in the Unit­ed Fed­er­a­tion of Teachers.