Musicians See an End to a Symphony of Pain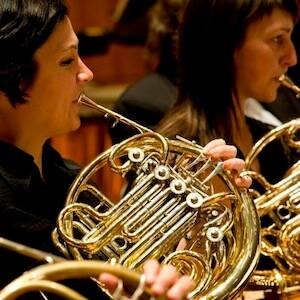 BALTIMORE — Union members in the Baltimore Symphony Orchestra (BSO) approved a new collective bargaining agreement this month that musicians hope will mark the end of a ten-year period of financial turmoil and contract givebacks.
Some 80 members of American Federation of Musicians Local 40 – 543 voted ​"overwhelmingly" to approve the new three-year contract just days before the start of the BSO's 2013 – 2014 season, says Greg Mulligan, chair of the players committee. Union members are relieved, Mulligan reports, to get the new season underway and to begin to recoup some of the wage and benefit concessions given up in previous agreements.
The contract comes at a time of labor unrest in symphony orchestras around the country. Members of the Minnesota Orchestra have been locked out for over a year in a contract dispute, and recent union agreements in Detroit, Atlanta and Philadelphia have all included heavy wage givebacks and benefit cuts.
​"People are shocked by what's happened in Minnesota. It's a bit unusual" for a symphony contract dispute to drag out so long, says Jay Blumenthal, director of symphonic service at the New York City-based AFM. ​"I think people [outside of Minnesota] are chastened and want to step back little bit."
BSO musicians are mindful of the Minnesota example, but are also keenly aware that they have already taken drastic cuts similar to those being demanded in Minneapolis, says Mulligan. Facing financial distress, the BSO renegotiated the contract with the ASM in 2003. The local agreed to cuts in that and several subsequent agreements, Mulligan recounts, culminating in a 2010 pact that reduced the musicians' base salary by 17 percent. Benefits and staffing levels were also cut or trimmed throughout the decade-long period, he says.
​"I'm not going to attack the BSO managers. There were real financial problems and we agreed willingly to make reductions. We negotiated them, and we voted on them, and we approved them. There were some rather dire threats along the way," but union members were just as anxious to restore stability to the organization as the managers at the other end of the negotiating table, Mulligan says.
But improved finances mean that wages will begin rising again under the new contract, according to a statement from BSO. A base salary for tenured performers will rise from $67,000 annually to $75,000 in the 2015 – 2016 performance season, BSO stated. Although these raises represent progress, wage levels are not yet restored to the 2009 level of $81,000, Mulligan adds.
By contrast, Music Director Marin Alsop, who conducts the orchestra, received $653,276 in the fiscal year ending Aug. 31, 2011, according to Internal Revenue Service disclosures. Around the same time that it announced the union contract, BSO stated that it had renewed Alsop's personal contract, though a BSO spokesperson declined to discuss Alsop's compensation. Blumenthal says that he has no direct knowledge of the contract details, but that it is customary for high-profile conductors to receive raises when their contracts are renewed.
The new union contract may also allow for some restoration of staffing levels. A full complement for the BSO is 98 performers, but there are currently only 81 positions. The pact calls for a new minimum of 83, but may allow for a further increase if BSO's revenues rise over the next few years, Mulligan explains.
The labor agreement ​"coupled with the extension of … Alsop's contract through 2021, allows the board and management to focus on the planning of strategic priorities including BSO's 2016 centennial and the campaign to grow its endowment," stated BSO President Paul Meecham.
Strengthening endowments and general fundraising are the main problems faced by all non-profit symphonies across the country, Blumenthal adds, and are the issues that most determine the state of labor relations for the 4,000−5,000 ASM members at the 52 professional orchestras under union contract. (The union, with a total membership of 80,000, also represent musicians in other entertainment sectors, such as television and movies.)
There was a major contraction in philanthropic giving associated with the 2008 Wall Street panic and subsequent recession, he says, but things seem to be returning to normal. ​"In general, the orchestras where there are labor issues tend to be in the minority," Blumenthal says. ​"Many were affected by the 2008 downturn, but some of these were sort of dysfunctional organizations to start with, so it is not all about economic trends."
Bruce Vail
is a Baltimore-based freelance writer with decades of experience covering labor and business stories for newspapers, magazines and new media. He was a reporter for Bloomberg BNA's Daily Labor Report, covering collective bargaining issues in a wide range of industries, and a maritime industry reporter and editor for the Journal of Commerce, serving both in the newspaper's New York City headquarters and in the Washington, D.C. bureau.