Trump's North America Trade Deal Is Poised to Worsen Climate Change—But Dems Don't Seem To Mind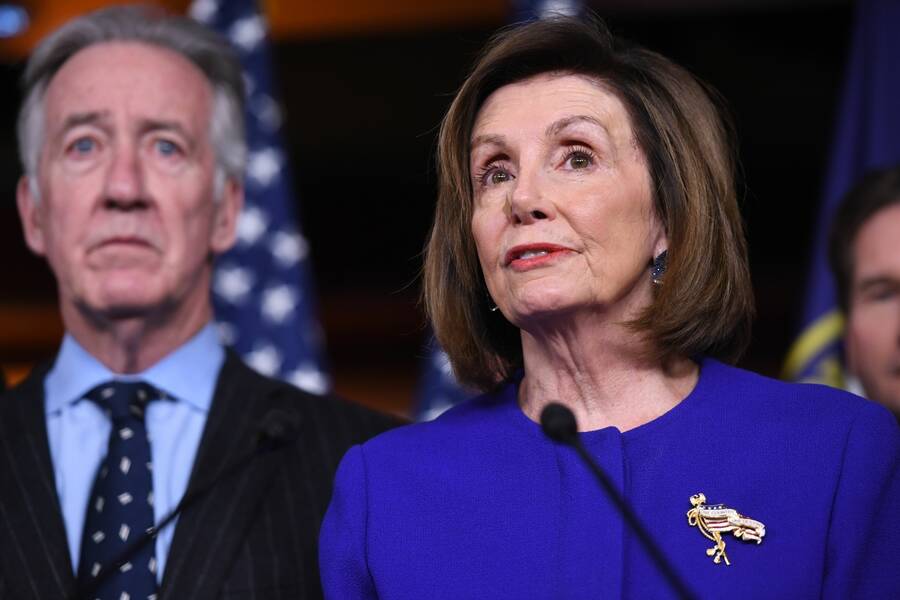 While Con­gres­sion­al Democ­rats made clear that they would not bring the Unit­ed States-Mex­i­co-Cana­da Agree­ment (USM­CA) to a vote until it had the back­ing of the AFL-CIO, sup­port they final­ly secured last week, Democ­rats appear com­fort­able vot­ing on the replace­ment trade deal that has vir­tu­al­ly no sup­port from lead­ing envi­ron­men­tal groups.
A House vote could come in the next few days and on Fri­day Decem­ber 13, ten envi­ron­men­tal orga­ni­za­tions, rep­re­sent­ing 12 mil­lion mem­bers, sent a let­ter urg­ing Con­gres­sion­al rep­re­sen­ta­tives to vote against the pro­posed deal, which will replace the 25-year-old North Amer­i­can Free Trade Agree­ment (NAF­TA).
"This final deal pos­es very real threats to our cli­mate and com­mu­ni­ties and ignores near­ly all of the fun­da­men­tal envi­ron­men­tal fix­es con­sis­tent­ly out­lined by the envi­ron­men­tal com­mu­ni­ty," the let­ter stat­ed. The groups — which include the Sier­ra Club, Green­peace and 350​.org — not­ed that ​"the deal does not even men­tion cli­mate change, fails to ade­quate­ly address tox­ic pol­lu­tion, includes weak envi­ron­men­tal stan­dards and an even weak­er enforce­ment mech­a­nism, sup­ports fos­sil fuels, and allows oil and gas cor­po­ra­tions to chal­lenge cli­mate and envi­ron­men­tal pro­tec­tions." The groups link to a two-page analy­sis pro­duced by the Sier­ra Club that goes into greater detail about what the group sees as the deal's envi­ron­men­tal shortcomings.
House Democ­rats, mean­while, have been tout­ing the envi­ron­men­tal pro­vi­sions nego­ti­at­ed in USM­CA, insist­ing they're both strong and the best they could have fea­si­bly achieved.
Accord­ing to the envi­ron­men­tal news orga­ni­za­tion E&E News, at a Politi­co event last week, House Speak­er Nan­cy Pelosi described the USM­CA as ​"sub­stan­tial­ly bet­ter" than NAF­TA and said ​"we are very pleased with the envi­ron­ment [pro­vi­sions]." While she con­ced­ed ​"we want more," she stressed, ​"but we don't have to do it all in that bill" and praised it for ​"talk[ing] about the envi­ron­ment in a very strong way."
Rep. Suzanne Bonam­i­ci (D‑Ore.), who co-led the House work­ing group focused on envi­ron­men­tal trade issues, told reporters at a press con­fer­ence last week that ​"this is going to be the best trade agree­ment for the envi­ron­ment" and cheered its mon­i­tor­ing and enforce­ment pro­vi­sions. Rep. Bonam­i­ci did not return In These Times​'s request for comment.

Back in May, every Demo­c­rat on the House Ways and Means Com­mit­tee, chaired by Rep. Richard Neal (D‑Mass.), sent a let­ter to Pres­i­dent Trump crit­i­ciz­ing the draft agree­ment for its lan­guage around the envi­ron­ment, includ­ing its lack of ​"any appar­ent pro­vi­sions direct­ed at mit­i­gat­ing the effects of cli­mate change." Now the Com­mit­tee is cham­pi­oning its work to shape the final text, say­ing the ​"revised ver­sion will serve as a mod­el for future U.S. trade agreements."
Hav­ing so many mem­bers of Con­gress sup­port this agree­ment is espe­cial­ly frus­trat­ing for cli­mate advo­cates because, in Sep­tem­ber, more than 110 House Democ­rats, includ­ing 18 full com­mit­tee chairs, sent a let­ter to the pres­i­dent urg­ing the new trade deal to ​"mean­ing­ful­ly address cli­mate change" and to ​"include bind­ing cli­mate stan­dards and be paired with a deci­sion for the Unit­ed States to remain in the Paris Cli­mate Agreement."
"While Democ­rats claim this deal improves on some envi­ron­men­tal pro­vi­sions, they have yet to explain how it mean­ing­ful­ly address­es cli­mate change," said Jake Schmidt, the man­ag­ing direc­tor for the Inter­na­tion­al Pro­gram at the Nat­ur­al Resources Defense Council.
Cli­mate advo­cates point to the grow­ing prob­lem of ​"out­sourced" pol­lu­tion—where wealth­i­er coun­tries like the Unit­ed States and Japan take cred­it for improv­ing their own domes­tic envi­ron­men­tal stan­dards, while then import­ing more goods from heavy-pol­lut­ing coun­tries. Crit­ics say the cur­rent draft of USM­CA does noth­ing mean­ing­ful to address this problem.
The trade agree­ment is being hailed for rolling back the Investor-State Dis­pute Set­tle­ment, con­tro­ver­sial pri­vate tri­bunals that have enabled cor­po­ra­tions to extract huge pay­ments for gov­ern­ment poli­cies that may infringe on their prof­its. But Ben Beachy, a trade expert with the Sier­ra Club, says the agree­ment includes a major loop­hole for Mex­i­co, where oil and gas com­pa­nies will still be able to sue in those pri­vate tribunals.
"The approach the NAF­TA 2.0 deal takes is rec­og­niz­ing there's a prob­lem but then allow­ing some of the worst offend­ers to per­pet­u­ate it," he told In These Times. ​"It's an unabashed hand­out to Exxon and Chevron: It's like say­ing we'll pro­tect the hen house by keep­ing all ani­mals out, except for foxes."
Beachy says the deal over­all ​"dra­mat­i­cal­ly under­cuts" the abil­i­ty of the U.S. to tack­le the cli­mate cri­sis. ​"By fail­ing to even men­tion cli­mate change, it'll help more cor­po­ra­tions move to Mex­i­co, and this is not a hypo­thet­i­cal con­cern," he said. ​"We can­not simul­ta­ne­ous­ly claim to fight cli­mate change on one hand and enact cli­mate-deny­ing trade deals on the oth­er. Do we real­ly want to lock our­selves into a trade deal for anoth­er 25 years that encour­ages cor­po­ra­tions to shift their pol­lu­tion from one coun­try to another?"
Karen Hansen-Kuhn, the pro­gram direc­tor at the Insti­tute for Agri­cul­ture and Trade Pol­i­cy, told In These Times the final agree­ment rep­re­sents an even worse sit­u­a­tion for farm­ers than under NAF­TA. ​"On food and farm issues it's def­i­nite­ly sev­er­al steps back," she said, point­ing as an exam­ple to how USM­CA will make it eas­i­er for com­pa­nies to lim­it the infor­ma­tion they pro­vide to con­sumers about health and nutrition.
Emi­ly Sam­sel, a spokesper­son with the League of Con­ser­va­tion Vot­ers (LCV), told In These Times that her orga­ni­za­tion informed mem­bers of Con­gress ​"that [they] are strong­ly con­sid­er­ing scor­ing their USM­CA vote when it comes to the House floor on LCV's Con­gres­sion­al score­card." LCV was one of the ten envi­ron­men­tal groups to sign the let­ter oppos­ing the trade deal last week.
USM­CA does include lan­guage requir­ing par­ties to adopt and imple­ment sev­en mul­ti­lat­er­al envi­ron­men­tal agree­ments, but the 2015 Paris Agree­ment is not among them. Get­ting the pres­i­dent to agree to putting any­thing about cli­mate change or the Paris Agree­ment was always going to be a tough sell, con­sid­er­ing Trump has promised to with­draw from the land­mark cli­mate pact. Still, envi­ron­men­tal advo­cates insist House Democ­rats have real lever­age that they should use more aggres­sive­ly, par­tic­u­lar­ly since get­ting the trade deal through Con­gress is Trump's top leg­isla­tive pri­or­i­ty for 2019.
Demo­c­ra­t­ic sup­port­ers of USM­CA say the exist­ing lan­guage is good enough for now, and that it will posi­tion the gov­ern­ment well for when Trump is out of office. A spokesper­son for Nan­cy Pelosi told The Wash­ing­ton Post that ​"the changes Democ­rats secured in USM­CA put us on a firm foot­ing for action when we have a Pres­i­dent who brings us back into the Paris accord." Ear­li­er this year 228 House Democ­rats vot­ed for a bill to keep the U.S. in the Paris Agreement.
U.S. labor groups have thus far remained most­ly silent on the con­cerns raised by envi­ron­men­tal organizations.

The Inter­na­tion­al Asso­ci­a­tion of Machin­ists and Aero­space Work­ers, which oppos­es the deal on labor grounds, did not return request for com­ment on the USMCA's envi­ron­men­tal pro­vi­sions. The Com­mu­ni­ca­tions Work­ers of Amer­i­ca released a state­ment on Fri­day say­ing the deal includes some ​"mod­est improve­ments" for work­ers over NAF­TA, but a spokesper­son for the union told In These Times, ​"We don't have any com­ment on the envi­ron­men­tal pro­vi­sions." The Blue­Green Alliance, a nation­al coali­tion which includes eight large labor unions and six influ­en­tial envi­ron­men­tal groups, has issued no state­ment on the trade deal, and did not return request for comment.
And the AFL-CIO issued a state­ment last week prais­ing the deal, though not­ed ​"it alone is not a solu­tion for out­sourc­ing, inequal­i­ty or cli­mate change." A spokesper­son for the labor fed­er­a­tion did not return request for comment.