Naomi Klein on Climate Chaos: "I Don't Think Baby Boomers Did This. I Think Capitalism Did."
The author and activist weighs in on the presidential race, youth movements and the Right's response to climate change.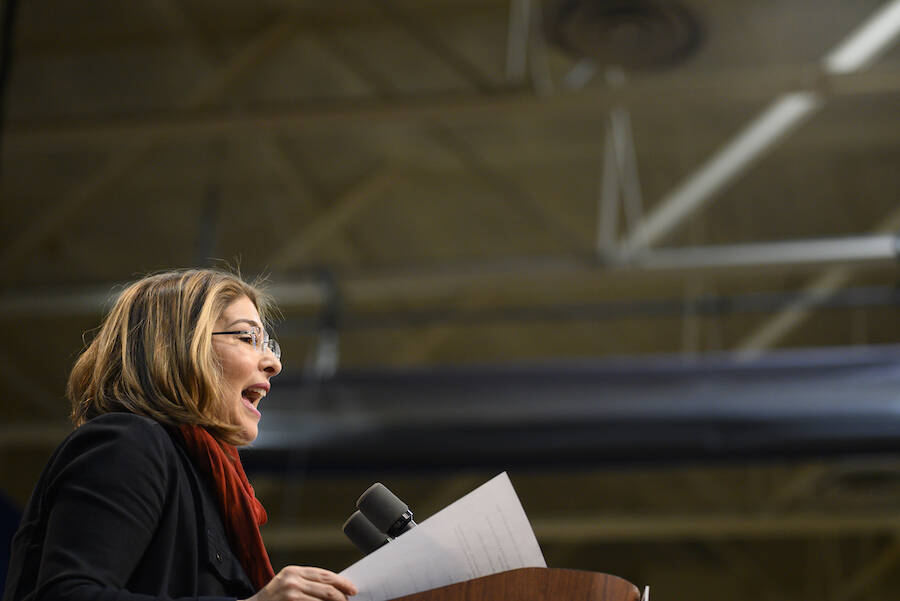 Niger­ian writer and activist Ken Saro-Wiwa helped lead a resis­tance move­ment against the ​"eco­log­i­cal geno­cide" car­ried out to facil­i­tate Shell's expan­sion into the Niger Delta dur­ing the 1990s. The Niger­ian gov­ern­ment, eager for oil prof­its, assist­ed Shell in remov­ing the only thing in their way: the Ogani peo­ple who were peace­ful­ly resist­ing encroach­ment on their native lands. The state's mil­i­tary was accused of behav­ing like a ​"pri­vate police force" for the oil giant, killing and tor­tur­ing thou­sands. On May 10, 1994, Saro-Wiwa pre­dict­ed, ​"They are going to arrest us all and exe­cute us. All for Shell." Twelve days lat­er he and eight oth­er indige­nous Ogo­ni activists were arrest­ed by the Niger­ian mil­i­tary; they were mur­dered the fol­low­ing year, 24 years ago this month.
I think that Bernie's Green New Deal plan is the best plan mainly because of the international scope of it.
Saro-Wiwa has appeared in three of Nao­mi Klein's books: First in No Logo: Tak­ing Aim at the Brand Bul­lies (1999), about the rise of cor­po­rate glob­al­iza­tion, Saro-Wiwa's sto­ry was told as an exam­ple of anti-cor­po­rate activism. Then, in This Changes Every­thing: Cap­i­tal­ism vs. the Cli­mate (2014), Klein showed how Saro-Wiwa's anti-cor­po­rate activism was also cli­mate activism.
In her newest book, On Fire: The (Burn­ing) Case for a Green New Deal (2019), she uses the case of Saro-Wiwa to demon­strate how ​"fos­sil fuel sac­ri­fice zones" span the globe — and makes the case that a Green New Deal is our best chance to build a world with­out sac­ri­fic­ing peo­ple and places and change course from reck­less fos­sil fuel expan­sion towards an eco­log­i­cal­ly just econ­o­my, one that doesn't pit jobs against the envi­ron­ment, or the Glob­al North against the Glob­al South.
Klein, an icon­ic jour­nal­ist and intel­lec­tu­al, has always advo­cat­ed for a world where Saro-Wiwa wouldn't have been mur­dered and his peo­ples' lands not destroyed by a multi­na­tion­al fos­sil fuel com­pa­ny. Her books pay close atten­tion to how cap­i­tal­ism oper­ates on a glob­al scale — one crit­ic called The Shock Doc­trine (2007), which details how the Right exploit dis­as­ters to advance dereg­u­la­tion and pri­va­ti­za­tion, a ​"mas­ter nar­ra­tive of our time." I spoke with Klein via tele­phone about her new book, which is the lat­est install­ment in this larg­er sto­ry. Our con­ver­sa­tion fol­lowed the rise of cli­mate bar­barism and eco-fas­cism, as well as the nar­row path for­ward for the Left to win glob­al jus­tice and a Green New Deal.
In many ways the Green New Deal is a course cor­rec­tive both eco­nom­i­cal­ly and envi­ron­men­tal­ly to the sta­tus quo of the last 40 years. How so?
When I was writ­ing The Shock Doc­trine, I was in New Orleans after Hur­ri­cane Kat­ri­na and watch­ing the way our cur­rent eco­nom­ic sys­tem actu­al­ly responds to the shock of the kind we are going to see more of in a warm­ing world. What I was writ­ing about then was the infra­struc­ture of dis­as­ter cap­i­tal­ism descend­ing onto this still-flood­ed city — the pri­va­ti­za­tion of the school sys­tem, of the hos­pi­tals, of pub­lic hous­ing, and real­iz­ing that there wasn't a counter response really.
Dur­ing that time, I researched why [econ­o­mist] Mil­ton Fried­man and oth­ers were so obsessed with the need to have a strat­e­gy for dif­fer­ent kinds of cri­sis, what became clear was that they believed that every­thing had gone wrong dur­ing the New Deal. That the great crash of 1929 had been used to push this rad­i­cal agen­da. They actu­al­ly under­stood that when cap­i­tal­ism pro­duces these crises, it's much more organ­ic for soci­eties to move to the left than it is for them to move to the right. You have to work real­ly hard to get them to move to the right. So it's fit­ting in a way that we're talk­ing about a Green New Deal because it brings this full circle.
I some­times quote my friend Saket Soni, a labor orga­niz­er, who said: ​"They have dis­as­ter cap­i­tal­ism, we need dis­as­ter col­lec­tivism." In oth­er words, what is our plan for how we want to trans­form soci­ety in the con­text of the sys­tem fail­ures that are being pro­duced? You know, I see the sort of inter­sec­tion­al vision in a Green New Deal as that kind of counter shock. I've been involved in oth­er projects like it, like the Leap Man­i­festo in Cana­da [which artic­u­lates a move­ment-backed trans­for­ma­tion of soci­ety], and this has been a grad­ual process on the Left of real­iz­ing that we real­ly need to have a vision for what­ev­er the cri­sis is. We need­ed it in Greece, we need­ed it after the 2008 melt­down, and we need­ed it in Egypt. Too often there have been these sys­tem crises and real­ly regres­sive forces have their ​"shock doc­trine" plan and the Left doesn't have a demo­c­ra­t­ic coun­ter­part. And I think the sig­nif­i­cance of the Green New Deal is that for the first time the Left does have a plan.
As you men­tion in the book's intro­duc­tion, cap­i­tal­ism is adapt­ing to the cli­mate emer­gency. Instead of a Green New Deal, what is actu­al­ly being offered is eco­fas­cism and cli­mate bar­barism. What's the dif­fer­ence between these two terms?
What I'm call­ing cli­mate bar­barism is de fac­to what is hap­pen­ing at the bor­ders. Politi­cians know [cli­mate change is] real whether or not they deny it. Just recent­ly we have new evi­dence that the Trump admin­is­tra­tion has known very well that the mass migra­tion that's hap­pen­ing from Cen­tral Amer­i­ca is inti­mate­ly linked to drought-relat­ed cli­mate disruption.
And their response was to cut hun­dreds of mil­lions of dol­lars of aid to Cen­tral Amer­i­ca and expand the infra­struc­ture of incar­cer­a­tion, fam­i­ly sep­a­ra­tion and the mil­i­ta­riza­tion of the bor­der. [Eds. note: After this inter­view took place, Trump restored some ​"law enforce­ment and secu­ri­ty" aid to Hon­duras, El Sal­vador and Guatemala. In return, the coun­tries agreed to help deter migrants from seek­ing asy­lum in the Unit­ed States.] They have used the specter of the invad­ing ​"oth­er" as a uni­fy­ing force for their polit­i­cal project. This is a form of cli­mate change adap­ta­tion that we're see­ing with these bar­bar­ic prac­tices, such as the con­struc­tion of con­cen­tra­tion camps, whether they're in Texas, in Libya, or off the shore of Aus­tralia in places like Nau­ru or Manus; this has been the sto­ry of the decade.
Eco­fas­cism is more of an artic­u­lat­ed ide­ol­o­gy that we're start­ing to hear. A sec­tor of the far Right is no longer deny­ing cli­mate change and is using the real­i­ty that we are enter­ing a peri­od where more and more peo­ple are going to be on the move as a ratio­nale for extreme vio­lence. We saw that in Christchurch, New Zealand, the per­son who killed more than 50 peo­ple at those two mosques specif­i­cal­ly call­ing him­self an ​"eth­no-nation­al­ist, eco-fas­cist" and say­ing that in the con­text of eco­log­i­cal break­down you can't have migra­tion to pre­dom­i­nant­ly white countries.
So what can the Left demand in response to cli­mate bar­barism and eco­fas­cism? Open bor­ders? Glob­al reparations?
Even under that best case sce­nario, there's going to be many mil­lions of peo­ple on the move. There's a core jus­tice ques­tion here about what the big his­tor­i­cal emit­ters like the Unit­ed States, Cana­da, the Euro­pean Union and Aus­tralia — [the ques­tion of] what we owe, what are our debts? Some of our debts are finan­cial. And here, Bernie Sanders is the only can­di­date tak­ing this seri­ous­ly. Even if he isn't using the lan­guage of debt, he is using the lan­guage of jus­tice and he's talk­ing about putting $200 bil­lion into the UN cli­mate fund which is real­ly a trans­for­ma­tive amount. The Oba­ma admin­is­tra­tion com­mit­ted 3 bil­lion and I don't think they ever paid it up [Eds. note: Oba­ma ful­filled $1 bil­lion of this pledge, and the remain­ing $2 bil­lion was can­celled by Trump], so its a huge shift. And it's mon­ey with­out strings attached, which is very sig­nif­i­cant because part of what we hear from some of the oth­er can­di­dates is, ​"We're gonna help oth­er coun­tries green their economies by sell­ing them cheap made-in-Amer­i­ca solar pan­els." That's actu­al­ly eco­nom­ic impe­ri­al­ism that locks in rela­tion­ships of depen­den­cy, which doesn't offer real eco­nom­ic oppor­tu­ni­ty, and it's more of the same, in terms of unequal eco­nom­ic rela­tion­ships. So, I think part of what we owe is finan­cial, which means no strings attached financ­ing for com­mu­ni­ties — and I say com­mu­ni­ties because in some cas­es it does need to bypass nation­al gov­ern­ments — to leapfrog direct­ly to clean ener­gy, to keep car­bon in the ground and leave forests intact.
But we also owe asy­lum. Peo­ple are gonna be dis­placed through no fault of their own, and they have a right to move, they have a right to safe­ty, and most peo­ple do not want to move from their home­lands if they have a choice. There is no such thing as a cli­mate refugee under inter­na­tion­al law, and that needs to change.
A lot has changed since you've been fol­low­ing the Left. Today, the Left seems to have both social move­ment savvy and also elec­toral ambi­tion. What's your assess­ment of what you've learned since your days in the Glob­al Jus­tice move­ment of the 1990s?
I think the biggest shift is just gen­er­a­tional­ly, peo­ple are not afraid to get their hands dirty with elec­toral pol­i­tics. But they simul­ta­ne­ous­ly con­tin­ue to under­stand the impor­tance of inde­pen­dent social move­ments. I think there's just more peo­ple involved, so there's more capac­i­ty to do a few things at once: build inde­pen­dent social move­ments, have an elec­toral strat­e­gy, have a direct con­fronta­tion­al strat­e­gy with elect­ed offi­cials and devel­op pol­i­cy alter­na­tives, which is what the Green New Deal is. And to me, that last part is the most impor­tant because I think this is the first time where I think if there was a break­through polit­i­cal moment, like an Occu­py moment, or an Arab Spring moment, or like a move­ment of the Squares in Europe, that we would be very clear about what the alter­na­tive poli­cies are that we want to fight for.
I think the cli­mate move­ment needs to do more on migrant rights, needs to do more on mass incar­cer­a­tion, more on mil­i­tarism and war and con­nect­ing these strug­gles. But I think we're in as good a place as we've ever been in terms of hav­ing the poten­tial to weave togeth­er a tru­ly holis­tic agen­da of the next econ­o­my built on dif­fer­ent val­ues. We also have a kind of ide­o­log­i­cal infra­struc­ture through the Demo­c­ra­t­ic Social­ists of Amer­i­ca and oth­ers, where the whole sort of issue-based silo approach is being reject­ed and peo­ple are not afraid to talk about an ide­o­log­i­cal project, which is anoth­er huge shift. So, if there is that kind of an open­ing, which I believe there will be very soon, we won't find our­selves in that real­ly quite trag­ic sit­u­a­tion of hav­ing opened up polit­i­cal space and not know­ing what to fill it with. Which then leaves us open to oppor­tunists on the Right to come in and fill that vacuum.
Look­ing toward 2020, do the Demo­c­ra­t­ic can­di­dates go far enough on cli­mate and the Green New Deal?
I think there's a range. And I think that I still feel a lit­tle bit like it's not inte­grat­ed enough into anyone's stump speech to be hon­est. I think that Bernie's Green New Deal plan is the best plan main­ly because of what I said around the inter­na­tion­al scope of it. I feel real­ly pas­sion­ate­ly that there's no such thing as a nation­al Green New Deal. This is an inter­na­tion­al, glob­al cri­sis, right?
And there's real­ly strong ele­ments to Warren's plan. She took a lot from Jay Inslee, which was a great plan, but I real­ly object to the nation­al­ism of it [War­ren calls her approach ​"eco­nom­ic patri­o­tism"]. I agree with Yanis Varo­ufakis, we're not going to beat the Right on the ter­rain of nation­al­ism. They have it cor­nered and I also think it's moral­ly rep­re­hen­si­ble in the con­text of an inter­na­tion­al cri­sis that the Unit­ed States is his­tor­i­cal­ly the biggest con­trib­u­tor to. So that's why I back Bernie's plan.
I think we're still a lit­tle bit trapped in this sort of a check­list approach instead of a coher­ent, holis­tic vision. I think that it has real­ly helped that a cou­ple of the net­works have giv­en the can­di­dates pro­longed space to talk about their cli­mate plat­forms and that is start­ing to improve. I think all of the can­di­dates could do a bet­ter job get­ting that the GND is a frame, it's not one item on the checklist.
Teenagers are ris­ing up and many are act­ing from a place of, ​"The grown-ups won't act, so we will." Still, being a teenag­er is hard, kids pick on each oth­er and there's a lot of pres­sure; it isn't easy to orga­nize. Many of them car­ry the twin bur­dens of being a teenag­er and sav­ing the world. What advice do you have for that generation?
[laughs] I think they know that it's an unfair bur­den. And I think the main thing is just that they try to take care of each oth­er and be kind, and orga­nize in a way that leaves room and space for the emo­tion­al spec­trum of this work. I think they have to leave room for their own grief and for their own feel­ings of hope­less­ness. They don't have to be dri­ving all the time. Nobody can be in that state all the time. I find it so inspir­ing when we see these lit­tle moments where these young activists are stand­ing up for each oth­er and pro­tect­ing each oth­er. I think that's why that adorable viral video of a young boy pro­tect­ing Gre­ta [Thun­berg] and friends from the cam­eras was so sweet.
I think it's impor­tant also to build an inter­gen­er­a­tional move­ment. Young peo­ple are lead­ing the strike move­ment, but I wor­ry a lit­tle bit about the fram­ing of this as gen­er­a­tional war­fare because I think it's very depoliti­ciz­ing. I don't think Baby Boomers did this. I think cap­i­tal­ism did, and there's some­thing both depoliti­ciz­ing and iso­lat­ing about the gen­er­a­tional frame. There are peo­ple in every gen­er­a­tion who tried so hard to stop this from hap­pen­ing, who raised the alarm, and peo­ple who died in the strug­gle. I think move­ments that are just of young peo­ple tend to be short lived. On the oth­er hand, indige­nous move­ments, and many oth­er move­ments that have been fight­ing for hun­dreds of years, have a role for every gen­er­a­tion to play, and that's part of how we pro­tect these young peo­ple with so much courage.
Will Mey­er
is a writer, musi­cian and co-edi­tor of The Shoe­string, a local pub­li­ca­tion in west­ern Massachusetts.