The First-Ever National Domestic Workers Bill of Rights Was Just Unveiled—And It's a Game Changer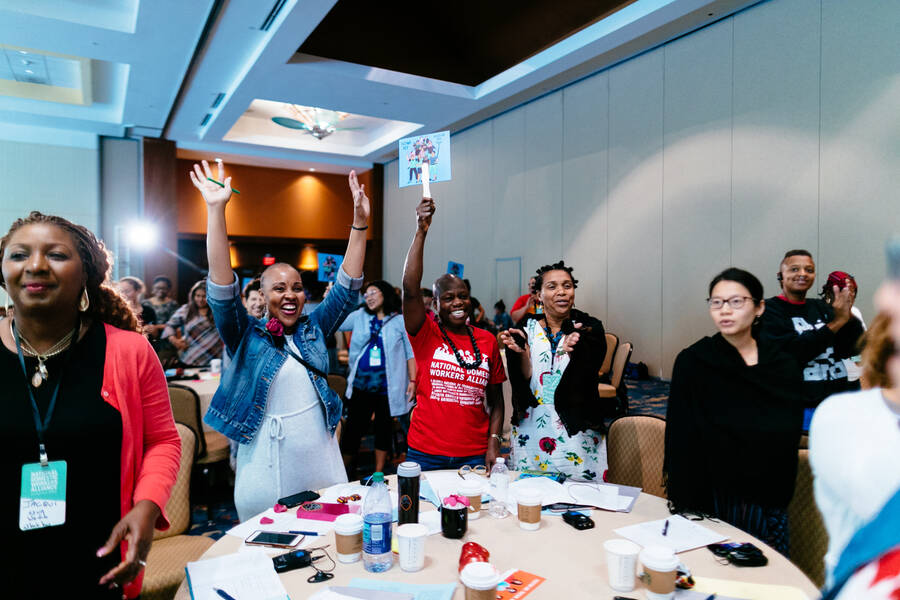 When Rosa San­luis arrived in the Unit­ed States, she earned $60 per week for a seem­ing­ly end­less set of house­hold tasks, work­ing for a fam­i­ly in Texas. She worked from 5 a.m. until late at night, some­times 3 a.m. on week­ends, when her employ­ers would go out and leave her to babysit. Like most domes­tic work­ers, San­luis didn't receive a writ­ten con­tract, unin­ter­rupt­ed breaks, sick leave, or over­time pay — because she wasn't enti­tled to them under law.
Today, the Nation­al Domes­tic Work­ers Alliance (NDWA) announced a Nation­al Domes­tic Work­ers Bill of Rights to raise wages and labor con­di­tions for work­ers like San­luis. The leg­is­la­tion is expect­ed to be intro­duced when the new Con­gress con­venes next year.
"It is time — and past time — to ful­ly cor­rect the his­tor­i­cal injus­tice that left a work­force large­ly made up of women of col­or shut out of the pro­tec­tions of core labor stan­dards," Rebec­ca Smith, Work Struc­tures Direc­tor of the Nation­al Employ­ment Law Project, tells In These Times.
Co-spon­sored by Rep. Prami­la Jaya­pal (D‑WA) and Sen. Kamala Har­ris (D‑CA), the leg­is­la­tion draws on the rec­om­men­da­tions of domes­tic work­er lead­ers as well as sim­i­lar bills of rights for domes­tic work­ers that have been passed in eight states and in Seat­tle. ​"Domes­tic work­ers are shap­ing the future of our econ­o­my," Jaya­pal tells In These Times in a state­ment. ​"Their strength, courage and pow­er inspires us all as we fight togeth­er for work­place democracy."
The leg­is­la­tion would include domes­tic work­ers in Civ­il Rights and Occu­pa­tion­al Health and Safe­ty Act pro­tec­tions, and require fair sched­ul­ing, meal and rest breaks, writ­ten con­tracts and pro­tec­tion from retal­i­a­tion. It would also increase access to retire­ment ben­e­fits, paid sick leave, health­care and train­ing pro­grams. Addi­tion­al­ly, the bill seeks to facil­i­tate col­lec­tive bar­gain­ing by domes­tic work­ers and would estab­lish a fed­er­al task force on domes­tic work­ers' rights.
The bill offers spe­cial pro­tec­tions to live-in domes­tic work­ers, who were pre­vi­ous­ly inel­i­gi­ble for over­time pay. These work­ers are espe­cial­ly like­ly to work long hours with­out breaks, and to report that their employ­ers expect them to be con­stant­ly on call, even dur­ing sched­uled time off.
"Absolute­ly [over­time pay] would have changed my life," San­luis says through an inter­preter. ​"When you're earn­ing so lit­tle, your access to things is com­plete­ly lim­it­ed." The bill would also guar­an­tee live-in work­ers' right to pri­va­cy and ade­quate notice in case of ter­mi­na­tion – a pro­tec­tion that's espe­cial­ly impor­tant when los­ing a work­place also means los­ing a home.
Work­ing in pri­vate homes, and large­ly exclud­ed from Civ­il Rights Act sex­u­al harass­ment pro­tec­tions, domes­tic work­ers are espe­cial­ly vul­ner­a­ble to sex­u­al abuse. In the wake of the #MeToo move­ment, these work­ers are demand­ing sub­stan­tive work­place pro­tec­tions in the form of access to ​"pan­ic but­tons" — devices required by law in some cities that can be acti­vat­ed in case of sex­u­al harass­ment or threats — along with research into fed­er­al poli­cies to sup­port domes­tic work­er survivors.
Sil­via Reyes, a nan­ny in New York who described being sex­u­al­ly harassed by her for­mer employ­er, says, ​"It's not fair to feel inse­cure in your work, and to feel scared and feel alert all the time. It's a hor­ri­ble thing to have hap­pen to you every sin­gle day, the whole day."
The bill comes at a piv­otal time for domes­tic work­ers and those who rely upon them. Women, tra­di­tion­al­ly the care­tak­ers of chil­dren and the elder­ly, have entered the work­force in unprece­dent­ed num­bers. And the Amer­i­can pop­u­la­tion is aging rapid­ly: Every eight sec­onds, a baby boomer turns 65. Women, includ­ing women with chil­dren, have entered the work­force in unprece­dent­ed num­bers. ​"As peo­ple live longer, we have the oppor­tu­ni­ty to embrace an inter­gen­er­a­tional future in Amer­i­ca, where all of us are cared for at each stage of our lives," says NDWA Exec­u­tive Direc­tor Ai-jen Poo in an emailed statement.
"Qual­i­ty care and work­ers' rights are inex­tri­ca­bly linked," says Nik Theodore, a Uni­ver­si­ty of Illi­nois at Chica­go pro­fes­sor of urban plan­ning and pol­i­cy. When work­ers have eco­nom­ic secu­ri­ty, he explains, they're able to pro­vide high­er-qual­i­ty care.
In response to the demand for their ser­vices, the num­ber of domes­tic work­ers is grow­ing. By 2030, care­giv­ing is pre­dict­ed to rep­re­sent the largest seg­ment of America's work­force. And domes­tic work­ers are ​"some of the most vul­ner­a­ble work­ers," says Barnard Col­lege his­to­ry pro­fes­sor Pre­mil­la Nadasen. Nine­ty-five per­cent are women and more than half are women of col­or. An esti­mat­ed 45 per­cent are immi­grants, accord­ing to the Pew Research Cen­ter, both doc­u­ment­ed and undocumented.
Like many work­ers who are employed in what's con­sid­ered ​"women's work," domes­tic labor­ers are chron­i­cal­ly under­paid. Accord­ing to a 2017 report from the NDWA, less than half of domes­tic work­ers are paid enough to ade­quate­ly sup­port a fam­i­ly, and 20 per­cent report that, in the last month, there have been times when they had been unable to afford food.
When the Fair Labor Stan­dards Act and the Nation­al Labor Rela­tions Act were enact­ed in the 1930s, both exclud­ed domes­tic work­ers, leav­ing them with­out the min­i­mum wage, over­time, and col­lec­tive bar­gain­ing pro­tec­tions offered to oth­er workers.
"South­ern con­gress­men were fear­ful that grant­i­ng black work­ers labor rights would dis­rupt the racial order of the South," Nadasen says. ​"And North­ern labor lead­ers rep­re­sent­ing indus­tri­al unions also nev­er saw domes­tic work­ers as part of their con­stituen­cy and did not advo­cate for their rights."
In 1974, domes­tic work­ers final­ly won the fed­er­al min­i­mum wage and oth­er pro­tec­tions, but those pro­tec­tions still weren't extend­ed to casu­al work­ers like babysit­ters, or com­pan­ions to the elder­ly. As Lizzy Rat­ner wrote in The Nation in 2009:
Because most domes­tic work­ers labor in envi­ron­ments with few­er than fif­teen employ­ees, they are also exclud­ed from such key civ­il rights leg­is­la­tion as the Amer­i­cans with Dis­abil­i­ties Act, the Age Dis­crim­i­na­tion in Employ­ment Act and Title VII, which bars most kinds of employ­ment dis­crim­i­na­tion. Add to this the dif­fi­cul­ty of enforc­ing even the few pro­tec­tions that do exist — par­tic­u­lar­ly for undoc­u­ment­ed work­ers — and for many domes­tic work­ers it's still 1934.
"We see the gaps that still exist," says the NDWA's Marzena Zukows­ka. ​"There are [domes­tic] work­ers who live in states that aren't friend­ly to work­ers' rights or immi­grants' rights," like Texas, which has the third high­est num­ber of domes­tic work­ers in the coun­try, about half of whom are undoc­u­ment­ed or lack­ing work autho­riza­tion. ​"For the first time in his­to­ry, we have a chance to raise the bar for every domes­tic work­er in our coun­try," says Poo.
For San­luis — now an orga­niz­er with the Fuerza del Valle Work­ers Cen­ter — the suc­cess of pri­or bills is proof that fed­er­al leg­is­la­tion is achiev­able too. ​"Take a look at the bill, ana­lyze it, be con­scious of the fact that we are also human beings, and we deserve the same basic rights and pro­tec­tions as work­ers in oth­er industries."