How Trailblazing Labor Organizer Dorothy Bolden Taught Me to Fight for My Fellow Domestic Workers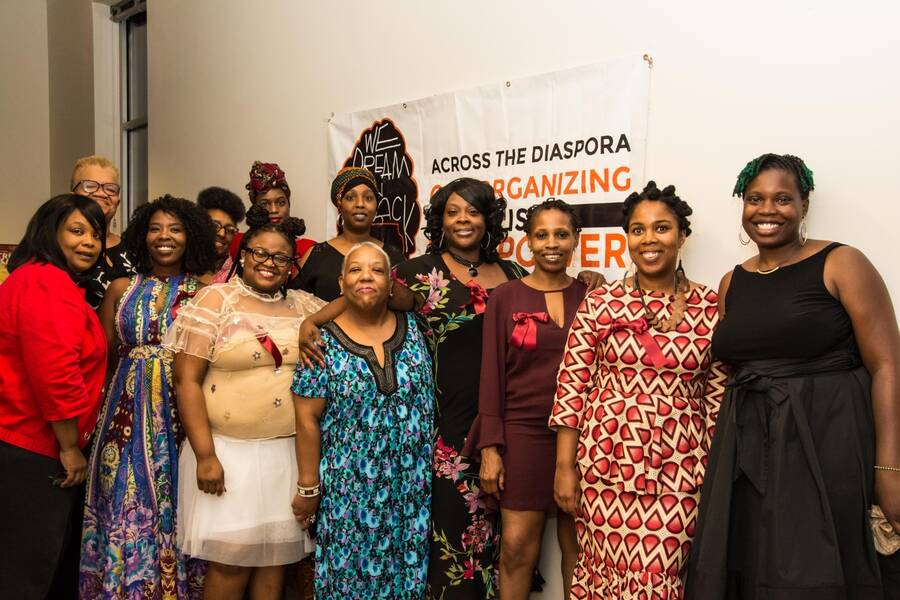 On Friday, October 13, my hometown of Atlanta celebrated the city's second annual Domestic Workers Day. I was part of the historic celebration, standing side by side with 100 nannies, house cleaners and other care workers to recognize the work that makes all other work possible.
The celebration honored Dorothy Bolden, a visionary labor and civil rights leader whose work in the 1960s inspired our own fight for better wages and working conditions. Yet even in 2017, almost 50 years after Dorothy Bolden founded the National Domestic Workers Union of America, her vision for fair work and fair wages is far from complete.
I have been a childcare worker for nearly 20 years, and while the job has had its ups and downs, it's a profession I've brought passion to. I grew up as the only girl in a family of four boys, and from a young age I was drawn to care work. Once my brothers had kids of their own, I found myself taking care of my nieces and nephews on the weekends. I used to love watching them messily eat the spaghetti I'd cook for them. Their eyes would light up when I walked into the room: ​"Ms. Jackie is here!" I knew from then on that I wanted to work with children.
For four years, I worked at a daycare, but when my son was born, I decided to work with individual families so I could bring my son to work. Over the years, I've supported many families, caring for kids as young as three months up to six years old. Even though I've had many good clients who have paid well, I've still found myself working long hours. Sometimes clients come home from work two hours late without letting me know. It's felt as though they had forgotten that I have a family too. I've missed my son's football and basketball games, and have had to rely on my mother to take care of him when he's sick. This has been the norm in my industry.
Fifteen years into my career, I was approached by an organizer from the National Domestic Workers Alliance (NDWA) at a local park. The organizer shared information with me and other nannies about our rights at work, and asked if we were satisfied with our pay and working conditions. What I heard shocked me. Almost all of the women were severely overworked and underpaid. Some were working 50 hours per week and making $9 per hour with no overtime. Most did not have contracts in place to protect them. Others regularly experienced racism or other forms of abuse.
One woman who spoke at the park that day cried as she described her experiences working as a nanny. She explained that one weekend, one of the kids she was taking care of got sick and threw up. But instead of cleaning it up, the family waited for the nanny to arrive early Monday morning and made her to do it. Meanwhile, she was getting paid for 40 hours per week, but was working 50. Her days were isolated. She wasn't allowed to call her family or watch TV to take a break. The job had such a bad toll on her health that she couldn't sleep knowing she had to work the next day.
Stories like these move me to action. They move me to organizing, and to help realize the dreams of women like Dorothy Bolden. I want to show other domestic workers that this work can be good work, offering paid sick days, time off, a living wage and respect on the job.
But organizing isn't just about workers knowing their rights and how to negotiate with employers. It's also about coming together to break the cycle of isolation. Being around a group of other powerful care workers helps people believe that change can happen.
This is the lesson taught to us by Dorothy Bolden. She built an organization of 13,000 domestic workers across 10 cities. Her work helped increase wages in Atlanta while winning workers' compensation and social security rights for all domestic workers.
The work of the NDWA, just like Bolden's, has also been about changing culture. Domestic workers aren't just workers. We're women of color, immigrants, mothers, daughters and leaders. We're organizing for health care, immigration reform and fair pay for all working people. Some employers, especially in the South, still see us as ​"the help." Yet, as our country's population ages and more families stay in the workforce, the demand for our work will only continue to grow. Our work deserves dignity, respect and recognition.
Domestic Workers Day is a step toward this recognition. After three years of lobbying by the Atlanta Chapter of the NDWA, in 2016 the city issued an official proclamation that October 13 — the day of Dorothy Bolden's birthday and NDWA's five-year anniversary — would commemorate domestic workers. We are honored that other cities are beginning to recognize Bolden's legacy: 2017 marks the first year that Raleigh-Durham, N.C. has honored Bolden's birthday with their own Domestic Workers Day.
Our fight is far from over. In Georgia, domestic workers remain excluded from the meager minimum wage of $7.25 per hour. At NDWA, we hear story after story of domestic and care workers who are underpaid, abused on the job, and fear being separated from their families because of the Trump administration's anti-immigrant agenda.
As a domestic worker, I'm dedicated to this fight. Our dreams are big and bold, just like Bolden's. We honor her by growing our movement and living out her legacy.
Jacquelyn Arnold
is childcare provider and one of the longest standing members of the National Domestic Workers Alliance, Atlanta Chapter.