How Trailblazing Labor Organizer Dorothy Bolden Taught Me to Fight for My Fellow Domestic Workers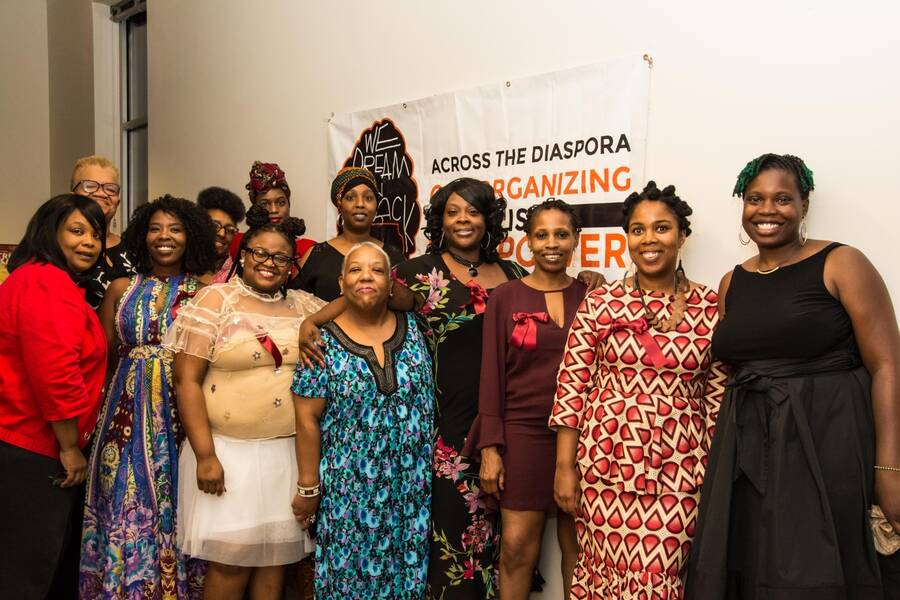 On Fri­day, Octo­ber 13, my home­town of Atlanta cel­e­brat­ed the city's sec­ond annu­al Domes­tic Work­ers Day. I was part of the his­toric cel­e­bra­tion, stand­ing side by side with 100 nan­nies, house clean­ers and oth­er care work­ers to rec­og­nize the work that makes all oth­er work possible.
The cel­e­bra­tion hon­ored Dorothy Bold­en, a vision­ary labor and civ­il rights leader whose work in the 1960s inspired our own fight for bet­ter wages and work­ing con­di­tions. Yet even in 2017, almost 50 years after Dorothy Bold­en found­ed the Nation­al Domes­tic Work­ers Union of Amer­i­ca, her vision for fair work and fair wages is far from complete.
I have been a child­care work­er for near­ly 20 years, and while the job has had its ups and downs, it's a pro­fes­sion I've brought pas­sion to. I grew up as the only girl in a fam­i­ly of four boys, and from a young age I was drawn to care work. Once my broth­ers had kids of their own, I found myself tak­ing care of my nieces and nephews on the week­ends. I used to love watch­ing them mess­i­ly eat the spaghet­ti I'd cook for them. Their eyes would light up when I walked into the room: ​"Ms. Jack­ie is here!" I knew from then on that I want­ed to work with children.
For four years, I worked at a day­care, but when my son was born, I decid­ed to work with indi­vid­ual fam­i­lies so I could bring my son to work. Over the years, I've sup­port­ed many fam­i­lies, car­ing for kids as young as three months up to six years old. Even though I've had many good clients who have paid well, I've still found myself work­ing long hours. Some­times clients come home from work two hours late with­out let­ting me know. It's felt as though they had for­got­ten that I have a fam­i­ly too. I've missed my son's foot­ball and bas­ket­ball games, and have had to rely on my moth­er to take care of him when he's sick. This has been the norm in my industry.
Fif­teen years into my career, I was approached by an orga­niz­er from the Nation­al Domes­tic Work­ers Alliance (NDWA) at a local park. The orga­niz­er shared infor­ma­tion with me and oth­er nan­nies about our rights at work, and asked if we were sat­is­fied with our pay and work­ing con­di­tions. What I heard shocked me. Almost all of the women were severe­ly over­worked and under­paid. Some were work­ing 50 hours per week and mak­ing $9 per hour with no over­time. Most did not have con­tracts in place to pro­tect them. Oth­ers reg­u­lar­ly expe­ri­enced racism or oth­er forms of abuse.
One woman who spoke at the park that day cried as she described her expe­ri­ences work­ing as a nan­ny. She explained that one week­end, one of the kids she was tak­ing care of got sick and threw up. But instead of clean­ing it up, the fam­i­ly wait­ed for the nan­ny to arrive ear­ly Mon­day morn­ing and made her to do it. Mean­while, she was get­ting paid for 40 hours per week, but was work­ing 50. Her days were iso­lat­ed. She wasn't allowed to call her fam­i­ly or watch TV to take a break. The job had such a bad toll on her health that she couldn't sleep know­ing she had to work the next day.
Sto­ries like these move me to action. They move me to orga­niz­ing, and to help real­ize the dreams of women like Dorothy Bold­en. I want to show oth­er domes­tic work­ers that this work can be good work, offer­ing paid sick days, time off, a liv­ing wage and respect on the job.
But orga­niz­ing isn't just about work­ers know­ing their rights and how to nego­ti­ate with employ­ers. It's also about com­ing togeth­er to break the cycle of iso­la­tion. Being around a group of oth­er pow­er­ful care work­ers helps peo­ple believe that change can happen.
This is the les­son taught to us by Dorothy Bold­en. She built an orga­ni­za­tion of 13,000 domes­tic work­ers across 10 cities. Her work helped increase wages in Atlanta while win­ning work­ers' com­pen­sa­tion and social secu­ri­ty rights for all domes­tic workers.
The work of the NDWA, just like Bolden's, has also been about chang­ing cul­ture. Domes­tic work­ers aren't just work­ers. We're women of col­or, immi­grants, moth­ers, daugh­ters and lead­ers. We're orga­niz­ing for health care, immi­gra­tion reform and fair pay for all work­ing peo­ple. Some employ­ers, espe­cial­ly in the South, still see us as ​"the help." Yet, as our country's pop­u­la­tion ages and more fam­i­lies stay in the work­force, the demand for our work will only con­tin­ue to grow. Our work deserves dig­ni­ty, respect and recognition.
Domes­tic Work­ers Day is a step toward this recog­ni­tion. After three years of lob­by­ing by the Atlanta Chap­ter of the NDWA, in 2016 the city issued an offi­cial procla­ma­tion that Octo­ber 13 — the day of Dorothy Bolden's birth­day and NDWA's five-year anniver­sary — would com­mem­o­rate domes­tic work­ers. We are hon­ored that oth­er cities are begin­ning to rec­og­nize Bolden's lega­cy: 2017 marks the first year that Raleigh-Durham, N.C. has hon­ored Bolden's birth­day with their own Domes­tic Work­ers Day.
Our fight is far from over. In Geor­gia, domes­tic work­ers remain exclud­ed from the mea­ger min­i­mum wage of $7.25 per hour. At NDWA, we hear sto­ry after sto­ry of domes­tic and care work­ers who are under­paid, abused on the job, and fear being sep­a­rat­ed from their fam­i­lies because of the Trump administration's anti-immi­grant agenda.
As a domes­tic work­er, I'm ded­i­cat­ed to this fight. Our dreams are big and bold, just like Bolden's. We hon­or her by grow­ing our move­ment and liv­ing out her legacy.
Jacque­lyn Arnold
is child­care provider and one of the longest stand­ing mem­bers of the Nation­al Domes­tic Work­ers Alliance, Atlanta Chapter.