Nationalize the Fossil Fuel Industry
For a big problem, we need big solutions.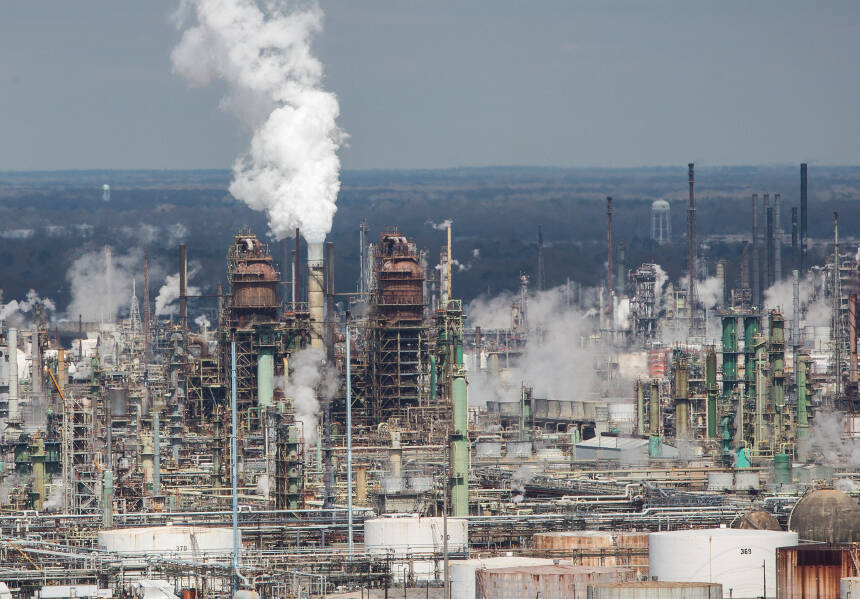 We are sit­ting on a time bomb: more than 500 giga­tons of car­bon diox­ide in the Unit­ed States com­plete­ly under the con­trol of unac­count­able fos­sil fuel cor­po­ra­tions. These com­pa­nies have so many incen­tives to turn their reserves into prof­itable returns on invest­ment — are we real­ly ready to stake our col­lec­tive future on the hope that these com­pa­nies go green in time to avert cli­mate cat­a­stro­phe? As the Trump admin­is­tra­tion con­tin­ues to run down the car­bon clock as quick­ly and as irre­spon­si­bly as it can, the time has come to pro­mote solu­tions that can deal with this mas­sive pri­vate con­trol of fos­sil fuel reserves. A future gov­ern­ment may have no choice but to de-pri­va­tize con­trol of these reserves, which would detach them from sin­gle-mind­ed prof­it inter­ests and take fos­sil fuel com­pa­nies, pow­er­ful forces of cli­mate oppo­si­tion, out of the equa­tion as we gen­uine­ly fig­ure out the rest of the green transition.
We need systemic solutions that address this dynamic of profit and control head-on and rapidly phase out fossil fuel production.
The 2017 Atlantic Hur­ri­cane sea­son kicked-off with a series of record-break­ing storms hit­ting the Unit­ed States, leav­ing behind scenes of com­plete destruc­tion in large areas of Texas, Flori­da, Puer­to Rico and the Vir­gin Islands. It has been scary to see cli­mate sci­en­tists' pre­dic­tions unfold before our eyes, and real­ize that this is our new ​"nor­mal." But the lack of debate around real solu­tions to mit­i­gate fur­ther cli­mate impacts is even scari­er — as we've seen this week at the UN cli­mate con­fer­ence in Bonn, Ger­many, where the Unit­ed States attempt­ed to pro­mote fos­sil fuels as the ​"answer" to the cli­mate prob­lem, an ini­tia­tive that for­mer New York may­or Michael Bloomberg has com­pared to ​"pro­mot­ing tobac­co at a can­cer sum­mit." This sea­son made crys­tal clear we need a game-chang­ing solu­tion to ensure that fos­sil fuels remain unburned and in the ground.
Many efforts have been pur­sued over the years seek­ing to decrease fos­sil fuel extrac­tion and pro­duc­tion. On one side are ini­tia­tives aimed at reduc­ing demand for fos­sil fuels: increas­ing the demand for renew­ables, improv­ing effi­cien­cy, adopt­ing a car­bon price, or ban­ning future pro­duc­tion and sale of gas-pow­ered cars, as Chi­na, Britain and France have recent­ly done. Oth­ers have worked on the sup­ply side, work­ing with pri­vate landown­ers to lock out extrac­tion, or push­ing the gov­ern­ment to increase reg­u­la­tion and to end leas­ing of reserves on fed­er­al lands. In the final years of his pres­i­den­cy, Barack Oba­ma made advances on some of these fronts — efforts that were soon reversed by Don­ald Trump's administration.
But even if these efforts were suc­cess­ful, they would still be too lit­tle, too late, as they fail to deal with the ele­phant in the room: who real­ly con­trols the major­i­ty of U.S. fos­sil fuel reserves. Although fed­er­al lands pro­duced almost 376 mil­lion tons of coal, 755 mil­lion bar­rels of oil, and close to 5 tril­lion cubic feet of gas in 2015, these account­ed for only around 40 per­cent of coal pro­duc­tion and less than a fifth of oil and gas pro­duc­tion in the coun­try. That means that the major­i­ty of coal and more than 80 per­cent of all com­bined oil and gas pro­duc­tion in 2015 came from resources locat­ed out­side of fed­er­al con­trol. In most coun­tries, such reserves remain by and large under pub­lic con­trol through state-owned com­pa­nies — but in the Unit­ed States the oppo­site is the norm, with most proven reserves con­trolled by pri­vate interests.
This is a seri­ous road­block for any effec­tive green tran­si­tion, and per­haps one rea­son why the Unit­ed States is the only coun­try opposed to the Paris Agreement.
If, as sug­gest­ed by the think tank Car­bon Track­er, 80 per­cent of proven reserves need to be kept in the ground, that means that any efforts at cur­tail­ing U.S. fos­sil fuel extrac­tion have to go beyond lim­its on fed­er­al­ly con­trolled reserves — and this means con­fronting the basic eco­nom­ic dri­vers of the extrac­tive econ­o­my. Pri­vate com­pa­nies' val­ues are deter­mined by their assets and their capa­bil­i­ty to turn those assets into prod­ucts and ser­vices demand­ed by soci­ety. In the case of fos­sil fuel com­pa­nies, their assets are com­posed main­ly of proven fos­sil fuel reserves — reserves that are eco­nom­i­cal­ly and tech­ni­cal­ly recov­er­able under cur­rent con­di­tions. To main­tain their val­ue, and ongo­ing invest­ments, fos­sil fuel com­pa­nies must con­tin­ue turn­ing these assets into prod­ucts and replace any extract­ed assets with an equal or high­er amount of new reserves. Fail­ure to do so neg­a­tive­ly impacts their mar­ket val­ue — and threat­ens their survival.
How do we break this vicious cycle of inevitable extrac­tion in time? We need sys­temic solu­tions that address this dynam­ic of prof­it and con­trol head-on and rapid­ly phase out fos­sil fuel pro­duc­tion. Some peo­ple are will­ing to take the chance that such pro­duc­tion will become unfash­ion­able or even unprof­itable as the costs of renew­ables con­tin­ues to drop. But the most direct and only guar­an­teed way to do so is to change the rules of the game by tak­ing con­trol of U.S. fos­sil fuel reserves out of cor­po­rate hands through nationalization.
Such de-pri­va­ti­za­tion could be accom­plished through a buy­out of fos­sil fuel reserves' top con­trollers: fos­sil fuel com­pa­nies. While the U.S. has hun­dreds of such com­pa­nies, the real­i­ty is that only a few of these togeth­er con­trol the vast major­i­ty of proven reserves in the coun­try. Take oil and gas, for exam­ple: Ten U.S.-based, pub­licly held com­pa­nies con­trol close to a quar­ter of all Amer­i­can proven oil and gas reserves. A tar­get­ed buy­out of fos­sil fuel majors would not only make up for lost time, but it could pre­vent vast amounts of CO2 from enter­ing into the atmos­phere through a man­aged decline in fos­sil fuel pro­duc­tion, pro­vide a break­through solu­tion capa­ble of deal­ing with the pri­vate and fed­er­al reserves already leased to pri­vate com­pa­nies, remove pow­er­ful oppo­si­tion to cli­mate action from the polit­i­cal equa­tion and unlock the pos­si­bil­i­ty of a just ener­gy tran­si­tion in the U.S., espe­cial­ly if the buy­out was struc­tured in a way that encour­aged or man­dat­ed rein­vest­ment in renew­ables and resiliency.
While many may fear that a buy­out is unlike­ly in the present polit­i­cal con­fig­u­ra­tion, there are sev­er­al his­tor­i­cal prece­dents that show that such a deci­sive step is not as for­eign to the Amer­i­can polit­i­cal expe­ri­ence as one might sus­pect. We could go as far back as WWII, in which wartime mobi­liza­tion took over vast swaths of the nation­al econ­o­my, but in the 21st cen­tu­ry alone Amer­i­cans have expe­ri­enced buy­outs and de-pri­va­ti­za­tion of major indus­tries more than a hand­ful of times — under both red and blue administrations.
Take, for exam­ple, the tobac­co buy­out. After rec­og­niz­ing the mag­ni­tude of the impact smok­ing has on pub­lic health, the George W. Bush Admin­is­tra­tion decid­ed to cut the sub­si­dies giv­en to tobac­co pro­duc­ers while pro­vid­ing a $10 bil­lion buy­out to help farm­ers replace lost income, retire or tran­si­tion to grow­ing dif­fer­ent crops. In the after­math of the 2007 – 2008 finan­cial cri­sis, both Bush and Oba­ma Admin­is­tra­tions de fac­to nation­al­ized a num­ber of com­pa­nies, includ­ing finan­cial insti­tu­tions, insur­ance com­pa­nies and even Gen­er­al Motors, to bring back sta­bil­i­ty to the finan­cial markets.
A future in which the dynam­ics baked into our cur­rent sys­tem of own­er­ship, con­trol and invest­ment are allowed to run their course is one in which the kinds of cli­mate cat­a­stro­phe we saw this hur­ri­cane sea­son will be mul­ti­plied many times over. As vast amounts of green­house gas­es con­tin­ue to be released into an already car­bon-con­strained atmos­phere, secur­ing pub­lic con­trol of America's proven fos­sil fuel reserves can buy us the pre­cious time we need to avert disaster.
Car­la Skandi­er
is a Research Asso­ciate with the Next Sys­tem Project, work­ing on address­ing cli­mate change through sys­temic solutions.