Native Americans Scored Big Election Wins in Washington State and Beyond
On Tuesday, Puyallup tribe members celebrated a landmark police accountability initiative, as well as Native victories nationwide.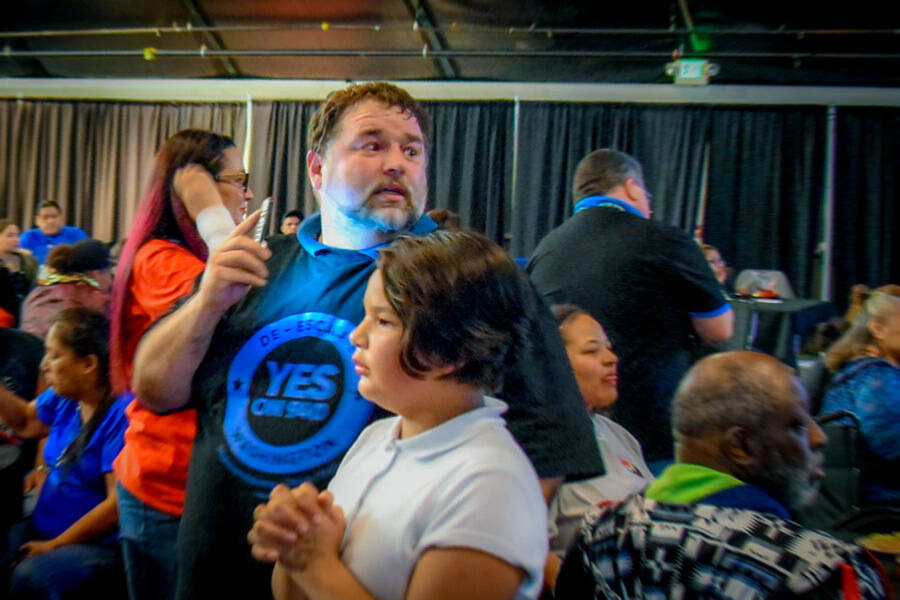 TACOMA, WASH. — Chester Earl, 45, and about 300 members of Washington state tribes — from Tulalip, Yakama, Lummi, Quinault, Port Gamble S'Klallam, Earl's own Puyallup community and more — are gathered at an election night party in a Tacoma catering hall, singing, drumming, dancing, feasting and watching returns from around the state and country. ​"It's incredible," Earl exclaims as the big news comes in: Initiative 940, a Washington state ballot initiative which approves new police reform measures, has passed with more than 60 percent of the vote.
Deb Haaland of Laguna Pueblo and Sharice Davids of the Ho-Chunk Nation will be heading to the U.S. House of Representatives to represent New Mexico and Kansas, respectively.
Earl and about 15 of the attendees have just returned from a two-week reservation-to-reservation tour, N8tive Vote 2018. The tour held rallies on the state's 29 tribal homelands and encouraged members to get to the polls, particularly to say yes to I-940, which, among other reforms, makes it easier to prosecute law enforcement officers who misuse deadly force.
As In These Times has previously reported, Natives are killed by police at the highest rate of any population group — which is rarely chronicled in the media. One victim was Earl's cousin and tribal member Jacqueline Salyers, a 32-year-old pregnant mother of four, shot and killed in January 2016 as she pulled out of a parking space. Police were seeking her boyfriend, who was in the passenger seat. The officer who shot her in the head claimed that the moving car was life-threatening, which Salyers's family disputes. The officer was cleared of wrongdoing.
The shooting galvanized the Puyallup tribe to join with other advocates to help craft new police accountability measures. The group then gathered nearly 360,000 signatures (100,000 more than needed) from people all across the state — not just on reservations — to bring a reform bill to the legislature. The bill requires that police officers receive training to de-escalate situations, recognize mental-health crises, and give first aid to those they harm. It also requires independent investigations of deadly and harmful incidents.
The law also eliminates the current language on the books in Washington that excuses officers for a killing unless they have acted with ​"malice," which had put prosecuting attorneys in the difficult position of trying to prove an officer's mental state. A Seattle Times study showed that under that statute, 213 police-caused deaths from 2005 to 2015 resulted in just one prosecution.
The legislature passed the bill in March, after which the state Supreme Court decided it needed to be approved by voters. The Puyallup tribe worked with Lummi and Quinault officials to put together a get-out-the-vote tour, confident they would earn public support. I-940 was officially endorsed by the state's tribes, several police associations, the Seattle Times and 10 other newspapers, the American Federation of Teachers of Washington and 22 more labor unions, progressive political parties and elected officials, and some 100 church groups, education organizations, veterans associations and more.
"The results give me such relief," Salyers's mother, Lisa Earl, says on election night. ​"The people spoke. Jackie didn't get killed and die in vain. We have worked so tirelessly for so long and have succeeded in doing something that will help preserve future generations. She has been with me the whole way."
Lisa Earl believes the new law will make everyone safer, building trust between officers and the public. ​"We want to reach out and help everyone," she says. ​"I don't know how I would feel if my tribe had not wrapped its arms around me with love after Jackie's death. We want our police officers to learn compassion. We want them to have the skills they need when they're running into situations, perhaps without backup. Nurturing is what we are about."
The election night partygoers also celebrated historic wins by Native American candidates across the country. Deb Haaland of Laguna Pueblo and Sharice Davids of the Ho-Chunk Nation will be heading to the U.S. House of Representatives to represent New Mexico and Kansas, respectively. Natives also won a slew of state and local races, including Yvette Isburg, who won the post of auditor for the Crow Creek Sioux reservation's South Dakota county. Auditors, called recorders in some states, control critical on-the-ground implementation of elections.
That's important for Native voters, who have been disenfranchised in a variety of ways. For example, the nearest registration sites and polling places may be far from reservations. In North Dakota, historically high Native turnout proved the state couldn't suppress the Native vote, as it tried to do with an 11th-hour demand that voters provide IDs with detailed street address information that tribal members typically don't have. Young Native voters participated avidly in North Dakota, part of a national swell of youth voter turnout.
Washington state's tribes and tribal members may have been eager to see I-940 approved, but, more broadly, they want to amplify the Native voice by increasing the number of tribal people who register and vote. Everywhere the rez-to-rez tour went, it stressed participation and the power of the vote. ​"We're stronger together," says tour participant Tim Reynon, 49, a Puyallup tribal council member. He noted the I-940 effort as proof. ​"This was such an important election for us."
Chester Earl adds that the tour began reassembling the statewide tribal coalition that was instrumental in defeating Washington's then-U.S. Senator in 2000, a Republican known as an ​"Indian fighter," replacing him with Maria Cantwell, a Democrat who sits on the Senate's Committee on Indian Affairs and is perceived as responsive to Native issues.
"The ​'other Washington' being the way it is nowadays," Earl continues, referring to D.C., ​"we need to elect people who will protect the rights of Native people, women, LGBTQ people, immigrants, and more."
There's a proven way to do that, Earl says: ​"We will awaken the Native vote, get our people registered, and get them out to vote."
Be one of the first
Help kick off the new era of In These Times! Without a media that brings people together and creates a written record of the struggles of workers, their voices will be fragmented and forgotten.
The mission of In These Times is to be that written record, and to guide and grow those movements.
We have a lot of work ahead of us, and that work starts today. Early support is the most valuable support, and that's why we're asking you to pitch in now. If you are excited for this new era of In These Times, please make a donation today.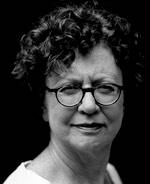 Stephanie Woodard
is an award-winning journalist who has written investigative articles for
In These Times
. Her new book is
American Apartheid: The Native American Struggle for Self-Determination and Inclusion
.