Why the NCAA Should Pay Student-Athletes—And Let Them Unionize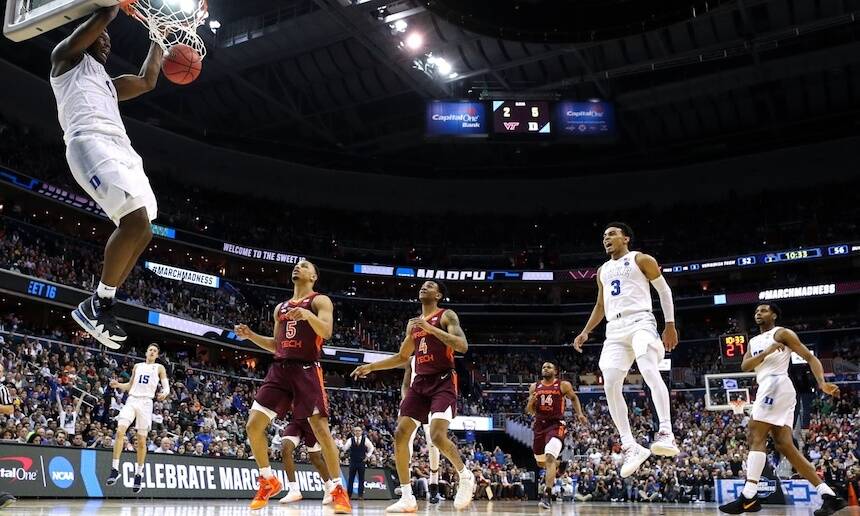 When Zion Williamson's foot broke through the sole of his Nike shoe on Feb. 20, the sport­ing world stood still.
The con­sen­sus num­ber-one play­er in col­lege bas­ket­ball was play­ing in the biggest game of the sea­son — North Car­oli­na ver­sus Duke — and suf­fered his star­tling injury in the open­ing minute. Williamson's sprained knee cost Nike $1.1 bil­lion in stock mar­ket val­u­a­tion the next day.
The injury came on the doorstep of March Mad­ness, the NCAA's most prof­itable event of the year — to the tune of $900 mil­lion in revenue.
Despite the bil­lions rid­ing on his per­for­mance, the NCAA insists that ath­letes like Williamson are ​"ama­teurs" — stu­dent-ath­letes there only for the love of the game. It for­bids them to make mon­ey off their per­for­mance even as they sup­port an indus­try worth bil­lions. Duke alone makes $31 mil­lion off its bas­ket­ball program.
Williamson has been a force of nature this sea­son, cap­ti­vat­ing audi­ences and NBA scouts alike. Entic­ing those NBA scouts is the only way this 18-year-old can build his own future career — and any sort of injury imper­ils that future.
High-lev­el ​"stu­dent-ath­letes," after all, don't get to spend much time being students.
They're sup­posed to spend only 20 hours a week on sports-relat­ed activ­i­ties. In real­i­ty, they spend around 40 hours on prac­tice alone. School­work falls by the way­side, so many schools have out­side tutors do the play­ers' school­work and cre­ate class­es-in-name-only where the only require­ment is to turn in a paper.
A few years ago, some for­mer ath­letes at the Uni­ver­si­ty of North Car­oli­nasued the school and the NCAA, claim­ing they'd been denied a mean­ing­ful edu­ca­tion. It's hard to argue with that.
The ath­letes, in exchange for schol­ar­ships, give these schools their lives and put their health at risk. Con­cus­sions of foot­ball play­ers have sparked law­suits, and an injury like Williamson's could cost a play­er mil­lions in the pro­fes­sion­al leagues. If they can't go pro — and their edu­ca­tion didn't do them any favors — what option do they have?
That risk is where the trav­es­ty lies. These thou­sands of ath­letes who play in the NCAA are often not allowed to enjoy the ben­e­fits of the schools they attend (and enrich). If they're not able to make use of their edu­ca­tion, they should be paid for the work they put in.
When col­lege sports rev­enues are as high as they've ever been, the fail­ure to pay the ath­letes is absurd — but not surprising.
Inequal­i­ty of all kinds is on the rise, and the gap between the top and bot­tom of the pay scale is the high­est since the Gild­ed Age of the ear­ly 1900s. The NCAA not allow­ing ath­letes to be paid — or even sign auto­graphs for mon­ey! — is an exten­sion of an econ­o­my where unions are bust­ed and peo­ple have to work three jobs to make ends meet.
It needs to change. Col­lege bas­ket­ball play­ers are on aver­age worth $212,080 to their pro­gram, much more than the cost of their scholarships.
Schools should pay these ath­letes a share of the rev­enue their sport brings in. And the NCAA needs, at the very least, to allow for these peo­ple to make mon­ey sell­ing auto­graphs or appear­ing at sports camps.
Just as impor­tant­ly, ath­letes should be allowed to union­ize their teams and fight for their own rights.
Bil­lions of dol­lars are going to be spent on bet­ting on March Mad­ness games. CBS and Turn­er paid around $19 bil­lion for the tele­vi­sion rights to the tour­na­ment. And over $1 bil­lion in adver­tis­ing is spent on the tournament.
This event is all about the mon­ey. We should spread it around to the peo­ple who make it worthwhile.
This arti­cle was orig­i­nal­ly pub­lished by Oth­er Words. It has been repub­lished here with permission
Bri­an Wakamo
is a researcher on the Glob­al Econ­o­my Project at the Insti­tute for Pol­i­cy Studies.