As America's fore­most Wal-Mart expert, Nel­son Licht­en­stein has chron­i­cled the rise of the world's largest com­pa­ny — and the fierce anti-union­ism that has become one of its cor­po­rate trademarks.
The renowned labor historian's lat­est book, The Retail Rev­o­lu­tion: How Wal-Mart Cre­at­ed a Brave New World of Busi­ness, may be the defin­i­tive account of how the dis­count retail­er grew from Arkansas to blaze a new com­mer­cial mod­el in a glob­al­ized econ­o­my. (For a recent arti­cle drawn from the new book, read this In These Times fea­ture.)
The project Licht­en­stein is most proud of, how­ev­er, is not his new Wal-Mart opus. The Uni­ver­si­ty of Cal­i­for­nia, San­ta Bar­bara pro­fes­sor found­ed and serves as the direc­tor of the university's Cen­ter for the Study of Work, Labor and Democ­ra­cy, which aims to ​"expand pub­lic under­stand­ing and dis­cus­sion of impor­tant issues fac­ing work­ing peo­ple." The cen­ter hosts con­fer­ences and cours­es and admin­is­ters an under­grad­u­ate minor in Labor Studies.
Licht­en­stein — who is also author of State of the Union: A Cen­tu­ry of Amer­i­can Labor and edi­tor of Wal-Mart: The Face of Twen­ty-First-Cen­tu­ry Cap­i­tal­ism—cor­re­spond­ed with In These Times in June about Leon Trot­sky, moun­taineer­ing and how Wal-Mart helped him write his new book, which will be pub­lished in July.
In 25 words or less, what makes you so spe­cial? (Keep in mind that humil­i­ty, while admirable, is boring).
I'm an aca­d­e­m­ic with a polit­i­cal agen­da: to help lead a gen­er­a­tion of social and labor his­to­ri­ans toward a rad­i­cal cri­tique of cap­i­tal­ism and the cor­po­ra­tion, now and in the past.
What's the first thing that comes up when your name is Googled?
Unfor­tu­nate­ly, it is my Uni­ver­si­ty of Cal­i­for­nia, San­ta Bar­bara aca­d­e­m­ic Web page. I am dis­ap­point­ed, because I would have liked it to be my Cen­ter for the Study of Work, Labor and Democ­ra­cy at UCSB, the cre­ation of which I see as my most impor­tant achieve­ment in the last few years.
Shame­less­ly plug a colleague's project.
Christo­pher Phelps of Not­ting­ham Uni­ver­si­ty in the UK is writ­ing a mar­velous intel­lec­tu­al his­to­ry of the strike over the last two cen­turies. It is impor­tant because it is not anoth­er social or labor his­to­ry, but instead reflects the world­view of the insur­gents and their sense of how cap­i­tal­ist struc­tures of pow­er are main­tained and contested.
Describe your politics.
I still think Leon Trot­sky and Max Schact­man were right when they did their best work, both polit­i­cal and jour­nal­is­tic. But it seems almost impos­si­ble to deploy their pol­i­tics in today's world, so from an oper­a­tive sense I am a social demo­c­rat with a prime com­mit­ment to the revi­tal­iza­tion, democ­ra­ti­za­tion and expan­sion of the labor move­ment, in the U.S. and abroad.
Come up with a ques­tion for your­self and answer it.
Why, at age 64, do you still see moun­taineer­ing as some­thing more than an ener­getic pastime?
More than any oth­er sport, moun­tain climb­ing com­bines the clas­si­cal and the roman­tic. It requires plan­ning, judg­ment, equip­ment, and train­ing, while at the same time open­ing the soul to a tran­scen­dent world of free­dom and fan­ta­sy. This is the clos­est thing to what Marx imag­ined when he wrote about the social­ist utopia. And that is why I day-dream about doing climbs that are far beyond my reach these days.
Media
Pick your five favorite web­sites and tell us why.
For nation­al polit­i­cal cov­er­age I look at Talk­ing Points Memo, Dai­ly Kos and the Guardian. Until very recent­ly I read Wal-Mart Watch every day, not only because it kept me abreast of what was going on at the com­pa­ny on which I was writ­ing a book, but also because I think that the retail sec­tor today is the most strate­gic play­er when it comes to resis­tance to the Oba­ma agen­da and to pro­gres­sive inno­va­tions in social pol­i­cy more generally.
And for the labor move­ment, I rely upon the very small­ish e‑mail list of John Logan, the new direc­tor of the San Fran­cis­co State Labor Stud­ies Cen­ter. John is an expert on the anti-union con­sult­ing industry.
What is your favorite In These Times story?
I am a huge fan of David Moberg​'s reportage on vir­tu­al­ly any sub­ject, but when it comes to his labor cov­er­age I almost always learn some­thing new, either from a con­cep­tu­al or insid­er perspective.
What's your favorite web-based tool for your job?
I wrote a lot of my cur­rent book, The Retail Rev­o­lu­tion, using the Web. I found that web­sites of trade pub­li­ca­tions, such as Retail For­ward, Women's Wear Dai­ly and Dis­count Store News were real­ly reveal­ing if you knew where to look. Their stores pin­point­ed what was cru­cial to cor­po­rate com­pe­ti­tion and prof­itabil­i­ty. Often they were excel­lent at describ­ing and dis­sect­ing the sup­ply chains that linked the Chi­nese work­shop of the world to the Amer­i­can big box retail­er. Like­wise, the Wal-Mart cor­po­rate Web page, Wal-Mart Facts, cre­at­ed in response to all the company's crit­ics, con­tained a lot more than just cor­po­rate PR, includ­ing the career nar­ra­tives of hun­dreds of Wal-Mart ​"asso­ciates" that proved immense­ly use­ful and revealing.
Pol­i­tics
What's one piece of leg­is­la­tion (state or nation­al) you'd like to see passed right now?
One might imag­ine I would say the Employ­ee Free Choice Act, but actu­al­ly I think a thor­ough reform of the nation­al health insur­ance sys­tem, one that puts us on the path to sin­gle-pay­er, is more impor­tant for the long-range health and growth of the trade union movement.
What's one piece of leg­is­la­tion (state or nation­al) you'd like to see defeated?
Any effort to elim­i­nate the ​"death tax" which Carnegie, Rock­e­feller and even Hen­ry Ford would have thought dam­ag­ing to long-term prospects for the main­te­nance of cap­i­tal­ist legitimacy.
My polit­i­cal awak­en­ing occurred when…
My polit­i­cal awak­en­ing first occurred when I wit­nessed from afar, and as a young teenag­er, the rise of the Stu­dent Non-Vio­lent Coor­di­nat­ing Com­mit­tee. Courage and com­mit­ment in action, what could do more to inspire a young per­son? And sec­ond, my ideas were sharp­ened when I par­tic­i­pat­ed in UC-Berkeley's polit­i­cal world in the late 1960s.
Who is your favorite elect­ed leader, past or present? Why?
Here is an odd one for you: Wayne Morse. He start­ed off as a Repub­li­can sen­a­tor from Ore­gon, but became a Demo­c­rat in the 1950s when the West­ern GOP moved to the right. He under­stood the orig­i­nal idea behind the Wag­n­er Act and defend­ed it in both par­ties even when that was quite unpop­u­lar. Then, in the 1960s when a gen­er­a­tion of labor lib­er­als like Paul Dou­glas and Hubert Humphrey sup­port­ed the war in Viet­nam, Morse proved a vocal oppo­nent, for which he even­tu­al­ly lost his seat.
Which lib­er­al politi­cian has dis­ap­point­ed you the most?
Lyn­don John­son, of course.
Per­son­al
How do you get around (bike, pub­lic trans­porta­tion, car)? Why?
I dri­ve an old car and I don't feel guilty about it. Real con­ser­va­tion is going to require a con­fronta­tion with the cor­po­ra­tions, a tax on car­bon, stiff gas mileage stan­dards, more mon­ey for pub­lic trans­port, etc. So if lib­er­als and left­ists feel they have done their part bik­ing about or tak­ing the bus, it is a species of false consciousness.
What local media do you depend on?
A long labor strug­gle is now under­way at the local news­pa­per, the San­ta Bar­bara News-Press, so the entire polit­i­cal estab­lish­ment in the coun­ty is boy­cotting the paper. I there­fore talk to my friends, in and out of local gov­ern­ment, a lot more to find out what is going on.
What's the best piece of advice some­one gave you when you were young?
Actu­al­ly it was bad advice. The evening before leav­ing for col­lege in the ear­ly fall of 1962, the father of a friend gave me one of my first beers, sat me down by the pool in the still mug­gy air, and told me ​"Don't sign any­thing." He had been burned by the McCarthyite hys­te­ria of a decade and more before. Nat­u­ral­ly I rebelled and have been sign­ing stuff and orga­niz­ing stuff to be signed for decades since.
Cul­ture
What's the last, good film you saw?
"The Wind that Shakes the Bar­ley."
What is the last, best book you have read?
Andrew Wen­der Cohen's The Racketeer's Progress: Chica­go and the Strug­gle for the Mod­ern Amer­i­can Econ­o­my, 1900 – 1940. By explain­ing how pet­ty cap­i­tal­ists and craft union­ists have sought to con­trol the labor mar­ket with­in a chaot­ic munic­i­pal set­ting, Cohen tells us a lot about why rack­e­teer­ing and cor­rup­tion, far more than Com­mu­nism and Social­ism, have been the descrip­tors that have attached them­selves to union­ism, in the last cen­tu­ry and this one.
Guilty tele­vi­sion watch­ing pleasure?
The His­to­ry Channel.
What trend in pop­u­lar cul­ture do you find the most annoying?
Tat­toos on young women and, to a slight­ly less­er extent, on young men.
—June 16, 2009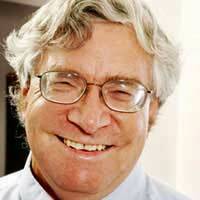 Nel­son Licht­en­stein
teach­es his­to­ry at the Uni­ver­si­ty of Cal­i­for­nia, San­ta Bar­bara, where he directs the Cen­ter for the Study of Work, Labor and Democ­ra­cy. He is the author of
The Retail Rev­o­lu­tion: How Wal-Mart Cre­at­ed a Brave New World of Busi­ness
(
2009
) and
The Most Dan­ger­ous Man in Detroit
, and edi­tor of
Wal-Mart: The Face of Twen­ty-First-Cen­tu­ry Cap­i­tal­ism
(
2006
), a col­lec­tion of essays.