With Net Neutrality Axed, Local Governments Are Racing To Save the Open Internet
Cities and states are leading the way in defending the internet from corporate control.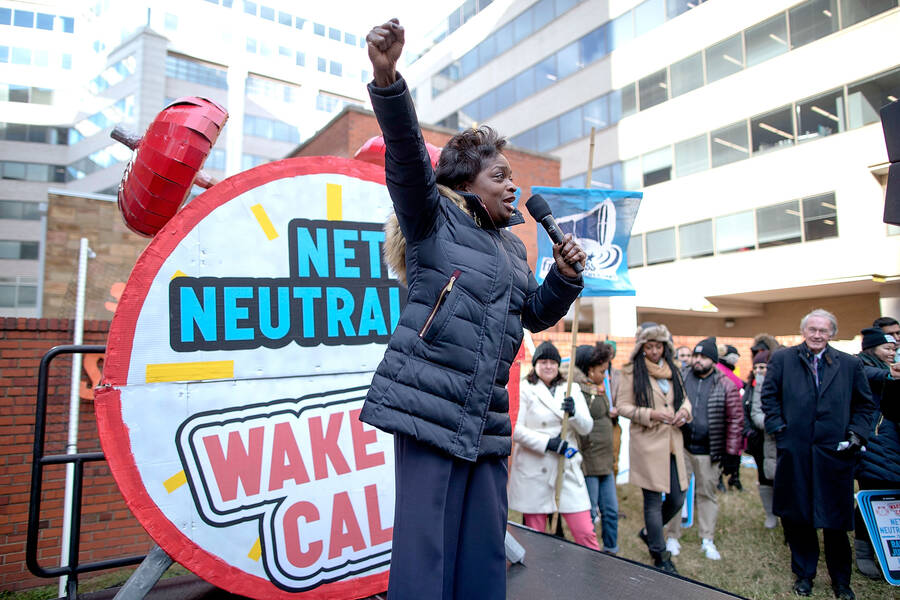 Inter­net ser­vice providers like Com­cast and Ver­i­zon are free to slow down, block or pri­or­i­tize inter­net traf­fic as they wish, with­out inter­fer­ence by the fed­er­al gov­ern­ment. That's the effect of an Octo­ber rul­ing by the D.C. Cir­cuit Court of Appeals, uphold­ing a 2017 rul­ing by the Fed­er­al Com­mu­ni­ca­tions Com­mis­sion that reversed rules requir­ing what is called ​"net neu­tral­i­ty" – treat­ing all inter­net traf­fic equal­ly, regard­less of where it's from or what kind of data it is.
Giv­ing cor­po­rate tele­com giants this pow­er is wild­ly unpop­u­lar among the Amer­i­can peo­ple, who know that these com­pa­nies have over­charged cus­tomers and inter­fered with users' inter­net access in the past.
How­ev­er, peo­ple who advo­cate for an open inter­net, free of cor­po­rate road­blocks, might find solace in anoth­er aspect of the court's rul­ing: States and local gov­ern­ments may be able to man­date their own net neu­tral­i­ty rules.
The effort is underway
Gov­er­nors in six states – Hawaii, Mon­tana, New Jer­sey, New York, Rhode Island and Ver­mont – have already signed exec­u­tive orders enforc­ing net neu­tral­i­ty by pro­hibit­ing state agen­cies from doing busi­ness with inter­net ser­vice providers that lim­it cus­tomers' online access. Four states have passed their own laws requir­ing inter­net com­pa­nies to treat all online con­tent equal­ly: Cal­i­for­nia, Ore­gon, Wash­ing­ton and Ver­mont. A New Hamp­shire bill is in the works.
More than 100 may­ors rep­re­sent­ing both large urban cen­ters such as San Fran­cis­co and small cities such as Edmond, Okla­homa, have pledged not to sign con­tracts with inter­net ser­vice providers that vio­late net neutrality.
These may­ors are lever­ag­ing the lucra­tive con­tracts that their munic­i­pal­i­ties have with inter­net providers to wire pub­lic schools, libraries and local gov­ern­ment build­ings to pres­sure these com­pa­nies into observ­ing net neu­tral­i­ty through­out the city.
The emerg­ing patch­work of local- and state-lev­el net neu­tral­i­ty leg­is­la­tion could help ensure that mil­lions of Amer­i­cans have access to an open inter­net. How­ev­er, peo­ple liv­ing out­side of these enclaves will still be vul­ner­a­ble to the whims of for-prof­it inter­net ser­vice providers. In our new book, ​"After Net Neu­tral­i­ty: A New Deal for the Dig­i­tal Age," we argue that the best way to pro­tect the pub­lic inter­est is to remove inter­net ser­vice from the com­mer­cial mar­ket and treat broad­band as a pub­lic utility.
Cor­po­ra­tions focus on profits
Broad­band giants have spent mil­lions of dol­lars lob­by­ing against fed­er­al open inter­net reg­u­la­tions since 2006. Indus­try-backed efforts even includ­ed fund­ing a net­work of far-right online trolls to spam the FCC's web­site with anti-net neu­tral­i­ty pro­pa­gan­da. These com­pa­nies con­tin­ue to want the pow­er to manip­u­late online traf­fic, such as charg­ing users and con­tent providers like Net­flix to access each oth­er – even though both are already pay­ing for con­nec­tions to the internet.
This his­to­ry of manip­u­la­tion high­lights a recur­ring chal­lenge to the ide­al of net neu­tral­i­ty: Gov­ern­ments seek to rec­on­cile the public's inter­est in open, nondis­crim­i­na­to­ry online com­mu­ni­ca­tion with the prof­it inter­ests of large inter­net ser­vice providers. The result­ing poli­cies only nar­row­ly tar­get cor­po­ra­tions' manip­u­la­tive prac­tices, while let­ting the com­pa­nies con­tin­ue to own and con­trol the phys­i­cal net­work itself.
Cities build their own
A dif­fer­ent vision of how the inter­net could oper­ate is already tak­ing shape across the Unit­ed States. In recent years, many cities and towns around the coun­try have built their own broad­band net­works. These com­mu­ni­ties are often seek­ing to pro­vide afford­able high-speed inter­net ser­vice to neigh­bor­hoods that the for-prof­it net­work providers aren't ade­quate­ly serving.
One of the best-known efforts is in the city of Chat­tanooga, Ten­nessee, which built its own high-speed fiber-optic inter­net net­work in 2009.
Chattanooga's exper­i­ment has been an unequiv­o­cal suc­cess: Accord­ing to a 2018 sur­vey con­duct­ed by Con­sumer Reports, Chattanooga's munic­i­pal broad­band net­work is the top-rat­ed inter­net provider in the entire U.S.
More than 500 oth­er com­mu­ni­ties around the coun­try oper­ate pub­licly owned inter­net net­works. In gen­er­al, these net­works are cheap­er, faster and more trans­par­ent in their pric­ing than their pri­vate sec­tor coun­ter­parts, despite lack­ing Com­cast and Verizon's gigan­tic economies of scale. Because the peo­ple oper­at­ing munic­i­pal broad­band net­works serve com­mu­ni­ties rather than large share­hold­ers on Wall Street, they have a vest­ed inter­est in respect­ing net neu­tral­i­ty principles.
Think­ing bigger
A num­ber of much larg­er-scale pub­lic broad­band ini­tia­tives have also been pro­posed to com­bat the pow­er of the giant inter­net com­pa­nies. In the 2018 elec­tion cycle, Demo­c­ra­t­ic guber­na­to­r­i­al can­di­dates from Ver­mont and Michi­gan pro­posed build­ing pub­licly owned statewide inter­net networks.
Sev­er­al Demo­c­ra­t­ic pres­i­den­tial can­di­dates have announced plans to build thou­sands of miles of pub­licly owned high-speed inter­net con­nec­tions. They vary in the details, but all are respons­es to the con­cen­tra­tion of cor­po­rate con­trol over inter­net access – both in terms of who gets high-speed ser­vice in what loca­tions at what price, and what con­tent those con­nec­tions carry.
Togeth­er, these ini­tia­tives reflect a grow­ing under­stand­ing that Amer­i­cans need a more expan­sive vision of an open inter­net to tru­ly real­ize the demo­c­ra­t­ic promise of an inter­net that reach­es every­one.
High-qual­i­ty, afford­able, restric­tion-free inter­net access can come from pub­licly owned providers that answer direct­ly to the peo­ple. In our view, and in the eyes of a grow­ing num­ber of Amer­i­cans, the broad­band indus­try uses its entrenched mar­ket pow­er to serve itself, not the public.
This piece was first post­ed at The Con­ver­sa­tion.
Vic­tor Pickard is Asso­ciate Pro­fes­sor of Com­mu­ni­ca­tion, Uni­ver­si­ty of Penn­syl­va­nia. David Elliot Berman is a Ph.D. Can­di­date in Com­mu­ni­ca­tion, Uni­ver­si­ty of Pennsylvania.