New Aid for Hostess Workers As Bakeries Auction Approaches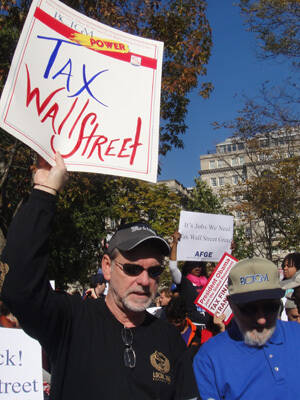 Last week, the U.S. Depart­ment of Labor announced an expand­ed pack­age of ben­e­fits for more than 18,000 work­ers fired from their jobs at Host­ess Brands, the com­pa­ny famous for pro­duc­ing Won­der Bread and Twinkies.
The work­ers — for­mer­ly employed in 864 sep­a­rate Host­ess loca­tions in 48 states — were sum­mar­i­ly fired last Novem­ber when com­pa­ny man­agers closed the com­pa­ny rather than reach an agree­ment with strik­ing mem­bers of the Bak­ery, Con­fec­tionary, Tobac­co Work­ers and Grain Millers Inter­na­tion­al Union (BCT­GM).
Labor Depart­ment spokesper­son Glo­ria Del­la said the fired work­ers are now eli­gi­ble for spe­cial ben­e­fits under the agency's Trade Adjust­ment Assis­tance pro­gram, which pro­vides extend­ed aid in addi­tion to nor­mal unem­ploy­ment com­pen­sa­tion. The ben­e­fits include finan­cial help for job search­es, retrain­ing, relo­ca­tion and relat­ed expens­es, she said. No spe­cif­ic cash amount has been set aside for the Host­ess work­ers, accord­ing to Del­la, but the total cost could amount to sev­er­al thou­sand dol­lars for each eli­gi­ble work­er. In all cas­es, dis­placed work­ers should apply for the new ben­e­fits at their state unem­ploy­ment or work­force devel­op­ment offices, she said.
The labor agency was imme­di­ate attacked by the Her­itage Foun­da­tion, a right-wing think tank, for favor­ing strik­ing work­ers over the company's own­ers. How­ev­er, the new ben­e­fits pro­gram applies equal­ly to BCT­GM mem­bers, to mem­bers of oth­er Host­ess unions that did not go on strike, and to non-union work­ers, includ­ing many managers.
The announce­ment comes as the sale of the company's bak­eries and oth­er assets moves for­ward, rais­ing the pos­si­bil­i­ty that at least some of the plants will be re-opened under new own­er­ship, accord­ing to BCT­GM Pres­i­dent David Dur­kee. The company's assets have been divid­ed up into sev­er­al large chunks and will be auc­tioned off in sep­a­rate pieces, Dur­kee said. The first such sale is sched­uled to take place on Thursday.
Since the strike and the mass fir­ings late last year, BCT­GM has been eval­u­at­ing — and court­ing — prospec­tive buy­ers of the old bak­eries who might be will­ing to offer new jobs to the fired Host­ess work­ers, Dur­kee told Work­ing In These Times. ​"We don't have any agree­ments in place [with poten­tial buy­ers], but there are obvi­ous ben­e­fits to a new own­er" in re-hir­ing fired BCT­GM mem­bers in sim­i­lar jobs, he said.
The ini­tial focus in the bak­ing indus­try is on Flow­ers Foods, a Geor­gia-based com­pa­ny with bak­ing oper­a­tions and dis­tri­b­u­tion net­works in the South and Mid-Atlantic regions. Flow­ers is the so-called ​"stalk­ing horse bid­der" that has already offered $360 mil­lion for 20 Host­ess bak­eries. Cur­rent­ly, Flow­ers oper­ates a mix of union and non-union plants, with BCT­GM col­lec­tive bar­gain­ing agree­ments already in place in sev­er­al cities, Dur­kee said.
​"There are [legal] restric­tions in place" that have pre­vent­ed direct talks with poten­tial buy­ers lead­ing up to the auc­tion process, he con­tin­ued, but a pro­vi­sion­al sale in the com­ing weeks should allow the union to enter direct talks with Flow­ers and oth­ers. Reach­ing a col­lec­tive bar­gain­ing agree­ment with new own­ers ​"is not going to be an easy thing," Dur­kee said. But, he added, such con­tracts may pro­vide the best means of get­ting the old Host­ess bak­eries back into oper­a­tion quick­ly. ​"Our peo­ple are skilled," said Dur­kee. ​"They know the equip­ment and they know how to make a good prod­uct. They weren't the ones who ran Host­ess into the ground."
As Dur­kee sees it, ​"the dif­fer­ence between Host­ess and these new own­ers is that Host­ess did not want to be in the busi­ness of bak­ing." It was always the inten­tion of Host­ess' hedge-fund own­ers to dis­mem­ber the com­pa­ny, said Dur­kee, and it was impos­si­ble to reach rea­son­able agree­ment with them. ​"We are always will­ing to work with any com­pa­ny that is com­mit­ted to mak­ing a qual­i­ty prod­uct and pro­vid­ing decent mid­dle-class jobs for its work­ers," he said.
Dur­kee declined to spec­u­late on the like­li­hood that BCT­GM will win back the jobs lost at Host­ess. But he added that he feels an oblig­a­tion to try. ​"Our peo­ple have been through a lot. They were incred­i­bly coura­geous" in vot­ing for the strike against Host­ess, and they showed impres­sive sol­i­dar­i­ty in the face of threats and intim­i­da­tion. ​"I just admire them tremen­dous­ly," he said. ​"I would do any­thing for them."
Dur­kee con­clud­ed with a sharp crit­i­cism of the U.S. Bank­rupt­cy Court for the South­ern Dis­trict of New York, which has con­sis­tent­ly sided with Host­ess man­agers against its unions since the com­pa­ny entered bank­rupt­cy pro­ceed­ing ear­ly last year. Dur­kee believes that court has allowed itself to be manip­u­lat­ed by the Host­ess finan­cial man­agers from the start. ​"We're dis­ap­point­ed by the court," he said. ​"It doesn't seem like the work­ing peo­ple got a fair shake in the legal process."
Bruce Vail
is a Bal­ti­more-based free­lance writer with decades of expe­ri­ence cov­er­ing labor and busi­ness sto­ries for news­pa­pers, mag­a­zines and new media. He was a reporter for Bloomberg BNA's Dai­ly Labor Report, cov­er­ing col­lec­tive bar­gain­ing issues in a wide range of indus­tries, and a mar­itime indus­try reporter and edi­tor for the Jour­nal of Com­merce, serv­ing both in the newspaper's New York City head­quar­ters and in the Wash­ing­ton, D.C. bureau.