Why You Shouldn't Listen to Self-Serving Optimists Like Hans Rosling and Steven Pinker
There's a reason Bill Gates loves Pinker and Rosling—their analyses obscure inequality.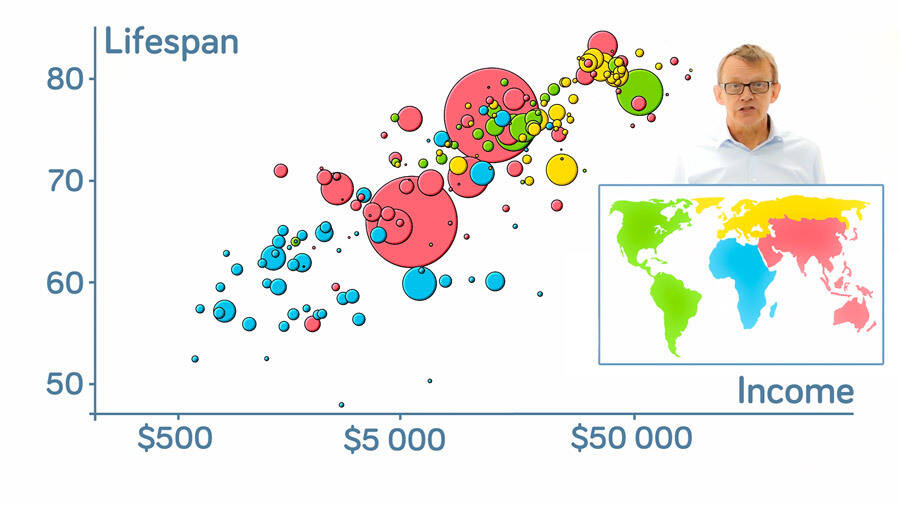 In 2017, Bill Gates tweet­ed that Steven Pinker's The Bet­ter Angels of Our Nature: Why Vio­lence Has Declined was ​"the most inspir­ing book I've ever read." It became the top-sell­ing book on Amazon.
Rosling reassures people like Gates that, since things are always improving, we need not bother to change how the world operates.
In 2018, Gates went a step fur­ther, offer­ing elec­tron­ic copies of the late TED Talk star Hans Rosling's book, Fact­ful­ness: Ten Rea­sons We're Wrong About the World — And Why Things Are Bet­ter Than You Think, to all U.S. col­lege grad­u­ates for free. That prompt­ed Peter Wal­len­berg Jr., scion of Sweden's rich­est fam­i­ly, to offer the book as a free down­load­able file to all Swedish high school stu­dents as well.
Pinker and Rosling, the stars of the glass-half­full school of intel­lec­tu­als known as the New Opti­mists, seek to per­suade peo­ple that civ­i­liza­tion is head­ing in the right direc­tion, with the world get­ting bet­ter every day. This affir­ma­tion­al dec­la­ra­tion is one of the glob­al elite's rit­u­als of ​"neolib­er­al self-con­grat­u­la­tion," as edi­tor-in-chief of The Baf­fler, Chris Lehmann, puts it. While not say­ing that all is well, New Opti­mists fix­ate on pos­i­tive tra­jec­to­ries and scold crit­ics for being ​"alarmists." Social progress is not a mat­ter of strug­gling for jus­tice, the ​"opti­mistic" nar­ra­tive goes, but rather extend­ing the ben­e­fits of eco­nom­ic growth, a task best super­vised by phil­an­thropic cap­i­tal­ists (like, say, Gates), who, of course, are the biggest ben­e­fi­cia­ries of such ​"progress."
The New Opti­mists have suc­cess­ful­ly mar­ket­ed this world­view as ​"neu­tral" and ​"fact-based," to use two of Rosling's favorite words. Some of these pun­dits, like Pinker in his most recent book, Enlight­en­ment Now, aggres­sive­ly argue that ​"none of us are as hap­py as we ought to be, giv­en how amaz­ing our world has become," and bemoan the fact that peo­ple seem to ​"whine, carp and kvetch as much as ever."
The ​"facts" these New Opti­mists offer, how­ev­er, show that their progress nar­ra­tives rest on shaky assump­tions, cher­ry-picked data and a faulty moral com­pass. When it comes to mea­sur­ing ​"progress," these opti­mists con­fuse what was, in cen­turies past, with what could have been, in the late 20th and 21st.
In his native Swe­den, Rosling is for the most part con­sid­ered a harm­less ​"edu­tain­er" (his word). He has, how­ev­er, drawn the ire of envi­ron­men­tal­ists. In his 2018 book, Fact­ful­ness, he depicts cli­mate activists as alarmists and the esti­mates of envi­ron­men­tal dam­age as inflat­ed. He recalls a 2009 con­ver­sa­tion in which Al Gore asked him to present num­bers on cli­mate change that Rosling regard­ed as exag­ger­at­ed. Alleged­ly, Gore insist­ed, ​"We need to cre­ate fear." Rosling nobly refused, prov­ing that fact-based researchers like him­self are con­cerned with truth and thus have a less extrem­ist view of the world.
But Rosling only acknowl­edges those truths that are con­ve­nient to his opti­mistic the­o­ry of progress. Though far from a cli­mate change denier, Rosling fre­quent­ly cher­ry-picks the more hope­ful pre­dic­tions about the envi­ron­ment, trum­pet­ing the hap­py news that endan­gered tigers, giant pan­das and black rhi­nos have increased in num­bers over the past 20 years. Mean­while, he neglects the sever­i­ty of our actu­al per­il: the rapid accel­er­a­tion of human-induced species loss that has become known as ​"the sixth mass extinc­tion" (the fifth occurred some 65 mil­lion years ago).
There are also more sub­tle prob­lems with Rosling's ​"fact­ful­ness." As a physi­cian, Rosling is best known for his dynam­ic World Health Chart, ​"a world map for health and wealth" that depicts all nations as bub­bles vary­ing in size based on pop­u­la­tion. In his famous edu­tain­ment sequence, the bub­bles float upward over time toward ever-increas­ing income and life expectan­cy. ​"With aid to trade, green tech­nol­o­gy and peace," he says, it is ful­ly pos­si­ble that every­one will even­tu­al­ly make it to the ​"healthy, wealthy corner."
There are sev­er­al prob­lems with this type of chart. As anthro­pol­o­gist Jason Hick­el recent­ly remarked, the data on pover­ty has only been col­lect­ed since 1981. Num­bers going back to 1800, as Rosling's bub­ble chart does, are extreme­ly uncer­tain — not to men­tion mean­ing­less on anoth­er lev­el. Why track social progress start­ing from the peak of colo­nial­ism? Much of the world had just suf­fered sev­er­al cen­turies of Euro­pean exploita­tion and enslave­ment. What hap­pened since pre-colo­nial­ism was a process of pro­le­tar­i­an­iza­tion where most of human­i­ty went from hav­ing lit­tle need for mon­ey — and direct­ly enjoy­ing what the land and water had to offer — to being forced into wage labor and learn­ing to get by on a few dol­lars a day. Since the GDP cal­cu­la­tions, on which Rosling's num­bers are based, tend to under­es­ti­mate the val­ue of non­com­mod­i­fied activ­i­ties, Rosling's chart hides how peo­ple have been stripped of the com­mons on which they tra­di­tion­al­ly depend­ed. Yet Rosling, like oth­er New Opti­mists, ignores the his­to­ry of colo­nial­ism and com­mod­i­fi­ca­tion when pre­sent­ing the income num­bers, mak­ing it all the eas­i­er to cel­e­brate them as proof of progress.
Iron­i­cal­ly, Rosling's bub­bles also use per-capi­ta aver­ages, for both income and life expectan­cy, in a way that Rosling him­self crit­i­cizes in Fact­ful­ness. In his words, ​"Aver­ages mis­lead by hid­ing a spread (a range of dif­fer­ent num­bers) in a sin­gle num­ber." The spread his chart hides is the dis­par­i­ties of wealth and health with­in nations, inequal­i­ties he con­sis­tent­ly choos­es to play down.
This might sound triv­ial, but if we look at the Unit­ed States, for instance, the increase in per­capi­ta income reflects a real­i­ty that far from all Amer­i­cans have expe­ri­enced. For the poor­er half of the pop­u­la­tion, the aver­age annu­al income has stag­nat­ed at about $16,000 per adult since 1980.
Dur­ing the same time, the aver­age income of the top 1% has tripled from $420,000 to $1.3 mil­lion. Since the income share of the 1% is almost twice as large as that of the bot­tom 50 per­cent, when the rich become rich­er, the nation­al aver­age rises.
Of course, inequal­i­ties like these affect how long peo­ple live. Accord­ing to a study in Clin­i­cal Review & Edu­ca­tion, an Amer­i­can man in the top 1% has an aver­age life expectan­cy of 87 years, where­as a man in the bot­tom one per­cent has 73 years.
This income spread, which reflects health­care access and stress lev­els, is not unique to the Unit­ed States. In rel­a­tive­ly egal­i­tar­i­an Swe­den, sim­i­lar inequal­i­ties can be found. The aver­age life expectan­cy of the less edu­cat­ed inhab­i­tants of a south­ern sub­urb of Stock­holm, Vår­by Gård, is 18 years less than that of the high­ly edu­cat­ed inhab­i­tants of a north­ern sub­urb, Dan­deryd. Rosling must have known about these inequal­i­ties; they were wide­ly dis­cussed in Swedish news­pa­pers and the num­bers came from the Karolin­s­ka Insti­tute, the uni­ver­si­ty where Rosling once worked as a pro­fes­sor. Rosling relies so much on what soci­ol­o­gist Sask­ia Sassen has called ​"method­olog­i­cal nation­al­ism" — the ten­den­cy to exam­ine issues from the per­spec­tive of the nation-state — that he fails to acknowl­edge the large groups with­in nations who are left behind in the race to the ​"healthy, wealthy corner."
Apart from these method­olog­i­cal flaws, it is baf­fling that Rosling presents his bub­ble chart as a map of ​"world health," giv­en that it is actu­al­ly a map of income and life expectan­cy. Not even life expectan­cy can be count­ed as a good mea­sure of health, giv­en that one's life may be spent in poor health. In a study mea­sur­ing healthy life expectan­cy in 195 coun­tries and ter­ri­to­ries, researchers found that, while life expectan­cy increased glob­al­ly by 7.4 years between 1990 and 2017, the years of life gained in Bahrain were spent entire­ly in poor health. Though Rosling men­tions phys­i­cal ill­ness­es in Fact­ful­ness, he dis­cuss­es only those that are in decline, such as measles and diar­rhea. In oth­er words, Rosling's def­i­n­i­tion of ​"health" is far from comprehensive.
Most strik­ing­ly, Rosling must have worked hard to ignore the data on men­tal health, giv­en that the glob­al lead­ing cause of ill health today is depres­sion. Accord­ing to new esti­mates by Sarah Flèche and Richard Layard of the Lon­don School of Eco­nom­ics, men­tal dis­or­ders explain even more mis­ery than pover­ty and phys­i­cal ill health, as reflect­ed in life sat­is­fac­tion surveys.
If men­tal health sounds like a less than life-and-death issue, bear in mind that life expectan­cy in Britain and the Unit­ed States has stag­nat­ed over the past few years. In the Unit­ed States, this is clear­ly relat­ed to so-called deaths of despair: deaths due to sui­cide, alco­hol and drug over­dos­es, which, accord­ing to the Cen­ters for Dis­ease Con­trol and Pre­ven­tion, have rapid­ly increased for at least 15 years. In fact, the New York Times report­ed in 2018 that drug over­dose deaths actu­al­ly caused life expectan­cy to drop over the pre­vi­ous three years, ​"a pat­tern unprece­dent­ed since World War II."
To see the glob­al dis­tri­b­u­tion of men­tal health, look at the Glob­al Bur­den of Dis­ease Study, a data set fund­ed by the Bill & Melin­da Gates Foun­da­tion, which is referred to in Fact­ful­ness but not with respect to men­tal health. This study has been pro­mot­ed as hav­ing the most reli­able sta­tis­tics on how the bur­den of dis­ease is dis­trib­uted among nations. Type in ​"depres­sion" or ​"anx­i­ety," and the Amer­i­c­as, Europe and Aus­tralia light up on the world map. If you add ​"eat­ing dis­or­ders," ​"bipo­lar dis­or­der," ​"drug use dis­or­der," ​"alco­hol use dis­or­der" and ​"schiz­o­phre­nia" and then dis­trib­ute the com­bined bur­den of dis­ease accord­ing to nation­al income lev­el, you will notice how high-income economies keep light­ing up the map, as also revealed in the World Health Organization's (WHO) World Men­tal Health Sur­veys. (Most of this data has been gath­ered using diag­nos­tic face-to-face inter­views with hun­dreds of thou­sands of adults from rep­re­sen­ta­tive house­hold sam­ples, min­i­miz­ing the cul­tur­al impact on the data of, for exam­ple, dis­pro­por­tion­al rates of psy­chi­atric diag­no­sis in rich­er nations.)
So wide­spread is this type of suf­fer­ing that, in 2017, the WHO mount­ed a one-year glob­al cam­paign to raise aware­ness of depres­sion. Rosling choos­es to ignore facts like these that strike a dis­cor­dant note with the New Opti­mist notion that eco­nom­ic growth is a panacea. Except for their dis­pro­por­tion­ate emis­sion of green­house gasses, high-income economies are, to Rosling's mind, lead­ing the world toward ever greater pros­per­i­ty — which may explain why phil­an­thro­cap­i­tal­ists like him so much: He reas­sures peo­ple like Gates that, since things are always improv­ing, we need not both­er to change how the world oper­ates (giv­ing cap­i­tal­ists jus­ti­fi­ca­tion to main­tain the sta­tus quo). ​"Look for sys­tems, not heroes," Rosling writes. When some­thing good hap­pens, ​"give the sys­tem some credit."
But it's unclear exact­ly what ​"sys­tem" Rosling has in mind.
Even if we rec­og­nize that life has improved in many respects, mea­sur­ing social progress by Rosling's met­rics quick­ly becomes prob­lem­at­ic. In dic­ta­tor­ships such as Qatar, Sin­ga­pore and Kuwait, aver­age income and lifes­pan also have pro­gressed, out­shin­ing sev­er­al West­ern democ­ra­cies, if not all, as is the case in Sin­ga­pore. In Chi­na, life expectan­cy grew spec­tac­u­lar­ly fast between 1949 and 1976 — prob­a­bly the fastest growth in life expectan­cy ever reg­is­tered — which more than dou­bled Chi­nese life expectan­cy in less than 30 years. And yet, dur­ing this growth peri­od, Chi­na was gov­erned by Mao Zedong, one of the worst dic­ta­tors in history.
Do these polit­i­cal and eco­nom­ic sys­tems deserve cred­it? Maybe income, life expectan­cy and even health sta­tis­tics are poor indi­ca­tors of whether we are liv­ing in the best pos­si­ble way. Maybe we shouldn't only look at a soci­ety as it is, but also con­sid­er its poten­tial — what it could have been.
Rosling doesn't make a sin­gle note in Fact­ful­ness on poten­tial­i­ty and our increas­ing capac­i­ty to end pover­ty. To exclu­sive­ly dis­cuss social progress based on a cer­tain set of facts removes moral val­ues from the debate. Facts only point to that which is and has been, but when we argue about val­ues such as free­dom or jus­tice, we are con­sid­er­ing the less mea­sur­able, coun­ter­fac­tu­al world of what might have been or what might be. This is pre­cise­ly the world that the New Opti­mists refuse to acknowledge.
For exam­ple, when Rosling says that the death of 4.2 mil­lion babies in 2017 is a ​"beau­ti­ful­ly small" num­ber, he does so to point out that the annu­al num­ber of child mor­tal­i­ties has fall­en marked­ly since 1950. But it takes a cer­tain kind of cold amoral­i­ty to call 4.2 mil­lion infant deaths ​"beau­ti­ful­ly small." Like oth­er New Opti­mists, his argu­ment is that we should con­tin­ue doing more of what has proved to work so far (eco­nom­ic growth) and cel­e­brate the improve­ments that have been made. But this argu­ment neglects to take into account oth­er avenues that we have not pur­sued and that could have led to a steep­er decline in child mortality.
A recent UNICEF press release, for instance, notes that the glob­al child mor­tal­i­ty rate has declined since 1990, and adds that ​"with­out urgent action, 56 mil­lion chil­dren under five will die from now until 2030." Fol­low­ing the ruth­less ratio­nale of Rosling, the annu­al death toll will like­ly become all the more ​"beau­ti­ful" dur­ing this time pro­vid­ed that the decline con­tin­ues, no mat­ter how slow. But this fails to acknowl­edge the present-day poten­tial for erad­i­cat­ing child mor­tal­i­ty caused by pover­ty. It is not a sci­en­tif­ic prob­lem that 1 in 13 chil­dren in sub-Saha­ran Africa die before their fifth birth­day while that same sta­tis­tic in high-income coun­tries is 1 in 185. It is a social prob­lem and, as UNICEF notes, a prob­lem of eco­nom­ic inequality.
Oxfam report­ed in Jan­u­ary that a 0.5 per­cent tax on the wealth of the world's rich­est 1% would raise more mon­ey than it would cost to edu­cate the world's 262 mil­lion chil­dren cur­rent­ly out of school and pro­vide health­care that would save the lives of 3.3 mil­lion peo­ple. Instead, accord­ing to the British House of Com­mons Library, we are on a course that will con­cen­trate two-thirds of the world's wealth in the rich­est 1% by 2030.
Facts like these do not fit into the ​"opti­mistic " TED Talk cel­e­bra­tion of neolib­er­al­ism — the docile, yet enthu­si­as­ti­cal­ly mar­ket­ed, res­ig­na­tion to busi­ness as usu­al. On the con­trary, they point to poten­tial­i­ties that remain unre­al­ized due to the exploita­tive rela­tion­ships on which glob­al cap­i­tal­ism relies. As Yale philoso­pher Thomas Pogge sug­gests, it is more moral­ly con­sci­en­tious to com­pare exist­ing pover­ty ​"not with his­tor­i­cal bench­marks but with present pos­si­bil­i­ties: How much of this pover­ty is real­ly unavoid­able today? By this stan­dard, our gen­er­a­tion is doing worse than any in human history."
To regard as ​"beau­ti­ful" the fact that chil­dren still die because they lack cheap med­i­cine, vac­cines and clean water is to ignore our enor­mous growth in glob­al labor pro­duc­tiv­i­ty and total afflu­ence, as well as our poten­tial to elim­i­nate inequal­i­ty. To block out sim­ple con­sid­er­a­tions like this does not sound like ​"fact­ful­ness" to me. It does, how­ev­er, sound like a pre­con­di­tion for get­ting free pro­mo­tion from Bill Gates.
Roland Paulsen
is asso­ciate pro­fes­sor of soci­ol­o­gy at Lund Uni­ver­si­ty. He is the author of Emp­ty Labor: Idle­ness and Work­place Resis­tance and coau­thor of Return to Mean­ing: A Social Sci­ence with Some­thing to Say.