Sex Workers Say "Trafficking" Crackdown Is Backdoor to Gentrifying New Orleans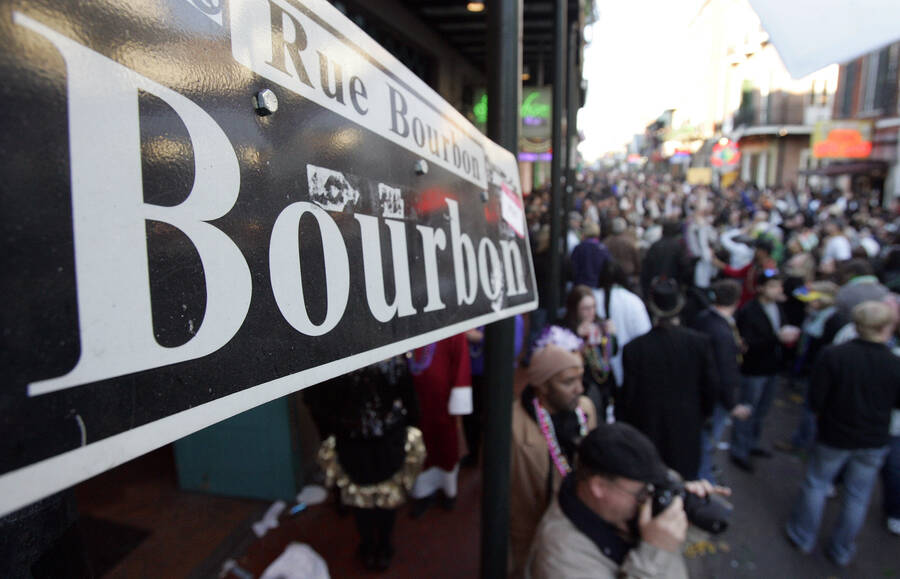 Under the guise of pro­tect­ing sex traf­fick­ing vic­tims, the Louisiana leg­is­la­ture passed two bills this month that — if signed into law by the gov­er­nor — will con­tin­ue to unfair­ly link human traf­fick­ing to New Orleans strip clubs and sex work­ers. Some sex work­ers warn the leg­is­la­tion is poised to harm the safe­ty and liveli­hood of sex work­ers and quick­en the pace of gen­tri­fi­ca­tion in the city.
HB 830 would require ​"sex­u­al­ly ori­ent­ed busi­ness­es," which includes strip clubs, to adhere to require­ments that employ­ees fill out ques­tion­naires on human traf­fick­ing or face thou­sands of dol­lars' worth of fines. Anoth­er bill, SB 335, bumps up fines for those solic­it­ing sex work­ers and pay­ing for sex to ​"lessen the demand" for sex traf­fick­ing — while fail­ing to dis­tin­guish between traf­fick­ing vic­tims and sex work­ers in its enforcement.
Many had already expressed con­cern about an unfair crack­down tar­get­ing sex work­ers. In Feb­ru­ary, strip club employ­ees, com­mu­ni­ty activists and oth­er work­ers in the French Quar­ter took to the streets to protest police raids on strip clubs. Police claimed that they were com­bat­ting human traf­fick­ing by raid­ing the estab­lish­ments, but many strip­pers say the clubs were unfair­ly tar­get­ed and that police took pho­tos of them with­out ask­ing, watched them dress and ridiculed them.
Strip clubs avoid­ed addi­tion­al city scruti­ny when, in March, the City Coun­cil vot­ed down a pro­pos­al to cap the num­ber of strip clubs on Bour­bon Street, which rep­re­sent­ed a huge vic­to­ry for strip­pers, who are con­cerned about attempts to make the French Quar­ter more ​"fam­i­ly friend­ly." But state law­mak­ers have con­tin­ued to advance sex traf­fick­ing laws that — accord­ing to some — would enable the gen­tri­fi­ca­tion of New Orleans, make it more dif­fi­cult for strip clubs to stay open and endan­ger sex workers.
State and city offi­cials and law­mak­ers have tried to make strip clubs syn­ony­mous with sex traf­fick­ing — and police raids over the years have cer­tain­ly helped.
Accord­ing to Jack, the hard­est-hit clubs include those that employ dancers from more mar­gin­al­ized back­grounds, some of whom are exclud­ed from the for­mal econ­o­my. Many of the clubs that were shut down as a result of ongo­ing city scruti­ny were the ones that ​"tend­ed to have dancers that were not just pret­ty white girls," he explained.
"There was a club called Dix­ie Divas that was known as place where trans women would go, and a lot more women of col­or, and not nor­ma­tive­ly attrac­tive bod­ies to go dance and make some mon­ey," he says.
The club closed in Feb­ru­ary after the Louisiana Office of Alco­hol and Tobac­co Con­trol, Louisiana State Police and New Orleans Police Depart­ment found ​"mul­ti­ple inci­dents of pros­ti­tu­tion, lewd acts, and in some cas­es ille­gal drug activ­i­ty at these strip clubs." There were no arrests relat­ed to human trafficking.
Lyn Archer, who is part of the strip club work­er advo­ca­cy group Bour­bon Alliance of Respon­si­ble Enter­tain­ers (BARE), told Best of New Orleans she has con­cerns about the City Plan­ning Commission's 2016 Adult Live Per­for­mance Venues study, which con­sid­ered the reg­u­la­tion of strip clubs. Archer says that the small­er clubs won't be able to meet the zon­ing stan­dards for appear­ance or rep­u­ta­tion that they need to stay open. Since these clubs hire more peo­ple who don't con­form to nar­row weight or age or height expec­ta­tions that larg­er clubs do, those work­ers will like­ly lose their jobs if the clubs close.
She is also con­cerned about HB 830. The U.S. gov­ern­ment seized Back­page in April.
Mis­tress Genevieve says that due to the fed­er­al law, sex work­ers in New Orleans are either work­ing out of bars or sim­ply can't find clients.
"Now that Back­page is gone, I'm not even mak­ing half of what I need to make to pay rent. Rent is get­ting high­er and there is no such thing as print ads for us any­more. We give a lot of peo­ple cred­it for know­ing how to use the inter­net. A lot of peo­ple only knew how to use Back­page," she explains.
"If you're cast­ing a big­ger net, you can turn down bad clients," she con­tin­ues. ​"But if you're real­ly broke and you have to go through screen­ing process­es and you have lim­it­ed num­ber of calls, that means that occa­sion­al­ly peo­ple are going to drop their guard. Rent is due and I need to take this call … Then they're in trouble."
Casey Quin­lan
is a pol­i­cy reporter at ThinkProgress. She writes about edu­ca­tion, labor, and crim­i­nal jus­tice. She has pub­lished arti­cles in The Atlantic, Bus­tle, Bitch Mag­a­zine, Glam­our and The Guardian.