New Play Chronicles the Toll of the Deepwater Horizon Oil Spill on Workers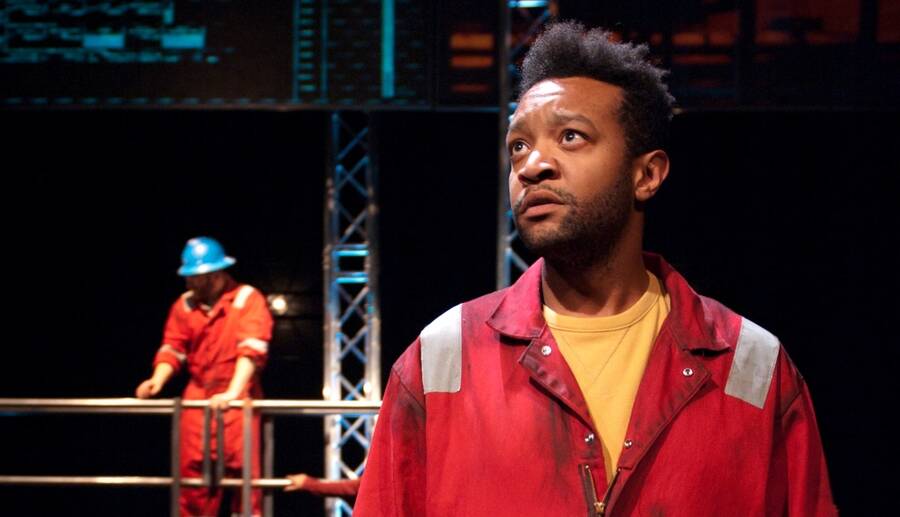 The 2010 BP oil spill in the Gulf of Mex­i­co is wide­ly known as one of the worst envi­ron­men­tal cat­a­stro­phes in mod­ern his­to­ry, with oil pour­ing into the sen­si­tive ocean envi­ron­ment for 87 days, wip­ing out life and alter­ing the ecosys­tem for decades to come.
But the dis­as­ter wasn't a ​"spill" to the father of a work­er killed in the con­fla­gra­tion that pre­ced­ed the flow of oil into the sea, as por­trayed in the crit­i­cal­ly acclaimed play Spill by Time­Line The­atre in Chica­go, run­ning through Decem­ber 19.
"It was an explo­sion," he cried, one in which 11 work­ers were killed imme­di­ate­ly and scores more suf­fered phys­i­cal injuries and psy­cho­log­i­cal trau­ma that will haunt them for life. ​"The envi­ron­ment will sur­vive. We can't get our guys back," the father said
The play is cen­tered on the work­ers of the Deep­wa­ter Hori­zon, who worked some of the most dan­ger­ous and gru­el­ing jobs imag­in­able, and whose treat­ment and fate was great­ly over­shad­owed in the pub­lic debate and media cov­er­age by the eco­log­i­cal and eco­nom­ic impacts of the four mil­lion bar­rels of oil that hem­or­rhaged into the Gulf.
Rely­ing on court tes­ti­mo­ny, let­ters, jour­nals and hun­dreds of hours of inter­views with fam­i­ly mem­bers, sur­viv­ing work­ers and oth­ers, the script by Leigh Fon­dakows­ki func­tions as impres­sive jour­nal­ism, recre­at­ing the final moments of the work­ers who died and cap­tur­ing their per­son­al­i­ties and motivations.
With stel­lar act­ing and cre­ative use of a spare set and strik­ing light­ing effects, the play trans­ports the view­er onto the Deep­wa­ter Hori­zon and into the salty air per­me­at­ed by anx­i­ety and then ter­ror as the dis­as­ter unfolds.
It lays bare the fears and even pre­mo­ni­tions work­ers had going into the job; how those with decades of expe­ri­ence in the indus­try had grave con­cerns about safe­ty pro­ce­dures on the rig. The play notes how ​"tool push­er" Jason Ander­son, 35, wrote a will in a spi­ral note­book in the weeks lead­ing up to his depar­ture, and how his wife Shel­ley felt they both knew their good­bye kiss would be their last.
The play cap­tures the pride the work­ers and their fam­i­lies took in the oil indus­try, and how it pro­vid­ed ​"good jobs" that were hard to come by else­where. The oil indus­try is one of the only indus­tries left where you can work your way up from rough neck to man­ag­er with only two years of col­lege, the father of one work­er noted.
"These guys who work on these rigs are the fight­er pilots of our pro­fes­sion. They're rock stars."
The play also chron­i­cles the sit­u­a­tion of the cleanup work­ers, locals who were hired in the wake of the spill to car­ry out a des­per­ate, mis­guid­ed and hap­haz­ard effort to con­tain the oil with absorbent boom.
Head­ing out in a mot­ley flotil­la of local boats, they spent long hours lug­ging oil-soaked boom into boats, often becom­ing soaked in oil them­selves. Then tox­ic dis­per­sant was sprayed from the air across the ocean, even as the cleanup work­ers were out on the water with lit­tle pro­tec­tive equip­ment. Lat­er it was proven that the chem­i­cals cause seri­ous health prob­lems for humans and wildlife, doom­ing cleanup work­ers to can­cer and oth­er life-threat­en­ing and chron­ic ailments.
In a stir­ring mono­logue based in part on court tes­ti­mo­ny, Spill gives voice to cleanup work­er Jorey Danos, who saw the quick mon­ey as a chance to turn his trou­bled life around, even as his wife warned him against it. He describes his hands going numb after being soaked in oil, the aching of his mus­cles from haul­ing the boom into the boat, and the dis­per­sant rain­ing down on him, mak­ing the sea's sur­face look like a mil­lion pieces of shat­tered mirror.
"No res­pi­ra­tors, no train­ing, no instruc­tions or any­thing," recount­ed Danos, played by Kel­li Simp­kins. ​"You're scoop­ing up oil so hot and so smelly for $300 a day."
He said ​"my pride got the best of me" in push­ing him to take the job. ​"This woman right there told me not to go. Now I'm sit­ting here hand­i­capped with no income. And how can I prove BP put the tox­ins in me?"
The treat­ment of cleanup work­ers and the slap­dash cleanup strat­e­gy, cou­pled with dra­con­ian efforts to keep jour­nal­ists and observers away, showed the cav­a­lier and care­less approach of the cor­po­rate play­ers involved — and gov­ern­ment reg­u­la­tors — toward the men and women on the ground and in the water.
The play's pro­gram includes pho­to and text por­traits of the men who were killed in the explo­sion. Rang­ing in age from 22 to 49, they were fam­i­ly men, look­ing for­ward to cel­e­brate upcom­ing mile­stones with their loved ones – one had his anniver­sary and his son's birth dates writ­ten inside his helmet.
Chief driller Dewey A. Revette had recent­ly walked his daugh­ter down the aisle at her wed­ding. ​"Mud engi­neer" Gor­don Jones' son was born three weeks after his death.
Shel­ley Ander­son lat­er dis­cov­ered that Jason had been plan­ning a 10th anniver­sary trip to the same hotel room they had vis­it­ed on their wed­ding night.
The play opens with Shel­ley and Jason at a drunk­en cel­e­bra­tion of oil work­ers, gam­bling in a bar or casi­no before head­ing out to the doomed rig. The actors chill­ing­ly cap­ture the mood of forced, boozy ebul­lience bare­ly mask­ing under­ly­ing fears and mis­giv­ings. Jason throws the dice as Shel­ley looks on, an apt metaphor for the gam­ble that the men were tak­ing in exchange for well-pay­ing jobs, and that sev­er­al of the world's largest com­pa­nies were tak­ing with the men's lives.
"The Bible says the love of mon­ey is the root of all evil," notes Jones' father, toward the end of the play. ​"Don't gam­ble with people's lives. … Don't gam­ble when you can't afford to cov­er your debt."
Spill runs through Decem­ber 19 at Stage 773, by Time­Line The­atre Com­pa­ny, whose mis­sion is to present sto­ries ​"inspired by his­to­ry that con­nect with today's social and polit­i­cal issues."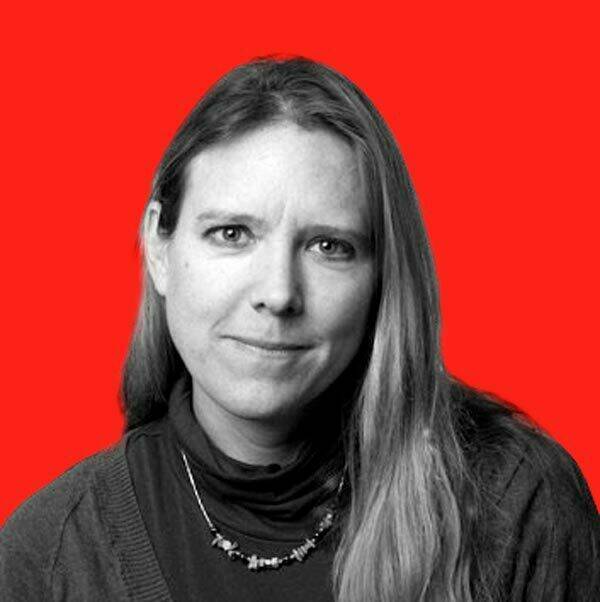 Kari Lyder­sen
is a Chica­go-based reporter, author and jour­nal­ism instruc­tor, lead­ing the Social Jus­tice
&
amp; Inves­tiga­tive spe­cial­iza­tion in the grad­u­ate pro­gram at North­west­ern Uni­ver­si­ty. She is the author of May­or
1
%: Rahm Emanuel and the Rise of Chicago's
99
%.