New Study Finds "More Sweatshops than Starbucks" in Chicago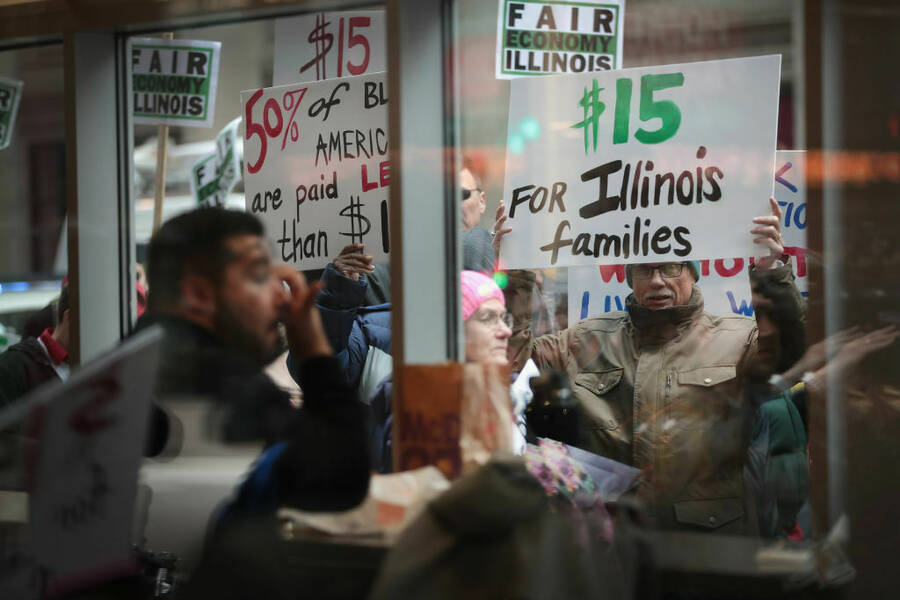 Ille­gal abus­es in low-wage work­places are large­ly going unre­port­ed by work­ers because of a real­is­tic expec­ta­tion their boss­es will retal­i­ate against them for speak­ing up, accord­ing to a new study released this week.
The report, Chal­leng­ing the Busi­ness of Fear, was pre­pared by Raise the Floor Alliance, which is a coali­tion of Chica­go work­er cen­ters, and the Nation­al Eco­nom­ic and Social Rights Ini­tia­tive (NES­RI). Sur­veys and inter­views were con­duct­ed with near­ly 300 Chica­go-area work­ers from a vari­ety of low-wage indus­tries, includ­ing ware­hous­ing, man­u­fac­tur­ing, food ser­vice and retail.
The study finds that among employ­ees who dared to speak up about work­place injus­tices like unsafe con­di­tions, wage theft, injuries, sex­u­al harass­ment and dis­crim­i­na­tion, 58 per­cent expe­ri­enced retal­i­a­tion. Of work­ers who report­ed legal vio­la­tions to reg­u­la­to­ry agen­cies like the Illi­nois Depart­ment of Labor, Depart­ment of Human Rights, or the Occu­pa­tion­al Safe­ty and Health Admin­is­tra­tion, over 80 per­cent said their employ­er retal­i­at­ed against them.
Sophia Zaman, exec­u­tive direc­tor of Raise the Floor Alliance, said at a press con­fer­ence Thurs­day that retal­i­a­tion has become ​"so nor­mal­ized, it's basi­cal­ly a way of doing business."
"Three quar­ters of our par­tic­i­pants report­ed two or more vio­la­tions of their legal rights in their cur­rent job. This is the def­i­n­i­tion of a sweat­shop," said Brit­tany Scott, senior research strate­gist at NESRI.
Scott said the study dis­cov­ered more than 180 sweat­shop-like work­places: ​"That's more sweat­shops than Star­bucks in Chicago."
Despite hav­ing wit­nessed or expe­ri­enced mul­ti­ple work­place abus­es, 73 per­cent of the employ­ees sur­veyed said they chose to keep qui­et at least some­times due to fear of reprisals.
"Most­ly, peo­ple don't both­er to fight," said Vic­to­ria, an unem­ployed fac­to­ry work­er quot­ed in the report. After telling her employ­er about injuries she sus­tained on the job, Vic­to­ria was ini­tial­ly giv­en more phys­i­cal­ly inten­sive work as ret­ri­bu­tion. Then, she was fired. ​"They see peo­ple speak up and suf­fer reprisals and think it's not worth it."
The study found that the most com­mon kinds of retal­i­a­tion were get­ting fired, hav­ing hours cut, or, in the case of temp work­ers, being placed on a temp agency's ​"Do Not Return" list — a form of black­list­ing. Employ­ers also retal­i­at­ed by threat­en­ing to call police or immi­gra­tion author­i­ties, and some­times even resort­ed to phys­i­cal vio­lence, the report notes.
"We've seen on the ground that even if a work­er leader is well versed on their rights and knows how to report work­place injus­tice, the threat of retal­i­a­tion can pre­vent them from act­ing," Zaman said.
Accord­ing to a recent inves­ti­ga­tion by the Chica­go Reporter, only one in four min­i­mum wage com­plaints in the city are inves­ti­gat­ed. This is part­ly because many work­ers do not sub­mit the required affi­davits nec­es­sary for an inves­ti­ga­tion to be opened, know­ing their employ­ers would be giv­en a copy of the affi­davit and fear­ful of the consequences.
Threats of reprisals are par­tic­u­lar­ly par­a­lyz­ing for undoc­u­ment­ed work­ers or work­ers with undoc­u­ment­ed fam­i­ly mem­bers, espe­cial­ly in light of Pres­i­dent Don­ald Trump's anti-immi­grant poli­cies. Across the coun­try, staff with the U.S. Depart­ment of Labor report more dif­fi­cul­ty enforc­ing work­place stan­dards since Trump took office because undoc­u­ment­ed work­ers are too fear­ful to coop­er­ate with them.
"Retal­i­a­tion is where enforce­ment breaks down, and address­ing it is what we need to do to restore rule of law to our work­places," Scott said.
Though employ­er reprisals are ille­gal, Scott argued that the com­pli­cat­ed patch­work of enforce­ment frame­works ​"makes it near­ly impos­si­ble for work­ers to get relief from retal­i­a­tion, and if they do, it's too lit­tle, too late."
The study found that when work­ers who had been retal­i­at­ed against sought legal reme­dies, 55 per­cent said their com­plaints were not tak­en seri­ous­ly and 66 per­cent said they did not receive ade­quate relief.
Under cur­rent laws in most states, includ­ing Illi­nois, the bur­den of proof is on work­ers to demon­strate that their employ­er fired them out of retal­i­a­tion and not for some oth­er rea­son, like poor per­for­mance or com­pa­ny downsizing.
"It's too often impos­si­ble for work­ers to prove they were fired out of retal­i­a­tion, because employ­ers can fire them for vir­tu­al­ly rea­son at all," Zaman said. ​"Plau­si­ble deni­a­bil­i­ty is all too avail­able to abu­sive employers."
Fur­ther­more, the report notes that often the only avail­able legal rem­e­dy for retal­i­a­tion is rein­state­ment and back pay, which does not cov­er instances where reprisals took forms oth­er than ter­mi­na­tion, or where vic­tims can­not or do not wish to return to a par­tic­u­lar job they were fired from. The report calls for more uni­ver­sal forms of relief like mon­e­tary dam­ages, as well as legal penal­ties for guilty employers.
A bill recent­ly intro­duced in the state leg­is­la­ture by the Illi­nois AFL-CIO could address some of the prob­lems around reprisals. The Wrong­ful Dis­charge from Employ­ment Act, sup­port­ed by Raise the Floor Alliance and NES­RI, would force employ­ers to pro­vide fired work­ers with a clear and legit­i­mate rea­son for the dis­charge, essen­tial­ly prov­ing that it was not done in retaliation.
Raise the Floor Alliance and NES­RI also sup­port the cre­ation of a Chica­go Office of Labor Stan­dards to ensure more rig­or­ous enforce­ment of work­er pro­tec­tions at the local level.
Ulti­mate­ly, Zaman and Scott believe that work­place orga­niz­ing is the best way to con­front the cli­mate of fear and enforce legal pro­tec­tions, and stress that work­er cen­ters can play a valu­able role.
"The cul­ture of fear is on pur­pose," Zaman told In These Times. ​"Employ­ers know they can get away with abuse."
Jeff Schuhrke has been a Work­ing In These Times con­trib­u­tor since 2013. He has a Ph.D. in His­to­ry from the Uni­ver­si­ty of Illi­nois at Chica­go and a Master's in Labor Stud­ies from UMass Amherst. Fol­low him on Twit­ter: @JeffSchuhrke