How New York Activists Banned Fracking
Anti-fracking forces not only pushed a right-leaning Democratic governor to pass the ban, but proved the conventional wisdom—that a ban would be impossible—wrong.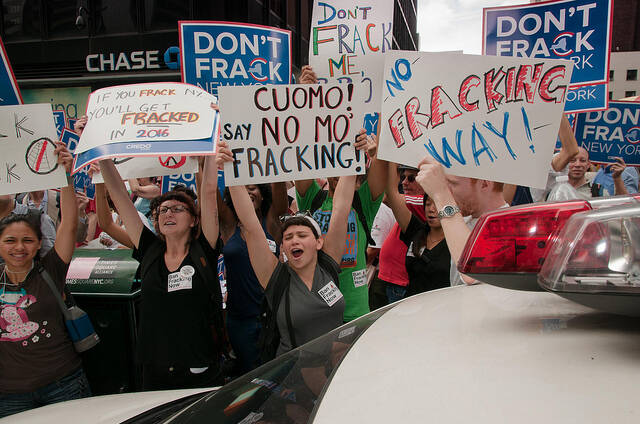 On Decem­ber 17, years of relent­less orga­niz­ing cul­mi­nat­ed in the admin­is­tra­tion of Gov. Andrew Cuo­mo announc­ing a ban frack­ing in New York.
"For too many years, mainstream environmental organizations have been beaten down by our nation's politics," says Wenonah Hauter, Executive Director of Food & Water Watch. "If we're going to create the world we want, we need to have the courage to fight for that vision."
In win­ning this his­toric vic­to­ry, we defeat­ed the oil & gas indus­try, with its mas­sive finan­cial clout and polit­i­cal influ­ence. We also under­mined the con­ven­tion­al wis­dom that a ban was not fea­si­ble — a sen­ti­ment wide­ly held by polit­i­cal insid­ers but also by many green groups who eas­i­ly con­ced­ed that frack­ing would be permitted.
As Ling Tsou, co-founder of Unit­ed for Action, a New York City-based grass­roots group that fought for a ban, not­ed, ​"The main­stream envi­ron­men­tal orga­ni­za­tions thought the best we could get were good reg­u­la­tions and thought we were crazy."
But thou­sands of ​"frack­tivists" like Tsou per­se­vered, and against the odds, with a com­bi­na­tion of smart strat­e­gy and lots of hard work, banned frack­ing in New York. Here is how we did it.
We built a mas­sive movement
New York's ban-frack­ing move­ment con­tained sev­er­al layers.
The top lay­er was New York­ers Against Frack­ing (NYAF), a coali­tion that helped uni­fy the nation­al, state and grass­roots orga­ni­za­tions call­ing for a statewide ban, ulti­mate­ly com­pris­ing more than 250 organizations.
"NYAF was a mega­phone," says San­dra Ste­in­graber, the not­ed biol­o­gist and author who helped found the coalition.
It ampli­fied a base of anti-frack­ing voic­es that includ­ed local groups formed to fight frack­ing in their com­mu­ni­ties — 180 munic­i­pal bans and mora­to­ria were passed across the state.
NYAF strength­ened that base in sev­er­al ways. First, we put orga­niz­ers on the ground in regions from Long Island to Buf­fa­lo. These orga­niz­ers were essen­tial to grow­ing our grass­roots pow­er as well as mobi­liz­ing peo­ple for actions, such as bus trips to Albany for ral­lies at the Capitol.
Sec­ond, NYAF helped cre­ate and pro­mot­ed numer­ous net­works of key frack­ing oppo­nents. These includ­ed net­works of health pro­fes­sion­als, busi­ness­es, local elect­ed offi­cials, chefs and faith lead­ers. These net­works played an impor­tant role in high­light­ing fracking's impacts on health, the econ­o­my, and oth­er concerns.
Third, NYAF enabled col­lab­o­ra­tion and coor­di­na­tion of tac­tics and mes­sag­ing among the numer­ous strands of the move­ment that spanned the state. Resources were both max­i­mized and put to more effec­tive use because every­thing from let­ters to the edi­tor and op-ed pieces to ral­lies, call-in days and peti­tion dri­ves were planned together.
As Alex Beauchamp, North­east Region Direc­tor for Food & Water Watch, notes, ​"Too often, orga­ni­za­tions try to win these bat­tles in the halls of the capi­tol, but we put our resources into build­ing and mobi­liz­ing pow­er where it could have the great­est impact — at the grassroots."
We demand­ed what we wanted
"Ban frack­ing now!" was our ral­ly cry, and stead­fast alle­giance to this demand was crit­i­cal to main­tain­ing the movement.
"I live on the shale where frack­ing would have occurred," says Jill Wiener, a mem­ber of Catskill Cit­i­zens for Safe Ener­gy. ​"From the very begin­ning, there was zero way that I thought reg­u­la­tion could work for this industry."
It was this sen­ti­ment that bound togeth­er New York's anti-frack­ing move­ment, and the com­mit­ment to it that sus­tained so many peo­ple for so long.
Tsou not­ed that many of her activist friends were dis­il­lu­sioned by the bat­tle for health care reform and the fail­ure to call for sin­gle-pay­er health care — and they were deter­mined not to repeat that kind of mis­take. ​"We need­ed to ask for what was real­ly the right thing."
Karen Scharff, Exec­u­tive Direc­tor of Cit­i­zen Action of New York, says, ​"There were so many times when the Cuo­mo admin­is­tra­tion offered dif­fer­ent ver­sions of com­pro­mis­es, think­ing they could divide peo­ple, but the coali­tion stuck with its demand."
One such instance occurred when the admin­is­tra­tion, hav­ing already pro­posed ban­ning frack­ing in the New York City and Syra­cuse water­sheds, float­ed the idea of pilot projects in the state's South­ern Tier. But the move­ment imme­di­ate­ly squashed that notion, insis­tent­ly demand­ing at ral­lies, in press state­ments, and in social media, ​"Not one well!"
We tar­get­ed Cuomo
At one mem­o­rable coali­tion meet­ing, a col­league pound­ed his fist on the table, declar­ing that our strat­e­gy should be ​"Cuo­mo, Cuo­mo, Cuo­mo!" Indeed, we were laser-focused on pres­sur­ing Gov­er­nor Cuo­mo, pro­vid­ing cohe­sion to the move­ment and its tac­tics and mes­sag­ing across the state.
It's an orga­niz­ing max­im that you can't take on City Hall, but you can take on the may­or. We were com­mit­ted to the notion that we had one deci­sion-mak­er who we should direct all our ener­gy towards and his name was Andrew Cuomo.
It made sense. Cuo­mo once infa­mous­ly told the New York Dai­ly News, ​"I am the gov­ern­ment," and it is wide­ly under­stood that all impor­tant deci­sions — and many unim­por­tant ones, too — are made by him.
Leg­isla­tive solu­tions, an easy dis­trac­tion, were giv­en lit­tle atten­tion, part of a process that, as Scharff not­ed, inevitably leads to compromise.
​"There were many times where Cuo­mo tried to shift the role of deci­sion-mak­er to oth­er peo­ple — or at least cre­ate the appear­ance of doing so," says Beauchamp. ​"But we were very dis­ci­plined in main­tain­ing our focus on him."
We were unrelenting
We labored with a con­stant sense of urgency that the Cuo­mo admin­is­tra­tion could announce a deci­sion on frack­ing at any moment — and that it might be a bad one.
As the Cuo­mo admin­is­tra­tion dragged out its deci­sion, ulti­mate­ly tak­ing near­ly four years, we took advan­tage of every moment. The move­ment engaged in scores of con­ven­tion­al tac­tics to influ­ence Cuo­mo — gen­er­at­ing hun­dreds of thou­sands of peti­tions and pub­lic com­ments, mak­ing thou­sands of phone calls, pub­lish­ing hun­dreds of let­ters to the edi­tor. At the same time, we cul­ti­vat­ed new sup­port­ers through count­less film screen­ings, dis­trib­ut­ing thou­sands of leaflets and can­vass­ing busi­ness­es, church­es and oth­er institutions.
But our sig­na­ture tac­tic was ​"bird-dog­ging," the prac­tice of estab­lish­ing a pres­ence at a polit­i­cal target's pub­lic appearances.
The move­ment bird-dogged Cuo­mo relent­less­ly, ral­ly­ing out­side fundrais­ers, press con­fer­ences, state fairs, and dozens of oth­er pub­lic events.
"You have to show up in per­son," said Tsou. ​"Cuo­mo real­ized that every­where he went, he'd be met by fracktivists."
At an event in Man­hat­tan to launch Cuomo's book, there were hun­dreds more anti-frack­ing pro­test­ers than book-buy­ers. On Pri­ma­ry Day, we held signs at his polling loca­tion in Westch­ester, and a clear­ly impressed Cuo­mo acknowl­edged to reporters the vital­i­ty of our move­ment, men­tion­ing that his daugh­ter once joked they must have arrived at the wrong event if there were no frack­ing pro­test­ers there.
Always secre­tive with his sched­ule, Cuo­mo became even more so when we began bird-dog­ging him. Anoth­er prob­lem was when Cuo­mo start­ed can­cel­ing pub­lic appear­ances because of us. There were numer­ous instances when we had mobi­lized crowds and he didn't show up – but this phe­nom­e­non was report­ed in the press and was a sign that our pres­ence was hav­ing an impact.
"It was real­ly impor­tant that the coali­tion adopt­ed tac­tics that were ener­giz­ing and inspir­ing for the grass­roots, enabling them to have their voic­es heard and feel the move­ment grow­ing," Scharff says.
We made it about health
Among our most impor­tant accom­plish­ments was defin­ing frack­ing as a threat to human health, a chal­lenge giv­en the ini­tial lack of atten­tion to the issue by the Cuo­mo administration.
"The word ​'chil­dren' doesn't appear in the state's draft envi­ron­men­tal impact state­ment," notes Ste­in­graber. ​"Nor does the word ​'preg­nan­cy'."
Nonethe­less, the pub­lic health risks caused by frack­ing res­onat­ed broad­ly and helped sus­tain and strength­en the movement's motivation.
Again, we were helped by the pas­sage of time. ​"The data on health got worse, the peer-reviewed health stud­ies came out, and what we learned was damn­ing," Beauchamp says.
Fracking's threat to the safe­ty of our drink­ing water was a vis­cer­al con­cern that was eas­i­ly under­stood. Tsou, who spent count­less hours with fel­low activists doing pub­lic out­reach, says, ​"It's real­ly the water that draws peo­ple in."
New York's prox­im­i­ty to Penn­syl­va­nia enabled us to orga­nize bus tours of frack­ing sites there, allow­ing elect­ed offi­cials, faith lead­ers and oth­ers to learn first-hand from affect­ed fam­i­lies about fracking's health impacts.
Ulti­mate­ly, said Ste­in­graber, ​"The move­ment car­ried the sci­ence into the pub­lic are­na." Con­cerned Health Pro­fes­sion­als of New York played a key role in com­pil­ing and pub­li­ciz­ing the emerg­ing sci­ence around frack­ing. Cuo­mo deter­mined that the health com­mis­sion­er would pick up where his envi­ron­ment depart­ment had left off, review­ing the cur­rent lit­er­a­ture. And so it was on Decem­ber 17 that it was Cuomo's health com­mis­sion­er who announced that frack­ing would be banned in New York.
"For too many years, main­stream envi­ron­men­tal orga­ni­za­tions have been beat­en down by our nation's pol­i­tics," says Wenon­ah Hauter, Exec­u­tive Direc­tor of Food & Water Watch. ​"If we're going to cre­ate the world we want, we need to have the courage to fight for that vision."
In New York, we had that courage — and we backed it up with the orga­niz­ing that built the pow­er to make that vision a real­i­ty. As Scharff says, ​"The biggest les­son here is the pow­er of grass­roots orga­niz­ing and the pow­er of relent­less grass­roots mobi­liza­tion. The fact that the gov­er­nor couldn't go any­where in the state with­out hear­ing from us worked."