New York Took On the Real Estate Industry and Won. Illinois Could Be Next.
Organizers in Illinois can learn important lessons from New York's groundbreaking victory on rent laws.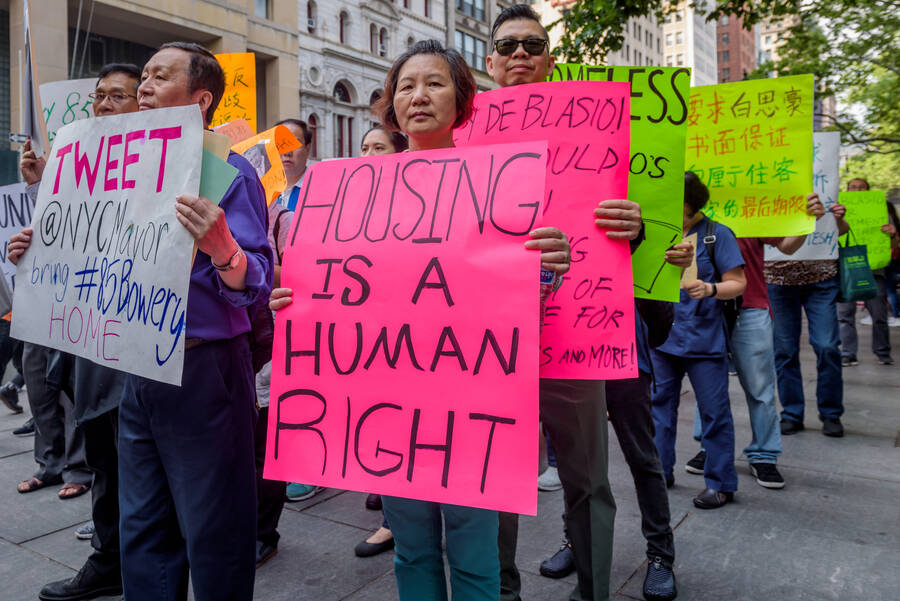 On June 14, New York Gov. Andrew Cuo­mo signed into law new hous­ing leg­is­la­tion that guar­an­tees the ​"strongest ten­ant pro­tec­tions in his­to­ry," extend­ing rent reg­u­la­tion from New York City and adja­cent coun­ties to the entire state, final­ly clos­ing rent con­trol loop­holes and elim­i­nat­ing the ​"vacan­cy bonus" that allowed land­lords to hike rents once ten­ants moved out.
Some form of rent reg­u­la­tion has been in place in New York City for near­ly a cen­tu­ry. But the laws that were meant to keep hous­ing afford­able and ten­ants in place by lim­it­ing rent increas­es had been run through with loop­holes because they had to be re-leg­is­lat­ed — usu­al­ly with con­sid­er­able changes pushed by the real estate indus­try — every four years. The new laws are per­ma­nent, end­ing this peri­od­ic ​"hous­ing marathon."
The sweep­ing vic­to­ry in a state that's home to some of the biggest real estate inter­ests in the world offers impor­tant lessons, such as how to con­nect urban and rur­al com­mu­ni­ties in the demand for hous­ing jus­tice. In Illi­nois, where a bill for statewide rent con­trol is now being debat­ed, orga­niz­ers can learn from the strate­gies employed by orga­niz­ers in New York, rang­ing from build­ing strong coali­tions to pres­sur­ing law­mak­ers and run­ning insur­gent elec­toral campaigns.
The fight for new rent reg­u­la­tions in New York didn't begin in 2019. For hous­ing rights orga­niz­ers, one of the cat­alyz­ing moments came when Diana Richard­son won her seat in the New York Assem­bly in 2015 with­out tak­ing any mon­ey from real-estate inter­ests. When the new rent laws were signed this year, orga­niz­ers could also think back to the 2018 rent strike in a mobile home park near Buf­fa­lo, and when, lat­er in 2018, insur­gent can­di­dates beat the six Demo­c­ra­t­ic state Sen­a­tors who for years had ced­ed pow­er to Sen­ate Repub­li­cans. And then there was Rep. Alexan­dria Ocasio-Cortez's cam­paign against sub­si­dies for a pro­posed new Ama­zon head­quar­ters in Queens.
Cea Weaver, the Cam­paign Man­ag­er for a coali­tion called the Upstate Down­state Hous­ing Alliance, says that years of advo­ca­cy and protest added urgency to the insur­gent elec­toral vic­to­ries. ​"We didn't just win the races, we tapped into a man­date." As the dead­line to renew the rent laws loomed, Weaver said, leg­is­la­tors thought, ​"If I don't deliv­er on rent, this ten­ant coali­tion could vote me out of office." When Ama­zon ini­tial­ly chose Queens for its head­quar­ters, orga­niz­ers saw anoth­er one of Cuomo's back­room deals exac­er­bat­ing the hous­ing cri­sis and used it to link land­lords and real estate mon­ey to cor­rup­tion in Albany. From Ama­zon to evic­tions, Weaver explained, the per­cep­tions of land­lords and their con­nec­tions to Cuo­mo soured, and the stage for the new rent laws was set.
But there was an even stronger wind in the ten­ants' sails. New York­ers increas­ing­ly rec­og­nized the impor­tance of hous­ing afford­abil­i­ty as an issue, and rent reg­u­la­tion as a rem­e­dy. This was due in part to the Upstate Down­state Hous­ing Alliance's dai­ly efforts to, as Weaver put it, build a cam­paign that had rel­e­vance ​"from Brook­lyn to Buf­fa­lo." Who, after all, doesn't have a men­tal image of a cramped, unaf­ford­able apart­ment in New York? And who wouldn't want to escape it by find­ing a reg­u­lat­ed unit?
The orga­niz­ers had a plan in case this fact of life in New York was lost on any­one: Kevin Bor­den, the Co-Direc­tor of Man­u­fac­tured Hous­ing Action, said that the move­ment is stronger when orga­niz­ers step aside and let oth­ers do the talk­ing. ​"No one can take away the ten­ants' sto­ries," he said.
When Juani­ta Amador, a ten­ant turned orga­niz­er with the Kingston Ten­ants Union got on a church stage about 90 miles north of Times Square last Jan­u­ary to share her sto­ry with a room full of locals, she didn't have to strain in order to con­nect with her audi­ence. She only had to tell the all-too-famil­iar facts.
Amador said that she grew up in the 1970s in Alpha­bet City and that her land­lord set fire to her build­ing when her father refused to leave. Her father res­cued her from the fire by throw­ing a blan­ket over a hole in the floor. After the fire, after being home­less, after being evict­ed, after mov­ing to Kingston, Amador felt much like oth­ers in the room who have seen prices rise as renters flee­ing Brook­lyn put pres­sure on upstate New York: ​"I'm tired, and I guess I got a lit­tle radical."
Lift­ing the ban
While Amador and oth­ers were set­ting the ground­work for the new rent laws, the stars were align­ing in Illi­nois. In 2017, State Rep. Will Guz­zar­di intro­duced a bill that would repeal the 1997 leg­isla­tive ban on rent reg­u­la­tion. The Illi­nois ban, along with a num­ber of sim­i­lar bans across the coun­try, is the lega­cy of the Amer­i­can Leg­isla­tive Exchange Coun­cil (ALEC). Since its found­ing in 1973, ALEC has rolled back con­sumer pro­tec­tion reg­u­la­tions on a nation­al scale.
In the spring of 2018, State Sen. Mat­tie Hunter intro­duced an even more aggres­sive bill that would not only repeal the Illi­nois ban but also estab­lish region­al boards respon­si­ble for reg­u­lat­ing future rent increas­es. In Novem­ber 2018, J.B. Pritzk­er, a Demo­c­rat who sup­port­ed rent con­trol on the cam­paign trail, won the gov­er­nor­ship. The future looked bright.
But as spring turned to sum­mer and ten­ants in New York won rad­i­cal reforms, orga­niz­ers in Illi­nois watched their rent laws lan­guish in leg­isla­tive com­mit­tees. What happened?
Mon­ey from the real estate lob­by is a major chal­lenge to ten­ants in Illi­nois. It's one of the rea­sons why Illi­nois passed the ban on rent reg­u­la­tion in the first place, which gave today's group of rent con­trol advo­cates their name — the Lift the Ban Coali­tion. Sim­i­lar to the Upstate Down­state Hous­ing Alliance, the Lift the Ban Coali­tion wants statewide change. Unlike its New York coun­ter­part, the Coali­tion doesn't have sig­nif­i­cant mem­ber­ship out­side Chica­go, its respec­tive metrop­o­lis. It is also small­er in scale — the Lift the Ban Coali­tion is com­prised of about 20 orga­ni­za­tions, where the Alliance brought togeth­er over 66 groups for its ​"Hous­ing Jus­tice for All" cam­paign. But the largest devel­op­ers in the coun­try couldn't stop what hap­pened in Albany, so beyond these dif­fer­ences, there must be some­thing else at work in Illinois.
In the spring of 2019, when Cur­tis Tarv­er, a state rep­re­sen­ta­tive from Chica­go who cam­paigned in sup­port of rent con­trol, decid­ed to vote against it, oth­er rep­re­sen­ta­tives decid­ed not to stick their necks out either. Gov. Pritzk­er hasn't men­tioned repeal­ing the ban on rent con­trol since tak­ing office, despite using his Demo­c­ra­t­ic majori­ties to over­haul the tax sys­tem and legal­ize mar­i­jua­na. Michael Madi­gan, the Speak­er of the House and the longest-serv­ing leader of any leg­isla­tive body in the his­to­ry of the Unit­ed States, hasn't said much either.
Such a muz­zling of debate over rent con­trol would nev­er have hap­pened in New York, where the peri­od­ic expi­ra­tion of the rent laws forces leg­is­la­tors to acknowl­edge the sev­er­al mil­lion peo­ple liv­ing in reg­u­lat­ed apart­ments, even if the laws ulti­mate­ly con­tained con­ces­sions to land­lords. With no reg­u­la­tion on the books in Illi­nois and not a sin­gle con­stituent in a reg­u­lat­ed unit, it has become eas­i­er for skep­tics to respond to calls for reg­u­la­tion with clichéd counter-pro­pos­als for eco­nom­ic devel­op­ment poli­cies or plans to build more hous­ing, and Chicago's ample sup­ply of vacant land makes these argu­ments appeal­ing. ​"We're not land­locked," said Bri­an Bernar­doni, the Senior Direc­tor of Gov­ern­ment Affairs and Pub­lic Pol­i­cy for the Chica­go Asso­ci­a­tion of Real­tors, who thinks that cut­ting reg­u­la­tions will encour­age the con­struc­tion of afford­able hous­ing on emp­ty lots.
In New York, the Upstate Down­state Hous­ing Alliance had a deep reser­voir of reg­u­lat­ed ten­ants that, once mobi­lized, scared leg­is­la­tors into action. With­out a sin­gle reg­u­lat­ed unit in Illi­nois, the Lift the Ban Coali­tion is try­ing to cre­ate that from scratch. So, in 2018 and 2019, orga­niz­ers got out the vote for three non-bind­ing ref­er­en­da in parts of Chica­go, which showed over­whelm­ing sup­port for rent con­trol. But many leg­is­la­tors still say that they won't move on rent con­trol until they hear from their constituents.
The Lift the Ban Coali­tion has begun mak­ing robo­calls and can­vass­ing beyond its Chica­go neigh­bor­hood bases. Orga­niz­ers and Coali­tion mem­bers like Simone Alexan­der say they want Chica­go ten­ants, as well as those in sub­ur­ban dis­tricts that flipped Demo­c­ra­t­ic in the last elec­tion, to call their elect­ed rep­re­sen­ta­tives. But when an Illi­nois res­i­dent gets a robo­call about rent con­trol, what might they think?
Last year, as part of the effort to expand beyond Chica­go, Lift the Ban Coali­tion mem­bers met with renters in Car­bon­dale, Illi­nois — a town so far south of Chica­go that if you went the same dis­tance east, you'd be halfway to Man­hat­tan. Jen­nifer Fer­taly, direc­tor of Carbondale's Cen­ter for Empow­er­ment and Jus­tice, recalled that the same res­i­dents who couldn't afford their rent asked, ​"why do we care about rent con­trol? That's a city thing."
About 40 per­cent of Amer­i­cans strug­gle to afford their homes, but a shared prob­lem doesn't nec­es­sar­i­ly cre­ate agree­ment on the solu­tion. Res­i­dents across New York have an idea of what unaf­ford­abil­i­ty in the state looks like, and under­stand that rent reg­u­la­tion has been part of the pol­i­cy tool­box for decades. But is there a sim­i­lar, broad­ly-under­stood premise — let alone solu­tion — for Illi­noisans to orga­nize around?
Illi­nois is not lack­ing for Ama­zon-scale deba­cles that could boost rent control's appeal. The for­mer Cook Coun­ty Asses­sor, Joseph Berrios, sys­tem­at­i­cal­ly shift­ed the tax bur­den onto those least able to pay by over­valu­ing prop­er­ties in poor­er neigh­bor­hoods. The skewed val­u­a­tions drummed up a steady stream of prop­er­ty tax appeals for tax lawyers like Ed Burke, a Chica­go alder­man who was recent­ly indict­ed, along with his assis­tant and retired Park Dis­trict plumber Peter J. Andrews, for alleged­ly shak­ing down busi­ness­es and using the City of Chica­go as a crim­i­nal ​"enter­prise." The con­nec­tions between cor­rup­tion and afford­abil­i­ty in Illi­nois ring sim­i­lar to those between Ama­zon, real estate oper­a­tors, and Cuo­mo in New York, but have yet to sur­face as a key ele­ment of that state's rent con­trol debate.
"We are next"
Jawan­za Mal­one, Direc­tor of the Ken­wood Oak­land Com­mu­ni­ty Orga­ni­za­tion and leader of the Lift the Ban Coali­tion, is fundrais­ing to hire a full-time Cam­paign Coor­di­na­tor — some­thing that Kevin Bor­den of Man­u­fac­tured Hous­ing Action, said in an inter­view was impor­tant for the Upstate Down­state Hous­ing Alliance, along with mon­ey for trav­el, a press con­sul­tant and a lead­er­ship retreat. Orga­niz­ers are also think­ing about how best to tell a sto­ry that will cap­ture Illi­noisans' imag­i­na­tions. The Coali­tion has already pub­li­cized data on the toll that unaf­ford­abil­i­ty is tak­ing on renters in Chica­go, and Mal­one has appeared in the media, once face to face with Bri­an Bernar­doni of the Chica­go Asso­ci­a­tion of Realtors.
After talk­ing with orga­niz­ers from the Upstate Down­state Hous­ing Alliance in late July, the Lift the Ban Coali­tion is think­ing through how to apply New York's lessons to Illi­nois. ​"We had been hes­i­tant that gen­tri­fy­ing neigh­bor­hoods like Pilsen might be dif­fer­ent from places like Rock­ford," says Diego Morales, a mem­ber of the Lift the Ban Coalition's Steer­ing Com­mit­tee. But the New York expe­ri­ence showed that urban-rur­al alliances are strongest when orga­niz­ers focus on how hous­ing impacts every­one, regard­less of locale. Then there's the elec­toral pow­er that ten­ants built in New York to kick leg­is­la­tors out of office. Morales wants to hold Illi­nois rep­re­sen­ta­tives like Cur­tis Tarv­er, the one who cam­paigned on rent con­trol and then vot­ed against it once in office, sim­i­lar­ly accountable.
The chal­lenge in Illi­nois is a daunt­ing one: sweep­ing an old law clear off the books, rather than reform­ing cer­tain aspects of exist­ing laws, as was the case in New York. Do you pro­mote pro­gres­sive can­di­dates or lob­by those already in the state leg­is­la­ture? Do you push the Demo­c­ra­t­ic gov­er­nor or try to ral­ly a pro­gres­sive base? Do you get into wonky debates over pol­i­cy, or trum­pet sweep­ing change?
Look­ing at New York, Morales says it's clear­ly an ​"all of the above approach." If Illi­nois fol­lows through, he says, ​"we are next."
Max Budovitch
is a writer and edi­tor cur­rent­ly based in New York. He holds a Mas­ters in City Plan­ning from MIT, and his writ­ing has appeared in the South Side Week­ly and Urban Omnibus.