Seattle's Lessons for Bernie Sanders Activists After the Elections
A new book gives some pointers on taking Sanders' revolution to the local level.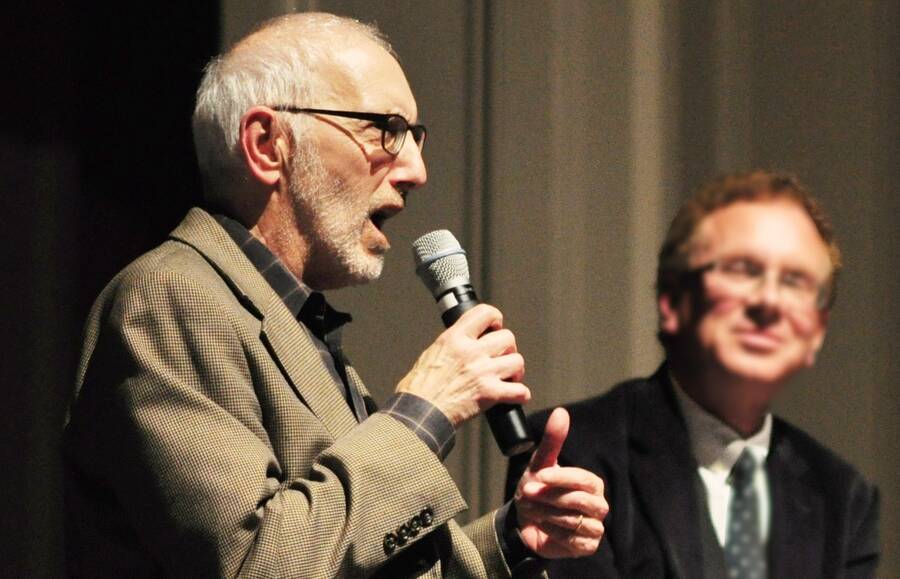 As the 2016 pri­ma­ry sea­son draws to an end and Bernie Sanders back­ers look beyond next month's Demo­c­ra­t­ic con­ven­tion in Philadel­phia, many who have ​"felt the Bern" have their eye on local politics.
According to Licata, progressives must develop the ability to "see the small things that generate the big things," linking voter concerns about global threats like climate change to concrete and achievable steps that city government can take to address local manifestations of the larger problem.
Hun­dreds, if not thou­sands, will be heed­ing the call of Min­neso­ta Con­gress­man Kei­th Elli­son, a Sanders' endors­er and con­ven­tion del­e­gate. ​"We need peo­ple run­ning for school boards," Elli­son told the New York Times in May. ​"We need peo­ple run­ning for City Coun­cil. We need peo­ple run­ning for state leg­is­la­tures. We need peo­ple run­ning for zon­ing boards, for park boards, to real­ly take this sort of mes­sage that Bernie car­ried and car­ry it in their own local communities."
For­tu­nate­ly for those seek­ing rel­e­vant polit­i­cal advice, for­mer Seat­tle City Coun­cilor Nick Lica­ta has just pub­lished a hand­book called Becom­ing A Cit­i­zen Activist: Sto­ries, Strate­gies, & Advice For Chang­ing Our World (Sasquatch Books, 2016). His book draws on 17 years of expe­ri­ence as a pro­gres­sive elect­ed offi­cial and var­ied cam­pus and com­mu­ni­ty orga­niz­ing work before that.
Like Sanders, Lica­ta was a six­ties rad­i­cal. He belonged to Stu­dents for a Demo­c­ra­t­ic Soci­ety (SDS) at Bowl­ing Green State Uni­ver­si­ty and first learned retail pol­i­tics at the dor­mi­to­ry lev­el when he ran suc­cess­ful­ly for stu­dent gov­ern­ment president.
Like some Sanders sup­port­ers who may become can­di­dates in the near future, Lica­ta had an uncon­ven­tion­al resume when he first sought pub­lic office. He had lived in a well-known Seat­tle com­mune for 20 years and found­ed two alter­na­tive pub­lish­ing ven­tures, the People's Yel­low Pages and the Seat­tle Sun. A Demo­c­rat with Green Par­ty sym­pa­thies, he defeat­ed a can­di­date who was backed by the main­stream media and out-spent him two to one.
"In the pre­vi­ous 128 city coun­cil elec­tions, only two can­di­dates had won when both dai­ly news­pa­pers endorsed their oppo­nent," Lica­ta reports, so ​"the odds didn't look good." For­tu­nate­ly, his mes­sage that the city should invest more resources ​"in all neigh­bor­hoods and not con­cen­trate them in just a few" res­onat­ed with an elec­toral coali­tion of ​"young renters" and ​"old­er home-own­ers." Licata's own track record of neigh­bor­hood activism gave him the nec­es­sary name recog­ni­tion and grass­roots street cred to win.
Becom­ing A Cit­i­zen Activist is full of use­ful tips about how activists and allied politi­cians can col­lab­o­rate on issue-ori­ent­ed cam­paigns. His book makes clear that ​"going local" is dif­fer­ent from back­ing a pres­i­den­tial cam­paign focused on nation­al and inter­na­tion­al ques­tions. Accord­ing to Lica­ta, pro­gres­sives must devel­op the abil­i­ty to ​"see the small things that gen­er­ate the big things," link­ing vot­er con­cerns about glob­al threats like cli­mate change to con­crete and achiev­able steps that city gov­ern­ment can take to address local man­i­fes­ta­tions of the larg­er problem.
He describes how Seattle's four years of skir­mish­ing over plas­tic bag reg­u­la­tion orig­i­nat­ed in one neighborhood's oppo­si­tion to a new waste trans­fer sta­tion. What might have been just anoth­er exer­cise in NIM­BY­ism evolved into a city-wide push for waste reduc­tion at its source, plus much greater recy­cling. A plas­tic bag fee, imposed by the city coun­cil, was over­turned after a plas­tic bag indus­try-fund­ed ref­er­en­dum cam­paign, but the city's ban on Sty­ro­foam con­tain­ers sur­vived. In 2011, the city coun­cil passed a broad ban on sin­gle-use plas­tic bags, which the indus­try opt­ed not to chal­lenge either in court or at the polls.
Licata's oth­er exam­ples of pro­gres­sive pol­i­cy ini­tia­tives include rais­ing local labor stan­dards, strength­en­ing civil­ian over­sight of the police, pro­vid­ing greater pro­tec­tion for undoc­u­ment­ed immi­grants, decrim­i­nal­iz­ing mar­i­jua­na pos­ses­sion and using cul­tur­al pro­grams to fos­ter a sense of community.
Sev­er­al of his most inter­est­ing case stud­ies reveal the ten­den­cy of leg­is­la­tors — even lib­er­al-mind­ed ones — to be over­ly timid and skep­ti­cal about pol­i­cy ini­tia­tives that push the enve­lope. In 2011, for exam­ple, Lica­ta tried to low­er the expec­ta­tions of con­stituents who met with him about a paid sick leave man­date opposed by local employers.
"I cau­tioned that it was not like­ly that we'd see it any­time soon," he admits in the book. Yet, less than nine months lat­er, he was ​"shown to be wrong." Not only was there suf­fi­cient pub­lic sup­port, but ​"well-orga­nized advo­ca­cy groups" mar­shaled ​"a wealth of data to prove that the sky wouldn't fall if paid sick leave passed."
Sev­er­al years lat­er, when some Seat­tle fast food work­ers staged union-backed job actions to high­light their min­i­mum wage demand, it was the same story:
Politi­cians like me were sym­pa­thet­ic but also felt that fif­teen dol­lars was way too big a lift. In my own case, I thought there were more read­i­ly achiev­able goals — like fight­ing wage theft. I found myself ini­tial­ly offer­ing cau­tious ver­bal sup­port and not much more.
What made Seattle's ​"Fight for 15" winnable was grass­roots orga­niz­ing by local labor orga­ni­za­tions and left-wing activists, who were able to inject the issue into the 2013 may­oral race between incum­bent Mike McGinn and his chal­lenger, state sen­a­tor Ed Mur­ray. Short­ly before the elec­tion, Mur­ray endorsed a min­i­mum wage hike to $15 an hour while McGinn insist­ed that Wash­ing­ton state should take action instead of the city.
Key social­ist presence
That year, it also made a big dif­fer­ence to have an ener­getic and charis­mat­ic social­ist can­di­date run­ning for city coun­cil under the ​"Fight for 15" ban­ner. Kshama Sawant took on Richard Con­lin, ​"a well-liked lib­er­al politi­cian" who cast the city council's lone vote against paid sick leave and opposed rais­ing the min­i­mum wage with­out fur­ther study. Accord­ing to Lica­ta, Con­lin, like McGinn, was defeat­ed due to the votes of ​"many dis­af­fect­ed Democ­rats who want­ed more aggres­sive coun­cil mem­bers will­ing to speak out on issues."
Once elect­ed, Sawant was quick to uti­lize what Lica­ta calls ​"the unique means that pub­lic offi­cials have to help mobi­lize the pub­lic": hold­ing pub­lic hear­ings, form­ing issue-ori­ent­ed or con­stituen­cy-based task forces and com­mis­sions and back­ing bal­lot mea­sures like the threat­ened pop­u­lar ref­er­en­dum on ​"15 Now" that kept May­or Mur­ray and his allies from weak­en­ing min­i­mum wage leg­is­la­tion more than they did in 2014.
Yet when Sawant — a gen­er­a­tion younger than Lica­ta — first ran against his long­time col­league, Richard Con­lin, the council's most left-lean­ing mem­ber didn't sup­port her. In Becom­ing a Cit­i­zen Activist, Lica­ta now acknowl­edges Sawant's unusu­al strengths as a rad­i­cal politi­cian, includ­ing her social media savvy, ​"ded­i­cat­ed fol­low­ing" and abil­i­ty to project ​"a mes­sage that res­onat­ed with the pub­lic." Her tweets, blog­ging and web­site use ​"helped her obtain 80 per­cent city­wide name recog­ni­tion after a year on the coun­cil, far sur­pass­ing all the oth­er coun­cil mem­bers," Lica­ta reports.
Accord­ing to the author, local poll­sters sur­vey­ing the rel­a­tive pop­u­lar­i­ty of city coun­cilors pri­or to Seattle's 2015 elec­tion found that Sawant's ​"num­bers were high­er than all the oth­ers but mine, and I beat her by only one point." These results might explain why May­or Mur­ray and the Seat­tle busi­ness com­mu­ni­ty failed to unseat their Social­ist Alter­na­tive crit­ic when she ran for re-elec­tion last year, with Licata's back­ing this time. (Lica­ta him­self chose to retire from the city council.)
New Forms of Organization
Read­ers inter­est­ed in fur­ther detail about their over-lap­ping coun­cil careers will have to wait for Amer­i­can Social­ist, a polit­i­cal mem­oir by Sawant (to be pub­lished by Ver­so next year) or Jonathan Rosenblum's forth­com­ing book for Bea­con Press about labor and pol­i­tics in Seat­tle. Rosen­blum worked on Sawant's re-elec­tion cam­paign which, in his view, demon­strat­ed ​"the indis­pens­abil­i­ty of orga­ni­za­tion" and an ​"inde­pen­dent polit­i­cal base."
Unlike Licata's own more typ­i­cal elec­toral efforts in the past, Sawant's ​"cam­paign strate­gies and tac­tics were not direct­ed by a sin­gle can­di­date or cam­paign man­ag­er." Instead, Rosen­blum points out, they were ​"devel­oped through col­lec­tive, thought­ful dis­cus­sions" among Social­ist Alter­na­tive mem­bers who live in Seat­tle and ​"are con­nect­ed to a broad­er base of union and com­mu­ni­ty activists."
One lim­i­ta­tion of Licata's book is the absence of any dis­cus­sion about field­ing slates of pro­gres­sive can­di­dates who are com­mit­ted to a com­mon plat­form that includes rejec­tion of cor­po­rate con­tri­bu­tions. To his cred­it, Lica­ta did play a major role in cre­at­ing the mul­ti-city net­work of pro­gres­sive elect­ed offi­cials known as Local Progress. In the Bay Area, this group includes Rich­mond, Calif., city coun­cilor (and for­mer may­or) Gayle McLaugh­lin, whose Rich­mond Pro­gres­sive Alliance only runs can­di­dates who spurn busi­ness donations.
Nation­al­ly, about 400 may­ors, city coun­cilors, coun­ty super­vi­sors and school board mem­bers use Local Progress as a ​"think tank" and clear­ing house for alter­na­tive pub­lic poli­cies. Assist­ed by the Cen­ter for Pop­u­lar Democ­ra­cy in New York, the group dis­trib­utes a 60-page hand­book for improv­ing labor and envi­ron­men­tal stan­dards, hous­ing and edu­ca­tion pro­grams, pub­lic safe­ty, and munic­i­pal elec­tion prac­tices. At annu­al con­fer­ences — like its nation­al meet­ing in Pitts­burgh on July 8 – 9 — local vic­to­ries of the sort Lica­ta describes in his book are dis­sect­ed and their lessons disseminated.
Local Progress lead­ers believe that nei­ther street pol­i­tics nor elec­toral vic­to­ries alone will make a suf­fi­cient dent in the sta­tus quo. As Lica­ta told his fel­low ​"elect­eds" when they met in New York two years ago, munic­i­pal gov­ern­ment changes for the bet­ter only when pro­gres­sives have ​"an out­side and inside game…people on the inside and peo­ple protest­ing on the out­side to pro­vide insid­ers with back­bone." Licata's new book pro­vides many use­ful exam­ples of that nec­es­sary synergy.
Steve Ear­ly worked for 27 years as an orga­niz­er and inter­na­tion­al rep­re­sen­ta­tive for the Com­mu­ni­ca­tions Work­ers of Amer­i­ca. He is the author of sev­er­al books, includ­ing Refin­ery Town: Big Oil, Big Mon­ey, and the Remak­ing of an Amer­i­can City (Bea­con Press).