Mass. Teachers Defeat Corporate Ed Reform Bill Through Rank-and-File Power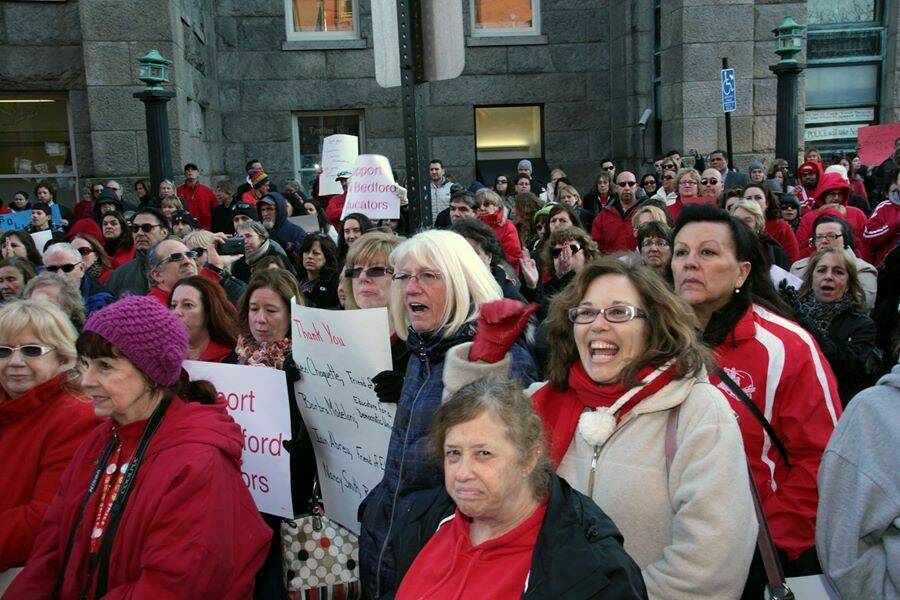 First pub­lished at Jacobin.
To the casu­al observ­er, Mass­a­chu­setts may seem like an unlike­ly place to open up a new front in the assault on teach­ers. The state has the high­est test scores in the nation, and just this year the Nation­al Edu­ca­tion Asso­ci­a­tion named its chief exec­u­tive ​"America's Great­est Edu­ca­tion Governor."
But on Octo­ber 20, the Mass­a­chu­setts Depart­ment of Ele­men­tary and Sec­ondary Edu­ca­tion (DESE) unveiled a dra­con­ian pro­pos­al that would tie teacher per­for­mance, nar­row­ly defined, to teacher licens­ing. Thou­sands of edu­ca­tors knew an unmit­i­gat­ed attack when they saw one, and respond­ed accordingly.
Late last week, after a mas­sive back­lash orga­nized by the Mass­a­chu­setts Teach­ers Asso­ci­a­tion — under the lead­er­ship of Bar­bara Made­loni, the recent­ly elect­ed pres­i­dent of the 113,000 mem­ber union — the pro­pos­al was with­drawn. The vic­to­ry should serve as a reminder that a mobi­lized rank-and-file and implaca­ble lead­er­ship can defeat attacks on pub­lic school edu­ca­tors. Back­room deals don't get the goods. And because the pro­pos­al will like­ly appear in oth­er states, teach­ers around the coun­try should take note.
Under the Octo­ber 20 pro­pos­al, teach­ers rat­ed by their super­vi­sors as ​"needs improve­ment" wouldn't just lose their jobs — they'd lose their license, pre­vent­ing them from teach­ing any­where in the state ever again.
On Octo­ber 30, in response to let­ters of protest, Mass­a­chu­setts Com­mis­sion­er of Edu­ca­tion Mitchell Chester empha­sized that ​"at this point in time," he had not yet rec­om­mend­ed any spe­cif­ic changes. He was just float­ing a set of (bad) options. Three were being con­sid­ered, and all tied license renew­al to ​"per­for­mance."
Under Plan A, a teacher wish­ing to retain her license would have to be rat­ed at least ​"pro­fi­cient" and have at least ​"mod­er­ate" stu­dent impact rat­ings every year; a teacher who cleared that bar could get her license renewed for the next five years. On the oth­er hand, if her super­vi­sor judged that she ​"needs improve­ment," or her stu­dents' test scores didn't go up at least a ​"mod­er­ate" amount, she would be unable to re-up her license.
Under Plan B, if an edu­ca­tor didn't ​"demon­strate to the state" enough ​"progress toward growth" on his or her edu­ca­tor plan, the edu­ca­tor would get a con­di­tion­al one-year exten­sion. This would pre­sum­ably require the state to add hun­dreds of staff mem­bers to read through eighty thou­sand teach­ers' edu­ca­tor plans. (This in a state where the DESE often takes a year to respond to a com­plaint that a teacher vio­lat­ed the rules for admin­is­ter­ing a high-stakes test — one of the agency's high­est priorities.)
Plan C offered a menu of bad choic­es, and appli­cants had to meet two or more of them. Options includ­ed being rec­om­mend­ed by one's school dis­trict (depen­dent on one's super­vi­sor), ​"sat­is­fac­to­ry stu­dent growth as mea­sured by" high-stakes stan­dard­ized tests, and (unspec­i­fied) ​"suc­cess­ful and effec­tive par­ent engagement."
These inane plans – not rais­ing pay, or accord­ing respect, or giv­ing teach­ers more auton­o­my in the class­room – were sup­posed to cre­ate a world-class teach­ing force in Massachusetts.
If adopt­ed, the con­se­quences of this ​"per­for­mance-based" licen­sure sys­tem would have indeed been dire. First, teacher tenure would be effec­tive­ly abol­ished. For­get due process. An edu­ca­tor could have a sol­id union con­tract and be doing a pret­ty good job; if his super­vi­sor decid­ed he wasn't good enough, he'd lose his license and his job — even if he had Pro­fes­sion­al Teacher Sta­tus, the state's equiv­a­lent of tenure.
Sec­ond, teach­ers' jobs would be depen­dent on their super­vi­sors' good­will. If they got a ​"needs improve­ment" rat­ing, then in order to avoid anoth­er such eval­u­a­tion, for the next four years (until the next license renew­al), they would be under great pres­sure to sup­port every ini­tia­tive their super­vi­sor pro­posed, no mat­ter how ill-conceived.
In oth­er pro­fes­sions, peo­ple can lose their licens­es for a vari­ety of kinds of bad behav­ior, but nowhere else is one pro­hib­it­ed from work­ing again on the basis of a bad super­vi­sor report. Any­one who has ever had a bad boss knows how dan­ger­ous such a pro­vi­sion would be.
Third, teach­ers would flee low-income school dis­tricts. In Mass­a­chu­setts, there is an almost per­fect cor­re­la­tion between a town's medi­an house­hold income and the per­cent of stu­dents who receive a pass­ing score on the state's high-stakes stan­dard­ized test. If the stu­dents have low scores, and if we have a ​"no excus­es" pol­i­cy that implic­it­ly or explic­it­ly says teach­ers are entire­ly respon­si­ble for stu­dent test scores, then clear­ly the teach­ers ​"need improvement."
There­fore, most of the teach­ers in low-income schools would either leave teach­ing alto­geth­er, or they would trans­fer to more afflu­ent com­mu­ni­ties (where, mirac­u­lous­ly, their stu­dents' test scores would go up and the teacher would sud­den­ly be a good teacher). Not sur­pris­ing­ly, there are huge vari­a­tions across the state in how prin­ci­pals and super­in­ten­dents rate teach­ers. In Fall Riv­er, a low-income com­mu­ni­ty, 31.3 per­cent of teach­ers were rat­ed ​"needs improve­ment"; in New­ton, an afflu­ent com­mu­ni­ty, only 1.3 per­cent of teach­ers were sim­i­lar­ly judged.
These poli­cies would there­fore have bust­ed unions, put teach­ers under their super­vi­sors' thumbs, and dri­ven peo­ple out of teach­ing, espe­cial­ly in low-income com­mu­ni­ties. At that point char­ters would emerge as the obvi­ous option. These wouldn't be the unfor­tu­nate byprod­uct of the new licen­sure pro­pos­al; they would've been the inevitable result.
But the pro­pos­al was quashed before we had to see that out­come. How was it stopped? An enlivened union mem­ber­ship was cru­cial to nix­ing the pro­pos­al, but so too was a new­ly installed, fight­ing leadership.
In 2012, when the Mass­a­chu­setts Teach­ers Asso­ci­a­tion was under dif­fer­ent lead­er­ship, the edu­ca­tion reform group Stand for Chil­dren threat­ened a bal­lot ref­er­en­dum to take away teach­ers' senior­i­ty rights. The union did not inform the mem­ber­ship, much less mobi­lize it. It nev­er tried attempt­ed to build the rank-and-file's col­lec­tive capac­i­ty to resist.
Instead the pres­i­dent and vice-pres­i­dent engaged in secret back­room nego­ti­a­tions with Stand for Chil­dren. When the board of direc­tors first learned about this — thanks to per­sis­tent ques­tion­ing by a hand­ful of board mem­bers — the pres­i­dent insist­ed that the entire dis­cus­sion take place in exec­u­tive ses­sion; board mem­bers were for­bid­den to tell the rank-and-file what was going on.
Even­tu­al­ly a deal was nego­ti­at­ed, remov­ing some of the worst fea­tures of the bal­lot mea­sure, but with the union agree­ing to dra­mat­i­cal­ly weak­en the impact of senior­i­ty in lay­offs and trans­fers, which were now to be gov­erned by ​"the best inter­ests of the child" – a phrase that could mean prac­ti­cal­ly any­thing. The union's mantra, heard often under the old lead­er­ship, was ​"it could have been worse."
The cus­tom in the Mass­a­chu­setts Teach­ers Asso­ci­a­tion is for the sit­ting vice-pres­i­dent to ascend to the pres­i­den­cy. But some­thing strange hap­pened in May: Made­loni, a rank-and-file pro­gres­sive activist, was elect­ed pres­i­dent in the most stun­ning elec­tion upset in the union's history.
When the teacher re-licen­sure pro­pos­al was unveiled last month, Made­loni did not ini­ti­ate back­room nego­ti­a­tions and seek an order­ly retreat; she imme­di­ate­ly and deci­sive­ly opposed the new licen­sure pro­pos­al, and gave an eager mem­ber­ship ways to act.
More than five thou­sand mem­bers sent emails, and two ral­lies were sched­uled, with bus­es rent­ed and mem­bers signed up to attend the last two of DESE's ​"Town Hall" meet­ings for their pro­pos­al. Instead of choos­ing which bad option to sup­port, the cam­paign was titled ​"None of the Above."
Three weeks after the MTA cam­paign began, the DESE com­plete­ly caved. A let­ter from Chester announced, ​"In short, we are rescind­ing the draft options that link licen­sure to edu­ca­tor evaluation."An impres­sive vic­to­ry for teach­ers and the union, although we wor­ry that, vam­pire-like, some form of this will be brought for­ward again as soon as DESE and cor­po­rate reform­ers think we are napping.
And while the pro­pos­al has been defeat­ed in Mass­a­chu­setts, sim­i­lar pro­pos­als may be com­ing to oth­er states. In 2012, the Coun­cil of Chief State School Offi­cers released a report on teacher licen­sure that implic­it­ly promised anoth­er focused on re-licensure.
The report stat­ed it was being issued ​"to all chief state school offi­cers to sound a clar­i­on that cur­rent poli­cies and prac­tices for entry into the edu­ca­tion pro­fes­sion are not sufficient,"adding that ​"While the focus of this report is on new teach­ers and prin­ci­pals, future reports will address the need for addi­tion­al prepa­ra­tion of vet­er­an teach­ers and prin­ci­pals." Clear­ly the states coor­di­nate, and announced their inten­tion to address teacher re-licen­sure; the Mass­a­chu­setts' pro­pos­al appears to be an open­ing shot in this effort.
So what can oth­ers learn from the vic­to­ry in Mass­a­chu­setts? Why was the union's vic­to­ry so com­plete and so swift?
First and most impor­tant­ly, the union lead­er­ship made it clear that it was pre­pared to fight, and that it was not look­ing for a minor back­room con­ces­sion. Sec­ond, the union jumped on the issue imme­di­ate­ly. The pro­pos­al was released on a Mon­day, and by Fri­day the union had devel­oped back­ground infor­ma­tion, had mate­r­i­al on its web­site, and had sent an email to all mem­bers with steps to take to oppose the new licen­sure pro­pos­al. Third, the mem­ber­ship was weary of back­room deals and was ready for a fight. The rank-and-file respond­ed by the thou­sands, and local unions were gear­ing up to get every mem­ber to weigh in on the issue.
Fourth, this was an issue that uni­fied the mem­ber­ship. Every teacher knew that her license, her teach­ing career, was in jeop­ardy. Fifth, the pow­ers-that-be had nev­er con­front­ed a teach­ers union lead­er­ship and mem­ber­ship pre­pared to fight (in fact, spoil­ing for a fight). For the past many years, when­ev­er teach­ers were threat­ened the union entered nego­ti­a­tions to plan an order­ly retreat. The DESE prob­a­bly expect­ed the same ​"let's make a deal" response this time, and were caught by sur­prise by the strength of the response.
Final­ly, Made­loni made it clear that the union was not going to com­pro­mise; we were going to fight until we won, and the cam­paign that start­ed strong was build­ing momen­tum through­out the three weeks it took to win.
In fight­ing sim­i­lar cor­po­rate reform mea­sures around the coun­try, teach­ers can't assume a mobi­lized base and pro­gres­sive lead­er­ship will always secure a com­pa­ra­ble vic­to­ry. There are struc­tur­al con­straints that sheer mil­i­tan­cy can't over­come. But it's cer­tain­ly a pre­con­di­tion for success.
In These Times is proud to fea­ture con­tent from Jacobin, a print quar­ter­ly that offers social­ist per­spec­tives on pol­i­tics and eco­nom­ics. Sup­port Jacobin and buy a sub­scrip­tion for just $19.
Dan Claw­son
is a pro­fes­sor of soci­ol­o­gy at the Uni­ver­si­ty of Mass­a­chu­setts-Amherst. He is a mem­ber of the board of direc­tors of the Mass­a­chu­setts Teach­ers Asso­ci­a­tion and co-chair of the MTA's edu­ca­tion pol­i­cy com­mit­tee. His views and opin­ions do not nec­es­sar­i­ly reflect those of the MTA.