Oakland Workers Join Grassroots Environmental Justice Activists To 'Say No to Coal'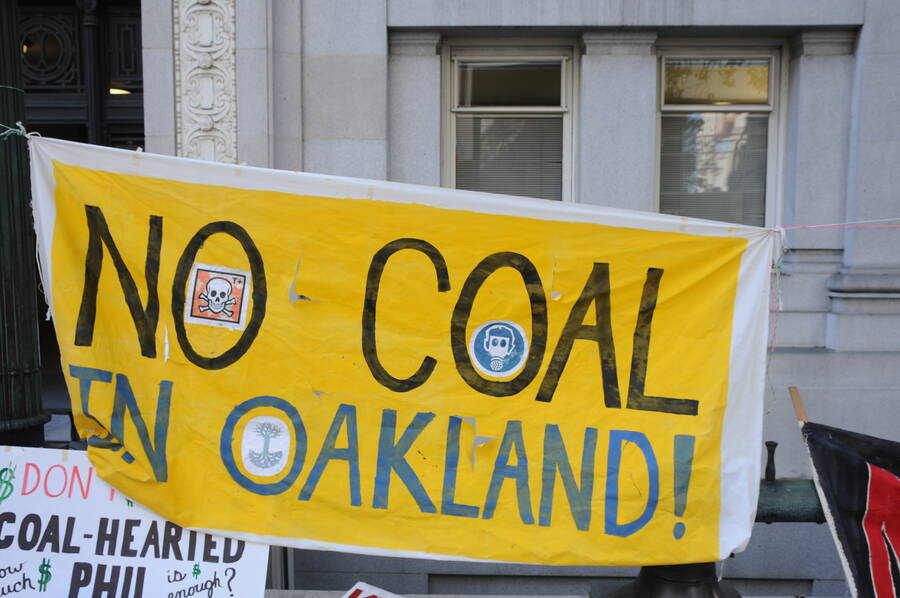 This post first appeared at RP&E.
Coal, once the sta­ple of Amer­i­can indus­tri­al pro­duc­tion, may be on its last legs. With domes­tic pro­duc­tion show­ing a long-term decline, the fos­sil fuel's days appear to be numbered.
Accord­ing to the most recent annu­al report of the U.S. Ener­gy Infor­ma­tion Admin­is­tra­tion (EIA), in 2013, U.S. coal pro­duc­tion fell below two bil­lion short tons for the first time in two decades; coal min­ing capac­i­ty decreased, as did the aver­age num­ber of coal mine employ­ees, the aver­age sales price of coal, and total U.S. coal stocks. In April of 2015, the EIA pro­ject­ed coal would hit a 28-year low, reflect­ing sig­nif­i­cant drops in domes­tic demand and exports. A report by the Car­bon Track­er Ini­tia­tive (CTI) not­ed that 26 domes­tic coal com­pa­nies have recent­ly gone into bank­rupt­cy proceedings.
Accord­ing to CTI, domes­tic ener­gy gen­er­a­tion has remained flat for the past decade but ener­gy sources have shift­ed: coal and oil are down, but nat­ur­al gas and renew­able ener­gy are up. America's largest coal pro­duc­ers are record­ing annu­al loss­es in the bil­lions of dol­lars, while Chi­nese coal demand has slumped and new envi­ron­men­tal reg­u­la­tions aimed at sig­nif­i­cant­ly reduc­ing air pol­lu­tion and increas­ing wind and solar con­sump­tion are being phased in by the Chi­nese gov­ern­ment. Addi­tion­al­ly, all fed­er­al coal leas­ing is cur­rent­ly under mora­to­ri­um until a com­pre­hen­sive review can be com­plet­ed. As the Nat­ur­al Resources Defense Coun­cil (NRDC) not­ed in its online mag­a­zine, OnEarth, ​"it would be dif­fi­cult to over­state the industry's cur­rent distress."
This is scary news for the coal indus­try, yet a wel­come announce­ment for envi­ron­men­tal­ists who have waged nation­al cam­paigns against coal for decades. Coal pro­duc­ers' last hope, it would seem, is to increase coal's export capac­i­ty by trans­port­ing the black gunk through West Coast ports. But even there the pro-coal forces have met with unex­pect­ed resis­tance, as city after city in Ore­gon and Wash­ing­ton have mount­ed grass­roots cam­paigns to deliv­er an emphat­ic mes­sage: ​"Say no to coal."
Oakland's ​
"

no coal" stance sends shock waves

A show­down in Oak­land, Cal­i­for­nia in 2015, over a pro­pos­al to con­vey coal via train to a planned marine ter­mi­nal at the site of the old Oak­land Army Base site, gen­er­at­ed con­sid­er­able con­tro­ver­sy. Coal advo­cates based in Utah secured tens of mil­lions in loans from an obscure pub­lic agency to dan­gle in front of Ter­mi­nal Logis­tics Solu­tions (TLS) for the right to bring coal through West Oak­land, one of the most pol­lut­ed areas in the entire state. But a coali­tion of envi­ron­men­tal advo­cates was ready with a grass­roots cam­paign joined by numer­ous com­mu­ni­ty organizations.

On Feb­ru­ary 16, the Oak­land City Coun­cil vot­ed to table a pro­pos­al to pay Envi­ron­men­tal Sci­ence Asso­ciates $208,000 in con­sul­tant fees to deter­mine whether the coal trains would pose sig­nif­i­cant health risks. The Coun­cil was report­ed­ly set to approve the con­tract, but abrupt­ly reversed its deci­sion after Oak­land May­or Lib­by Schaaf urged them to delay the deci­sion, and envi­ron­men­tal advo­cates point­ed to a recent Envi­ron­men­tal Impact Report (EIR) authored by Envi­ron­men­tal Sci­ence Asso­ciates for the city of Beni­cia, which sig­nif­i­cant­ly down­played the health haz­ards of a pro­posed coal train project (though it did note sig­nif­i­cant risks of air pollution).

The Beni­cia EIR, pre­pared by a for­mer employ­ee of the Amer­i­can Asso­ci­a­tion of Rail­roads, con­tra­dict­ed NRDC's find­ings which stat­ed that the aging train cars to be used in the project were not equipped to han­dle what the Wall Street Jour­nal termed the equiv­a­lent of ​"two mil­lion sticks of dyna­mite" per car. NRDC's find­ings had raised con­cerns about a poten­tial­ly lethal inci­dent, such as what occurred in July 2013 in Lac-Mégan­tic, Que­bec, when 69 crude oil-laden cars caught fire and explod­ed after rolling down a hill and derail­ing at a speed of 63 mph. The dis­as­ter killed 47 peo­ple, incin­er­at­ed much of the town's cen­ter, caused 36 of the 39 remain­ing down­town build­ings to be demol­ished due to petro­le­um con­t­a­m­i­na­tion, sent 26,000 gal­lons of oil into the Chaudière riv­er (result­ing in a swim­ming and fish­ing ban and caus­ing defor­mi­ties in almost 50 per­cent of the river's marine life) and gen­er­at­ed cleanup costs well in excess of $7.6 mil­lion, as well as insur­ance claims total­ing $50 mil­lion. Need­less to say, Beni­cia reject­ed the proposal.

Fur­ther­more, a poll con­duct­ed on behalf of the Sier­ra Club found that 76 per­cent of Oak­land res­i­dents opposed the coal trains, while only 15 per­cent sup­port­ed it. And on Feb­ru­ary 19, Cal­i­for­nia State Sen­a­tor Loni Han­cock intro­duced four sep­a­rate bills (SB 1277, 1278, 1279 and 1280) aimed at restrict­ing coal in Cal­i­for­nia and, specif­i­cal­ly, keep­ing it out of Oakland.

If passed, the bills would declare ship­ping coal through West Oak­land a health and safe­ty haz­ard and pro­hib­it coal from being shipped through the Port of Oak­land; require com­pre­hen­sive envi­ron­men­tal data col­lec­tion for coal projects by pub­lic agen­cies; pro­hib­it the use of pub­lic funds to oper­ate coal-export­ing facil­i­ties adja­cent to low-income com­mu­ni­ties; and require facil­i­ties which receive state funds to either pro­hib­it coal alto­geth­er, or con­tribute to the state's green­house gas reduc­tion fund. In short, Hancock's bills would close almost every loop­hole which has come to light in the Oak­land coal train battle.

Hancock's actions also sent a clear mes­sage to the Oak­land City Coun­cil to take deci­sive action to pri­or­i­tize the envi­ron­men­tal health of a com­mu­ni­ty already suf­fer­ing from the dou­ble wham­my of tox­ic lev­els of pol­lu­tion and the low­est income lev­els in the entire city. This may prove to be the nudge Oak­land city offi­cials need­ed to firm­ly reject the coal pro­pos­al, after months of inac­tion and behind-the-scenes dither­ing over pos­si­ble lia­bil­i­ty concerns.
Lies, decep­tion and back­room deals push coal on Oakland
On Sep­tem­ber 21, 2015, almost 700 peo­ple signed up to speak at a pub­lic forum address­ing a pro­pos­al to build a new coal han­dling facil­i­ty at the for­mer Oak­land Army Base — a new record, accord­ing to clerk LaTon­da Sim­mons. At the hear­ing, which last­ed almost six-and-a-half hours, Oak­land City Coun­cil mem­bers heard from con­cerned mem­bers of the com­mu­ni­ty wor­ried about the neg­a­tive health impacts of fugi­tive coal dust residue, as well as sev­er­al experts who offered tes­ti­mo­ny about envi­ron­men­tal and pub­lic health fac­tors. On the oth­er side were allies of devel­op­er Phil Tagami's Cal­i­for­nia Cap­i­tal and Invest­ment Group and TLS, the com­pa­ny that would oper­ate the pro­posed West Oak­land ter­mi­nal where the coal trans­port­ed from Utah would arrive before being export­ed to Chi­na and oth­er for­eign des­ti­na­tions. The pro-coal advo­cates includ­ed sev­er­al paid lob­by­ists and hired-gun con­sul­tants who insist­ed that this coal would be the clean­est coal avail­able in the Unit­ed States, as well as con­struc­tion work­ers and church lead­ers who said the com­mu­ni­ty need­ed the jobs.
Some of the most impact­ful tes­ti­mo­ny came from Kat­ri­na Book­er, a for­mer reg­is­tered nurse who cur­rent­ly works as a long­shore­woman at the port of Stock­ton. Booker's first-per­son account of what it's like to be a work­er at a coal facil­i­ty cut through all the rhetoric and dry sta­tis­ti­cal data to offer a dose of real­i­ty. ​"When the coal comes off the ships off the con­vey­or belts, you have the most dust there. When I work, I have to wear my mask, and that doesn't keep the dust out. At the end of the day, my eyes are burn­ing and red. I get nose­bleeds, I have headaches, it's hard for me to breathe. What­ev­er has got­ten past that mask, I have already inhaled into my lungs."
Christo­pher Chris­tiansen, a 4th gen­er­a­tion long­shore­man with ILWU Local 1021, was more suc­cinct in his assess­ment: ​"Coal is wrong for our com­mu­ni­ty and our docks. The argu­ment that we need coal… just doesn't pass with a straight face."
Mar­garet Gor­don, an envi­ron­men­tal activist based in West Oak­land, warned ​"If coal comes in here, … there's no more resilien­cy, it's not sus­tain­abil­i­ty, none of that is hap­pen­ing any­more. … That's not what I have worked for [for] 20 years… clean­ing up the air pol­lu­tion in West Oakland."
The Coun­cil hear­ing capped off a well-coor­di­nat­ed cam­paign against coal which result­ed in what some long-term envi­ron­men­tal activists are call­ing an unprece­dent­ed show of sol­i­dar­i­ty across demo­graph­ic and eth­nic lines. ​"It's been a tremen­dous effort, prob­a­bly the most pow­er­ful orga­niz­ing effort I've seen in Oak­land since I've been involved in envi­ron­men­tal work," said Bri­an Bev­eridge, who's worked with Gor­don for the past decade on the West Oak­land Envi­ron­men­tal Indi­ca­tors Project (WOEIP), one of the core orga­ni­za­tions which anchored the cam­paign, along with the Sier­ra Club, Earth­jus­tice, Com­mu­ni­ties For a Bet­ter Envi­ron­ment, Bay­keep­er, Asian Pacif­ic Islander Envi­ron­men­tal Net­work and Sun­flower Alliance.
"We've cer­tain­ly seen pow­er­ful orga­niz­ing around Black Lives Mat­ter and some of the oth­er social jus­tice issues, but as far as the envi­ron­ment, this has real­ly brought peo­ple togeth­er across the board. All races, gen­ders, ages," Bev­eridge said, adding that the engage­ment of young peo­ple and peo­ple of col­or, ​"feels like a sea change in the mod­ern envi­ron­men­tal move­ment. We're just not that divid­ed on it any­more. Peo­ple are say­ing, if that's the job they're offer­ing, we don't need a job that bad. There are bet­ter jobs to be had than shov­el­ing coal in an under­ground bunker. That is a real­ly pow­er­ful thing. I don't think the devel­op­ers thought they were going to jump­start a whole new ele­ment of the envi­ron­men­tal move­ment. Talk about unin­tend­ed consequences!"
The Oak­land cam­paign began in 2013. At that time, CCIG's Taga­mi insist­ed in a newslet­ter for the project that, ​"CCIG is pub­licly on record as hav­ing no inter­est or involve­ment in the pur­suit of coal relat­ed oper­a­tions at the for­mer Oak­land Army Base."
But it soon became appar­ent that the coal indus­try was indeed tar­get­ing Oak­land. After the Port of Oak­land unan­i­mous­ly reject­ed three pro­pos­als to export coal in Feb­ru­ary 2015, Utah lob­by­ists vis­it­ed the new ter­mi­nal site in March 2015, just one month before secur­ing a $53 mil­lion loan to help CCIG pay for the cost of con­struct­ing the facil­i­ty. CCIG Vice Pres­i­dent Mark McClure was present at a pre­sen­ta­tion before the Com­mu­ni­ty Fund Invest­ment Board (CIB), an obscure Utah state agency which grant­ed the loan.
Oppo­si­tion to coal cre­ates unprece­dent­ed unity
"When peo­ple start­ed read­ing these arti­cles from Utah, and hear­ing the quotes from Utah's (CIB), and Mark McClure there talk­ing about it, and the tran­scripts of those sto­ries," envi­ron­men­tal activists were out­raged, Bev­eridge said.
The first time the word ​"coal" appeared on a pub­lic doc­u­ment, ​"We got togeth­er and start­ed talk­ing about what we might do to stop it," said Michelle Myers, pres­i­dent of the Sier­ra Club's San Fran­cis­co Bay Chap­ter. Ini­tial efforts includ­ed door-to-door can­vass­ing in West Oak­land, because, ​"it was impor­tant for us to start this cam­paign in com­mu­ni­ties that would be most impacted."
From there, the efforts mush­roomed. There were meet­ings at church­es; fly­ers were cir­cu­lat­ed via a West Oak­land food truck; and orga­ni­za­tions, such as Bay Local­ize and the Rose Foun­da­tion, joined the campaign.
"We're com­mit­ted to a dif­fer­ent future for Oak­land which is all about clean ener­gy," said Bay Localize's Col­in Miller. ​"We don't have to choose between good jobs and good health. We can actu­al­ly have both." Miller is one of the orga­niz­ers for the Sum­mer Cli­mate Jus­tice Lead­er­ship Acad­e­my, which helps train local youth ​"who have com­mit­ted to a liv­able future for them­selves and their families."
One of those youth, 17 year-old Pauli­na Gar­cia, attend­ed the City Coun­cil hear­ing and was pre­pared to speak against coal, ​"because I want to see bet­ter change in my com­mu­ni­ty and find solu­tions for the younger gen­er­a­tion to have a clean­er, bet­ter Oakland."
Alv­ina Wong, APEN's Oak­land Com­mu­ni­ty Orga­niz­er, said her orga­ni­za­tion has been involved in the No on Coal cam­paign for about a year. Many APEN mem­bers live in West Oak­land and Chi­na­town, or along Inter­na­tion­al Blvd where the den­si­ty of air pol­lu­tion is an ongo­ing con­cern. Wong has helped to mobi­lize hun­dreds of peo­ple — from mono­lin­gual Chi­nese to Pacif­ic Islanders — and says that her con­stituents, who span the demo­graph­ic gamut across age, gen­der, and race, have ​"so much ener­gy and emo­tion on stop­ping coal!"
In addi­tion to back­ing from a diverse range of envi­ron­men­tal groups, key sup­port also came from orga­nized labor: the SEIU and the Cal­i­for­nia Nurs­es Asso­ci­a­tion — which pro­vide care for peo­ple impact­ed by coal dust — also jumped aboard, as did the long­shore work­ers of ILWU and the Alame­da Labor Coun­cil. These were impor­tant allies, because their involve­ment direct­ly coun­tered the argu­ment that coal was nec­es­sary to cre­ate jobs. Numer­ous peti­tion cam­paigns demand­ing that Oak­land ban coal cir­cu­lat­ed on social media, ulti­mate­ly gar­ner­ing over 10,000 sig­na­tures. A large ral­ly before Oak­land City Hall in July 2015 raised pub­lic aware­ness and ini­ti­at­ed a flur­ry of media atten­tion — cre­at­ing a neg­a­tive pub­lic per­cep­tion of Taga­mi, who had gone to great lengths to keep his coal plans under the radar.
All's fair in coal wars: ​
"

mon­ey laun­der­ing" to bol­ster coal?

But the coal lob­by won't go down with­out a fight and an entrenched legal bat­tle may lie ahead. In Novem­ber 2015, CCIG filed a brief to dis­miss the suit on the basis that the statute of lim­i­ta­tions to con­test a CEQA review expired in 2012, even though coal was not specif­i­cal­ly men­tioned in the orig­i­nal project proposal.

Mean­while, the Sier­ra Club and the Cen­ter for Bio­log­i­cal Diver­si­ty teamed up to peti­tion the Utah courts to block the use of pub­lic funds intend­ed for Utah com­mu­ni­ties in Cal­i­for­nia. This action was fol­lowed by an op-ed in the Salt Lake Tri­bune which called the use of CIB funds for the crude-by-rail scheme ​"dis­turb­ing" and not­ed that the loan appli­ca­tion wasn't received until four weeks after the loan had already been approved. It went on to note con­flict-of-inter­est con­cerns and the risk­i­ness of using pub­lic funds for such a ven­ture, echo­ing a Tri­bune edi­to­r­i­al which also not­ed the lack of trans­paren­cy and appar­ent attempt to hide the coal scheme from the pub­lic ("coal" was nev­er men­tioned dur­ing the CIB's pub­lic hear­ing in April 2015). Fur­ther­more, it not­ed, ​"There was no men­tion of the fact that the city of Oak­land has a pol­i­cy that oppos­es the ship­ment of fos­sil fuels through its ports, and law­suits could ensue. There is no guar­an­tee the port will be com­plet­ed, and it's unclear how the loan would be col­lat­er­al­ized." At press time, the Utah Attor­ney Gen­er­al had not yet made pub­lic his review of the CIB loan's legality.

Despite the recent vic­to­ries for the envi­ron­men­tal­ists, the bat­tle is far from over. On March 1, 2016, Utah State Sen­a­tor Stu­art Adams intro­duced a bill, SB246, which would reroute the $50-plus mil­lion loan through the Governor's Office of Eco­nom­ic Devel­op­ment, essen­tial­ly side­step­ping the legal issue of using CIB funds for a pur­pose they may not have been intend­ed for. Earth­jus­tice lawyer Ted Zinkows­ki likened the new bill to a mon­ey-laun­der­ing scheme, not­ing, ​"All the ques­tions we raised about this use of CIB mon­ey would remain." But Utah offi­cials seem will­ing to over­look those ques­tions in the hopes that the loan will help stim­u­late rur­al coun­ties which are high­ly depen­dent on coal mining.
Oak­land activists ready to ​
"

Occu­py" coal route

Big mon­ey, shady deal­ings, con­tro­ver­sial pol­i­tics, and a uni­fied coali­tion of local grass­roots activists and nation­al­ly-known envi­ron­men­tal orga­ni­za­tions: this sto­ry has all the trap­pings of the kind of movie Hol­ly­wood used to make in the post-Viet­nam War era, when it still had a moral cen­ter. But this is no mere fic­tion­al account because real human lives and the sur­vival of a dis­ad­van­taged com­mu­ni­ty lie in the balance.

Should the City of Oak­land put the kibosh on the coal pro­pos­al, it's hard to imag­ine that the TLS, CCIG and Utah coal lob­by would just skulk away with­out exhaust­ing every pos­si­ble legal avenue at their dis­pos­al. It's pos­si­ble that the coal pro­pos­al could be decid­ed on in Oak­land before Hancock's flur­ry of bills wend their way through the leg­isla­tive process, but it's just as like­ly that any deci­sion by the Oak­land Coun­cil could be fur­ther delayed until state law­mak­ers vote on the pro­posed restrictions.

But even if the envi­ron­men­tal argu­ment ulti­mate­ly los­es in court, grass­roots orga­niz­ers are pre­pared to take actions to block the trains. As Al Wein­rub of the Oak­land Clean Ener­gy Alliance said, ​"This has been so well-orga­nized, it's not going to go away. If they lose the fight here, they'll take it to the streets. … Peo­ple will lay down on the tracks. It's gonna be anoth­er Occupy."

Arti­cle text is avail­able under a Cre­ative Com­mons license from Race Pover­ty & the Envi­ron­ment (RP&E),
Eric K. Arnold
spent
20
years as a music jour­nal­ist and doc­u­men­tar­i­an before expand­ing his reper­toire to include com­mu­ni­ty-based reportage on top­i­cal issues, from ener­gy to envi­ron­ment to police account­abil­i­ty. He was a New Amer­i­ca Media Ener­gy Report­ing Fel­low in
2013
. Cur­rent­ly the Com­mu­ni­ca­tions Direc­tor for Oak­land-based urban forestry orga­ni­za­tion Urban Releaf, Eric also han­dles media out­reach for mural­ist col­lec­tive Com­mu­ni­ty Reju­ve­na­tion Project. Addi­tion­al­ly, his pho­tog­ra­phy can be seen reg­u­lar­ly on the Oakul­ture blog, of which he is the founder.