Grow­ing in num­ber and spir­it, the Stand­ing Rock Sioux protest against the Dako­ta Access Pipeline is swift­ly gain­ing strength ahead of a fed­er­al hear­ing on the con­tro­ver­sial project. Sup­port has spread across the coun­try, and thou­sands have descend­ed on the peace­ful ​"prayer camps" in recent days, prompt­ing state offi­cials on Mon­day to remove the demon­stra­tors' drink­ing water supply.
North Dako­ta home­land secu­ri­ty direc­tor Greg Wilz ordered the removal of state-owned trail­ers and water tanks from the protest encamp­ment, despite the swel­ter­ing heat, because of alleged dis­or­der­ly con­duct, accord­ing to the Bis­mar­ck Tri­bune, includ­ing reports of laser point­ers aimed at sur­veil­lance aircraft.
"Peo­ple are get­ting over­heat­ed now already," said Johnelle Lein­gang, the tribe's emer­gency response coor­di­na­tor, as tem­per­a­tures hov­ered around 90º F on Mon­day. ​"It's very hurtful."
The sup­plies were pro­vid­ed last week by the North Dako­ta Depart­ment of Health at the tribe's request to sup­port the rough­ly 2,500 peo­ple now gath­ered along the Stand­ing Rock reser­va­tion's bor­der on the Can­non­ball Riv­er, near where the pipeline is slat­ed to cross.
Stand­ing Rock spokesman Steven Sit­ting Bear said he's received ​"noti­fi­ca­tions from tribes all over the coun­try that have car­a­vans in route, so it's con­tin­u­ing to grow."
On Wednes­day, high pro­file activists and sup­port­ers are ral­ly­ing in Wash­ing­ton D.C. out­side the U.S. Dis­trict Court, where mem­bers of the Stand­ing Rock Sioux will argue that the U.S. Army Corps of Engi­neers grant­ed Ener­gy Trans­fer Cor­po­ra­tion approval for the 1,172-mile pipeline with­out trib­al consent.
The tribe says that the pipeline — which will car­ry up to 570,000 bar­rels of fracked Bakken oil dai­ly across four states to a mar­ket hub in Illi­nois — puts the sacred waters of the Mis­souri Riv­er at great risk.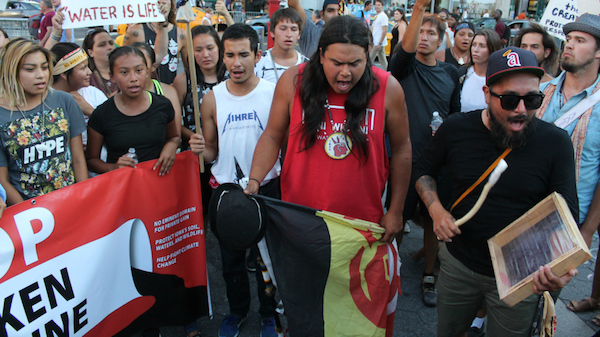 Native youth and sup­port­ers protest the Dako­ta Access Pipeline in New York City on August 7, 2016. (Pho­to: Joe Catron / Flickr)
Cli­mate cam­paign­er and 350​.org co-founder Bill McK­ibben penned an op-ed on Mon­day titled ​"After 525 years, it's time to actu­al­ly lis­ten to Native Americans."
McK­ibben notes that in recent years Indige­nous peo­ple like the Stand­ing Rock Sioux ​"have been the van­guard of the move­ment to slow down cli­mate change," and offers a vision of ​"what it might mean if the if the Army Corps, or the Oba­ma admin­is­tra­tion, sim­ply said: ​'You know what, you're right. We don't need to build this pipeline.'"
"It would mean that after 525 years, some­one had actu­al­ly paid atten­tion to the good sense that Native Amer­i­cans have been offer­ing almost from the start," he continues:
One has the omi­nous sense of grim his­to­ry about to be reen­act­ed at Stand­ing Rock. North Dako­ta author­i­ties — who are in essence a sub­sidiary of the fos­sil fuel indus­try — have insist­ed that the Sioux are vio­lent, that they have ​"pipe bombs." There are rumors about call­ing in the Nation­al Guard. The pos­si­bil­i­ty for renewed tragedy is very real.

But the pos­si­bil­i­ty for a new out­come is there as well. The Army Corps of Engi­neers might back off. The pres­i­dent might decide, as he did with Key­stone, that this pipeline would ​"exac­er­bate" cli­mate change and hence should be reviewed more care­ful­ly. We might, after five cen­turies, actu­al­ly lis­ten to the only peo­ple who've ever suc­cess­ful­ly inhab­it­ed this con­ti­nent for the long term.
Con­struc­tion on the pipeline remains halt­ed after devel­op­ers paused the project last week in antic­i­pa­tion of the Wednes­day hearing.
Mean­while, a U.S. Dis­trict Court hear­ing on whether a pre­lim­i­nary injunc­tion should be issued against the pro­test­ers has been resched­uled from Thurs­day to Sept. 8, although a restrain­ing order against the demon­stra­tors has also been extend­ed until then. Fil­ing the order on Mon­day, U.S. Dis­trict Judge Daniel Hov­land wrote that fac­tions are '"strong­ly encour­aged to meet and con­fer in good faith' to try and resolve the dis­pute out of court," the Tri­bune report­ed.
Updates are being shared on social media with the hash­tags #NoDAPL and #Rezpec­tOur­Wa­ter.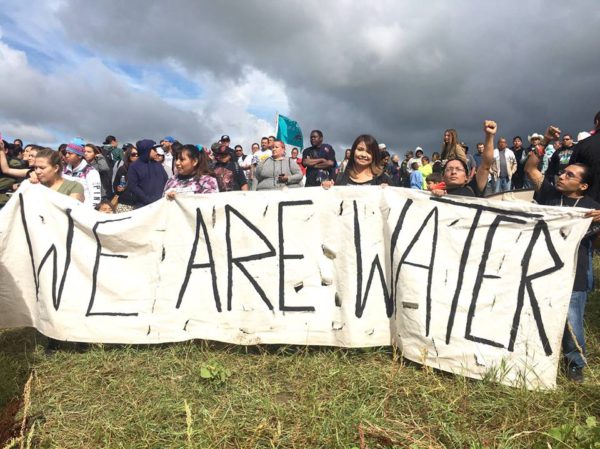 \
Peo­ple con­tin­ue to gath­er in Can­non Ball, North Dako­ta to protest the pipeline. (Pho­to: native​new​son​line​.net)
This arti­cle was first post­ed on com​mon​dreams​.org.
[If you like what you've read, help us spread the word. ​

"

Like" Rur­al Amer­i­ca In These Times on Face­book. Click on the ​

"

Like Page" but­ton below the bear on the upper right of your screen. Also, fol­low RAITT on Twit­ter @RuralAmericaITT]