Fight for Fifteen on Campus: Northeastern Students to Vote for $15 Wage for All University Employees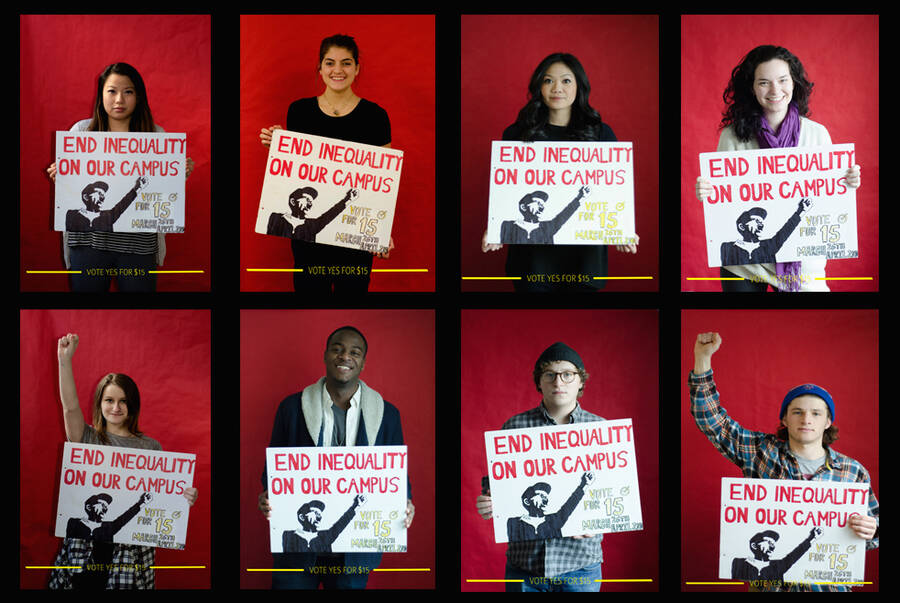 Since the mid-1990s, Boston's Northeastern University has undergone a complete makeover. What was once a blue-collar, majority-commuter university has now become known for its world-class educational programming and facilities.
The school's finances have grown at previously unimaginable rates. Between fiscal years 2008 and 2013, Northeastern experienced a 66 percent growth rate in donations, and though the administration holds its financial records very close to the chest, it's fair to assume that the school's endowment (which was $713.2 million in 2014) has grown tremendously. The university has become a prime example of America's corporatization of higher education.
Much of the university's growth can be credited to Northeastern University President Joseph Aoun. He took office in 2006 and has since earned the school a top 50 spot in the U.S. News & World Report list ​"Best National Universities." To reward this work, the university has put Aoun up in an $8.9 million home and has awarded him a salary of $3.1 million a year.
That the university has worked so hard to pamper Aoun is perhaps not surprising, as he has successfully applied corporate business practices — for example, in 2013, the administration hired notorious union-busting law firm Jackson Lewis to battle adjunct faculty's organizing efforts—in growing the university.
Taking note of the curiosity of Aoun's salary and lifestyle, students at Northeastern University this spring realized that President Aoun makes 117 times more than the average protective service employee at the University. Led by Socialist Alternative Northeastern, a student group on campus — an affiliate of Socialist Alternative, the same socialist group of which Seattle city council member Kshama Sawant is a member — nine student groups, including Northeastern College Democrats, Real Food Challenge NU, and the Feminist Student Organization, have united in the fight against wage inequality at their University, in a campaign called $15 Now NU.
Through a loophole in Northeastern's student government policy, $15 Now NU is organizing a campaign to institute a $15 an hour minimum wage for all campus workers. We've suggested a number of sources of money that could fund workers' raises, including President Aoun's salary.
Despite resistance from the school's Student Government, which has acted in concert with the administration, $15 Now NU came forth with a body of over 2,000 student signatures demanding that the $15 university minimum wage be placed on the spring student government ballot as a referendum. This demand was successful, and the $15 Now student referenda went to a vote last week. The results will be announced tonight at 7 pm.
In previous years, the school's student government has struggled to meet the voter threshold required to validate the election (20% of the student body); this year, those records were shattered. The threshold was met well before voting closed and was exceeded by 1,000 votes. The announcement tonight will determine the trajectory of the campaign moving forward. If over 50 percent of the voting student population stands in support of $15 on campus, $15 Now NU will seek to enter public negotiations with the university administration next fall. Whether the referendum passes tonight or not, the conversation around $15 in Massachusetts has been greatly accelerated by the work at Northeastern.
On April 14, the #WageAction coalition organized a ​"Fight for $15" march that will likely be the city's biggest minimum wage event of the year. $15 Now NU has been greatly supported by Service Employees International Union (SEIU) Fight for $15 Massachusetts, a key organizer in the #WageAction coalition. The support of SEIU Fight for $15 has been integral to the campaign, which enhances the importance of the April 14 march being kicked off at Northeastern University. This march will serve as an opportunity to celebrate the work of $15 Now NU as well as spread the fight to campuses and workplaces citywide.
As the first group in the country to fight for $15 at a university, we at $15 Now NU are drawing the connection between wage stagnation and growing student debt. With the co-involvement of workers and students in the campaign, both populations are recognizing that overpaid university administrators and overfunded university initiatives are leaving all of us underpaid and swimming in debt. Rather than suggesting that workers' raises come out of an increase in tuition, which would inevitably lead to the further immiseration of debt-ridden students, this coalition suggests that the top paid administrators take a pay cut and that workers' raises come out of the pockets of the university's wealthiest employees. This campaign is a direct attempt to build the kind of student-worker solidarity that could hold an increasingly corporate higher-ed system to account.
With the seed planted at Northeastern, we're hoping that students and workers across the country will take notice and fight not only for $15, but for students' and workers' ownership of their working and learning conditions.
Keely Mullen
is an undergraduate student at Northeastern University and a member of $
15
Now Northeastern.