Nuns Go to Court to Defend an Outdoor Chapel in Path of Pennsylvania Pipeline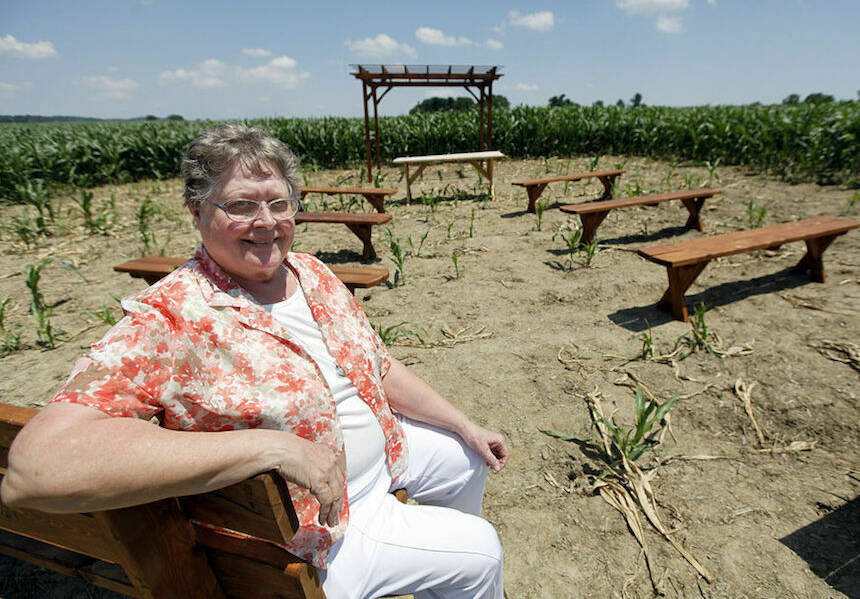 On July 17, about 30 Catholic nuns in Lan­cast­er Coun­ty, Penn., who had con­struct­ed an open-air chapel on the pro­posed path of a nat­ur­al gas pipeline, went to court to fight efforts by the fos­sil fuel com­pa­ny try­ing to seize their land.
The sis­ters appeared at a U.S. Dis­trict cour­t­house in Read­ing for an 11:00 a.m. hear­ing, fol­low­ing two prayer vig­ils ear­li­er Mon­day morning.
About six months ago, they came up with the idea to build the chapel on their farm­land as ​"a vis­i­ble sym­bol of their com­mit­ment to the land," Mark Clat­ter­buck, of Lan­cast­er Against Pipelines — which helped build the chapel — told the York Dai­ly Record, a local paper.
"We have to pay rev­er­ence to the land God has giv­en us," says Sis­ter George Ann Bis­can. ​"We hon­or God by pro­tect­ing and pre­serv­ing His creation."
Fri­day, seek­ing a fed­er­al injunc­tion, the Ador­ers filed a com­plaint in the U.S. Dis­trict Court for the East­ern Dis­trict of Penn­syl­va­nia, claim­ing the Fed­er­al Ener­gy Reg­u­la­to­ry Com­mis­sion (FERC), which reg­u­lates inter­state nat­ur­al gas pipelines, and its com­mis­sion­er have vio­lat­ed the Reli­gious Free­dom Restora­tion Act, ​"by forc­ing the Ador­ers to use their land to accom­mo­date a fos­sil fuel pipeline," the sis­ters said in a state­ment.
The nuns, the state­ment con­tin­ued, ​"allege that FER­C's action places a sub­stan­tial bur­den on their exer­cise of reli­gion by tak­ing their land, which they want to pro­tect and pre­serve as part of their faith, and forces the Ador­ers to use their land in a man­ner and for a pur­pose they believe is harm­ful to the earth."
The com­plaint fol­lowed an emer­gency motion filed by the pipeline's devel­op­er, Tul­sa-based Williams Com­pa­nies, ​"in an attempt to take imme­di­ate pos­ses­sion of the prop­er­ty and get per­mis­sion to deploy U.S. Mar­shals on the nuns and ​'any third par­ties autho­rized by the sis­ters to be on the prop­er­ty,' " Sojourn­ers report­ed.
The pipeline, called ​"Atlantic Sun­rise," is slat­ed to stretch across more than 180 miles of cen­tral Penn­syl­va­nia and link to the com­pa­ny's Transco pipeline, which car­ries gas from the Gulf of Mex­i­co to the East Coast. FERC approved the project in Feb­ru­ary, and Williams began con­struc­tion in ear­ly spring. The com­pa­ny has set­tled with more than 1,000 landown­ers impact­ed by the pipeline, and when attempts to nego­ti­ate with Ador­ers failed, it tried to seize the land through emi­nent domain.
Speak­ing of their bat­tle with Williams, Sis­ter Ber­nice Kloster­mann told the York Dai­ly Record:
They've said we're just look­ing to get more mon­ey. We're not look­ing for mon­ey. We want to pre­serve this land.
The sis­ters belong to the Ador­ers of the Blood of Christ, which was found­ed in 1834 in the rur­al moun­tains of Italy. The order, which has 2,000 mem­bers world­wide, with more than 200 in the Unit­ed States, arrived in near­by Colum­bia, Penn., in 1925, and acquired 90 acres of farm­land, which is now leased to local farm­ers. The order has made envi­ron­men­tal pro­tec­tion a part its mis­sion, and the sis­ters embroiled in this land bat­tle with Williams exem­pli­fy the order's mot­to: ​"You will lack noth­ing if God is with you. Be a woman of great courage."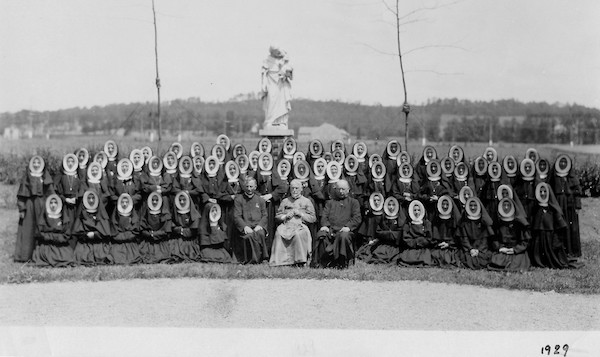 An archived pho­to­graph of the Ador­ers of the Blood of Christ tak­en in 1929, four years after the order arrived in Colum­bia, Penn. (Pho­to­graph: ador​ers​.org)
Their chapel — nes­tled in a carved-out sec­tion of their corn­field — sits atop a bed of straw, and fea­tures an arbor as well as a pul­pit com­posed of wood from fall­en trees. Eight bench­es placed in front of the altar serve as pews. A rope full of col­or­ful sol­i­dar­i­ty rib­bons runs along the chapel's perimeter.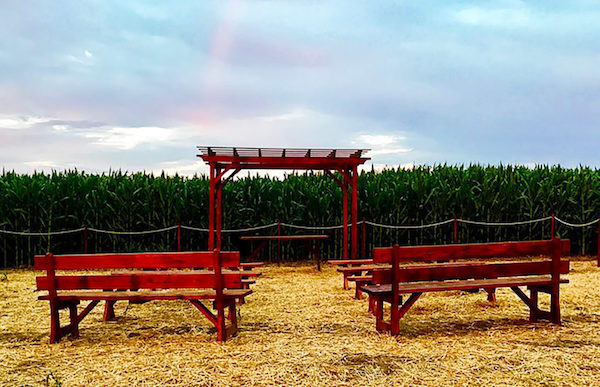 The open-air chapel in Lan­cast­er Coun­ty, Penn. (Image: inhab​i​tat​.com)
"Peo­ple can come at any time of the day, and even night if they want to pray and they're free to walk around, to tie anoth­er rib­bon on just to let peo­ple know that they've been here and that they are pray­ing and sup­port­ing us," says Sis­ter Biscan.
One sup­port­er left a home­made wood­en bird­house at the site, with the inscrip­tion: ​"One day a fam­i­ly of beau­ti­ful choir singers will move in this house to help defend this chapel and to remind you of why you stand strong."
On July 16, about 100 sup­port­ers gath­ered at the chapel for a pub­lic vig­il spon­sored by Lan­cast­er Against Pipelines, accord­ing to local reports. ​"Every­one of good will is invit­ed to join in this vig­il as we con­tin­ue to #Stand­With­The­Sisters against cor­po­rate vio­la­tion of reli­gious, envi­ron­men­tal, and com­mu­ni­ty rights," the group said the pre­vi­ous day. The vig­il includ­ed a rib­bon-tying cer­e­mo­ny, dur­ing which atten­dees added sol­i­dar­i­ty rib­bons to the perime­ter rope.
The fate of the sis­ters' corn­field chapel remains uncer­tain. The Wash­ing­ton Post report­ed Sunday:
U.S. appeals court judges have ruled incon­sis­tent­ly on whether fed­er­al law pro­tects reli­gious groups from emi­nent domain in such cas­es. The U.S. Court of Appeals for the 3rd Cir­cuit, which cov­ers Delaware, New Jer­sey and the part of Penn­syl­va­nia where the nuns reside, has yet to issue a rul­ing on the mat­ter. Legal observers say a case could make its way to the U.S. Supreme Court.
If the injunc­tion is grant­ed, how­ev­er, it is unclear the degree to which the sis­ters' chapel will impact con­struc­tion of the Atlantic Sun­rise pipeline. Accord­ing to a web­site man­aged by the devel­op­er, ​"Williams has already incor­po­rat­ed more than 400 route vari­a­tions into the pro­posed route to address stake­hold­er con­cerns — and we are still mak­ing adjustments."
("To Block Pipeline, Nuns in Court to Defend Corn­field Chapel" was orig­i­nal­ly pub­lished on com​mon​dreams​.org under a Cre­ative Com­mons Attri­bu­tion.)
Jes­si­ca Cor­bett
, a for­mer In These Times intern, is a Maine-based staff writer at Com­mon Dreams. Fol­low her on Twit­ter at @corbett_jessica.