NYC Reformers Rise Again—In Transit And Teamsterdom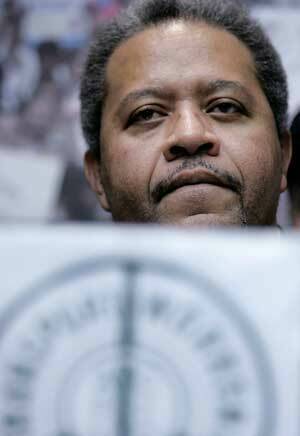 Insur­gents win hard-fought union elec­tions, pledge rank-and-file focus
The rise, fall, and rise again of union reform­ers is a famil­iar sto­ry line in Amer­i­can labor. To some observers, in fact, it's a source of much cyn­i­cism about the whole project of union democ­ra­cy and reform.
The day-to-day demands of full-time elect­ed office, com­bined with heavy pres­sure to con­form to the norms of busi­ness union­ism, has led more than a few rank-and-file heroes down the prim­rose path, soon­er or later.
After reform­ers get elect­ed, their ​"Si se puede" cam­paign rhetoric has been known to give way to a litany of excus­es about why ​"we can't" – empow­er mem­bers, fight the boss, or ​"build a new union," as promised dur­ing the cam­paign. There are, for­tu­nate­ly, always some com­mit­ted activists ready to push the boul­der of reform back up the hill again. But, start­ing over is nev­er easy. It requires win­ning sup­port from fel­low work­ers now angry, frus­trat­ed and/​or dis­il­lu­sioned by the actu­al or per­ceived fail­ure of pre­vi­ous insurgencies.
Two icon­ic New York City labor unions — TWU Local 100 and Team­sters Local 804 — pro­vide a recent case in point.
The trou­ble with top-down ​'reform'
Local 100 of the Trans­port Work­ers has 38,000 sub­way work­er and bus dri­ver mem­bers. In 2000, a Caribbean-born track work­er — bear­ing the name of a great 18th cen­tu­ry lib­er­a­tor — took office as the pres­i­den­tial can­di­date of the ​"New Direc­tions" caucus.
Roger Tou­s­saint was a bat­tle-test­ed mil­i­tant, with a left-wing polit­i­cal back­ground, pre­vi­ous­ly fired by the Tran­sit Author­i­ty. His New Direc­tions com­rades-in-arms had con­test­ed many ear­li­er elec­tions, less suc­cess­ful­ly. They had also spent two decades or more try­ing to strength­en the union, from the bot­tom up, through work­place agi­ta­tion and orga­niz­ing, a sto­ry well told in ​"Hell on Wheels," a Sol­i­dar­i­ty pam­phlet by Steve Downs, the elect­ed chair­per­son of Local 100's Train Oper­a­tors Divi­sion. (See www​.sol​i​dar​i​ty​-us​.org for order­ing info).
In office, as Downs recounts, it didn't take Tou­s­saint long to cre­ate a per­son­al patron­age machine, rather than ​"the demo­c­ra­t­ic, mem­ber-run union that New Direc­tions and thou­sands of the local's mem­bers had fought for." Reform of the local became ​"a top-down, staff-dri­ven process…Officers and mem­bers who pushed for a more par­tic­i­pa­to­ry approach were frozen out."
As a result, Local 100 was in weak orga­ni­za­tion­al shape when it skimped on con­tract cam­paign­ing in 2005 and then con­duct­ed a brave but bun­gled strike against the Tran­sit Author­i­ty any­way. The dis­pute end­ed with health­care give-backs, inter­nal dis­cord, cost­ly fines for both mem­bers and their union, and loss of auto­mat­ic dues deduc­tion. This last penal­ty has left Local 100 with a very big ​"open shop."
Only 18,000 out of 38,000 work­ers are still sup­port­ing TWU finan­cial­ly. The local's deeply erod­ed and demor­al­ized stew­ards' net­work – long neglect­ed by Tou­s­saint – has been unable to col­lect more vol­un­tary dues or do much else to enforce the con­tract, except in remain­ing pock­ets of work­place self-orga­ni­za­tion and activity.
By 2006, the increas­ing­ly unpop­u­lar Local 100 pres­i­dent had to rely on a divid­ed field of chal­lengers to win re-elec­tion with only 43% of the vote. As report­ed accu­rate­ly by no less an author­i­ty than Wikipedia, Tou­s­saint soon came under renewed fac­tion­al ​"crit­i­cism as he began remov­ing union offi­cers who were elect­ed on oppo­si­tion slates and began work­ing more close­ly with New York City Tran­sit management."
The rise — and decline — of a Team­sters local
In Team­sters Local 804, based in Queens, the tra­jec­to­ry from mil­i­tan­cy to com­pla­cen­cy, demo­bi­liza­tion, and de fac­to com­pa­ny union­ism occurred in a bet­ter-known nation­al con­text. 804 is the home local of Ron Carey, who died of lung can­cer a year ago. In the 1970s and ​'80s, under his lead­er­ship, 804 was a for­mi­da­ble island of rank-and-file resis­tance to the largest Team­ster employ­er in the coun­try, Unit­ed Par­cel Ser­vice. In those days, Carey and his mem­bers were sur­round­ed by a cesspool of Team­ster cor­rup­tion and gang­ster­ism in New York City and New Jer­sey, plus union col­lab­o­ra­tion with UPS man­age­ment just about every­where else.
In 1989 – 91, Carey joined forces with Team­sters for a Demo­c­ra­t­ic Union to wage a suc­cess­ful grass­roots cam­paign to oust old guard offi­cials at the nation­al union lev­el. Carey's six tumul­tuous but pro­duc­tive years as IBT pres­i­dent in Wash­ing­ton reached their peak with the Team­sters' 1997 strike vic­to­ry over UPS; short­ly, there­after, he was forced to step down from office in a re-elec­tion cam­paign fundrais­ing scan­dal, which also led to his indict­ment. Acquit­ted of all charges in 2001, he remained painful­ly banned from hav­ing any con­tact with his for­mer co-work­ers in 804.
Over time, Carey's suc­ces­sors in the lead­er­ship of this 7,000-member UPS local drift­ed into the camp of cur­rent Team­ster Pres­i­dent James Hof­fa. Two years ago, they glad­ly went along with a Hof­fa-engi­neered UPS con­tract set­tle­ment that was over­turned, in 804 at least, by dis­sat­is­fied mem­bers. The TDU-backed rank-and-file cam­paign against con­ces­sions in the 804 local sup­ple­ment to the UPS nation­al con­tract forced man­age­ment to put a bet­ter offer on the table.
The final deal reversed a 30-per­cent pen­sion cut, stopped a pro­posed wage cut, and saved the ​"25 & Out" retire­ment option that was the key lega­cy of the Carey years. In a fatal piqué of annoy­ance over this polit­i­cal set­back for them, Local 804 offi­cials didn't even send flow­ers to the funer­al home or attend the wake when Carey died a year ago. At a memo­r­i­al ser­vice for him last Feb­ru­ary, hun­dreds of UPSers showed up, angry and deter­mined to avenge the slight – and take back their union – at the polls this fall.
Two elec­tion vic­to­ries for insur­gent reformers
In Local 100, that's exact­ly what the anti-Tou­s­saint forces called them­selves – Take Back Our Union (TBOU). Roger him­self wasn't on this week's elec­tion bal­lot because he now has a high-paid staff job with the TWU's tiny and not very help­ful nation­al orga­ni­za­tion, whose fail­ings he long crit­i­cized (dur­ing his pre­vi­ous incar­na­tion as a rank-and-file mil­i­tant and, for a few years, dis­si­dent local leader).
Instead, a can­di­date backed by Tou­s­saint squared off against John Samuelsen, a Brook­lyn-born Local 100 vice-pres­i­dent with a long his­to­ry of activism around track safe­ty issues and the fight against con­tract­ing out.
On Mon­day, Dec. 7, Samuelsen's mul­ti-racial TBOU team won all four local-wide offi­cer posi­tions, includ­ing the pres­i­den­cy and four out of sev­en V‑P slots. In his own race for the top job, Samuelsen won by near­ly 900 votes out of more than 10,000 cast.
Just a few days ear­li­er, on Dec. 3, there was a record turn-out (1,000 more vot­ers than before) in the bal­lot­ing for 804's offi­cers and exec­u­tive board mem­bers. The TDU-assist­ed ​"804 Mem­bers Unit­ed Slate" won all 11 seats, turf­ing out the hap­less Hof­fa fans in their union hall by an even larg­er mar­gin of two to one.
Rank-and-file focus at forefront
In both races, the chal­lengers pro­duced detailed cam­paign plat­forms that were strik­ing­ly sim­i­lar. TBOU's stressed the need for an ​"open, demo­c­ra­t­ic union," ​"mem­ber-dri­ven, clean of cor­rup­tion," and ​"sin­gle-mind­ed in its resolve to break the cycle of con­ces­sion­ary bar­gain­ing." As UPS work­er and 804 pres­i­dent-elect Tim Sylvester explained last week,
We laid out ten changes we'll make to build a stronger Local 804. We're not going to be able to fix all the prob­lems overnight. But we're com­mit­ted to imple­ment­ing a reform pro­gram and tap­ping the pow­er of an informed and orga­nized membership.
When they take office like Sylvester in Jan­u­ary, Samuelsen and his run­ning-mates — Izzy Rivera, Beni­ta John­son, and Angel Giboyeaux — will face an Augean sta­ble full of accu­mu­lat­ed orga­ni­za­tion­al and finan­cial prob­lems. High on their ​"to-do" list will be a sys­tem­at­ic mem­ber­ship dri­ve (to get delin­quent dues pay­ers back into the TWU fold) and a push to get dis­put­ed 2005 con­tract issues resolved.
Unusu­al among U.S. trade union­ists at the moment, Samuelsen has a sin­gu­lar focus on ​"build­ing rank-and-file pow­er and re-estab­lish­ing union strength in the work­place." At a day-long tran­si­tion plan­ning dis­cus­sion, held in Man­hat­tan last month with nine­ty TBOU sup­port­ers, John kept return­ing to the theme that Local 100 wouldn't become a ​"pow­er­house" in NY labor again until it first re-built ​"lay­ers of den­si­ty" on the shop-floor, fought to ​"con­trol the pace of work," and tack­led, rather than ignored, day-to-day prob­lems like the ​"dis­gust­ing con­di­tion" of sub­way employ­ee bathrooms.
At a time when unions like SEIU are down­play­ing the role of work­place rep­re­sen­ta­tion and any fight over work­ing con­di­tions — and, in some cas­es, even replac­ing stew­ards with ​"call cen­ters" — Samuelsen talks non-stop about the cen­tral­i­ty of elect­ed shop stew­ards, who can't sim­ply be replaced with ​"loy­al bums" at the whim of a local president.
He believes stew­ards should be trained and encour­aged to deal direct­ly with man­age­ment as ​"on-site dis­pute han­dlers" and key con­tract enforcers. In the legislative/​political are­na, he thinks Local 100 should rely less on high-priced lob­by­ists and con­sul­tants or union check-writ­ing to politi­cians. He wants more rank-and-file mem­bers to run for office them­selves and pres­sure pub­lic offi­cials direct­ly, in their own neigh­bor­hoods and communities.
The 42-year-old Samuel­son is par­tic­u­lar­ly con­cerned about the chal­lenge of reach­ing younger, new­ly hired tran­sit work­ers. In a pre-elec­tion mes­sage to them, he warned of a Tran­sit Author­i­ty man­age­ment that has ​"stepped up its abuse of our mem­bers and rou­tine­ly vio­lates our con­tract." The Tou­s­saint régime's aban­don­ment of ​"any real attempt to mobi­lize the mem­ber­ship to defend our jobs" has pro­duced a union ​"in full retreat on safe­ty, dis­ci­pline, job picks, and senior­i­ty rights."
Now faced with the chal­lenge of actu­al­ly stop­ping that retreat and find­ing ways for Local 100 to go on the offen­sive again, Samuelsen and his slate will need all the help they can get from mem­bers, new and old, next year, as will those pick­ing up Ron Carey's ban­ner in Team­sters Local 804.
Steve Ear­ly worked for 27 years as an orga­niz­er and inter­na­tion­al rep­re­sen­ta­tive for the Com­mu­ni­ca­tions Work­ers of Amer­i­ca. He is the author of sev­er­al books, includ­ing Refin­ery Town: Big Oil, Big Mon­ey, and the Remak­ing of an Amer­i­can City (Bea­con Press).