Oakland Activists Unite To Protect Privacy
An enormous 'domain awareness center' would have integrated cameras and data from across the city into one mass surveillance system.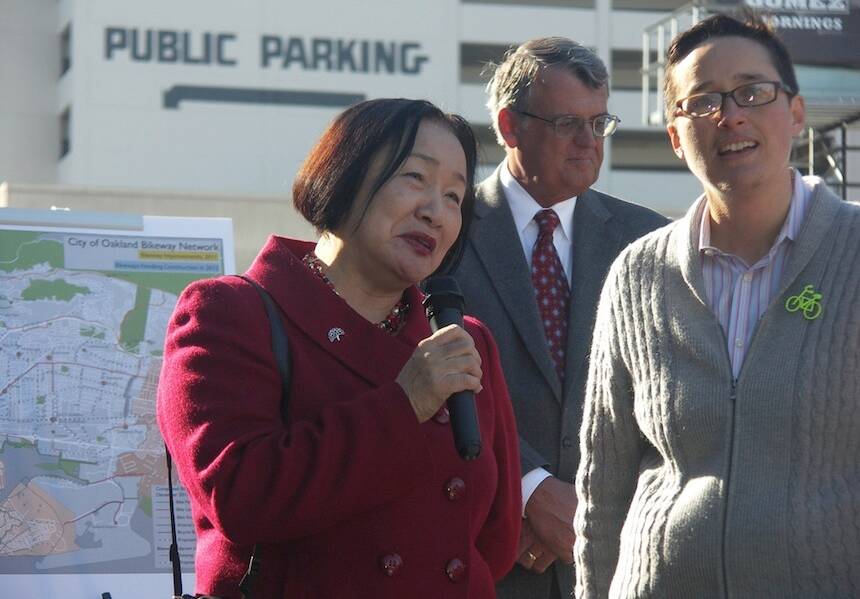 ​"With liber — ty and just — ice for all," said the girl at the micro­phone. She accen­tu­at­ed the ends of her words, almost as if she were per­form­ing slam poet­ry, so the mem­bers of the city coun­cil had more time to con­tem­plate their mean­ing and grav­i­ty. After a short pause, she recalled how she had recit­ed the Pledge of Alle­giance every morn­ing in school dur­ing her childhood.
The plan also called for the implementation of new technologies such as license-plate-reading devices, biometrics, thermal imaging and possibly facial-recognition technology.
​"I nev­er thought all that time I would be prac­tic­ing to remind you all here, tonight," she mused.
Her tes­ti­mo­ny fell some­where in the mid­dle of the pub­lic com­ments por­tion of the Oak­land City Coun­cil meet­ing ear­li­er this month. It was far from a rou­tine meet­ing. Lat­er that night, the coun­cil was to vote on the plan to build a domain aware­ness cen­ter, a mas­sive sur­veil­lance hub that would aggre­gate the pub­lic and pri­vate feeds from cam­eras and sen­sors from across the city, as well as data and updates from social media.
That night, some 149 peo­ple had signed up to speak. Through­out the eight-hour meet­ing, the air was elec­tric and expec­tant as more than one hun­dred peo­ple voiced their unan­i­mous resolve to keep mass sur­veil­lance out of Oakland.
A nine-month fight
The most recent chap­ter of the fight began on July 30, 2013, when the Oak­land City Coun­cil unan­i­mous­ly approved a $2 mil­lion grant from the Depart­ment of Home­land Secu­ri­ty to begin the sec­ond phase of con­struc­tion for a domain aware­ness cen­ter in Oak­land. The vote occurred despite out­spo­ken com­mu­ni­ty oppo­si­tion, the dis­sent­ing tes­ti­monies of near­ly 50 speak­ers and the urg­ing of orga­ni­za­tions like the ACLU. The plan called for the domain aware­ness cen­ter to inte­grate cam­eras and data from across the city into one mass sur­veil­lance sys­tem. Accord­ing to the domain aware­ness cen­ter wiki, a clear­ing­house of infor­ma­tion kept by activists, the plan also called for the imple­men­ta­tion of new tech­nolo­gies such as license-plate-read­ing devices, bio­met­rics, ther­mal imag­ing and pos­si­bly facial-recog­ni­tion tech­nol­o­gy. Pri­or to vehe­ment protests, the plan also called for the pur­chase of drones and a net­work of cam­eras for the Oak­land city pub­lic schools.
After the coun­cil approved the domain center's con­struc­tion, Oak­land activists launched a mil­i­tant research strat­e­gy and a pub­lic rela­tions blitz that quick­ly yield­ed results. By mid-Octo­ber, the plan had made nation­al head­lines, includ­ing a New York Times arti­cle that sharply crit­i­cized the pro­posed cen­ter. In Novem­ber, an even big­ger sto­ry broke. Pub­lic records requests filed by activists yield­ed more than 4,000 pages of com­mu­ni­ca­tions, some of which showed that the con­trac­tor respon­si­ble for the center's con­struc­tion, Sci­ence Appli­ca­tions Inter­na­tion­al Cor­po­ra­tion, was in vio­la­tion of a city law stip­u­lat­ing that Oak­land can't do busi­ness with firms that also work with nuclear weapons. These doc­u­ments also revealed that the city appears to have know­ing­ly con­cealed this information.
On Jan. 27, 2014, the Oak­land pri­va­cy work­ing group, a group of pri­va­cy activists loose­ly asso­ci­at­ed with Occu­py Oak­land, issued a cease and desist order to the city to halt Sci­ence Appli­ca­tions Inter­na­tion­al Corporation's con­struc­tion of the cen­ter. The next day, the city of Oakland's pub­lic safe­ty com­mit­tee expe­dit­ed its rec­om­men­da­tion that anoth­er con­trac­tor, Schnei­der Elec­tric, appear before the city council.
Two major protests in ear­ly Feb­ru­ary kept the issue at the fore­front of the public's atten­tion. At a Feb. 18 coun­cil meet­ing, near­ly 80 com­mu­ni­ty mem­bers signed up to speak out against the cen­ter. It was the first time since this nine-month fight began that coun­cil mem­bers indi­cat­ed seri­ous mis­giv­ings about mov­ing for­ward. Some coun­cil mem­bers indi­cat­ed that they would be only will­ing to sup­port a scaled-back ver­sion of the plan that would be lim­it­ed to mon­i­tor­ing the city's port. Coun­cil mem­bers also expressed con­fu­sion over how the pro­posed domain aware­ness cen­ter had evolved from being lim­it­ed to the port to offer­ing blan­ket mass sur­veil­lance of the entire city. After five hours of debate, the vote was post­poned until the fol­low­ing meet­ing on March 4.
A bal­loon­ing issue
On the night of the March 4 vote, com­mu­ni­ty mem­bers and orga­ni­za­tions from all dif­fer­ent back­grounds flood­ed into the city coun­cil build­ing. The ACLU and oth­er pro-pri­va­cy orga­ni­za­tions were joined by Mus­lim and Asian Amer­i­can com­mu­ni­ty groups, whose past and recent expe­ri­ence of being tar­get­ed for sur­veil­lance drove them to oppose this new, inte­grat­ed form. The Oak­land pri­va­cy work­ing group issued a let­ter to coun­cil mem­bers with the sig­na­tures of over 35 orga­ni­za­tions.
​"The longer this fight goes on, the more broad this coali­tion gets," said Bri­an Hofer of Oak­land Pri­va­cy Work­ing Group.
​"Trust has been bro­ken with the Mus­lim com­mu­ni­ty," said Imam Zaid Shakir of the Light­house Mosque at a press con­fer­ence pri­or the city coun­cil meet­ing. But, he con­tin­ued, the cen­ter was ​"not a Mus­lim issue, but an Amer­i­can issue."
Just before the meet­ing, May­or Jean Quan quick­ly issued an open let­ter of sup­port for con­strict­ing the domain aware­ness cen­ter to the port only, which would lim­it the scope of the sur­veil­lance and data col­lec­tion to the area around the port and the air­port, and would call for sur­veil­lance cam­eras already installed as part of the orig­i­nal plan to be decommissioned.
​"As we've gone through our pub­lic process over the last sev­er­al weeks, many of our res­i­dents and oth­er Oak­land stake­hold­ers have let us know they have seri­ous con­cerns about how the cen­ter could affect their rights to pri­va­cy," Quan said. ​"Let's be very clear: pre­serv­ing pub­lic safe­ty also means safe­guard­ing those rights."
Since Sept. 11, 2001, the sur­veil­lance indus­try has been grow­ing expo­nen­tial­ly. Accord­ing to TomDis­patch writ­ers Mat­tea Kramer and Chris Hell­man, the Unit­ed States has spent an esti­mat­ed $791 bil­lion on home­land secu­ri­ty since the attacks, which — when adjust­ed for infla­tion — is more than 1.5 times the amount spent on the New Deal.
How­ev­er, with­in the last year, the resis­tance to this sur­veil­lance sys­tem has grown as well. In August 2013, now famous whistle­blow­er Edward Snow­den leaked doc­u­ments that revealed U.S. secu­ri­ty agen­cies were spend­ing $52.6 bil­lion each year on intel­li­gence gath­er­ing that includ­ed the con­tro­ver­sial tele­phone meta­da­ta gath­er­ing and stor­ing pro­grams. Even pro-sur­veil­lance law­mak­ers have recent­ly expressed con­cern over the ever expand­ing spy­ing indus­try. Ear­li­er this month Sen. Dianne Fein­stein of Cal­i­for­nia accused the CIA of spy­ing on the Sen­ate Intel­li­gence Com­mit­tee, the very body respon­si­ble for over­see­ing the activ­i­ties of U.S. sur­veil­lance agencies.
Against this back­drop, munic­i­pal strug­gles over mass sur­veil­lance take on increased sig­nif­i­cance. As it becomes more and more clear that these agen­cies are waste­ful­ly over­fund­ed, as a bipar­ti­san 2012 report on fusion cen­ters found, com­mu­ni­ties must decide whether to stand up for their civ­il lib­er­ties when elect­ed offi­cials are no longer able to advo­cate for them.
This is pre­cise­ly what is hap­pen­ing in Oakland.
The vote
On March 4, for­mer city coun­cil mem­ber Wil­son Riles, Jr. was the first pub­lic speak­er to chime in on the pro­posed domain aware­ness cen­ter. A long­time activist, Riles recalled when the city of Oak­land pur­chased a heli­copter for the Oak­land Police Depart­ment dur­ing his city coun­cil tenure. He and oth­er coun­cil mem­bers were tak­en up in the air dur­ing a demon­stra­tion. But instead of car­ry­ing out police work, he remem­bered the pilots of the air­craft shin­ing their spot­lights on women walk­ing down the street and laughing.
Riles was the first of a slew of peo­ple to advo­cate against the center's con­struc­tion. Lin­da Lye of the ACLU of North­ern Cal­i­for­nia point­ed out that there was an omi­nous pro­vi­sion that referred to the mon­i­tor­ing of ​"news feeds and alerts." Jor­dan Hoff­man, a secu­ri­ty pro­fes­sion­al, argued that the cen­ter would get hacked. Michael Thomas, a lawyer with the Nation­al Lawyers Guild, argued, ​"Data aggre­gat­ed on com­mu­ni­ties of col­or will be used to jus­ti­fy force." One masked activist sim­ply read a pas­sage from Michel Foucault's Dis­ci­pline and Pun­ish.
After more than 100 speak­ers, the city coun­cil and May­or Quan vot­ed to restrict the domain aware­ness cen­ter to mon­i­tor­ing the port and the air­port only. Depend­ing on whom you ask, the deci­sion was either a major vic­to­ry or a colos­sal failure.
Bri­an Hofer said that while he was pleased to see the cen­ter lim­it­ed, he was dis­ap­point­ed that it wasn't defeat­ed out­right. The ACLU was more opti­mistic. ​"Last night's vote by the Oak­land City Coun­cil to sig­nif­i­cant­ly cur­tail the scope of the domain aware­ness cen­ter is a real win for pri­va­cy and civ­il lib­er­ties and for par­tic­i­pa­to­ry democ­ra­cy," said Lin­da Lye, staff attor­ney with the ACLU of North­ern Cal­i­for­nia. She cred­it­ed the city coun­cil for respond­ing — at least par­tial­ly — to the public's concerns.
Lessons learned
Keep­ing the cen­ter con­fined to the port sets an impor­tant prece­dent for pri­va­cy advo­cates every­where, even if it wasn't the shutout vic­to­ry many want­ed. There was no sin­gle strat­e­gy that was respon­si­ble for forc­ing the city coun­cil to com­pro­mise. Rather, it was a com­bi­na­tion of legal orga­niz­ing, research, out­reach, coali­tion build­ing and street protests. Com­mu­ni­ty orga­niz­ing also played an impor­tant role by bring­ing speak­ers from key sec­tors of soci­ety out for the vote. This orga­niz­ing fol­lowed a decen­tral­ized mod­el in which orga­niz­ers already in com­mu­ni­ties helped bring out their con­stituen­cies, which helped ensure that peo­ple were not tok­enized. This mod­el also did not require activists who had spear­head­ed oth­er aspects of the cam­paign, such as the legal and research advo­ca­cy, to attempt the dif­fi­cult — and often unsuc­cess­ful — work of orga­niz­ing an unfa­mil­iar com­mu­ni­ty from the ground up.
As oth­er cities begin gear­ing up for sim­i­lar fights, like the one now under­way in Seat­tle, activists in Oak­land have vowed to keep push­ing to rid the city of any domain aware­ness cen­ter. Key orga­niz­ers have said that they will begin orga­niz­ing to vote pro-cen­ter coun­cil mem­bers out of office in order to block the now approved port-only cen­ter. This mil­i­tant stance — one that demands no sur­veil­lance and accepts no com­pro­mis­es — may be a source of dis­ap­point­ment for activists in the East Bay now. But it is pre­cise­ly this atti­tude that pro­pelled them from defeat only nine months ago to a vic­to­ry that may well extend even further.
This piece is reprint­ed with per­mis­sion from Wag­ing Non­vi­o­lence.
Tom Hintze is an activist, writer and pho­tog­ra­ph­er from New York. He start­ed work­ing in the Occu­py Wall Street Kitchen in Lib­er­ty Square in Octo­ber, orga­niz­ing hor­i­zon­tal­ly with a small group of peo­ple to coor­di­nate meals for between one and five thou­sand peo­ple dai­ly. He has also been a part of the Direct Action Work­ing Group at OWS, and has helped plan dozens of actions. He has writ­ten and edit­ed for Tidal and Occu­py Theory.