A Oaxaca Teacher Explains Why Educators in Mexico Are Under Attack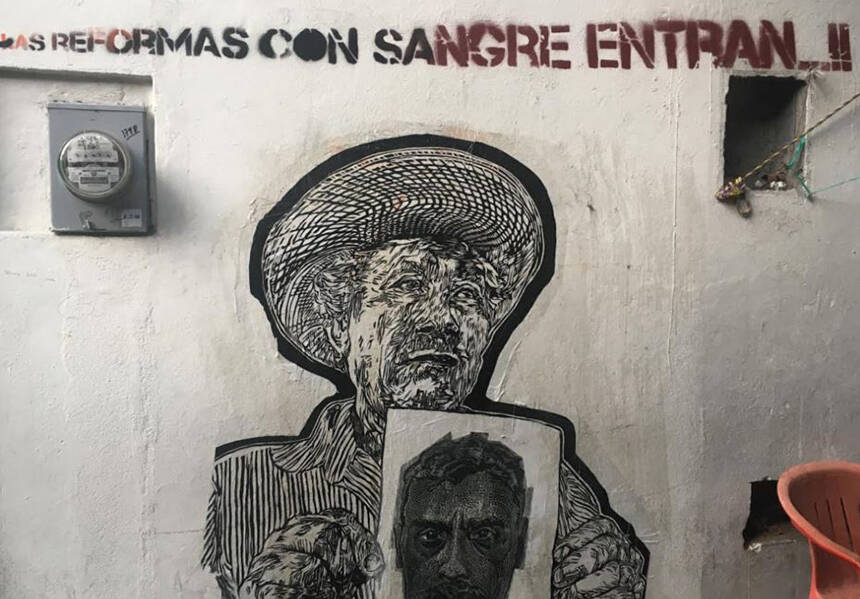 This post orig­i­nal­ly appeared at Jacobin.
Ten years ago, as a group of strik­ing teach­ers slept in their encamp­ment dur­ing the ear­ly hours of June 14 in the state cap­i­tal of Oax­a­ca, Mex­i­co, gov­ern­ment forces launched an attack to remove them from the zóca­lo, or town square. Riot police cleared the plaza while heli­copters dropped tear gas from above.
The strik­ing teach­ers were beat­en, arrest­ed, and pushed out of the city cen­ter. But not for long; the teach­ers and their sup­port­ers quick­ly regrouped, fight­ing back, block by block, and took the plaza back by midday.
The vio­lent repres­sion of strik­ing teach­ers in 2006, ordered by the state gov­er­nor, launched a social move­ment — called the ​"Oax­a­ca Com­mune" by sup­port­ers — that grew to encom­pass much more than the local teach­ers' union.
The move­ment mobi­lized large swathes of Oax­a­can soci­ety against the repres­sive gov­er­nor. Aggres­sive fed­er­al inter­ven­tion hob­bled the move­ment, but failed to wipe it out. Today the dis­si­dent teach­ers' move­ment is in the streets again, this time in oppo­si­tion to the fed­er­al government's ​"edu­ca­tion reform" program.
The teacher's move­ment is also more wide­spread than in 2006. Mil­i­ta­rized attacks on strik­ing teach­ers have occurred in Mex­i­co City and through­out the country's south­ern states. In the last month, the state of Chi­a­pas has seen pitched bat­tles between teach­ers and police forces, and the Zap­atis­tas have spo­ken out in favor of the strik­ing teachers.
Last week the Mex­i­can attor­ney general's office arrest­ed two of the lead­ers of the Oax­a­can sec­tion of the teach­ers' union, Local 22, on cor­rup­tion charges. Then on June 19, fed­er­al and state police attacked pro­test­ers in Nochixtlán, Oax­a­ca, a town on the high­way between the state cap­i­tal and Mex­i­co City, result­ing in the death of at least eight protesters.
The bla­tant attack on out­spo­ken gov­ern­ment oppo­nents unleashed a wave of protests in the state cap­i­tal in response.
2006 – 2016. Street graf­fi­ti in Oax­a­ca City, com­mem­o­rat­ing the ongo­ing teach­ers' strug­gle. Shane Dilling­ham / Jacobin
It's become some­what of a cliché to describe the sit­u­a­tion in Mex­i­co as a ​"cri­sis." Indeed, la cri­sis is fre­quent­ly sat­i­rized in Mex­i­can film and pop­u­lar cul­ture, with Mex­i­cans unsure when the last cri­sis end­ed and the next began.
Yet it's true that Mex­i­co has expe­ri­enced a wave of tragedies since 2006. Over 100,000 peo­ple have died, over 25,000 have been dis­ap­peared, and more than 100 jour­nal­ists have been killed in the decade since for­mer pres­i­dent Felipe Calderon declared war on the drug cartels.
Some of the crisis's num­bers are unfor­get­table. The 49 chil­dren burned to death in a gov­ern­ment-out­sourced day­care cen­ter with­out safe­ty pro­tec­tions in the north­ern state of Sono­ra in 2009; the 72 migrants found in a col­lec­tive grave in the state of Tamauli­pas in 2010; and most recent­ly the 2014 dis­ap­pear­ance of 43 Ayotz­i­na­pa Nor­mal School stu­dents in the south­ern state of Guer­rero. Tragedy's num­bers are a defin­ing part of dai­ly life and con­ver­sa­tion in Mexico.
Enrique Peña Nieto's elec­tion in 2012, com­ing after years of drug-war-relat­ed vio­lence, was seen by many as a pos­si­ble reprieve, a return to the nos­tal­gic days of the Insti­tu­tion­al Rev­o­lu­tion­ary Par­ty (PRI) rule when gov­er­nance was at least sta­ble, if not demo­c­ra­t­ic or transparent.
Yet Pres­i­dent Peña Nieto's sex­e­nio (six-year term) has been marked by con­tin­ued mass vio­lence, cor­rup­tion, and impuni­ty at seem­ing­ly all lev­els of gov­ern­ment. From shady gov­ern­ment con­tracts in Mex­i­co City, to his wife's extrav­a­gant home paid for by dubi­ous means, to the fla­grant and repeat­ed gov­ern­ment lies over the 43 miss­ing stu­dents, Peña Nieto's pop­u­lar­i­ty has plummeted.
Recent state-lev­el elec­tions saw the PRI lose pow­er in a num­ber of its for­mer strong­holds. May­ors in Mex­i­co are tar­get­ed by car­tels, in a way that sug­gests they are siphon­ing funds direct­ly from the state, in addi­tion to drug and human trafficking.
The mul­ti­ple cap­tures and escapes of ​"El Chapo" Guz­man, the infa­mous drug traf­fick­er, lent cre­dence to the pop­u­lar belief among many Mex­i­cans that the line between the traf­fick­ers and the state is blur­ry, at best.
Peña Nieto's 2013 edu­ca­tion reform plan — the piece of leg­is­la­tion under con­tention today — is just one com­po­nent of a broad­er set of struc­tur­al reforms pushed through by the pres­i­dent and the PRI.
While oth­er reforms — such as the par­tial pri­va­ti­za­tion of the state-run oil com­pa­ny, PEMEX, and cor­po­rate tax reform — have been rel­a­tive­ly suc­cess­ful (on their own terms), the edu­ca­tion ini­tia­tive has proven the most dif­fi­cult to imple­ment, spark­ing oppo­si­tion by not only the dis­si­dent sec­tion of the teach­ers' union, the Coor­di­nado­ra Nacional de Tra­ba­jadores de la Edu­cación (CNTE), but also broad­er sec­tors of the nation­al teach­ers' union, the Sindi­ca­to Nacional de Tra­ba­jadores de la Edu­cación (SNTE).
This oppo­si­tion and the mil­i­ta­rized approach of the gov­ern­ment employed to imple­ment the reforms, with thou­sands of fed­er­al police secur­ing teacher test­ing sites, has led the inter­na­tion­al press, much of which until recent­ly was sup­port­ive of Peña Nieto, to declare him a fail­ure.
The edu­ca­tion reform is bet­ter under­stood as an attack on labor. Much like the dis­course of recent edu­ca­tion reform move­ments in the Unit­ed States, the Mex­i­can reform­ers invoke notions of ​"account­abil­i­ty" and ​"qual­i­ty" instruction.
But the reform itself con­tains numer­ous mea­sures aimed at under­min­ing the pow­er of teach­ers' unions includ­ing mea­sures that weak­en the union's con­trol of the hir­ing process at nor­mal schools (which they his­tor­i­cal­ly con­trolled), elim­i­nate teach­ers' abil­i­ty to pass down a posi­tion to their chil­dren, make it eas­i­er to fire teach­ers who miss work, and lim­it the num­ber of union posi­tions paid by the state.
These mea­sures are all direct­ly aimed at under­min­ing the union's pow­er, but the cen­tral point of con­tention has been the eval­u­a­tion of teach­ers through state-admin­is­tered stan­dard­ized tests.
At the end of last year, teach­ers across Mex­i­co sat down for new nation­wide teacher eval­u­a­tions. In Oax­a­ca, the scene out­side the test­ing site resem­bled a mil­i­tary exercise.
Ten thou­sand fed­er­al police were deployed to facil­i­tate the admin­is­tra­tion of the eval­u­a­tions, reflect­ing both the fed­er­al government's desire to see their reform imple­ment­ed as well as the wide­spread oppo­si­tion to the new law.
Oax­a­ca is home to one of the most out­spo­ken union locals in Mex­i­co, Local 22, a mem­ber of the dis­si­dent CNTE move­ment — a move­ment that emerged in the late 1970s in oppo­si­tion to the author­i­tar­i­an, PRI-aligned SNTE.
In the 1970s and 1980s, the CNTE strug­gled against entrenched PRI con­trol of union locals, with new­ly mint­ed indige­nous teach­ers play­ing a key role in south­ern states such as Oax­a­ca and Chi­a­pas. The CNTE has remained a pow­er­ful force and con­trols, in addi­tion to Local 22, sec­tions of union locals in Michoacán, Guer­rero, Chi­a­pas, and the Fed­er­al Dis­trict (Mex­i­co City).
Giv­en Local 22's his­toric mil­i­tan­cy, the state's response was not sur­pris­ing. Yet sim­i­lar scenes of police coer­cion played out across the coun­try, along­side a mas­sive media cam­paign denounc­ing the dis­si­dent teach­ers' union as self-inter­est­ed and corrupt.
His­to­ri­an A. S. Dilling­ham sat down with René González Pizarro, a Oax­a­can teacher and mem­ber of Local 22, as well as a for­mer del­e­gate to its assem­bly, to dis­cuss the nature of the reforms, the government's strat­e­gy, and the his­to­ry and cul­ture of Local 22.
Can you first tell us a lit­tle about your own expe­ri­ence as a teacher? Why did you choose the teach­ing profession?
My pro­fes­sion­al train­ing was orig­i­nal­ly in graph­ic design, but I've been immersed in the edu­ca­tion world ever since I can remem­ber. Actu­al­ly, as a baby I was part of the teach­ers' demon­stra­tions of the 1980s and I remem­ber that as a six- or sev­en-year-old I'd chant along with the slo­gans of the teachers.
After eight years teach­ing in pri­vate schools, I entered Local 22 thanks to my father. One of the ben­e­fits of the union mem­bers (elim­i­nat­ed by the recent reform) was the abil­i­ty to inher­it the posi­tion of one's par­ents upon their retire­ment, as long as one had ini­ti­at­ed their teacher training.
My father was in the indige­nous edu­ca­tion sys­tem, so I start­ed there, with low­est cat­e­go­ry of pro­mo­tor bil­ingüe or bilin­gual pro­mot­er. These posi­tions were cre­at­ed in the 1970s and it is the cat­e­go­ry I con­tin­ue to hold.
I start­ed work in an indige­nous board­ing school in Coixt­lahua­ca, a rur­al, moun­tain­ous region in the west­ern half of the state.
Let's begin with the June

19

attacks on the teach­ers' block­ade in Nochixtán.
The fed­er­al and state police's recent vio­lence mere­ly demon­strates the total obsti­na­cy and refusal to nego­ti­ate on the government's part. The teach­ers' move­ment and much of the pub­lic gen­er­al­ly have spo­ken out against the struc­tur­al reforms, not just the against the edu­ca­tion program.
On Sun­day, the fed­er­al police first denied their use of live ammu­ni­tion against demon­stra­tors. Then lat­er, after the con­fir­ma­tion of the first two dead, the sec­re­tary of gov­ern­ment claimed it wasn't police who fired, and said the pho­tographs of police fir­ing assault rifles were from anoth­er date and time.
But the media reac­tion was quick and the Asso­ci­at­ed Press con­firmed the pho­tographs of police fir­ing on crowds were indeed from that Sun­day and not manipulated.
Final­ly, at a press con­fer­ence late that after­noon, the police admit­ted to their use of live ammunition.
Pro­test­ers car­ry a ban­ner fea­tur­ing ​"The Vir­gin of the Bar­ri­cades" on June 14, 2016 to com­mem­o­rate the ten-year anniver­sary of the Oax­a­can social move­ment. (Shane Dilling­ham / Jacobin)
The key from the government's point of view has been the imple­men­ta­tion of last year's teacher eval­u­a­tions. More than ten thou­sand fed­er­al police arrived in Oax­a­ca to facil­i­tate the new eval­u­a­tions. The state gov­ern­ment and Min­istry of Edu­ca­tion claimed it was a suc­cess. How do you view what took place with the evaluations?
The new state edu­ca­tion min­istry (IEEPO), which was legal­ly recon­sti­tut­ed dur­ing the sum­mer of 2015 to weak­en the union's con­trol, has been try­ing to legit­imize itself since its restruc­tur­ing last July.
They've begun a series of actions, par­tic­u­lar­ly on social media, to try to show that the Oax­a­can teach­ers want­ed to get rid of the ​"yoke" of the union.
On social media they have bom­bard­ed Oax­a­cans with mes­sages like, ​"The new IEEPO is bet­ter, noth­ing remains in the union's hands, now union coer­cion is no longer need­ed to access labor rights, the eval­u­a­tion isn't meant to take peo­ples' jobs, now chil­dren will have all their classes."
But the mes­sage is fun­ny, if not iron­ic, in the face of the deploy­ment of fed­er­al forces, not just in Oax­a­ca but in oth­er states where the CNTE hasn't had much presence.
Two or three years ago, before the reforms began in earnest, many non-CNTE teach­ers in the rest of the coun­try viewed the eval­u­a­tions as a good thing. (Actu­al­ly some Oax­a­can teach­ers did, as well.)
But with the full imple­men­ta­tion of the reform there has been an upturn in the scale of oppo­si­tion to it. Even in places where one hasn't seen teacher protests before, one sees them now; the state of Jalis­co and the state of Mex­i­co are clear exam­ples of this.
You men­tioned the ​

"

new IEEPO" and what took place last July when the state gov­ern­ment legal­ly abol­ished — with the sup­port of the fed­er­al police — the pre­vi­ous edu­ca­tion min­istry, in order to facil­i­tate Pres­i­dent Peña Nieto's reforms. How do you view that action? Does this con­sti­tute a death blow to Local

22

's power?
The government's actions last July were a major blow to Local 22. But they weren't a death blow. It wasn't enough to mere­ly freeze the union's bank accounts, pros­e­cute them finan­cial­ly, invent con­nec­tions to orga­nized crime, or try to do some­thing from the finan­cial side.
Nor has it been suf­fi­cient to detain the lead­ers. Actu­al­ly, the detain­ment of four lead­ers and recent­ly three mem­bers of Local 22's exec­u­tive com­mit­tee sparked more desire to resist with­in the union.
Now the new state edu­ca­tion min­istry, sup­port­ed by the reforms and fed­er­al edu­ca­tion author­i­ties, says that there will be no more march­es and no missed class days. Three absences will mean the loss of one's job, one absence will mean your pay would be docked.
The same hap­pened with the fed­er­al min­istry, after the first three days of the strike that began on May 15, 2016 the fed­er­al edu­ca­tion min­istry announced the fir­ing of over four thou­sand teach­ers in Oax­a­ca, Michoacán, Guer­rero, and Chiapas.
Do the author­i­ties have the pow­er to do that? To fire the teach­ers? That seems to be some­thing new, giv­en the union's pre­vi­ous con­trol over hiring.
Accord­ing to the new reforms, yes they do have the pow­er. The IEEPO asked the teach­ers to either go to class or have a day of pay deduct­ed, because that is what the new law stip­u­lates. Many teach­ers took to the streets. Some, out of fear or because they didn't want their pay to be docked, stayed in the class­rooms. Yet the threat of fir­ing hasn't stopped col­lec­tive action. In fact, since May 15, the start of the strike, the move­ment has only grown.
The reform has allowed the state author­i­ties to change how the IEEPO func­tions, right?
The new IEEPO is a mess. With­in the actu­al office build­ing, they have no idea what they are doing and they dis­man­tled the appa­ra­tus, which, even if it was over­ly bureau­crat­ic, knew how to function.
That is why they have turned to their mas­sive pub­lic­i­ty and social media cam­paigns, to improve the image of the new IEEPO.
In your opin­ion, what is the worst part of the edu­ca­tion reforms?
That it's not about edu­ca­tion. That is the part that both­ers me the most. From read­ing Peña Nieto's reforms, the laws, and the aux­il­iary laws, it isn't at all clear — and I'm not the only one that says this — that it's about edu­ca­tion reform.
It's about yet anoth­er neolib­er­al gov­ern­ment attack on trade unions that demon­strate any type of oppo­si­tion. When one looks at the struc­tur­al reforms in this coun­try (and glob­al­ly) one notices these reforms are direct­ed at elim­i­nat­ing trade unions.
The strong unions have either been co-opt­ed or elim­i­nat­ed. This hap­pened in Mex­i­co first with the rail­way work­ers, then the telecom­mu­ni­ca­tions work­ers' union, the Luz y Fuerza union, the Fed­er­al Elec­tric­i­ty Com­mis­sion, and PEMEX. All that's left are the teach­ers and pub­lic health workers.
With each reform, there is a direct attack on trade unions or civ­il soci­ety organizations.
You men­tioned that you attend­ed teach­ers' march­es as a baby with your par­ents. Not just in Oax­a­ca, but also in many oth­er states, the demo­c­ra­t­ic teach­ers' move­ment emerged around that time. Local

22

and the CNTE nation­al­ly have their ori­gins in that peri­od. Is that his­to­ry impor­tant for those in the move­ment today?
Yes. That gen­er­a­tion from the 1980s just retired a few years ago (my father is one of them) and now there is a whole new gen­er­a­tion of teach­ers. I know the his­to­ry of that strug­gle because I lived through it but I'm not sure oth­er com­rades do because even those whose par­ents were also teach­ers in the 1980s don't always seem very inter­est­ed today.
There are two fac­tors that might explain this dynam­ic. One is the dis­tance that has devel­oped recent­ly between the union lead­er­ship and its bases, and the oth­er is social pres­sure, par­tic­u­lar­ly in the media, that casts the union in a neg­a­tive light.
So the new com­rades are often not inter­est­ed in, nor com­mit­ted to, the idea of strug­gle, either because they don't feel rep­re­sent­ed by their lead­er­ship — because of cor­rup­tion or poor man­age­ment of the union — or because the media accuse the move­ment of being lazy and some­thing bad for the country.
Yes, and many teach­ers say the rela­tion­ship between the union lead­er­ship and the rank-and-file has changed dra­mat­i­cal­ly since the

1980

s.
Among the com­rades that do par­tic­i­pate, one major dif­fer­ence between today and the 1980s is the manda­to­ry par­tic­i­pa­tion in union activities.
Today (although the state edu­ca­tion min­istry says the restruc­tur­ing has tak­en this pow­er away from the union), los pun­tos sindi­cales, the union point sys­tem, deter­mines whether teach­ers can change their job cat­e­go­ry, school, or school zone, move between lev­els, and it also deter­mines ben­e­fits, such as union-spon­sored per­son­al loans.
How do you see the Oax­a­can strug­gle relat­ing to the nation­al con­text in Mex­i­co? After Ayotz­i­na­pa, and the strug­gle for the miss­ing

43

stu­dents, have things changed in Oaxaca?
Unfor­tu­nate­ly, Local 22 didn't imme­di­ate­ly join the move­ment for the miss­ing 43 stu­dents. The lack of sol­i­dar­i­ty among resis­tance and left move­ments in Oax­a­ca and Mex­i­co gen­er­al­ly is symptomatic.
After 2006, it has been vir­tu­al­ly impos­si­ble to orga­nize and unite the Left in Oax­a­ca. Many of us teach­ers have watched and fol­lowed the Ayotz­i­na­pa issue, and we are part of that move­ment, but not for­mal­ly as Local 22.
It was only dur­ing the one-year anniver­sary of the dis­ap­pear­ances that Local 22 made offi­cial state­ments of sol­i­dar­i­ty. I remem­ber the first nation­al teach­ers' action in Mex­i­co City after the dis­ap­pear­ances; there was noth­ing in the offi­cial accords or assem­bly demands about Ayotzinapa.
The march was full of signs and ban­ners address­ing what had hap­pened but it wasn't even dis­cussed, let alone made an offi­cial demand, by the orga­nized union movement.
And why do you think the union lead­ers haven't focused on sup­port­ing Ayotizinapa?
I'm not sure. Since I joined the union I've noticed a lack of inter­est in oth­er move­ments and a basic lack of solidarity.
And that dynam­ic, of not tak­ing up demands of oth­er move­ments, con­tributes to the notion that the union is only con­cerned about its own inter­ests. You can't ask for sup­port if you're not sup­port­ing oth­er struggles.
Exact­ly.
This brings me to a long­stand­ing frus­tra­tion with the report­ing on teach­ers' strug­gles in Mex­i­co that leaves out impor­tant con­flicts and prob­lems with­in the union. As Ben­jamin Smith points out, there are prob­lems with­in the dis­si­dent union move­ment itself, like the abil­i­ty of teach­ers to pass their job on to their chil­dren, cor­rupt inter­nal arbi­tra­tion prac­tices, and pay scales that ben­e­fit the union hierarchy.
What we shouldn't lose sight of is that, even with the prob­lems with­in the CNTE lead­er­ship, we can­not blame teach­ers them­selves entire­ly for the edu­ca­tion sit­u­a­tion in Oax­a­ca or Mexico.
And there are real fights with­in Local 22 for inter­nal union reform and alter­na­tive edu­ca­tion reform. For exam­ple, Local 22 has devel­oped a counter-pro­pos­al to the government's so-called reform over the last few years.
Our counter-pro­pos­al is an effort from the union and the base-lev­el mem­ber­ship, orga­nized around two impor­tant points. First, it pro­pos­es a cur­ricu­lum based in the local cul­ture and con­text of Oax­a­ca, which is diverse, indige­nous, and mul­ti­cul­tur­al. Sec­ond­ly, it is based in the the­o­ries of crit­i­cal pedagogy.
Of the most impor­tant changes it pro­pos­es, in my view, regards the sys­tem of teacher eval­u­a­tion. The union's pro­pos­al elim­i­nates stan­dard­ized test­ing (there will be exams but the use of stan­dard­ized exams will be abol­ished) to eval­u­ate either stu­dents or teach­ers. It focus­es entire­ly on the qual­i­ta­tive aspect of education.
I served as advi­sor for a process in which indige­nous teach­ers from all over the state of Oax­a­ca dis­cussed and debat­ed meth­ods of eval­u­a­tion that fit indige­nous edu­ca­tion and what we aim to accom­plish as indige­nous teachers.
Street graf­fi­ti sten­ciled on offices of Banamex, a Mex­i­can bank. ​"No to the edu­ca­tion reform! Only books will bring this coun­try out of bar­barism." (Shane Dilling­ham / Jacobin)
With the impo­si­tion of the new law, our pro­pos­al has lost steam. Now there is no open­ness on the part of the gov­ern­ment or edu­ca­tion author­i­ties to even lis­ten to our proposals.
In terms of the cri­sis of par­tic­i­pa­tion and dis­tanc­ing between the base and the lead­er­ship with­in Local 22, that is some­thing far too com­plex to be solved with one or two actions but I would ven­ture two reforms that, to me, would be fun­da­men­tal in shift­ing toward a more demo­c­ra­t­ic and mil­i­tant unionism.
With­in the union, one impor­tant change would be to elim­i­nate the mech­a­nisms of coerced par­tic­i­pa­tion. The teach­ers' move­ment of the 1980s had a gen­uine inter­est from the bases in fight­ing against union cor­rup­tion and in favor of the peo­ple and their right to a pub­lic and qual­i­ty education.
Teach­ers par­tic­i­pat­ed with con­vic­tion. They slept on side­walks wait­ing for the results of the state union assem­bly and val­ued the actions decid­ed there.
Over time, that same lead­er­ship pro­mot­ed a sys­tem of coerced par­tic­i­pa­tion, in which, through the point sys­tem, gave ben­e­fits or trans­fers, even salary rais­es, to those with the high­est points.
This has meant that in the last few years union activ­i­ties con­tin­ued to have large lev­els of par­tic­i­pa­tion but not nec­es­sar­i­ly due to polit­i­cal conviction.
The oth­er impor­tant change would be for us teach­ers to regain the par­ents and gen­er­al pub­lic as allies in our strug­gle. In many com­mu­ni­ties the teach­ers left to par­tic­i­pate in union actions with­out explain­ing to the par­ents why they did so or con­vinc­ing them of the impor­tance of their activities.
In the recent strug­gles it's encour­ag­ing that more par­ents seem to be upset about how the reform will affect pub­lic edu­ca­tion and are join­ing us in the streets.
It's impor­tant that the school becomes once again part of the com­mu­ni­ty and that the com­mu­ni­ty itself becomes part of the edu­ca­tion system.
For exam­ple, since June 19 of this year many NGOS, be it local, nation­al, or inter­na­tion­al, have shown their sol­i­dar­i­ty with the move­ment and reject­ed the government's use of police repression.
As I men­tioned, the sup­port of the com­mu­ni­ties and par­ents' groups is deci­sive to rein­vig­o­rat­ing the move­ment and one has begun to see that in the recent high­way block­ades, main­tained for many days by par­ents and com­mu­ni­ty members.
That pop­u­lar par­tic­i­pa­tion is what held back the fed­er­al police across the state. The state vio­lence over the week­end has only released a big­ger wave of sup­port from local communities.
What you raised at the begin­ning, that one can­not iso­late the teach­ers from the broad­er social con­text in Mex­i­co, seems cru­cial. Even the OECD, whose sta­tis­tics are trot­ted out fre­quent­ly to describe the poor qual­i­ty of edu­ca­tion in Mex­i­co, notes the sta­tis­ti­cal cor­re­la­tion between pover­ty and edu­ca­tion out­comes in south­ern Mexico.
The notion that poor­ly admin­is­tered teacher eval­u­a­tions will solve this prob­lem is laugh­able and that teach­ers are pri­mar­i­ly to blame for poor edu­ca­tion con­di­tions in their com­mu­ni­ties absurd.
Pre­cise­ly. One has to keep in mind the struc­tur­al pover­ty in this country.
The edu­ca­tion reform doesn't address the phys­i­cal con­di­tions of pub­lic schools, class­room tech­nol­o­gy, con­tin­u­ous teacher train­ing, nor the dis­tinct ped­a­go­gies that might fit par­tic­u­lar region­al con­texts through­out the coun­try. For me pover­ty is the prin­ci­ple prob­lem affect­ing the edu­ca­tion system.
In These Times is proud to fea­ture con­tent from Jacobin, a social­ist quar­ter­ly mag­a­zine. Sup­port Jacobin with a year­ly sub­scrip­tion for only $29.95.
A.S. Dilling­ham is assis­tant pro­fes­sor of his­to­ry at Spring Hill Col­lege in Alaba­ma and is work­ing on a book on indige­nous edu­ca­tion and devel­op­ment in south­ern Mex­i­co. René González Pizarro is a teacher and mem­ber of the Sindi­ca­to Nacional de Tra­ba­jadores de la Edu­cación in Oax­a­ca, Mexico.